One of my favorite ways to make extra money on the side for doing things I would do anyway is to use shopping apps and cash back sites.
Most sites require you to click a link before you shop or to submit a receipt after you are done shopping but a new shopping app for Canadians called Paymi makes getting cash back even easier.
Read on for my Paymi app review and to find out how Paymi is simplifying the cash back industry by automatically paying you when you shop and earn a $5 welcome gift through my link.
This site contains affiliate links. Please read my Disclosure for more information.
RELATED POSTS
35 Ways To Make Money In Your Spare Time
How To Declutter And Make Money
Paymi App Review
Paymi is pretty new on the scene but it looks like a really promising way to make some money when shopping for things you were going to buy anyway.
I personally just signed up for Paymi myself but so far I am liking how easy it is to use. I also love that I don't have to remember to submit receipts before a certain deadline.
What is Paymi?
Paymi is a cash back app that you download on your mobile device. Unlike other cash back apps, with Paymi you connect your debit and/or credit cards first and then you will automatically get paid cash back when you shop at Paymi Partners.
Paymi is based in downtown Toronto.
Is Paymi Legit?
Paymi is backed by CIBC, one of the largest banks in Canada so you can trust that you are not handing over your banking information to just anyone. If you are an existing CIBC customer, you can sign up for Paymi directly using your secure CIBC Online or Mobile Banking® login credentials.
If you bank somewhere else, sign up for a Paymi account here and then connect your bank cards afterwards using the secure app.
How Much Money Can I Earn With Paymi?
You can earn anything from 1-10% of your purchase price in cash back with Paymi.
It is free to join Paymi and you can earn a $5 bonus cash back when you link your accounts upon sign up using this link.
What Retail Partners Does Paymi Work with?
More retail partners are being added all the time.
As of July 2019, some of the partners include:
Gap
H & M
Lowes
Lululemon
Marks
Old Navy
Sportchek
Swiss Chalet
Zara
Burger King
Aldo
How Do I Get Paid With Paymi?
Once you have a $25 balance with Paymi, you can transfer the money to you bank account for free. (There is a $1.50 fee for transferring less than $25).
It normally takes 1-2 business days for the money to hit your account.
Can I Still Earn Store loyalty/Credit Card Points when using Paymi?
Yes! This is one of the best things about using Paymi. You can buy something in store, use your Airmiles or store loyalty card, rack up credit card points AND then get cash back with Paymi!
You can also stack offers from places like Checkout 51 to earn even more cash back.
Who Can Sign Up With Paymi?
Right now Paymi is only available to Canadian users and you must have an active Financial account (Debit or Credit card) in order to receive cash back.
Getting Set Up With A Paymi Account
It only takes a few minutes to get set up with your Paymi account and then you can start earning money passively whenever you shop online or in store.
Create your account at Paymi.com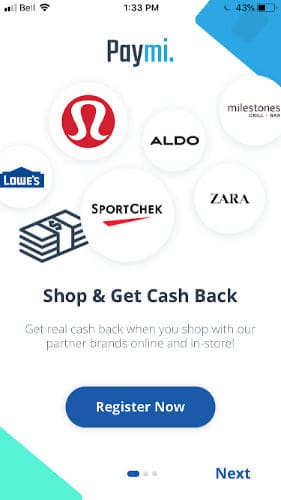 2. Download the app onto your cell phone (search Paymi in the app store)
3. Login to the app and follow the prompts to link your bank cards
4. You are done! Start earning cash back on your next shopping trip!
How does Paymi make money?
You may be wondering how Paymi makes money themselves if they are giving you cash back on purchases you buy with no coupons or discount codes.
Most of the cash back sites like Swagbucks and eBates receive a cash back commission for referring customers to stores. Your earned cash back is simply a cut of that commission.
I assume that Paymi works the same way as stores view cash back sites as a way to incentivize customers to choose one store over another.
After reading this Paymi App Review, if you still have questions, you can read the company FAQ at Paymi.com or contact their support team.
If you are ready to open up an account with Paymi and want to earn a bonus $5 welcome cash, Sign up here.
More Ways To Make Money Online
6 Ways To Make Money While You Sleep
30 Side Hustle Apps To Make Money in 2019
Like this post? Pin it!