THE FOLLOWING TUTORIAL IS FOR ANYONE WHO WANTS TO START A BLOG THAT MAKES MONEY IN 2023.
Maybe you have read about six figure bloggers who are cruising around the pacific on a yacht.
Maybe you want to stay home with the kids after your maternity leave.
Or maybe you just want to create a passive income stream to get out of the rat race.
Whatever your reason for starting a blog, know that it is possible to start a blog that makes money this year.
The great thing about blogging is that the World is your oyster. There is no limit to your income potential.
In this in-depth, step-by-step guide, I am going to teach you the exact things I did to start a successful blog.
The truth is, the day I decide to start my blog was the beginning of a new life for my family and I.
My blog has given me freedom and flexibility I didn't think was possible.
I made my first $1000 after only a couple of months. I earned six figures in my second year. This is something that would have been impossible in my previous career.
Blogs have changed a lot in the last ten years and now there are thousands of bloggers who write about almost every single topic you can imagine.
Keep reading to see how you too can make money blogging in this completely free guide.
This page contains affiliate links meaning I earn a commission if you use those links. Please read my Disclosure for more information.
Until I started my own blog and did some research, I had no idea you could start a blog that makes money even if you didn't become a famous blogger.
I had just assumed that only the crafty bloggers who are featured in the magazines or have their own lines at Target made money.
In fact, many of the bloggers I know that make money with their blogs write in very specialized niches or have quite a small audience but nevertheless they are making over $1000 a month from home!
Why start a blog that makes money?
Blogging is the online equivalent of writing a journal for some people, while for others, it can be many different things:
Creative outlet – to share writings and thoughts on various subjects
A means of recording a trip or occasion (wedding, around the World cruise)
Therapeutic – sharing an adoption journey or recovery from addiction
Educational – teaching others something you are an expert in such as cooking, sewing or woodwork
Or you could start a blog purely and simply because you want to make money from home.
There's nothing wrong with that and your real motive for blogging will help you focus on creating a website that makes money quickly.
Do small bloggers really make money?
So can you really start a blog that makes money? Should you?
Absolutely. Creating a blog that provides value to readers takes a lot of effort.
So why shouldn't you get paid for all your hard work?
My motivation for starting my first blog was my desire to quit my full-time gig.
I ended quitting my job and becoming a full-time blogger after 11 months of blogging which I think it pretty attainable if you are prepared to work hard and are motivated.
The amazing thing is, you really don't have to a a big name blogger to make enough money to quit your job.
Here are 3 bloggers who make money with their small blogs:
Pete from do you even blog made $3227 in March 2018 with under 8000 page views
I made almost $1000 in my third month of blogging.
June from A Simple Balance made over $300 with her self-proclaimed tiny blog.
In order to start a blog that makes money you need to do 3 things:
Set your blog up correctly and produce enough content to attract readers (see below for instructions!)
Drive traffic to your site so that you can monetize it.
Choose a subject that helps people.
Let's talk about that third point; no one wants to read all about your day-to-day life with your 37 cats. Sorry.
They do want to read about how you care for your cats and the funny things they do.
There are tons of successful cat blogs, like The Purrington Post that have tons of readers who are desperate to read all about cats.
Any subject (or most) can attract readers as long as you are providing them with a solution to a problem.
Maybe Harry is bored at work and his entertainment is reading your blog about your hilarious cat. Bingo. Problem solved.
Let's all be honest though, there are certain niches that have more of a chance of making money than others.
The best niches for starting a blog that makes money
Health and fitness
This topic is huge right now. Think keto, yoga or whatever the latest and greatest new health fad is.
How they monetize their blogs: ads, membership sites, books and courses.
Food
On my other blog, I'm a member of an ad network which is mainly for food bloggers so I've had a chance to see some of the most popular food bloggers out there.
How they monetize their blogs: ads, sponsorships, cookbooks
Sample site: Pinch of Yum
Personal Finance
Many personal finance bloggers are able to make a full-time living talking about frugal living, homesteading or giving advice on paying off student loans and budgeting.
How they monetize their blogs: ads, affiliates
Sample site: Making Sense of Cents
Michelle from Making Sense of Cents is the guru of affiliate marketing and routinely makes over $100,000 a month, almost all from affiliates.
I took Michelle's course, Making Sense of Affiliate Marketing, when I first started blogging and it helped me make money after just one month.
How to start a blog that makes money
Now you have chosen a niche (or two), it's time to actually get your blog up and running.
I would say that you can probably do this over a weekend and be ready to launch your blog within a day or so.
Even if you are not techy, it is pretty easy to start your blog quickly.
Don't get overwhelmed with the little details at this stage in the game, follow the below step by step and you will be ready to launch in just a few hours.
10 Steps to starting a blog
Choose a catchy, original name for your blog
Buy hosting
Install WordPress
Pick the best theme for your topic and audience
Install essential plugins
Create your privacy policy, about page and contact information
Start writing blog posts
Promote your blog
Put ads on your site
Start affiliate marketing and joining influencer networks
First of all, I recommend starting with a self-hosted site using WordPress.org.
While it is possible to start a blog for free on WordPress.com or Blogger, if you plan to monetize your blog and make an income from affiliate marketing and ads, then it is worth the small investment to have a self-hosted blog with your own URL.
Self-hosted blogs use WordPress.org (not.com) and you will be able to install it right from your host.
Don't worry about this for now as your host will literally point you in the right direction once you have set up your hosting.
1. Finding the perfect blog name
This is not as easy as it sounds as many of the names you think of will already be taken.
Some ideas to help your creativity:
Use your own name or a version of it
Play around on Wordoid and see what it comes up with.
You can check if your desired URL is taken directly at your host, for example Bluehost allows you to check for domain availability before you buy hosting.
Don't forget that you can buy a URL that is not .com but bear in mind that most people will automatically type in the .com when searching for you site.
You probably also want to check that your name is available at the key social media platforms. This is super easy to do using the free site knowem.com
A few pointers, on choosing a domain name and niche.
If you are unsure exactly what direction you want to go in or you want to keep your options open, choose a generic/non-specific name as opposed to a name like "gettingfitin2023" or "veganmealsforone" that won't really allow you to switch topics seamlessly.
Some people say that you need to be very specific with your niche and shouldn't be all over the place with your blog topics but I have not found that that has affected me at all.
Of course, if you are extremely passionate about one topic and know that you won't deviate from it, then go ahead and get as specific as you like
Once you have chosen your URL, you can go ahead and register it with your chosen host or a site like Namecheap.
2. Host your site
Once you have registered your domain , it is time to choose a website host.
A host is basically the garage where you park your car (website).
The host you choose is important because your site speed and reliability will all depend on your hosting company.
You also want to make sure their customer support is good in case you experience any problems with your site.
Sometimes sites go down or crash because of too much traffic or a plugin issue (we will get to those!) and you need your host to act quickly to get you back up and running.
If you are a new blogger, I highly recommend Bluehost.
I have used them on several sites and am very happy with the service so far. I've contacted customer service via chat a few times and been connected within seconds and my problem has always been resolved.
If you are not sure how blogging will go and are on a tight budget, Bluehost is perfect.
Bluehost includes some extras that other hosting companies charge for which is why I recommend them for newbies.
Free Domain Name
WordPress.org for free
24/7 support (phone or chat)
30 days money back guarantee
Self-hosted blog for less than $80 a year which means you can monetize your blog using affiliate links and ads
Bluehost also offers FREE SSL certificates for all WordPress sites which is amazing.
I was charged $100 just for 1 year of SSL with my previous host so you can see that Bluehost really provides value.
An SSL certificate gives your site the padlock sign in the browser bar and is a must.
I highly recommend starting your blog with the SSL installed to avoid having to do redirects at a later date.
Bluehost has 3 plans to choose from depending on the traffic you get on your site.
You can just get the Basic one when you are just starting out. You can always upgrade your plan if your traffic grows quickly.
Also don't buy any extras that they offer unless you want the Domain Privacy Protection for an extra $0.99 a month (this means no one can find your address through your domain).

Once you are ready to begin setting up your blog, you can click-through to Bluehost and get started!
The first page you will get to is the domain registration. Enter your chosen name in the "new domain" box and click next.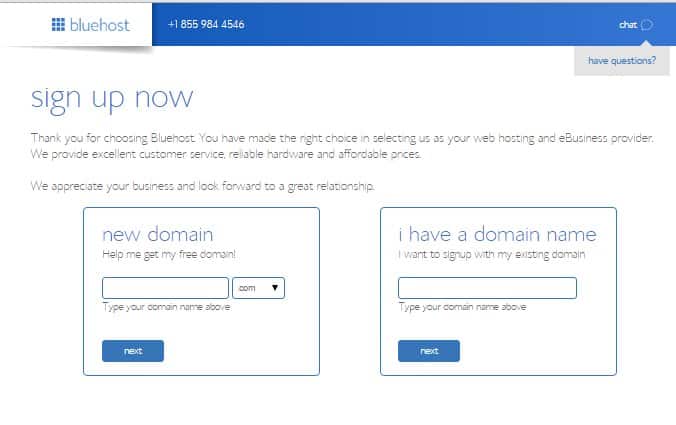 Create your account
You will be instructed to create your account, choose your package and enter your payment details.
I signed up for the longest term possible as that is always the cheapest option.
Don't forget there is a 30 day money back guarantee if you decide blogging isn't for you in your first month.
Using this link, you can get your hosting for $2.95 a month for 36 months or 60 months.
That will cost you a smidge over $100 for 1.5 years of hosting which is an awesome deal.
The reason I recommend the longer term is because the prices for hosting always go up after the first term so the longer you can stretch it out the better!
As I mentioned before, you don't need any of the extras mentioned in the package part so you can go ahead and uncheck them.
Next, create your account and choose your password and you are done!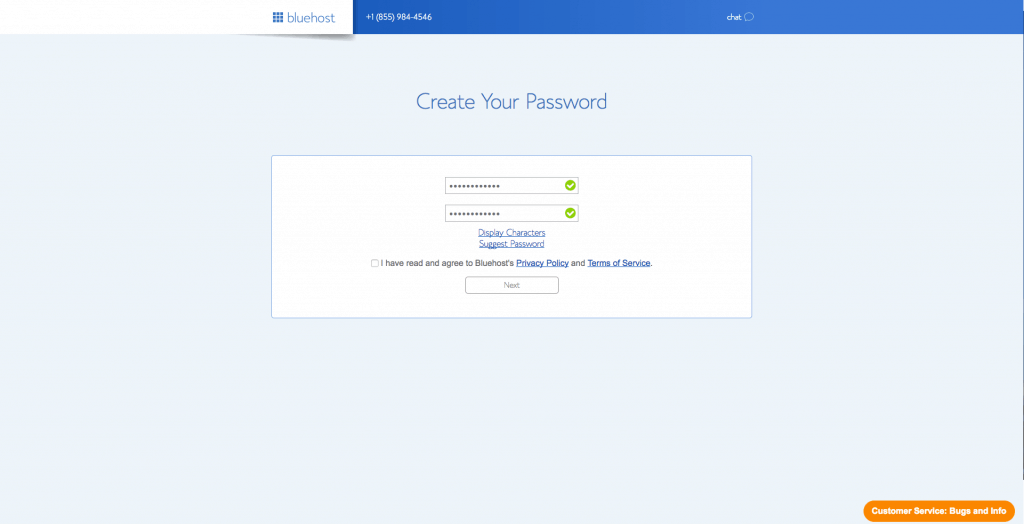 3. How to set up WordPress.org
WordPress is where you will write your blog posts and make everything look pretty.
Once your account has been set up with Bluehost, you will be in your account dashboard. Click the "install WordPress" button at the bottom of the screen to start the process. You might also be immediately redirected to this button.
Don't worry too much about the theme right now but you can go ahead and pick a free one just to get your started.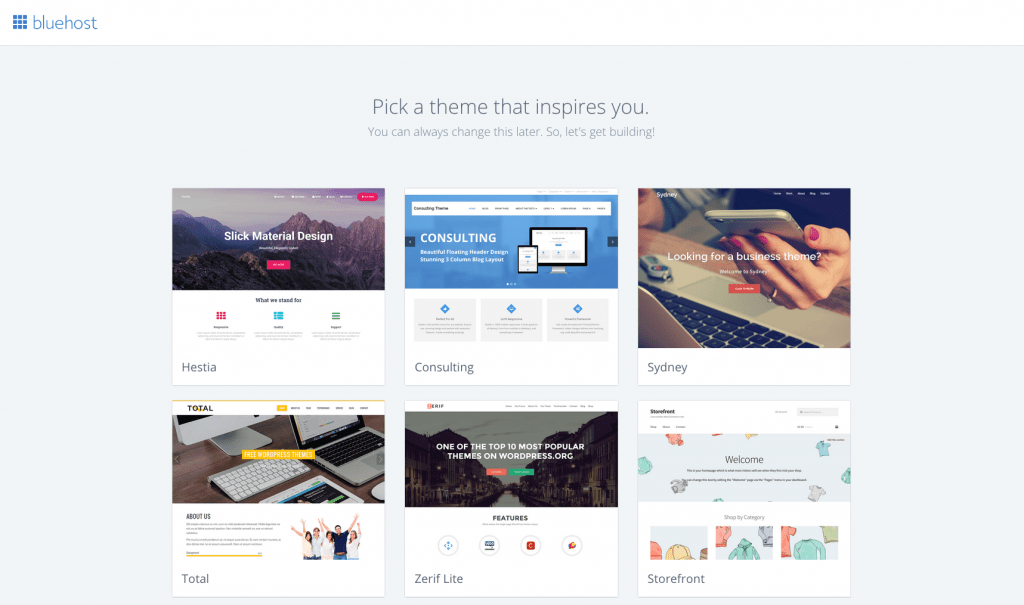 Click " Install" on the pop-up
Create a username and account name and click "install now"
You will now receive an email from Mojo Marketplace with your WordPress.org login details. Keep it somewhere safe.
You are all set! Time to do the fun stuff and make your blog pretty!
This is what your WordPress dashboard will look like. Along the left hand side, you can choose to start a new post or page, add media (images or videos), customize the appearance of your blog (colors and fonts) and add plugins.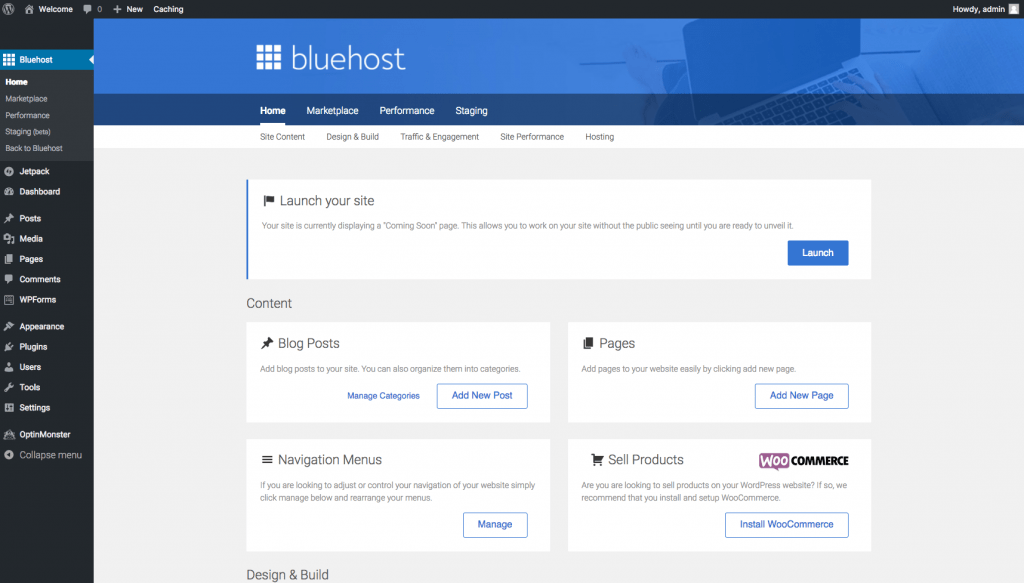 4. Making your blog look good (choosing a theme)
A theme is the style and look of your blog to your readers.
Themes have different fonts, layouts and customizable options.
Some are free and included with your Bluehost hosting package and others cost extra.
I recommend purchasing a theme because the free ones have many limitations, especially as far as monetizing your blog with ads and affiliates.
If money is tight, you can start off with a free theme and change to a paid one later on.
The themes I use for my websites are always Genesis themes.
Genesis themes are great because they come with lots of features so you don't need to understand code or anything too techy.
The Genesis framework is great for beginners who just want to get up and running. It comes in two parts.
First you need to buy the actual Genesis Framework. then you pick your child theme which is how the actual blog looks. (Think of the child theme as the "skin" of your blog's look and feel).
TIP: when choosing a theme, look for one that already comes with the Genesis Framework included. Many do and it will save you a lot of money.
I like to buy my themes from Creative Market – this website is kind of like an Etsy for blogger and online creators.
You can find lots of themes at great prices. They also give out 6 free items a week such as stock photos or fonts.
** Hint** – check out some blogs that you like to read and normally you will be able to see the name of the theme at the very bottom of the site. You can also check WP Theme Detector.
Once you have bought your theme, you will be able to change the colors and customize it to suit your preferences.
You will also be able to add your logo if you have one (I made mine using PicMonkey which is the program I use for creating all my social media images).
5. Installing plugins
Once your blog is set up with a theme, you can add plugins to improve the user experience.
To install plugins, simply scroll down to the plugin button on the left-hand menu in WordPress and click "add new".
You can then search for any plugins that you wish to add to your blog.
Plugins that I use often include:
Yoast SEO – This plugin will help you with your SEO (Google rankings)
Akismet Anti-Spam – helps to blog spam bots and spammy comments on your site.
Grow.me by Mediavine – Social sharing plugin for adding your posts to Facebook, Pinterest etc
GDPR Framework – great plugin that will create a GDPR compliant privacy policy for your site. (essential if you have European visitors)
These plugins are all free to download. I actually don't use any paid plugins so don't feel you need to.
6. Creating your essential pages
Head over to the pages section of the menu on WordPress and create pages to start your blog off. I've linked to mine here so you can get some inspiration.
About and contact – write a blurb about yourself and your goals for the blog. Make sure to make it about the reader and not about you (if that makes sense).
Privacy Policies – Use the GDPR Framework plugin to create your privacy policy page. You also need to disclose if you will be using affiliates on your website.
Disclosures – If you will be using affiliate links, you need to disclose this somewhere on your blog.
7. Creating content
Now that your blog is set up, it's time to write some posts!
Post frequently at the beginning to fill up your "library" of posts.
Use photos to illustrate your points. Make sure to include images for Pinterest and Facebook. I use stock photos from Haute Stock.
I use Canva to create my images and graphics (it's free).
Aim for 10-20 blog posts before going live to give your blog some credibility.
8. Promoting your blog
There are lots of places to promote your blog for free and it can get a bit overwhelming to be honest.
I highly recommend picking a few platforms to start with and really perfecting them.
My recommendation would be to start with Pinterest and SEO and then gradually go from there to Instagram and Twitter.
Blogging Courses That I Recommend (all under $40)
A ebook will help you to grow your Pinterest traffic quickly through manual pinning. Carly grew her Pinterest referrals from 0-200K page views in 6 months using these techniques.
Free course by Lena Gott who grew her traffic from 30,000 to 400,000 page views in only 10 months. I highly recommend every new blogger downloads this completely free guide.
This is an awesome beginners guide to affiliate marketing and will teach you everything you need to know about making money with affiliates.
Special code for This Work From Home Life readers – Use Promo code "BLOGGER" for 20% off the Affiliate Action Plan.
Using Social Media To Promote Your Blog
One of the major mistakes I made was to completely ignore social media for the first 6 months.
I created Twitter and Instagram accounts early on but I didn't use them at all and I only created a Facebook page after about 10 months. Huge Mistake!
Why do you need social media to make money blogging?
Brands love social media. If you want to make money as a brand ambassador or through sponsored posts, or even get free products in exchange for reviews, you must be present on the big 3 – Twitter, Instagram and Facebook.
Sponsored posts are the best way to make money when you have few page views at the beginning.
I've seen bloggers with less than 10,000 page views a month get enough sponsored opportunities to replace a full-time income.
If you have been using Instagram or twitter since the beginning, you might consider using your personal account for your blog.
That way, you will have a number of ready-made followers that will give your profile credibility
If, like me, you need to create accounts on each platform in the name of your blog, do it ASAP and then start using the accounts
Engage as many people as you can each day, post regularly and follow others.
If you only have time for one platform, I would choose Instagram and really work it.
I've heard some brands want upwards of 10,000 followers but even a couple of hundred will make you look established in the eyes of smaller companies
Once you have set up your social media accounts, start joining as many influencer networks that you can.
Here is a list to get you started.
These networks will connect you with brands that are willing to pay for blog posts or social media shares about their product
As you become more established, you will likely be contacted directly by brands who want to pay you for sponsored content but in the beginning, the networks are your best bet.
I started getting campaigns when my Twitter followers reached 500.
9. Putting ads on your site
Let's face it, no one loves ads on their website. It's annoying when you can't read an article properly or pop-ups keep jumping out on you.
But if I told you that you could make over $1000 a month just from the ads on your blog within a few months, they might not seem quite as annoying!
What if I told you that I have made over $10,000 just from ads in one month!
And some bloggers make over $100,000 a month.
Here is a snapshot from a Facebook thread about starting a blog that makes money – the question was what is the most you have ever made in a month with ads.
As a new blogger, your ad network options are a bit limited but I do think it is still worth applying for Google Adsense and placing their ads on your site, even just to get your readers used to ads for when you are able to move to a premium network.
Don't expect to make $100s from Google Adsense but with a bit of traffic, you should be able to make $10 a day passively.
You can also consider adding Amazon Native ads to your blog if you are approved for Amazon Associates.
Once your page views hit a certain threshold, you will have many more options and will be able to apply for Mediavine (50,000 sessions a month) or Adthrive (100,000 page views a month).
Once I joined Mediavine, I immediately started making 3-7x a day what I was making with Adsense. Totally worth it!
If you are a new blogger, you can also join Ezoic which is a premium network that pays better than Google Adsense.
10. Joining Affiliate Networks
Now let's talk about one of my favorite ways to make money blogging – affiliate marketing.
This is how I earned my first dollar from my blog. It was from Amazon Associates and I was absolutely thrilled!
You can monetize your blog from the get-go by recommending products and earning a commission from each sale that is made (at no extra cost to your readers).
Some products offer 40% of the price as an affiliate commission so you can see how it can add up quickly!
The great thing about affiliate marketing is that is works for every niche. If you have products or services to recommend to your readers, you can make money with affiliates.
How to find affiliate products to recommend?
Like sponsored posts, the best way is to join networks that give you access to many brands in one swoop.
Here is a great list of the best affiliate networks that new bloggers should join.
I recommend joining as many as you can so you have a lot of options.
Make sure to list your blog URL on the application and mention that you will promote via blog posts and social media.
I use a free account with Payoneer to get paid for a lot of them.
Payoneer will give you a US/CAD/EUR/GBP based bank account for free and you can then transfer the money directly into your regular bank account.
I find it the most cost-effective way of getting paid by affiliates. Plus the fees are way less than PayPal.
Sign up for a free Payoneer account here.
You can promote your affiliate links directly on Pinterest and the social media networks as well as in blog posts.
Just remember to disclose that you will be compensated if they purchase from your link.
For social media, #ad or #affiliate is sufficient, while blog posts should have a disclosure at the beginning.
A Free ebook to get you started with your blog
If you are anything like me, you probably love grabbing good freebies to help you with your business, after all, it costs a lot to get up and running so wherever you can get savings, is good!
If you want to start a blog that makes money then you need traffic!
Here is a free blog traffic guide that really helped me grow my traffic in the beginning.
When I first read through the book, I had so many aha moments!
You can grab the book yourself for free here – FREE blog traffic guide
If you are struggling with your blog traffic, I highly recommend downloading this completely free ebook, it's got a ton of great information that really helped me grow my traffic.
If you like the free traffic guide, make sure to sign up for the free trial of the full book that builds off of the guide.
You can access the free trial whenever you want and it is full of some handy hints. Grab it here
More Work From Home Tips
How To Write And Make Money Selling PLR Content
50 Ways To Make Money While You Sleep