Looking to boost sales this holiday season? One of the best ways to grow your online business is to create a feeling of scarcity.
You know how when you think you are going to miss out on a deal, you panic and act faster? That's the psychology behind scarcity deals that companies have used for years.
Think about Amazon Prime Day.
People (myself included!) go crazy for those limited time deals with a timer running telling you when the deal ends. You know if you want to catch the sale you have to act fast. That's the beauty behind countdown timers.
The best and easiest sales to make are the first time someone lands on your site. If they leave, you have to hope they go back to visit you when they are ready to make the purchase.
A countdown timer can help to give them that sense of urgency and has been proven to boost sales for online retailers.
Given that the holiday season is the busiest shopping time of the year, now is the time to consider adding a countdown timer to your online shopping site.
This post contains affiliate links. Please read my Disclosure for more information. I was compensated for this post but all opinions are my own.
RELATED POSTS
How To Open An Online Store With Shopify
Top 10 Amazon Prime Benefits Canada
How Does A Countdown Timer work?
Countdown timers are great for time-limited offers and sales that last a few days or more. By showing that time is running out, your customers will rush to take advantage of the deal.
You can easily add a countdown timer to your website using a plugin such as Optinmonster.

As you can see from the example above, a countdown timer works well with a discount code offering money off your product for a limited amount of time.
How Can I Easily Add A Countdown timer to my WordPress Site?
If you run your site on WordPress, then the first thing to do is to download the OptinMonster plugin for WordPress. OptinMonster will allow you to create your countdown timer in minutes.
For the countdown timer, you need a particular pop-up installed on your site with the plugin.
To add the plugin, simply go to the plugin section of your WordPress dashboard and do a search for OptinMonster. You can then add the plugin and get it activated.
OptinMonster also connects with your email provider so that you can collect emails and build a loyal clientele.
Here's how to add the countdown timer to your site
1.Login to OptinMonster using your credentials.
2. On the right-hand side click the "create campaign" button.
3. You can then chose the type of pop-up you want to have on your site. For the countdown timer, you need to choose the floating bar option.
A floating bar is a pop-up that will appear at the top (or bottom) of your site. It normally stays in place when someone scrolls down.
4. Choose the countdown template and click "use template". You can then give your countdown timer a name and choose website it will be on.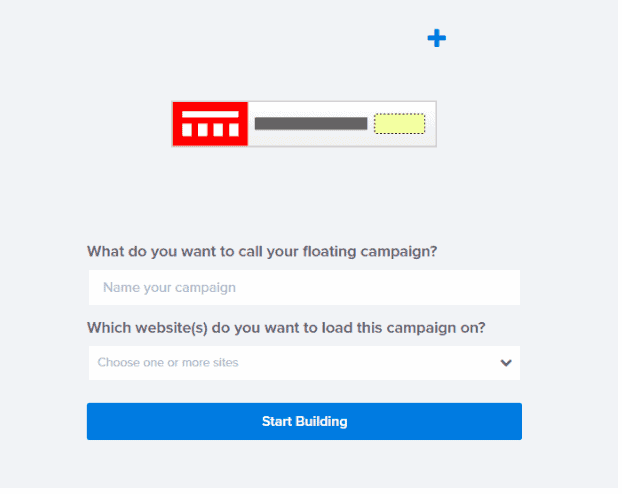 5. Now you can customize your countdown timer bar by putting it at the top of your site. You can also choose your promotion start and end dates and what your display will look like.
You can also change the colors of your floating bar to match your website and also put your own text onto the bar. Just hover over the text to edit it.
6. Keep editing your timer to match your website. Hover over the text to make changes. You can then do the same to the optin button – make sure it stands out and gives a call to action!
Good CTAs include: "Sign up", "Learn More" "Yes! Tell me more!", "Give me my offer!", "I want 20% off!" and so on.
7. Now that your countdown timer looks amazing, the last step is to connect it to your email
Click on "Integrations" then "Add new integration" and select your email provider. You will then be redirected to login to the ESP. From there you can choose which email list to add new sign ups to.
8. The last step is to go to the Display Rules Tab and set up the date you want the promotion to run. You also need to choose which URL the floating bar will be displayed on (for example your homepage or shopfront).
9. You are ready to go live with your countdown timer. Click the publish tab and move the toggle to "live".
Can I add A Countdown Timer on my Shopify Store?
Yes! You can add an OptinMonster Countdown time to both a WordPress Store or a Shopify Store, giving you tons of opportunities for extra sales.
To add a countdown timer to your Shopify store, you will need the OptinMonster Shopify app.
Ideas For Boosting Sales
Black Friday One Day Deals
Cyber Monday Sales
Boxing Day Deals (UK and Canada)
Special Promo Codes For Any Holiday (Columbus Day, President's Day etc)
Bundle Sales
Flash Promotions
Freebie Optins for a limited time
12 Days Of Christmas Sale
Midnight Madness Event
As you can see, you can use a timer to boost your sales year-round, not just for the holidays so what are you waiting for?
More Tips For Home-Based Businesses
How To Make $1500 A Month From Home
9 Easy Ways To Make Money On Fiverr
9 Tips For Working From Home And Staying Sane