Have you ever wanted to start your own at-home business? One of the best ways to create a successful business that you can run from home is to open an online store with Shopify.
I've been interested in this ever since I read this post from Sarah Titus about how she made $52,000 (!!!) in her first month of a Shopify store.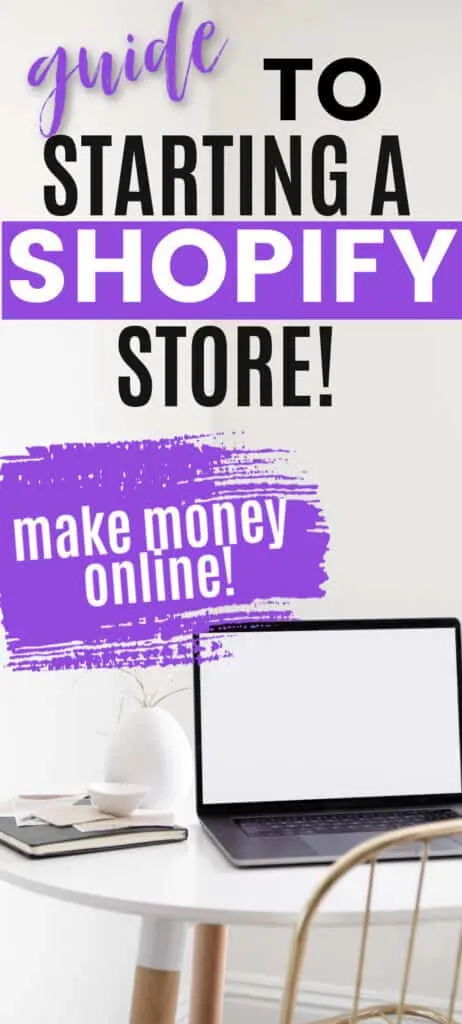 This page contains affiliate links meaning I earn a commission if you use those links. Please read my affiliate disclosure for more information.
****I'm excited to have a guest post today by Beck from Mom Beach to tell us all about starting your own online store with Shopify without a huge investment****
How To Open An Online Store With Shopify
Wouldn't it be awesome to have your own online boutique where you can sell clothing, jewelry or any other item that catches your fancy? The only thing that may be holding you back is that you don't know how to make this happen.
Today is your lucky day, my friend. By using Shopify, you can get started quickly and easily with no coding knowledge whatsoever. I have an online boutique myself so would love to help you, girlfriend!
Why Use Shopify?
In my store, I sell clothing, purses and makeup primarily. Sometimes, I will sell handmade items too instead of place them in Etsy.
The benefits of using Shopify far outnumber Etsy, in my opinion.
No competition – If you use Etsy then there are tons of other people selling similar items.

Customization – Shopify lets you completely customize your customer's experience

Coolness Factor – Above all, it is cool to have your own store to call your own!
Etsy also charges you money to place each item in their interface, while Shopify is a flat $29 monthly. However, there is a two week free trial going on so sign up now!
What To Sell In My Online Boutique?
You have to be passionate about your inventory so that you won't have any problems trying to sell it. What items might you want to sell? There are clothing, makeup, purses, jewelry and several other products just waiting to be sold by you.
You can even sell your own creations in your store such as polymer clay jewelry, quilts, crocheted blankets or whatever else your crafty little hands create.
Once you figure out what you wish to sell then you need to contact wholesalers online to purchase inventory. Consider dropshipping if you have no money to buy inventory. I explain how to dropship in my detailed guide here.
Where Do I Find Wholesalers To Buy Products?
There are a ton of companies who want you to purchase their items! In order to find these companies, search "product name here + wholesale" in Google. This will bring up a list of different companies that you can work with.
Read reviews online, if you can find them, about the different companies and the products they offer. This ensures you can find quality products that your customers will fall in love with!
Consider asking the wholesaler to send you sample products so you can see the quality and shipping time first hand.
Before you can purchase inventory, you will need a tax ID or business EIN. You can find out more here.
RELATED POST
15 Work from home jobs for introverts
How Do I Get A Shopify Store?
Now that we know what we want to sell and have some inventory, we can start thinking about how to open an online store with Shopify – here's what you need to do.
This can be accomplished in these simple steps:
Go to Shopify and sign up

for a 14 day free trial. You can't sell anything during this trial period and will have to pay $29 for the basic plan. With the free trial you can see if Shopify is for you and if you like the interface.

Decide on your store's name and domain name

. I like to use

Name Vine

to figure out domain names that are available.

Create a logo

for your store or go to

Fiverr

and pay someone to create it for you.

Customize your store

by choosing a free or paid template.
How Do I Promote My Shopify Store?
There are several free and paid ways to promote your store and get customers.
Start a business blog

in your Shopify store so customers can find you with

SEO

on

Google

. This can take 6 months to start seeing results, however.

Use Facebook ads

to advertise your store quickly and see results. You can start ad sets at $5 a day or even cheaper.

Use Pinterest and Tailwind to promote your store. Gemma at Seaside Sundays has tons of guides on Pinterest for you to get started.
Use Instagram

to post pictures of items in your store and also contact

Instagram influencers

. I use micro influencers around 50,000 followers myself to promote my items, because they ask for less money than major ones.

Use Twitter

to tweet about sales you have going on and follow industry leaders.

When you get more money coming in, you could

sponsor small events

in your local area too.
There are even more ways than this. You just have to be creative and find out what works best for you. 🙂
How Do I Handle Customer Service?
Once you get customers coming to your store with the above promotion methods, you have to start offering top notch service. This can be accomplished by treating each and every customer like pure gold.
Respond promptly to customer emails you receive within a 24 hour time frame! If you don't have the time to do this, then consider hiring a virtual assistant (VA) on Upwork or Fiverr.
If a customer has a complaint then put yourself in their shoes. How would you want to be treated in this situation? Respond kindly to their urgent request and also smooth things over with a free coupon code.
How Do I Ship Items?
Keep an area in your home with all of your products that is out of reach of small children, if you have any. You will want to invest in the following items:
Postal Scale

– In order for accurate shipping costs, you will need a postal scale.

Packaging – You can just use cardboard boxes or padded envelopes from the post office or have your packaging designed by a graphic artist on

Fiverr

or other site.

Stamps and Postage – You will need to either buy stamps or

print out postage which you can do on your country's post office website.
Go to the post office in your area to learn more about shipping items to your customers.
Anyone Can Start An Online Boutique With Shopify!
It is so easy to get started open an online store with Shopify and be quite profitable. If you are a mom with small children at home, then this can be a great way to earn extra income for your family.
I have a 3 year old myself at home, so I work on my store while he is asleep or taking a nap. If I can do this, then you can do it!
Please comment below if you have any questions about anything!
About the Author
Beck Beach is a UX Designer and Digital Marketer with 20 years of experience. She has paid off $74k in debt with her Shopify stores and blog, MomBeach.com. Beck is married and has a 3 year old son, Bryan.