With so many home-based offices nowadays, it's time to actually get to grips with the work from home essentials that you need for success.
Many of us are making do on a kitchen table with a crappy chair but the truth is, long-term working from home requires a proper setup.
Whether you are employed and working from home or starting your own work-at-home business, the list below of work-from-home must-haves for 2022 will give you some great ideas. (it also makes a wonderful Christmas wish list!)
This post contains affiliate links. Please read my Disclosure for more information.
RELATED POSTS
10 Work From Home Jobs To Start Today
15 Work From Home Jobs For Introverts
10 Work From Home Essentials
1. A Desktop Organizer
Corral all your stationery and pens neatly and immediately you will feel more organized. This desktop organizer is a bestseller on Amazon with over 10,000 reviews.
2. Work from Home Planner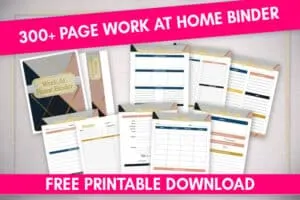 Get your work at home life set up for success with these FREE Work At Home Binder. There are 300+ pages of planning glory including branding, finances and editorial calendars. Click here for FREE your instant download.
3. Ergonomic Mouse
If you spend 8 hours+ working at a computer, you will start to feel it in your wrists. One way to avoid carpal tunnel syndrome is to use an ergonomic mouse like the Anker Wireless Vertical Ergonomic Optical Mouse.
There is a slight learning curve when you first use it but your wrists and tendons will be thanking you!
4. Back Support Mesh

Another tool to keep your body feeling great when you work from home. A back support mesh will turn any chair into a more ergonomic version of itself for a fraction of the cost of an expensive chair.
5. A Cute Mug
Amp up your home office with a cute personalized mug like this one from Qurious Shop on Etsy.
6. A Payoneer Account
A Payoneer account is a must-have for any home-based entrepreneur who wants to send and receive money with low fees.
Payoneer offers payment gateways in Europe, US, Canada and Asia. It's perfect for receiving money from merchants who do not use PayPal as you get your own country based bank account, just as though you lived there!
I use it for my Amazon affiliate payments as it makes it so much easier than waiting for a check.
7. Planner
Plan your year out with a classy weekly planner like this one from Moleskine.
8. Scented Candles

Create an ambience you want to work in with a scented candle. I love this one from the Chesapeake Bay Candle Co.
9. Cozy Socks
No list of work from home essentials would be complete without some cute fuzzy socks!
10. Cute Mouse Pad
Maybe not an essential but a cute mouse pad like this marble-effect one will take your work from home life to the next level.
More Work From Home Tips
Working from home with kids – Sample Schedule
10 Work From Home Jobs To Start Today