The free email marketing services below will let you send your emails out for free so you can invest in other areas of your business.
Email marketing is a great way to keep in touch with clients and keep them up-to-date on special offers and promos.
Most business owners know that sending an email newsletter or weekly e-blast can pay dividends but some email marketing software can get pricey. Luckily, there are free options that are perfect for growing business who don't need a ton of fancy features or automations.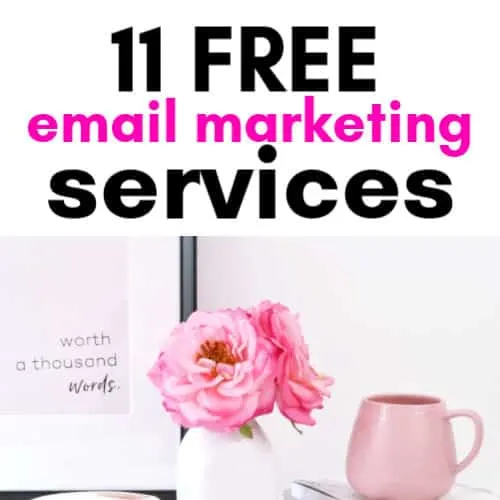 This post contains affiliate links. Please read my Disclosure for more information.
Why You Need To Build An Email List For Your Business
Unlike your traffic which relies on algorithms and search volume, or new customers which rely on good marketing, a good email list is something that you can control.
Email should be a cornerstone of your business, no matter what service or product you are selling.
Use email to:
Send regular newsletters to keep your business top of mind
Ask for feedback and do market research
Announce promotions and sales
Attract new clients with cold mass email that you send out to potential customers.
How To Choose An Email Marketing Software
Ease of Use – is it intuitive and easy to learn
Number of free emails per month available
Price of plans once you exceed the free option – if you want to scale your business look ahead to the pricing structure
Does the service include free email templates or landing pages
Support and tutorials
The Best Free Email Marketing Services
Sendinblue is a great option if you have a small email list but plan to grow.As you are only charged for the number of emails you send v the number of people on your list, SendinBlue is really cost-effective.
It offers a ton of awesome features including:
Drag and drop email templates including in the free plan
Chat features
Landing pages at the higher price points
A/B testing
Free Plan: Send up to 300 emails a day with unlimited contacts. (Sendinblue logo featured on the emails).
Next Plan: $27/mo – send up to 40,000 emails a month
Mailchimp is probably the most well known of the free email marketing services around. Many large companies use Mailchimp and have for years.
A Mailchimp ad is included on emails in the free plan
If you exceed your monthly limit on the free plan, you will "pay as you go" for any overage
Mailchimp made some changes in May 2019 that can add a lot of costs on for small business -New users will start getting charged per contact. This means that you will be charged for unsubscribed contacts and those who haven't confirmed a double opt-in.
Free plan: up to 2000 contacts and 10,000 emails a month (with ads).
Next Plan: The Essentials plan starts at $9.99/month for 500 contacts and 500k emails.
Mailerlite is my free email marketing service of choice. It's pretty easy to use, support is great and the free plan is perfect for new businesses or anyone with a small email list.
It also integrates into a lot of programs like Sendowl which is what I use to sell products.
The reason I really like Mailerlite is that the paid plans are really reasonable so you won't need to move somewhere else when your list outgrows the free plan.
Free Plan: Up to 1000 contacts and 12,000 emails a month.
Next Plan: Up to 1000 subscribers and unlimited monthly emails – $10.
If you want to try Mailerlite, you can sign up for FREE using this special code and you will get a $20 credit to upgrade whenever you need to.
Omnisend is an email marketing software especially for ecommerce store owners. If you have your own website or are planning on opening a Shopify store, Omnisend will be a good choice for you.
There is no limit to the number of subscribers you can have on the free plan which makes it great if you have a large list but do not send out frequent emails.
Free Plan: 15,000 emails per month and 2,000 emails per day.
Next Plan: $16 a month for 15,000 emails/mo (same as Free Plan) but access to automated workflows and SMS marketing.
Benchmark Mail is one of the cheapest options if you think your list will grow quickly. Even for upwards of 10,000 subscribers, it still costs less than $100 a month.
It's more geared for business than online sites or stores.
Free Plan: 2000 subscribers, 14,000 emails a month
Pro Plan: Starts at $11 a month.
Sender gives you the most bang for your buck and is really cost-effective when your subscribers grow. It has a ton of features including:
GDPR Compliant
Unlimited users on your account
Push notifications
Subscription forms
Free Plan: 2500 subscribers/15,000 emails a month
Next Plan: EURO 9 for 5000 subscribers and up to 60,000 emails a month.
Sendpulse features a lot of automations so you can decide what actions to take depending on where your readers click on your emails. This is really important if you are selling products or taking part in affiliate launches.
Other features include:
Drag and drop editor
Subscriber ratings so you can see how engaged your audience is
Ready-made email templates
Free Plan: 2500 subscribers/15,000 emails a month
Next Plan: $23.20 a month for up to 3000 subscribers (unlimited emails).
Moosend is one of the only companies that does not brand emails sent with their free plan.
If this is something that is important to you, then Moosend is the best free email marketing service for you. Most other companies in this list only remove the branding once you reach the paid plans.
Free Plan: Up to 1000 subscribers, unlimited emails, no Moosend branding.
Next Plan: $10 for 1001-2000 subscribers and unlimited emails.
Zoho allows you to import your subscriber list from CRMs, EventBrite and other programs. It is a great email marketing software for small businesses.
I really like that you can share your compaigns on social media directly from Zoho which is great for marketing and saving time.
The only negative to Zoho is that the paid plans can get quite expensive if you want to send out a lot of emails.
Other features:
A/B testing
Emails Templates
Automations
Free Plan: Send 12,000 emails per month to up to 2,000 subscribers.
Next Plan: $25 for 2000 subscribers, unlimited emails.
Mailjet is Europe's leading email marketing platform with over 100,000 customers in 150 countries.
They are great for high volume customers and people who need to send a lot of emails. They also offer a free plan which is rather limited in the number of emails you can send.
Free Plan: Unlimited contacts, 600 emails a month
Paid Plan: $8.69 a month for 30,000 emails a month.
If you plan on selling products on your site, Email Octopus is perfect for you. Using Zapier integration, you can use EmailOctopus with the likes of Salesforce, Eventbrite, Shopify, and SurveyMonkey.
EmailOctopus is great for bloggers as they offer a WordPress plugin and easy subscriber forms.
Free Plan: Up to 2500 users. EmailOctopus Branding on emails.
Next Plan: $19 a month for up to 5000 subscribers.
Top Choices in Free Email Marketing Services
Depending on how fast you think your email list will grow, Mailerlite or SendinBlue are great choices.
If you don't want branded emails from the get-go, then try Moosend.
If you are running an ecommerce store, then Omnisend is the right choice for you.
The best thing to do is try out a free email software for a few months before committing. If you already have your list elsewhere, don't move everything over until you are sure you are happy with your new provider.
More Home-Based Business Tips
How To Open An Online Store With Shopify
Like this post? Pin it!