Whether your kid is looking for some money making ideas or you want some unique things to sell at school bazaars, this list of things kids can make and sell is packed with ideas to keep them busy!
The crafts below are easy to make and are perfect ideas for homemade Valentine's gifts from kids.
I'm always looking for easy things kids can make for the craft table at the market day in our school.
It's actually surprisingly difficult to think of unique things to sell at school year after year. I always search for school bazaar ideas that are relatively cheap to make and that make great gifts.
This list of crafts for kids to make and sell for profit is fulls of awesome kid's market day ideas. Your budding entrepreneur could even start their own business selling their crafts online.
This post contains affiliate links. Please read my Disclosure for more information.
MORE FUN CRAFTS TO MAKE AND SELL
451 Most Profitable Crafts To Sell
10 Best Things To Sell On Etsy To Make Money
Now of course, you might be looking for crafts for your kids to make to give as gifts and all the ideas in the list below will work perfectly.
If you have older teens or are looking for things you can make yourself for money, you can find some ideas in my list of 10 Easy DIY Crafts To Sell Or Give As Gifts.
I also have lots of money making craft ideas in my big list of 451 Most Profitable Crafts To Sell.
11 Easy Things Kids Can Make & Sell
When you make things to sell, even if they are made by kids, you want to make sure people will pay for them. Make sure to source quality materials and choose easy crafts that kids can make with a little adult guidance.
And remember, presentation is key! Mason Jars, cute pots and packages dressed with ribbons always look good at bazaars and sales.
How amazing is this soap? I can't believe how easy it is to make and you could even do different colors for Christmas, Easter etc.
A lot of people shy away from making soap because they think you need to use lye which is dangerous and tricky to use, especially for kids.
Who knows, you might get the bug for homemade soap and start your own soap-making business!
Simple jewelry that you can make and sell is always a great craft for kids. You don't have to get too fancy to make something that looks really nice.
Here are three different bracelets you can make very easily. They look great as a set but you could sell them individually or give them as teacher gifts.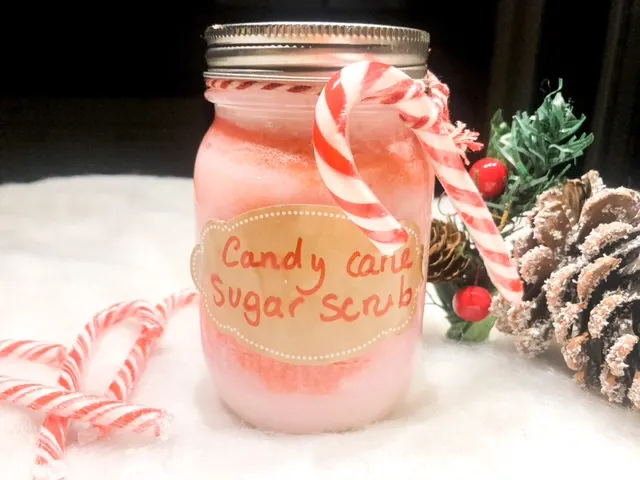 Sure, this version is perfect for the holidays but to be honest, you could make this sugar scrub in any scent. Just substitute the peppermint oil for lavender, lemongrass or whatever scent you prefer.
This sugar scrub can be made in just minutes and makes a fantastic hostess gift. My kids love to make a sugar scrub every year to give to their aunties.
Dog treats are a huge seller at school bazaars and fetes, they make great gifts and are one of my favorite things for kids to make and sell.
Unlike homemade cookies, there are no strict regulations on making and selling dog treats so it Is a really easy treat for kids to make at home.
In fact, dog treats are so hot right now that there are people selling them on Etsy and making $8000+ a month! From home!
If making and selling dog treats sound like a fun thing to do with your kids, check out my post on starting your own dog treat business for all the details.
This is a father's day craft that you make fit any holiday or occasion. You could also offer personalized frames made to order via an online store.
The easiest places to find out scrabble tiles and wooden picture frames are thrift stores and yard sales.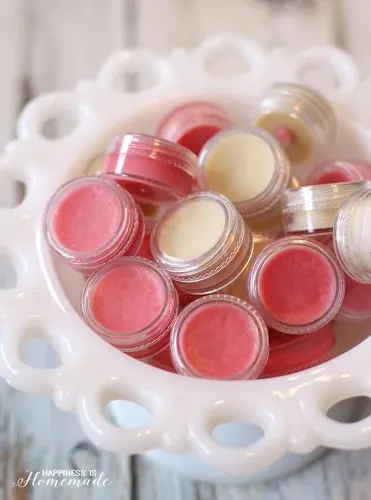 I recently got into making lip balm with my 5 year old daughter and we had a blast. I had no idea how easy it is and you can customize it with essential oils or vanilla essence.
If your kids love making this lip balm, make sure to check out these other DIY beauty products to sell or gift.
What kid doesn't love slime?
If your kids love making slime then why not let them make a bunch and then sell it to friends at the next market?
You can also make and sell slime on Etsy.
The key to making slime that sells is to really hone in your niche – focus on unusual or themed slime like this mermaid slime below.
Slime can be packaged in cute mason jars and sold at school market day for a dollar or two a jar.
It's fun to make and popular with all kids.
Bath Bombs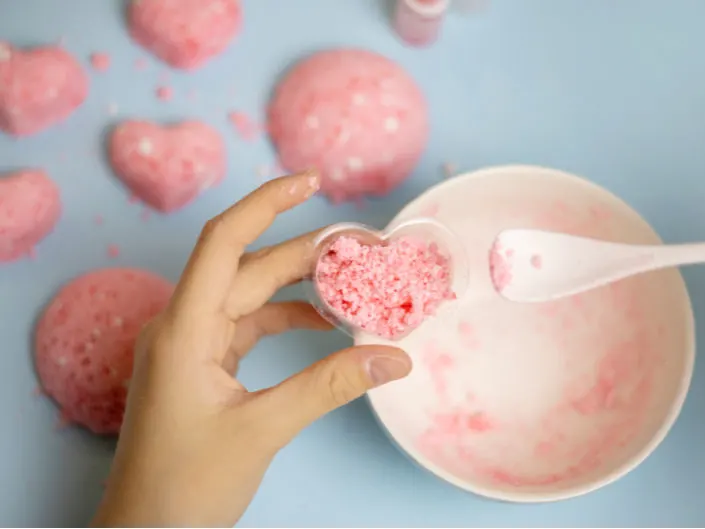 Bath bombs are really fun and easy to make. I've made them a few times with my kids and we always have fun.
The other thing about bath bombs is that they are really popular, especially homemade ones.
Kids can whip up a batch of 20 bath bombs in an afternoon and sell them for $3 each at a holiday market.
Learn more about making bath bombs to sell and get some great recipes here.
I've actually bought these crayons at a Christmas bazaar held at my daughter's school. They are so cute.
You can make these crayons in any color or shape using candy or ice cube molds.
Packaged together, they make a great party favor or stocking stuffer for kids.
DIY Beard Oil from Karissa's Vegan Kitchen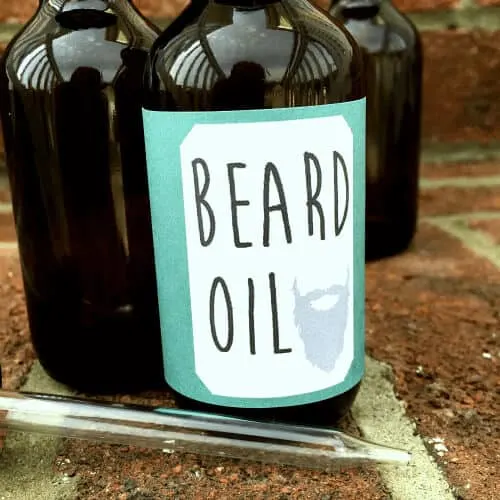 Here is a cute gift idea for the gentlemen! It is really easy to make and is always really popular at craft fairs as store bought beard oil is expensive.
DIY beard oil makes a fun gift for grandfathers or uncles and sells well at fairs and markets.
This is a fun craft that even little kids can make and sell.
There are so many great baby items to make and sell and these headbands are one of the easiest.
Flower headbands are really easy to make and can be customized however you like.
The instructions from Practically Functional show you how to get started on these baby must-haves.
Playdough
You might think that playdough is too easy to make and not worth selling at school markets but you would be mistaken!
This is one of those easy to make crafts for kids to sell that always sells like hot cakes.
People love homemade playdough and if you make it in fun scents such as pumpkin spice for the fall or gingerbread playdough for Christmas, you are sure to have a hit on your hands.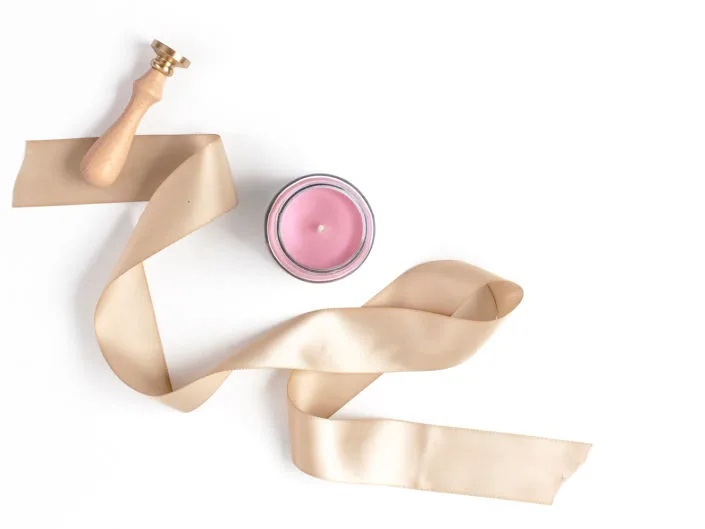 I was hesitant to make and sell candles from home because I thought the hot wax might get tricky but in fact they are really easy to make and so versatile.
You can use essential oils to create all different scents and even include dried flowers and mica pigments to color your candles.
These candles are non-toxic and smell great. You can decorate them however you like and mix and match the scents.
Mason Jar Crafts
Mason jar crafts are a really easy craft for kids to make and sell.
One example is to put all the ingredients for cookies layered in a mason jar with a gift tag showing the recipe.
You can find a recipe for M & M cookies in a mason jar here.
You can make these mason jars in just a few minutes and they are always popular for gift giving.
If you love this kind of easy craft, make sure to check out this list of even more mason jar crafts.
Easy Things For Kids To Make And Sell – Final Thoughts
The crafts that are listed in this article are very easy to make and most of them can be done without any experience at all.
Given that these crafts are for kids to do, they are fun and easy to make but will keep them entertained.
All kids love making something they can also sell or give as a gift. After all, children need to learn how to do things with their own hands, so these crafts are perfect for them!
More Things To Sell For Money
Where To Sell Used Clothes For Cash
10 Easy DIY Crafts To Sell Or Give As Gifts
15 Best Stock Photo Sites To Sell Images