Yes you really can get paid to fish! Read on to learn how to make money fishing and create a side hustle doing something you love!
My father in law was telling me a story recently about something that happened about twenty years ago.
He went on a fishing expedition off the coast of Canada and managed to catch a huge tuna. It took him over 5 hours to bring it aboard. The fish then sold for $20,000 which is about $41,000 in today's money.
Imagine if you could catch a fish like that every Saturday!
Obviously if you want to get paid to fish by catching huge tuna, then you have to have some luck and access to the best waters. However, there are actually a lot of other ways to make money fishing.
Read on for the top 15 ways to get paid to fish.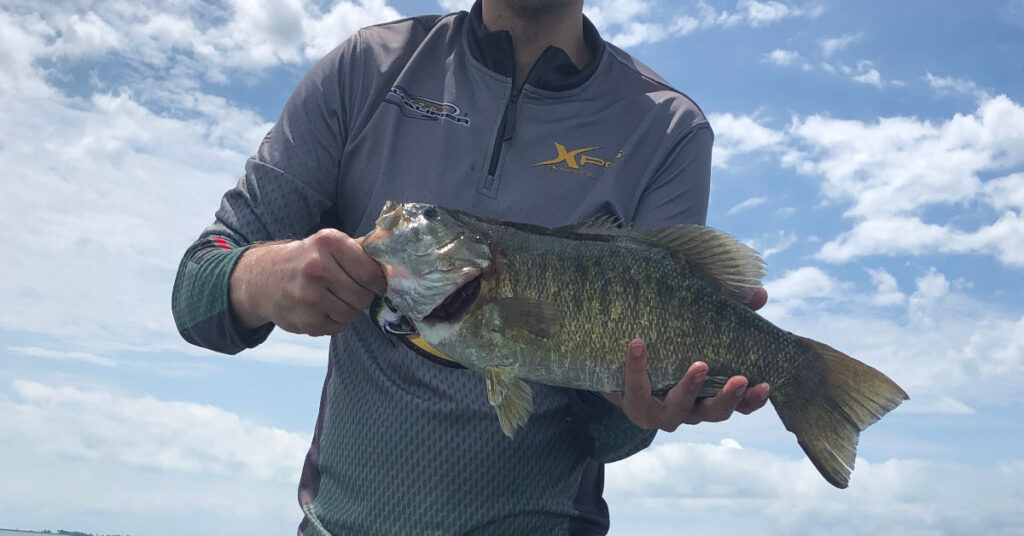 This post contains affiliate links. Please read my Disclosure for more information
RELATED POSTS
How To Make Money Fishing
If you are a fishing fanatic then making money from fishing could be the answer to your dreams. After all, you were probably going to go fishing anyway, right?
So imagine if you can make enough money to cover your your expenses and pay for your lures and bait. Now what if you could pay your expenses and make some income too? How fantastic would that be?
It really is possible to turn your hobby into a money maker , and fishing is one past-time that actually offers a lot of money-making opportunities.
15 Ways To Get Paid To Fish
Becoming a fishing guide
Get paid to test fishing products
Become a professional angler on a "pro" tour
Open a bait and tackle store
Make custom fishing rods or design lures and other tackle.
Sell Fishing Photography
Write Fishing Books or eBooks
Blog About Fishing
Start a fishing podcast
Teach People to Fish, Online or Offline
Start a YouTube Channel about fishing
Become commercial fisherman on a trawler
Breed tropical fish
Enter fishing competitions
Start a fishing camp for kids
Let's look at each of these fishing side hustles in depth.
1. Become a Fishing Guide
If you live in an area with lots of lakes or good fishing, you can make money as a fishing guide showing people where the best spots to fish are.
Sometimes people are looking for specific fish to catch and if you can guide them to the right spots, then you can quickly make s name for yourself.
Some fishing guides only charge for successful fishing trips, while others charge per trip.
2. Get Paid To Test Fishing Products
If you are a keen fisherman, you can sign up to test fishing products for cash or free fishing gear. There are sites that offer receive free fishing lures and gear in exchange for reviews and product testing.
Why would sites offer free products like this? It is actually hard for a product developer to find someone good to test rods, reels and lures and give a genuine review.
You can sign up for sites like Field Test Fishing or contact lure manufacturers directly. Having a social media following or a YouTube channel will greatly help with this – see below for more details.
3.Become a professional angler on a "pro" tour
If you can become a pro fisherman on a tour such as Bassmaster. a whole world of fishing opportunities will open up to you, from sponsorships to free gear and money.
Taking part in tournaments is the best way to start on the path to being a professional angler.
4. Open a bait and tackle store
Bait is always in demand so one way to get paid to fish is to start breeding and selling bait. Bear in mind that you don't need to open a brick and mortar store nowadays.
You could launch a website for your small business and promote your bait online.
It would be easy to scale up your bait business to include lures and other tackle that you source from wholesalers.
5. Make custom fishing rods or design lures and other tackle
Custom fishing lures are big business on sites like Etsy. If you are handy and want to start selling custom fishing gear, you can start your own Etsy store for free and get 40 free listings to start you off using this link.
Here are some tutorials to start you off on Etsy:
Start An Etsy Store Successfully
6. Sell Fishing Photography
Another way to get paid to fish is to sell your fishing photos online to stock photo sites or fishing magazines.
There are a bunch of stock photos sites that will pay you for your fishing photography, including:
7. Write Fishing Books or eBooks
Fishing books could be instructional or more like memoirs. Think about the kinds of fishing books and magazines you like to read and go from there.
The easiest way to get started is to write your own fishing books and sell them online on Kindle Publishing. You can create ebooks on Canva or Word and convert into the right format.
8. Blog About Fishing
Fishing blogs are big business and can take a few different tracks. You can create a "how to fish" blog or more of an informational blog about your catches and the best places to fish in your area.
A fishing blog can make you money via display advertising or selling your own products such as ebooks. You can also monetize your blog by recommend fishing gear and getting paid for using affiliate links.
Starting a blog is really simple and can be done for around $5 a month, you can read my step by step guide to creating your own blog here.
9. Start a fishing podcast
If writing isn't your thing, another option is to start a podcast.
You can make money with a podcast that is just you and your buddies talking about fishing or you can create an informational podcast about how to fish certain types of fish.
Podcasts make money with ads and sponsorships mainly. You probably won't be able to make money right off the bat but it can be a fun way to make money talking about something you love.
For ideas on how fishing podcasts work, here are some of the top ones:
This podcast has been around since 2006 and features exclusive interviews and great informational content.
This is one of the "friends sitting around talking" podcasts that is really entertaining and popular.
10. Teach People to Fish, Online or Offline
You know what that say, "teach a man to fish". And lots of people want to learn. You can teach fishing classes online or offline.
Offline, you can partner with tackle stores or local community groups to arrange in person classes. Offline, you could create a course and sell it online to fishing fans.
If you want to design a course online, I have a tutorial with more information on getting started.
11. Start a YouTube channel about fishing
There are hundreds of YouTube channels about fishing but that doesn't mean that you can't be successful.
First you're going to have to build your channel and get a good number of subscribers and a consistent view count. Then you can monetize with ads, your ow products and affiliates, much the same as making money with a blog.
Here are some ideas for fishing YouTube channels:
Buy different baits, maybe the bait of the week for my area and do your own reviews.
Teach other people how to fish
Show the best places for certain fish in your area
Niche down to a certain type of fish such as bass
12. Become commercial fisherman on a trawler
This is a bit extreme if you are just looking for a way to make some extra cash with your hobby. However, I would be amiss if I didn't mention the best way to get paid to fish is to become a professional.
You can work as a deckhand on a fishing boat and make around $10,000 for a season. Fishermen make more as they have more experience on the trawler.
For more information, I found this article on finding a job on a fishing boat really useful.
13. Breed tropical fish
There is serious money in tropical fish. Admittedly, this isn't exactly a get paid to fish job although it is a way to get paid if you have a passion for fish and fishing.
(By the way, tropical fish breeding is another great idea for a YouTube channel or Podcast).
Bear in mind that your water and electricity bills will go up once you get into the tropical fish breeding world. Factor that into your costs.
The best tropical fish to breed to make money include:
Dwarf cichlids
Clownfish
Zebra Pleco
Discus
14. Enter fishing competitions
I think it goes without saying that you likely need to win or at least place in order to make money with fishing competitions.
However, for the winners go the spoilers and large fishing tournament winners can get sponsorship deals, free gear and even gigs as professional anglers.
The top competitions include:
15. Start a fishing camp for kids
If you love fishing and love teaching it to others, how about starting a fishing camp for kids? This doesn't have to be a week long thing but lots of people would pay for their kids to learn to fish with an expert over the summer.
You'll need some references, a website or Facebook page and a Police background check before launching this kind of business. Starting a camp is a fun way to get paid to fish and help others develop their passion for the sport.
Get Paid To Fish: Final Thoughts
If fishing is your passion then there are various ways you can turn your hobby into a money-making enterprise.
Sure, you might not become a millionaire but you could cover your costs and even make a little bit of extra cash on the side.
The best way to find the fishing side hustle that would work for you is to analyze what you like doing the best and see how you can pivot it to make money.
If you love writing, start a blog. If teaching others is your thing, create a course or start a camp. Expert in your area? Become a fishing guide.
More Money Making Tips
80+ Creative Side Hustle Ideas For 2021
Proofreading Jobs From Home, No Experience Needed!