Have you ever wondered how to start an Etsy store? Do you want to sell your handmade crafts and printables online?
It's actually really simple to get started with Etsy. You might even be able to earn a full-time income.
If you already have a product that you wish to sell, especially one that sells well at local crafts fairs and online, then you are halfway there!
In this post you will learn everything you need to know about starting your own Etsy store and making money online. Also, use my special link and get 40 free listings to start you off.
This post contains affiliate links. Please read my Disclosure for more details.
MORE CRAFTY BUSINESS IDEAS
Start A Home Based Greeting Card Business
Start A Soap Making Business From Home
What To Sell On Etsy To Make Money
First things first – you need to do some research and decide on what you want to sell on Etsy. If you are stumped for ideas, here are the current 15 Best Things To Sell On Etsy To Make Money
Spend some time on the site and get a feel for the bestsellers in each category (Etsy makes it super easy by highlighting bestselling items when you do a search).
If crafts are not your thing, consider selling printables. They are so popular for wedding invitations, party decor and artwork.
If you are interested in starting your own Etsy Printables Business, make sure to download this free ebook that Julie created for her business Gold City Ventures.
The Seasonal Products Secret ebook includes 12 months of ideas for best-selling printables that you could create and sell on Etsy.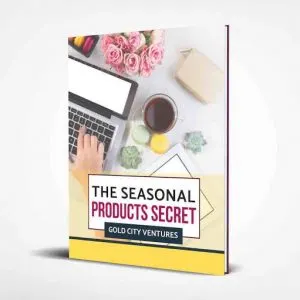 What to do before opening an Etsy shop
Before we launch into how to start an Etsy store and make money, there are a few housekeeping items you need to do.
Choosing your perfect Etsy product and researching the site to make sure that it is a viable option that will sell are extremely important.
Here are a few other things you need to do before opening your Etsy Shop:
Starting An Etsy Shop Checklist
Open a bank account – this will make it that much easier when it is tax time. A business account is a good idea.
Consider registering your business so that if you become successful, you can eventually create an LLC.
Create a stash of products if you are selling physical items. This will allow you to ship items faster and get you better reviews.
If you are selling printables, experiment with different designs, fonts and colors.
Start perfecting your photos– good photography is key to making your items stand out on the homefeed and getting sales. You don't need to buy an expensive camera – your phone will work great and you can download a free editing app like Lightroom.
Pick an Etsy Store Name (more on that in a minute)
Register your store with Etsy here (this link will give you 40 free listings to start you off).
Make your Etsy business plan. I love using a simple Printable Etsy Store Planner to keep track of everything.
You can download a free printable starting an Etsy store checklist PDF here.
Cute Etsy Store Names
Choosing a great Etsy store name is very important. You want customers to remember it so they can find you again easily and recommend you to their friends,
You want your Etsy store name to memorable and if possible, relatable to your product. Etsy does provide some guidelines which might help you:
"Pick an Etsy shop name that is easy to pronounce and spell. The former helps shoppers remember your name, the latter makes it easy to find you again.
Your Etsy shop name cannot be longer than 20 characters and can't contain spaces or punctuation." Etsy's seller handbook
Bear in mind that you might have customers from all over so try and choose a name that is simple to read.
Another thing to bear in mind is that you can change your Etsy shop name but only once.
Top tips for picking the perfect Etsy Store name:
1.Make it descriptive
Examples from Etsy
Mama says signs (wooden signs/home decor)
Soley Socks (I think you can guess what this one sells!)
Poof There It Reveals (Gender reveal supplies)
2. Check Availability
When you set up your store, you will get a chance to check its availability. I would recommend checking social media (Instagram, Pinterest and Facebook) and snagging those usernames too so you can promote your store online.
3. Make Your Name Stand Out
One weird thing is that Etsy shop names are displayed in one big word without spaces. This can make them less memorable and hard to read.
To get over this, take advantage of capital letters to make the appearance of your shop name more legible.
If you have more than one word in your shop name, create visual separation by making the first letters of each word capital letters instead of lowercase.
For example, TheBlondeOrphan is more eye-catching than theblondeorphan.
Click here for even more tips on How To Name Your Etsy Shop.
How much does it cost to set up an Etsy shop?
One of the most important things to consider if you want to know how to start an Etsy store is how much it will cost you.
First the good news: It is completely free to open your own Etsy Shop. Just know that you cannot open your store until you add at least one item to your store so make sure you are ready to start selling!
Just head to the Selling on Etsy page and start entering your information. The process is simple.
There are no ongoing monthly charges but you will have to pay fees once you start selling.
** Open your Etsy store using my special link, and you will get 40 free listings to start you off***
Here's how how the fees work: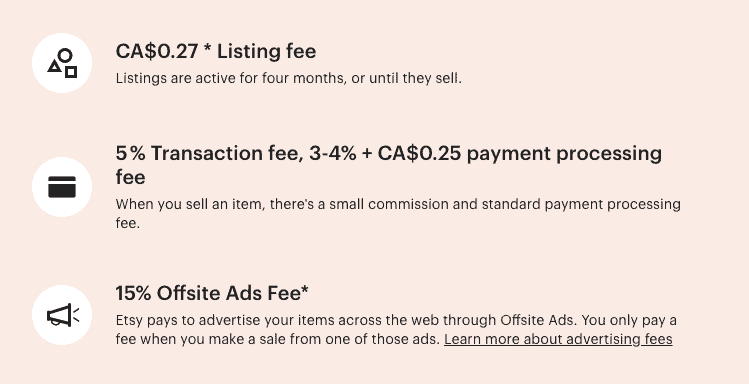 Is Etsy Worth It?
If you are already selling your own products and have a stash, Etsy is a bit of a no-brainer. You can make money pretty passively and can access a whole slew of clients from all around the World that would otherwise have been inaccessible to you.
It's a great way to grow your business to the next level and is often cheaper than paying for a table at a craft sale.
Remember you can sell on Etsy as a supplement to an Etsy Store website and in person events.
Can Etsy be a full time job?
Absolutely! While you would have to sell a ton of a cheap product, there are most definitely Etsy sellers who make upwards of $40,000 a year online.
The key is researching a product that sells well and working on promoting your store and getting seen in the search results.
Final Thoughts on Starting An Etsy Shop
An Etsy Shop can be a fun side hustle that can make you extra money.
Once your shop is up and running, make sure to start promoting it everywhere you can.
You can create social media accounts for your store and post to them regularly.
Another important place to promote your store is on Pinterest. It can be a goldmine of new customers for any Etsy shop.
You can read my in depth guide on How To Use Pinterest For Etsy for a step by step tutorial on making pins and promoting them.
Next Steps On How To Start An Etsy Store
How To Make An Etsy Store Website In Minutes
How To Start Your Own Etsy Printables Business
10 Best Things To Sell On Etsy To Make Money