If you're looking for a way to earn some extra money, why not learn how to make money as a notary?
As a notary public, you can earn a commission by witnessing the signing of important documents and verifying the identity of the signers. You'll need to be appointed by your state's government in order to become a notary public, but the process is generally fairly simple.
In this article we will show you how to start your own notary side hustle! Read on for our step by step guide.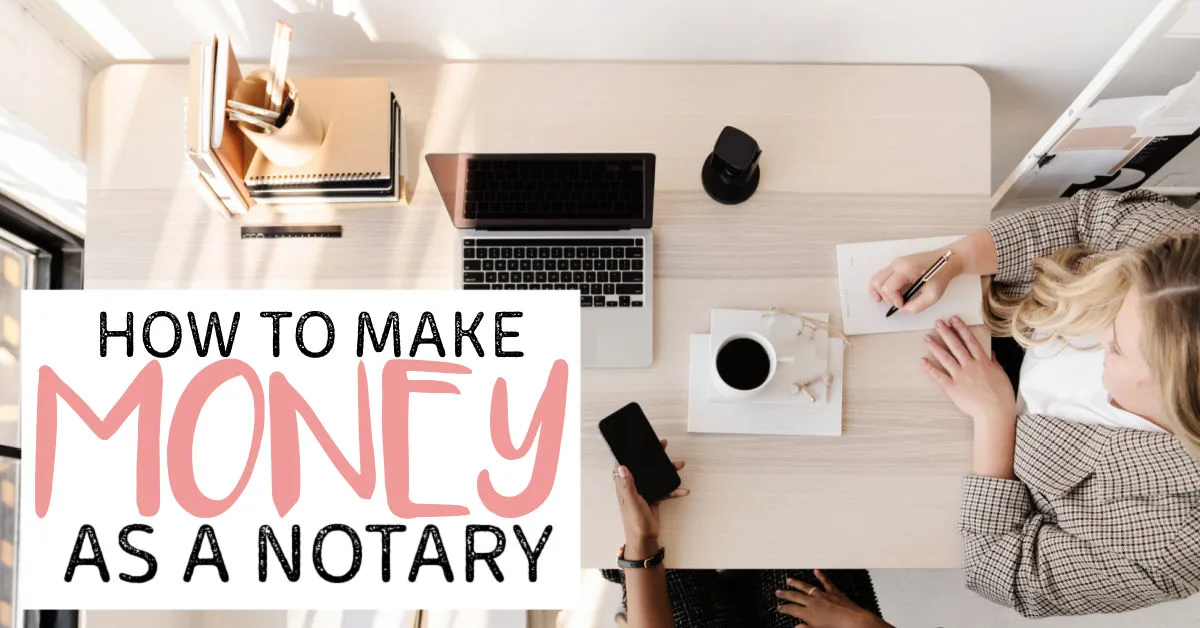 This post may contain affiliate links. Please read my Disclosure for information
MORE WORK FROM HOME IDEAS
How To Sell Stickers On Etsy: Interview With Mim Jenkinson
10 Clever Ways To Get Paid For Handwriting Notes And Letters
How To Make Money As A Notary
Notaries public are important figures in the legal system. They witness the signing of important documents and verify the identity of the signers. Notaries public can make a good living by providing their services to those in need.
Here is what you need to know to how to make money as a notary public:
What Is A Notary?
A notary public is an individual who has been authorized by the state to witness the signing of important documents and administer oaths. Notaries are impartial witnesses to the signing of documents and verify the identity of the signer(s). They also ensure that signers understand what they are signing, and that all signatures are freely given. In some cases, notaries may also take acknowledgments or proofs.
Notaries public are commissioned by their local governing body.
In order to become a notary, an individual must complete an application, take an oath of office, and post a bond. Once commissioned, a notary must maintain a record book (called a journal) and must purchase a seal.
So how to make money as a notary? Well, it is simple! Notaries typically charge a fee for their services and this can vary depending on the type of document being signed.
In general people pay between $30-80 per signed document depending on whether it is a divorce agreement or a car ownership transfer or something more complicated.
A notary public is an impartial witness who helps to prevent fraud by verifying the identities of those signing documents and making sure they are aware of the consequences of their actions.
Notaries are commissioned by the state and bonded to perform their duties. Over 1.25 billion documents are notarized every year making signing services an in demand job.
Why Do People Use Notaries?
Professional notaries are used for all kinds of different business and personal needs. Some of the most common include:
Real estate transactions – offer letters, closing documents etc
Legal documents – divorce papers, wills
Government Paperwork – Citizen applications,
Banking Work – loan signings, mortgage loans
As a notary, you will work closely with certain industries such as real estate agents, mortgage brokers and possibly even a wedding officiant or two to help their clients with life's milestones.
You can also learn how to make money as a notary working in-house at a firm who needs lots of things notarized on a weekly basis. This is a way to guarantee a monthly income for yourself.
Why Become A Notary?
What are the benefits of becoming a notary? Well, in fact there are many, let's look at a few:
Work from home
The ability to work from home is a great benefit of becoming a notary. You can answer phone calls and schedule appointments from home. Many people are using digital documents nowadays so online only notaries are becoming even more popular.
Doing this work online from home is a great way to make a little extra money without even leaving the house!
Make your own hours
Becoming a notary can give you a lot of flexibility with your work hours. You can make your own schedule and work when it is convenient for you. Notaries are in high demand and many people need to visit them after they finish work or on the weekend making this a great way for stay at homes to make additional income.
Work with a variety of people
One of the benefits of becoming a notary is that so many different people require the services of a notary. In addition to the amazing income potential, each day of work will be varied and never dull!
Be your own boss
The ability to be your own boss is a huge benefit of becoming a notary. Whether you decide to become a notary as a side gig or as a full-time job, you will be in charge of your business 100%.
How Much Money Do Notaries Make?
A notary can make up to around $200 an hour working whenever they want! This means that full-time notaries can make between $100-400,000 a year just for signing papers!
If you want to earn that kind of monthly income the becoming a notary is the best way to start! It's easy and cheap to get started (around $100) and there are excellent opportunities for growth.
What are some ways to make money as a notary?
You've decided that this is the job for you but how exactly can you make money as a new notary? Let's look at some of the ways to market your business and get clients:
Open A Mobile Notary Business
A mobile notary is a notary public who travels to the homes and businesses of clients to provide notary services. Mobile notaries are often used by people who are unable to leave their homes or offices to visit a notary public, such as the elderly or disabled.
Mobile notaries can provide a variety of services, including witness signatures on documents, taking oaths and affirmations, and certifying copies of documents. In some states, mobile notaries are also able to perform marriage ceremonies.
To become a mobile notary, you must first become a notary public. This generally requires completing an approved training course and passing an exam. Once you are a certified notary public, you can then apply to become a mobile notary with your state's secretary of state office.
Offer Remote Online Notarization
Offering online services will allow you to be more competitive by being able to meet the needs of clients who may want their business done in different ways.
Many people don't have time to visit a notary office or they want to save money by doing it online.
Many states now approve of remote online notarization (RON), which means there are more opportunities for revenue growth without having to leave your home office.
There are a few different software options you can use to enable online notarization.
These include eNotarization, eSignatures, and ProperSign. With these online platforms, you will receive the identification and official documents from your customer before your meeting. During your meeting, you will witness them signing their document and then you will send them back a scanned copy with your notarization on it.
I personally have used an online notary myself and found it so easy and quick. Bear in mind that an online notary will not charge as much as an in person notary (in my area they charge about 75% of what an in person notary will charge).
In Person General Notary Work
A well-integrated business that offers notary work will likely offer in person signings too. Many in person notaries rent space in an office building or offer signings from their home office.
You would need a system for customers to book appointments with you and then take your appointments when it suits you.
How Can I Become A Notary?
While lawyers, paralegals and some other professions can apply to become a notary very easily, if you are not in the legal profession, you will need to go through a process to become a certified signing agent.
Step 1: Take a notary class
In order to become a notary, you might need to take a training class and pass an exam. This will depend on where you live so check with your own state or provincial requirements.
Google "How to become a notary + your state" and you should easily find what you need to know.
For example, I live in California and here is what the Secretary of State says about becoming a notary public:
The length of the training class and the topics covered will vary depending on the state in which you are taking the class.
However, some general topics that will likely be covered include fraud prevention, state law, and duties of a notary. After successfully completing the training and exam, you will be ready to start your career as a notary.
Step 4: Submit your paperwork to the state
Your state government site will have all the details you need to know about becoming a notary. Bear in mind that in some areas, you are only qualified as a notary for a term of 2-3 years and must reapply when your term expires.
In order to become a notary in the state, you'll need to meet eligibility requirements and complete training. The application fee will vary by state, but usually ranges from $50-$100. Some states mandate that prospective notaries undergo training through specific companies, but this is far from a nationwide rule.
Becoming a notary is often a simple process, though it can vary depending on your state's requirements.
In some cases, you will need to pass an exam and complete other requirements in order to become a notary in the state.
In other places, you may need to pass a written test, get fingerprinted, and pass a background check depending on the state you reside in.
To become a notary, you'll also need to purchase stamp, seal, and supplies. Verify the process with your local government before starting
Step 2: Purchase errors and omissions insurance
As a notary, you may be held liable for any mistakes or errors that you make while performing your duties. Errors and omissions insurance (E&O) can help protect you financially in the event that you are sued for a notary mistake.
E&O insurance typically costs around $100-150 per year and can help cover the costs of legal fees related to notary mistakes.
Purchasing E&O insurance is a good idea for notaries who plan on working for other businesses. If you are working as a freelance notary, it is especially important to have this type of coverage in case of any mistakes that could occur.
Step 3: Purchase a notary seal and kit
In order to become a notary, you will need to purchase a notary kit, which includes a notary seal, acknowledgement certificates, and a notary journal. The kit will help you keep track of your notarizations and certify documents. You can find vendors that sell notary supplies online or in stores.
How To Get Clients As A Notary
As a notary public, you can market your services to individuals and businesses in your community. You can also list your services online and in directories.
To market your notary services to individuals, you can distribute flyers and post them in public places.
You can also tell friends, family, and acquaintances about your services.
To market your notary services to businesses, you can compile a list of local businesses that may need notary services and contact them directly.
You can also join chambers of commerce or other business organizations.
Listing your services online is a great way to reach a wider audience. You can create a website or blog and write articles about notarization tips and tricks. You can also list your services in directories like the American Society of Notaries' National Notary Directory.
Offer free notarizations
One way to get more clients is by offering free services to veterans or other people in your local area. Notarizing documents for free is a great idea and shows that you are willing to help out your community, which can attract more clients.
You can also offer seminars about different documents that need to be notarized too. This will help build an "expert" reputation in your community and offer valuable information to those who attend. Finally, you can become a Notary Signing Agent and learn about the opportunities available before starting the NSA certification process.
Advertise on social media
When it comes to advertising your notary business on social media, there are a few things you should keep in mind. First, you want to make sure that you are posting in an organic way. This means that you shouldn't be spamming potential customers with ads or posts that are not relevant to them. Instead, focus on providing valuable information that your target audience will find useful.
You should also be aware of your tone when advertising on social media. It's important to remain professional even when faced with criticism. Remember, you are representing your business and you want to make sure that you come across as being credible and trustworthy.
It's also important to educate your audience about the different services you offer and why you are the best choice for their needs. Be clear about how people can contact you and provide an action for them to take if they're interested in learning more about your business.
Finally, avoid advertising unauthorized services on your social media pages. This could lead to legal trouble down the road and damage the reputation of your business
Create your own website
One of the most important things any business needs to do nowadays is to have an online presence. The best way to look professional and build up your notary business is to create your own website that shows clients how they can contact you and your hours of work.
You don't need to spend hundreds or hire a professional to create your website – follow my quick guide to starting a website for your small business and you will have your site up and running in just a few hours.
Join a notary professional organization
Joining a notary professional organization has many benefits that can help you build your business. Some of these benefits include having access to valuable resources, staying up-to-date on industry trends, networking with other professionals, and increasing your business' visibility and credibility.
Build a strong network of people who may pass work on to you.
Get you access to valuable resources and support.
Connect with other potential customers and professionals in your area
Increase visibility and credibility for your business: Becoming a dues paying member will give you access to valuable resources, such as online tools and newsletters, that can help promote your business.
Make Money As A Notary: FAQs
What are the requirements to be a notary?
To become a notary, you must be a U.S. citizen or permanent legal resident of the state in which you are applying. You must also be at least 18 years old and have a clean criminal record. Most states also require that you can read and write in English. It is important to check with the state you are intending to become a notary public in first to make sure there are no additional requirements.
What are some tips for becoming a successful notary?
To become a successful notary, you need to have a lot of preparation and tools, including a laptop and dual tray printer.
You must be ready to take on orders and phone calls from clients before you can start working as a notary.
To succeed as a Notary, it's important to learn about the different types of Notary services and understand the importance of branding and reputation.
It's also important to focus on customer service and retaining valuable clients.
Building a successful Notary business involves setting high standards for service and professionalism, focusing on repeat customers, and growing your business to include things such as mobile and online signing services to customers.
What are some common notary mistakes ?
Notaries are public officials who are responsible for witnessing and authenticating certain types of transactions. In order to become a notary, an individual must purchase a surety bond, which is a type of insurance that protects the public from financial loss in the event that the notary makes a mistake.
There are several common mistakes that notaries can make, which include:
-Not properly identifying the parties to a transaction
-Failing to witness the signing of documents
-Not properly authenticating signatures
-Not maintaining records of transactions
How To Make Money As A Notary: Final Thoughts
Becoming a notary is one of the most lucrative side hustles there is. Without a huge start-up investment, special training or courses, you can make up to $200 a hour from home!
Depending on where you live, it may only cost you $100 to get started as a notary and you could be making great money on the side in no time.
If you have extra time in your day and want to make some extra cash, this is one work from home opportunity to seriously consider.