Where To Get Paid For Handwriting
Do you have beautiful handwriting? If you get comments on your penmanship and you are wondering if you can get paid for handwriting letters and notes, keep reading.
You might not know but there are opportunities for you to make money from your handwriting!
There are a number of ways that you can get paid to write by hand, from the comfort of home. From starting your own handwriting business to selling your handwriting online, there are lots of fun side hustles that involve handwriting.
In this post we will look at the best places to make money with your handwriting online
Sell handwritten wedding stationary
Teach calligraphy
Make Calligraphy printables and worksheets
Sell hand-lettered certificates
Become a graphologist
Make and sell fonts
Sell handmade greeting cards
Write and sell custom quotes/artwork
Teach cursive
Become a freelance calligrapher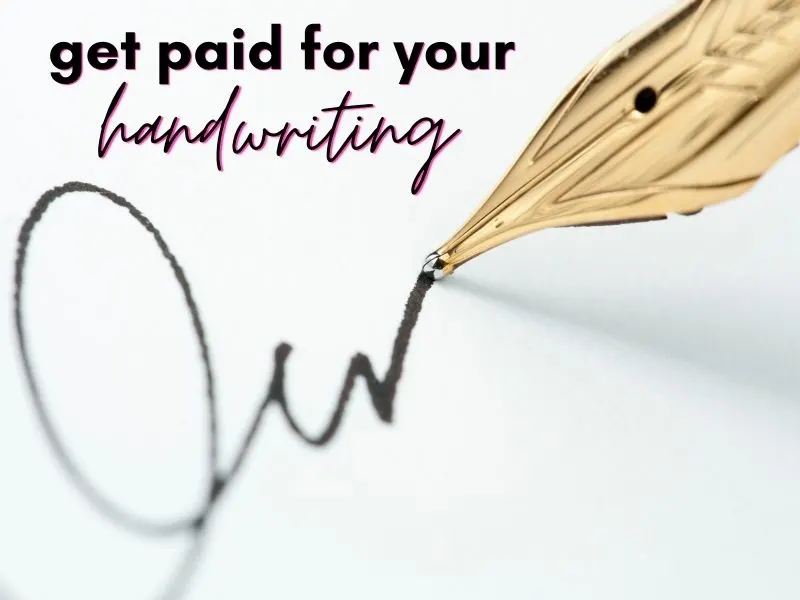 This post contains affiliate links. Please read my Disclosure for more information
MORE WRITING SIDE HUSTLES
How to Become A Freelance Writer With No Experience (5 simple steps)
How To Write And Make Money Selling PLR Content
Where Can I Get Paid For Handwriting?
Who would have thought that handwriting could be worth money? It turns out that there are a number of companies and platforms online that are willing to pay for handwritten notes, thank-you cards, and even signatures.
So if you're looking for a way to make some extra cash, consider picking up a pen and paper!
Here are a few ways you can start making money by handwriting:
Sell Handwritten Wedding Stationary
One of the easiest ways to get paid for handwriting is to get into the wedding industry.
Some people hire calligraphers to address their wedding invitations and envelopes to give them a classy, traditional feel that digital print just can't give.
Many couples want handwritten invitations, menus, place cards and even seating charts.
If you have beautiful handwriting, you could start your own business converting typed memos and invites into pretty handwritten works of art.
You will be surprised at the number of people looking for this kind of service, especially as handwriting in cursive gets less and less common.
How To Get Started With Your Own Handwriting Business
The best way to get started is to advertise locally on Facebook and Instagram but to also open an Etsy shop.
Here is a step by step guide to starting an Etsy shop
First, you need to have a shop. Go to Etsy and click on "Create Shop".
Use this special shop invitation from me to get 40 free listings to start you off.
You will then be prompted to add some basic information about your store.
To walk you through the whole Etsy set-up, I recommend you download my free Starting An Etsy Shop Checklist PDF.
This will take you step by step from launching your shop to listing your wedding invitations and beyond.
In your Etsy shop, you can charge by the character or by the word and convert uploaded digital text to handwriting for any occasion such as weddings, birthdays, anniversaries, graduations etc.
If you search on Etsy, you will see all kinds of listings offering handwriting – to stand out consider offering something unique like notes on special paper.

Teach Calligraphy
If you have beautiful handwriting skills, why not teach others to do the same? If this is something that interests you, there are lots of great options to turn this into a money making venture.
Create A Course Online
You can create a course online and sell it on a platform such as Udemy or Coursera.
Most courses are made up of recorded videos so once you have spent the time to create the videos and turned them into the course, you can sell it again and again and create a nice stream of passive income.
Start A Handwriting YouTube Channel
A YouTube channel can be a great way to teach others to write beautifully and once you reach enough subscribers, you can monetize your channel with advertisements and recommend products for affiliate commissions.
Make Calligraphy Worksheets and Printables
Another idea for teaching others how to have beautiful handwriting is to create a book of printable handwriting worksheets with examples and sell it on Amazon or Etsy.
This is one that I personally love because I just spent $10 on a similar book myself! The market is definitely there.
You can create the ebook and worksheets on a free program such as Canva and then self-publish them on Amazon. This is a great way to get started and is really easy to do.
Here is an in depth guide to making money with Kindle Publishing
Sell Hand-Lettered Certificates
Did you know there is a huge market on Etsy for hand lettered marriage certificates?
These keepsake items are often referred to as "Quaker style marriage certificate" but they are a gorgeous way for couples to celebrate their weddings and look amazing framed at home no matter their religion.
One hand lettered wedding certificate sells for around $60 so this is a really great side hustle idea for people who have pretty handwriting.
And of course, you don't need to stop at marriage certificates! All kinds of awards and certificates can be converted into handwriting and sold on sites like Etsy or even your own small business website.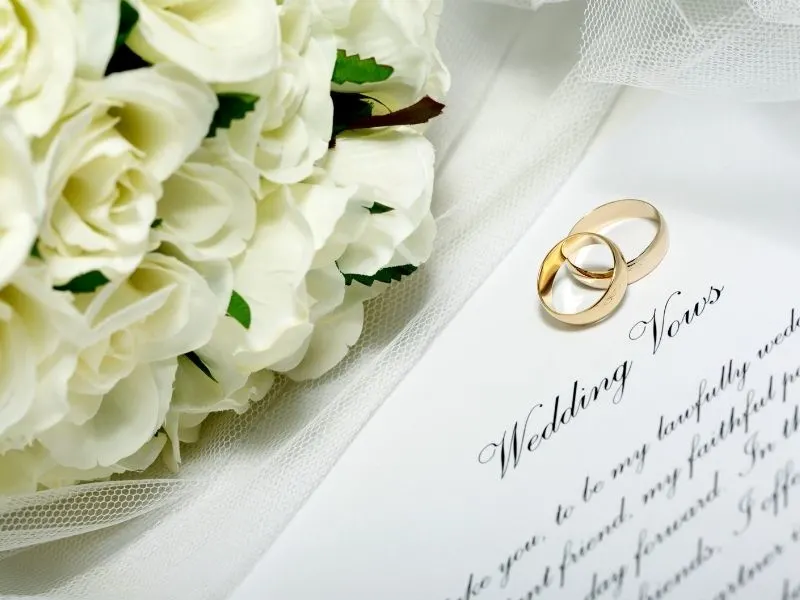 Become A Graphologist
While this isn't exactly a way to get paid for handwriting, it helps if penmanship is "your thing".
Graphologists work in the study of handwriting, analyzing writing for personality traits and characteristics. You are probably familiar with graphology from watching crime shows on TV.
Another very important role of graphologists is to look at writing to determine the authenticity of documents such as contracts and qualifications. If a signature is disputed on a legal contract, a graphologist may be called in to see whether it was forged.
How To Get Started As A Graphologist
Most handwriting experts have a bachelor's degree in Criminology, Psychology, Law or Sociology that enables them to understand human personalities.
Once you have a degree, you normally undergo a one or two year certification in Graphology from a specialized handwriting school. In the USA, certification is done by the AAHA or the American Handwriting Analysis Foundation (AHAF).
Make and Sell Fonts
Here is one way to get paid for handwriting that doesn't require a degree or special certification.
Hand lettered fonts are extremely popular right now and you can make good money selling fonts that you create to businesses and brands.
How To Create Fonts To Sell
There are quite a lot of tutorials on YouTube on how to create fonts to sell online. If you have an iPad, you can use an app such as Procreate or ifontmaker.
FontStruct is a browser based program that will let you create fonts on your laptop or computer.
Where To Sell Your Fonts
There are three ways to sell your fonts: through resellers, by selling directly to clients, or by creating custom fonts for others on demand.
You can list your fonts to sell on sites such as Creative Fabrica or The Hungry Jpeg.
You could also sell your fonts to font foundries that distribute typefaces. They will typically pay you a royalty in exchange for exclusivity.
Here are some of the top font foundries:
Sell Handmade Greeting Cards
We already touched on the possibility of selling invitations on Etsy but that was more on a on demand or custom basis.
Another really in demand way to get paid for your handwriting is to create greeting cards for different occasions and then sell them in your Etsy shop.
Starting your own greeting card business can be a fun way to make money from your creativity and handwriting talents.
This is a side hustle that really has no limits as you can make cards for all different milestones plus evergreen cards such as thank you notes and greeting cards with cute quotes.
Write And Sell Custom Artwork
We've all seen the cute quotes and sayings that everyone and their brother has up in their house. With the advent of modern farmhouse style, these kinds of wall art have become super popular.
If you are great at brushed artwork then consider starting your own business creating and selling signs and wall art with your handwriting.
You could create your pieces on paper, card stock or canvas and sell them at craft fairs or on Etsy. Handmade artwork also sells really well at local farmer's markets.
Teach Cursive On Outschool
With fewer and fewer schools teaching cursive as standard nowadays, many parents are turning to online teachers as a way of getting their kids up to speed.
If teaching cursive is something that interests you, you could advertise on Facebook or even put signs up around town.
Another really good way to get teaching jobs is to sign up with Outschool and teach online. I am a huge fan of Outschool and my kids take classes weekly through the platform.
You can sign up and create your own cursive handwriting classes to fit in your own schedule. Depending on the number of kids in your class, you could earn $100 an hour or more.
Learn more: How To Teach With Outschool
Freelance Calligrapher
Going a step further with the ways to make money with your pretty handwriting is to go freelance.
If your handwriting is good enough or you have amazing calligraphy skills, then you can likely get some great freelance gigs as a calligrapher for brands and individuals.
You can look for freelance jobs on job boards and also with companies that specialize in handwritten materials.
To be really successful as a freelance writer, you will want to create a portfolio with samples of your writing. After all, no one is going to pay you without seeing your handwriting first!
You will also want to create social media profiles on all the major platforms so that people can see your work, reviews and also get in touch with you.
Another thing you can do is to start your own website and offer your freelance services from there.
Having your own website gives you more control over the price and the clients you accept, not to mention the ability to showcase your work to anyone who finds you on social media or through search.
Where To Find Freelance Calligraphy Jobs
The first place to look for freelance handwriting gigs are online job boards:
Fiverr is a site where people can find and hire freelance professionals.
To use Fiverr, you need to create a freelancer profile and start bidding on and accepting gigs. You can also create your own ad for your handwriting services.
You can charge whatever you want on Fiverr but competition for jobs can be fierce and prices tend to be lower than on other sites.
PeoplePerHour is a popular freelance website where you can get paid to write handwritten letters.
Similar to Fiverr, you can either answer ads or create your own ad for potential customers.
Upwork is another freelance job site that you can post your ad on or reply to wanted ads for handwritten notes and work.
Companies Offering Handwriting Services
Another option is to apply to work as a freelancer at already established handwriting companies. Here are some of the most popular:
Handwrite is a service that sends handwritten notes to customers for many different companies including Amazon 3rd party sellers.
Simply Noted works with some of the World's biggest companies to provide true handwritten notes to customers and potential clients.
Businesses pay a set fee that includes both the handwritten note and the mailing costs.
This New Jersey based company prides itself on the results that customers see from handwritten notes versus printed letters.
Tips For Making Money With Your Handwriting
If you really want to be successful with your handwriting, bear in mind that you will need to work on having fantastic penmanship.
One way to improve your writing is to use really good quality tools. A regular old ballpoint pen won't cut it when your handwriting is your job.
For calligraphy work, you will likely need a good quality brush pen while other work may be doable with a fine point sharpie.
You should also practice writing on different types of paper and card so that you are comfortable taking custom orders.
The more you practice, the faster you will get at writing which will give you more opportunities to make money.
Final Thoughts On Getting Paid For Your Handwriting
While you may think of it as a relic of the past, good handwriting is more in demand than ever. With less people able to produce great documents by hand, they are looking to hire out that work to people like you!
There are many opportunities to make money with handwriting.
Whether you pursue a job in handwriting as a hobby or a full time career, work for someone else, or work for yourself, the options listed in this article should give you a great starting off point. Good Luck!
More Ways To Make Money At Home
Selling Crystals On Etsy: The Ultimate Guide
How To Make Money With Drones: 10 Easy Ways
Make Money Selling Prints On Etsy