When it comes to making extra income on the side, one of my favorite things to do is to earn money with Swagbucks in my free time or when I'm wasting time on my phone.
You have likely heard of Swagbucks as it is often the first survey site that is recommended when people are looking for a quick way to supplement their income from home.
Personally I love Swagbucks and have used it for the last 6 years to pay for all my Christmas gifts plus extras throughout the year like diapers and wipes for my kids.
Most people associate Swagbucks with surveys like many other online survey sites that will pay you for your opinion.
If you are only using Swagbucks for surveys, you are not maximizing your earning potential at all.
Although it might have started out as a survey site, nowadays, there are several ways to make money with Swagbucks – so many, in fact, that you don't even need to bother with lengthy surveys if you don't want!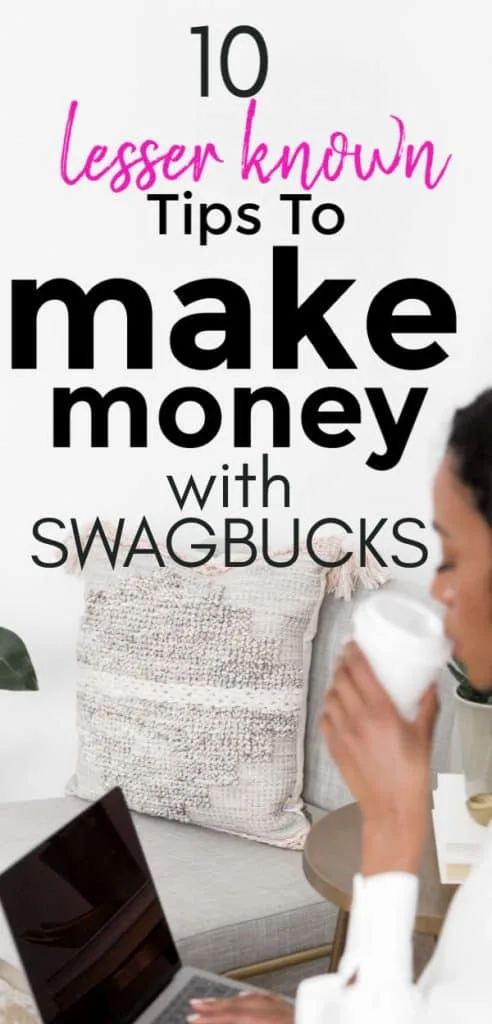 This post contains affiliate links. Please read my Disclosure for more information.
MORE WAYS TO MAKE MONEY
27 Ways For Stay At Home Moms To Make Money
35 Ways To Make Money In Your Spare Time
Swagbucks is a rewards site that allows you to collect points (Swagbucks) and redeem them for gift cards or PayPal cash. Joining is completely free and it has been around for many years.
Also, if you join using this link, you will get $5 to start you off.
Personally, I have been a member since 2012 and in that time have earned hundreds of dollars in gift cards.
About The Company
Headquartered in El Segundo, California, Swagbucks is a subsidiary brand of Prodege, LLC. a leading Internet and media company that operates multiple customer engagement brands.
How Does Swagbucks Make Money?
Swagbucks makes money by commissions for referring web users to specific sites or advertisers.
For example, when you complete a survey with Swagbucks and get paid $5, let's imagine that Swagbucks get paid $10 (I have no idea how much they are actually paid). So they pay you a percentage of their commission for each action you complete on the site.
There are also activities on the site like Swagbucks Live which don't really make Swagbucks a ton of money that I can see but I am sure they are great for user loyalty as they are pretty fun.
How do I maximize SwagBucks?
The key to earning a lot of money with Swagbucks is to do as many activities as possible each day. If you have time for a survey or too, that is great but if not, there are plenty of other ways to earn Swagbucks without answering long polls.
Below you will find my top 10 ways to earn money with Swagbucks that do not require filling out any surveys.
I routinely make $100 a month doing Swagbucks very casually and if you spend any time on the team challenge (see #10), you will soon realize that some users are making much, much more than that.
10 Ways To Earn Money With Swagbucks Without Taking surveys
Once you have opened your account with Swagbucks, it's time to start making some money!
1. Earning SwagBucks with search and win
One of the most passive ways to earn Swagbucks is with the Swagbucks search engine. Simply put, it is Swagbucks own version of Google and you can use it for all your daily searches.
Every so often, a search will award you with some Swagbucks. It seems to be completely random and can be on your first or 100th search of the day. The number of Swagbucks you can earn also varies – I've got from 3 Swagbucks all the way to over 100 from one search.
There are two ways to use the Swagbucks search feature – you can go to the Swagbucks home page and do a search from the box at the top of the page or you can make Swagbucks your default search engine by installing the chrome extension.
I find it easier to use the extension as it can be easy to forget to Swagbucks otherwise.
Bonus Swagbucks
One way of earning more Swagbucks through search is by completing the regular "Collectors Bills" challenges that come around once a month or so. If you complete the set, you will be rewarded extra Swagbucks.
Swagbucks search words
A lot of people wonder if there are specific search words that trigger the Swagbucks prizes. If you do a search for them, there are whole forums dedicated to sharing words that seem to do well.
Officially though, the searches are completely random.
2. How to earn Swagbucks by watching videos
Watching videos is one of the best ways to earn Swagbucks if you have access to unlimited internet. You can automatically stream videos on your phone or computer and earn all day long without lifting a finger.
Note that some of the videos don't autoplay so make sure to check periodically.
Watching videos is a low-earning activity but because you can do it for hours if you have a second device, you can end up earning a lot each day.
3. Using Swagbucks codes
Every day, Swagbucks releases some bonus codes that you can enter onto the site to earn a few Swagbucks. Every few months, they hold a bonus code day where a code is released every hour and you can actually earn a lot if you stay on top of them all day.
How to find Swagbucks Codes
The best way to find them is to follow and like the Swagbucks Facebook page or have the chrome extension as then you will be notified whenever a new Swag code is available for your location.
Where do I enter Swag Codes?
Once you have a code, you can either enter in on the chrome extension or directly on the Swagbucks homepage.
4. Swagbucks Swago
I love Swago. It is a really fun way to earn extra Swagbucks in a short period of time and it always keeps me motivated.
Swago is Swagbucks' version of Bingo. A new game opens every few weeks and if you complete certain tasks such as referring a friend or clicking on a shop link, you can earn bonus SB. It's fun and a good way to boost your earnings.
Some games of Swago have a bonus Spin and win component where you can play a Wheel of Fortune style game to earn extra Swagbucks or bonuses.
5. Swagbucks Shop and Earn

Swagbucks Shop and Earn is similar to programs such as Ebates.
Swagbucks offers a cash-back incentive if you click from their site to a shopping site. Sometimes there are bonuses for specific shops. I normally check both Ebates and Swagbucks to see which is paying the most before I shop.
How does SwagBucks cashback work?
All you have to do to earn your Swagbucks cashback is to click through to the store from the Swagbucks homepage so that it registers as a "shop". You can check how many Swagbucks you have earned by clicking the "Shop Activity" button under your profile name on the top right.
If you don't get awarded your Shop and Earn Swagbucks, you can contact customer service and they are normally very quick to resolve the issue and give you the Swagbucks.
6. Swagbucks Live
Swagbucks Live is a video trivia app. Every night there is a live video game that is on at 8pm EST (not weekends).
It's only available via mobile app and it is really fun. Each game has 10 trivia questions to answer, if you get some of them correctly you win bonus SB. If you get all 10 questions right, you share the pot with the other winners ($500- $2000).
Download the app on your smartphone using my referral link and get a free rejoin (if you get a question wrong, a rejoin lets you stay in the game).
7. Swagbucks Games
If you like playing computer games, make sure to check out the Swagbucks games section. I don't normally use this section but if you like games, it can be a really easy way to earn some Swagbucks quickly.
8. Swagbucks Discover
Discover is a bit of a mish-mash of shopping offers, surveys and other tasks that will reward you will Swagbucks.
Discover is make up of different partners of Swagbucks that have various earning opportunities on offer, typically mailing lists sign-ups, videos, surveys, and shopping.
If you are planning on doing some shopping online, it can pay to check the Discover offers before using the Swagbucks Shop and Earn feature as sometimes a specific partner will offer a bigger bonus.
9. Swagbucks Referrals
If you find yourself loving Swagbucks and want to share the love, you can refer your friends and family and earn money while doing it.
You and your referral get a 300 SB Bonus when your referral earns 300 SB within their first . PLUS, you'll also earn 10% of their SB earnings for the life of their account. If you end up referring a power user, that can be big bucks!
10. Team Challenges
This is another monthly feature of Swagbucks that is slightly different each time but follows a general format. It's not the best way to earn money with Swagbucks but it is a pretty passive way of capitalizing on your everyday activities.
When you first visit the homepage, you will sometimes be invited to join a team challenge. When you click on the link, you will be put into a specific team that is competing for the grand prize (normally a Swag up rebate meaning you get Swagbucks back the next time you redeem for a gift card).
To give you an idea, the current Team challenge I am in is offering the following:
All members who participate and contribute at least 600 points to their team's total will receive a SB bonus in the form of a SB Swag Up Rebate!
Members of the 1st place team will receive a 100 SB Swag Up Rebate, members of the 2nd place team will receive a 50 SB Swag Up Rebate, members of the 3rd place team will receive a 25 SB Swag Up Rebate, and members of the 4th place team will receive a 10 SB Swag Up Rebate.
More Ways To Make Money From Home
Want To Make Money Filling Out Online Surveys? Ten Sites To Try!
6 Ways To Make Money While You Sleep
Like this post? Pin it!