This list of 27 Ways For Stay at Home Moms to Make Money will help you if you need money fast or are looking to start your own home-based business.
Nowadays there are so many ways to "make money online" or get rich quick but what about real ideas for stay at home moms to make money on the side, for legit extra income?
Whether you need a bit of extra cash to supplement your husband's income or to pay for little extras, it never hurts to have a side hustle that you can tap into when you need some money fast.
The best side jobs allow you to scale up and down as needs.
This means that if you are in particular need of cash one month, you can take on extra clients or do extra work to make more money fast.
Of course the job ideas below work just as well for anyone to earn extra cash from home, not just stay at home moms but in most cases you won't be able to pay your mortgage or make a "full-time income" with these gigs.
That being said, there are some work from home jobs that make a lot of money, they just require qualifications, experience or a lot of work before they will make you good money.

This post contains affiliate links. Please read my Disclosure for more information.
RELATED POSTS
21 Online Work From Home Jobs For Moms
How To Declutter And Make Money
27 Ways For Stay at Home Moms to Make Money
Below you will find 27 ways for stay at home moms to make money that are tried and true.
No get-rich quick schemes or scams that want you to invest money before you make it.
I also decided to not include any direct sales jobs in this list.
When I did research, direct sales was by far the number one response to the questions "what do stay at home moms do to make money on the side?" but it's always hard to get a real read on profitability versus the desire to add more team members to the fold.
It's definitely true that there are some direct sales companies that offer a great way to make money on the side, on your own terms.
For example, I have a friend who makes $1000 a month selling as a Stella & Dot Stylist.
What do stay at home moms do to make money?
When I polled over 300 stay at home moms who made some money on the side. The absolute number 1 way they make money is through online survey sites like Swagbucks.
Swagbucks is available in many different countries and was the first way I learned to make money on the side. Just today, I cashed out some of my Swagbucks for a $25 Amazon gift card.
Filling out and watching videos for sites like Swagbucks won't make you rich but you can definitely make extra money to pay for all those birthday party gifts or clothes for school.
The other thing that almost all stay at home moms I polled use to make extra money is grocery apps like Checkout 51 and Rakuten.Both those apps/sites work by giving you a cash back percentage when you shop at specific stores.
Rakuten is a website that you go to before you buy anything online and are then awarded a percentage back.
Checkout 51 is a an app you download and then after you have been grocery shopping, you upload your receipt and get cash back for buying certain items. yesterday I got $1.50 back from Checkout 51 just for buying baby wipes that I was going to buy anyway!
How can I make 1000 dollars fast?
If you need to make money fast as a stay at home mom, the quickest way to reach your goal is to sell everything you can.
Go through your kid's closets and sell their clothes. Sell anything you don't need and you should be able to make a pretty penny.
You can sell your stuff online or host a yard sell.
There are also special apps for selling your stuff. get more tips for decluttering and making money here.
Other options for making $1000 + fast are doing yardwork or household chores for neighbours or babysitting.
What are the most profitable work from home jobs?
The most profitable work from home jobs are normally ones that were traditionally office based job but have morphed into work from home opportunities that are perfect for stay at home moms.
Most of them require a course or experience in order to get clients and establish your business.
Some of them, like proofreading and scoping could earn you up to $70,000 a year.
Personally, I make money blogging and make a great income from it.
It took some time to get going (I think it was around 4 months before I made my first $1000) but its one of the best work from home jobs.
Some blogs like SarahTitus.com make millions every year!
If you want to get started with your own blog, make sure to read my in depth- guide to starting a blog that makes money
6 Most Profitable Work From Home Jobs
16 Ideas for stay at home moms to make money
Below you will find some legit ways to make money as a stay at home mom.
These are all real jobs that real stay at home moms do to make extra cash to pay for things their family needs.
1. Home daycare
Running your own daycare can be a great way to get paid for looking after your own and other kids. Depending on where you live, you could make $30-60 a day per child that you take care of.
Bear in mind that you will provide snacks and meals out of this money as well as pay for outings and gas.
2. Sell On Amazon
Did you know that you can make money as a 3rd party seller on Amazon?
Many people are making full-time incomes by buying items at a deep discount and then selling them on Amazon for a huge profit. This is known as retail arbitrage.
Cliff and Jessica from The Selling Family make up to 100% profit on their products and have a great free report on building your own Amazon FBA business today.
3. Sell Artwork
If you are creative and good at art, selling your prints can be a great side hustle. You can make money as an artist online by selling your art on various websites.
4. Make baby quilts
Baby quilts, keepsakes and wedding items are all hot sellers on sites like Etsy.
For the best-selling items you can make and sell, check out this list of easy DIY crafts to sell.
5. Day trading
Day trading is not necessarily for the faint of heart but with some know-how and some luck, it can be a nice side earner that you can do from home. Investopedia has a good tutorial for beginners.
6. Lash artist/ in-home spa
If you have experience or are interesting in learning, in-home spa services like lash extensions, waxing and facials are in high demand nationwide.
Starting your own lash business is another really popular idea.
7. Teeth whitening technician from home
When I surveyed a bunch of stay at home moms on ideas for making extra money, this was the number one side hustle mentioned!
Host at-home craft parties
Wooden signs, chalkboard artwork and more are all really popular right now and you can start your own business hosting parties for groups at someone's house.
8. School bus driver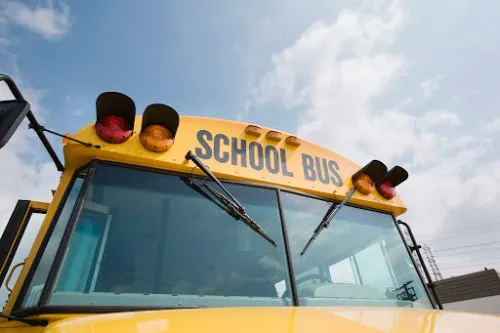 Out of this list of 27 Ways For Stay at Home Moms to Make Money, driving school buses is the only one that actually involves being employed by a third party.
Many school bus companies let you bring your kids to work making school bus driver a really popular choice for stay at home moms.
The hours are great also as you will have most of the day free but work early morning and late afternoon in most areas. Obviously school holidays and weekends are off which makes it perfect for stay at home moms.
RELATED: How To Find Fantastic Jobs Where You Can Bring Your Child
9. Dog walking
Did you know there are actually apps you can download to find dog walking jobs in your area?
10. Babysitting
Babysitting is the easiest option of my 26 ways for stay at home moms to make money so it is a great option if you need cash in a pinch.
You can advertise on sites like Care.com or Facebook mom to mom groups.
11. Photography Services
Photography is one of the most popular ways for creative moms to make money on the side. If you have some skills and a good camera you can make upwards of $1000 a day from hosting Christmas "minis" or family portrait sessions.
12. Graphic Design
Are you nifty with software? Consider starting your own business creating printable signs, invitations and more for moms in your area. If you want to expand you can start your own shop on Shopify or Etsy.
13. At-Home Travel Agent
Do you love travel?
Many people think everything is online now and travel agents are extinct but that is far from the truth.
Families always want help planning vacations and getting tips on the best resort for their needs.
It is pretty easy to become a travel agent from home and it is such as fun job.
14. Clean Houses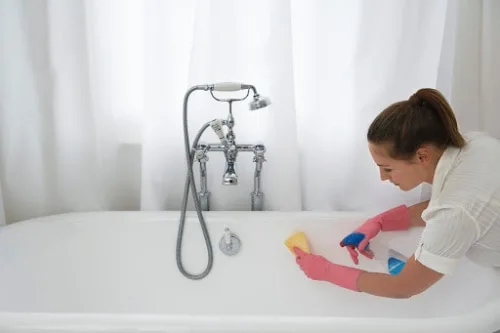 10 houses in 10 days equals $1000 ($100 per house).
Plenty of people are looking for honest people to come in and clean, and it would only be a 5 hour commitment per house.
Starting a foreclosure cleaning business will give you even more opportunities to make money.
15. Skip the dishes/ Uber Eats
If you own a car and can get out of the house in the evenings after the kids are in bed, delivering food to people in your city can be a great way to make extra money on the side.
16. Drive with Lyft or Uber
Another option using your car is to become a part-time Lyft or Uber driver. You can work the hours that suit you and make as much or as little money as you like.
How To Make Money As A Stay At Home Mom: Final Thoughts
I hope you love these ideas for SAH moms to make money from home.
If you want even more ideas, make sure to check out my list of 70 Side Hustles For Single Moms as well as my really useful Working from home with kids – Sample Schedule.
More Ways To Make Money
35 Ways To Make Money In Your Spare Time
6 Ways To Make Money While You Sleep
21 Online Work From Home Jobs For Moms
Like these 27 Ways For Stay at Home Moms to Make Money?
Pin it!