If you're looking to start your own business, why not try your hand at popsicles? Whether you call them ice pops, freezies or popsicles, they are a refreshing treat that are perfect for a hot summer day.
Plus, they're easy and fun to make! In this step-by-step guide, we will show you how to start your own popsicle business in just a few easy steps.
We'll take you through everything you need to know including:
What you need to start a popsicle business: supplies and market research
Things to consider when writing your business plan
The types of popsicle and sell
Tips for pricing your popsicles to make as much profit as possible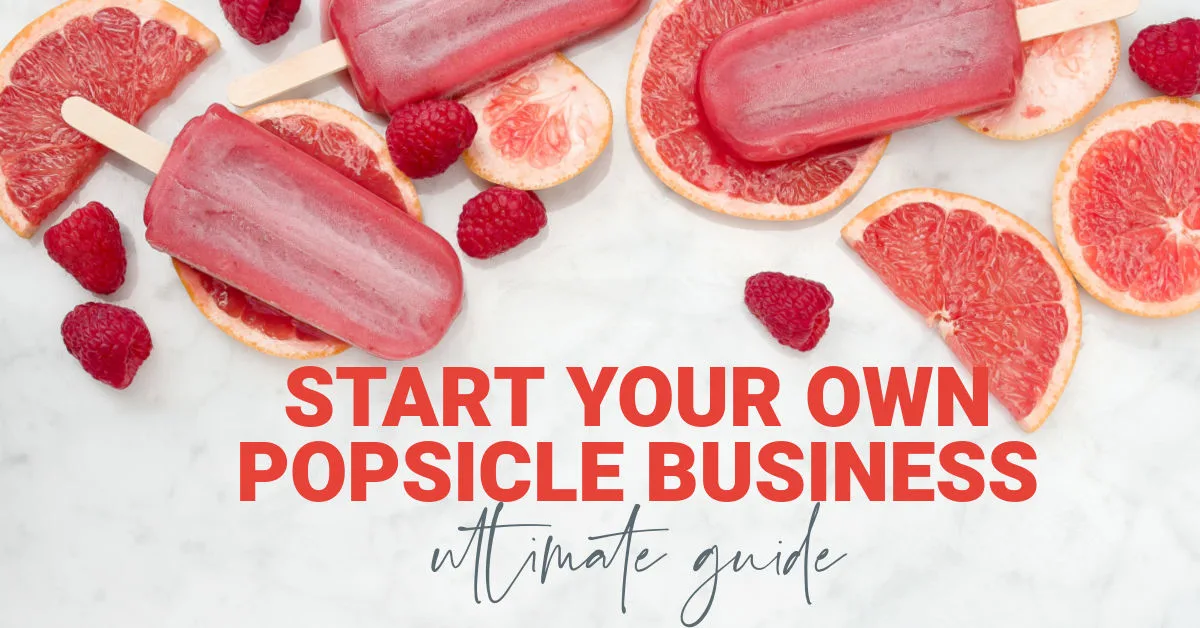 This post may contain affiliate links. Please read my Disclosure for more information
MORE FUN SIDE HUSTLES
How to Start a Wedding Cake Business:The Ultimate Guide
10 Creative Ways to Make Money with Memes
If you have a passion for popsicles and dream of running your own business, then starting a popsicle business may be for you! It's important to do your research and plan carefully before taking the plunge.
Why start a popsicle business?
Have you ever wanted to be your own boss? What about owning a business that is fun, profitable, and relatively easy to operate? A popsicle business could be the perfect opportunity for you!
Just like other fun businesses like a home-based cookie business or a dog Bakery, selling popsicles is a great way to combine your creative and passion into a money making venture.
Starting a popsicle company is a great way to be your own boss and make some extra income.
Popsicles are a refreshing treat that everyone loves, making them the perfect summertime snack.
To get started, you'll need to purchase some supplies, including popsicle molds, sticks, and a freezer.
Once you have your supplies, you can start making your popsicles! To market your new business, you can set up a stand at local events or post flyers in your neighborhood.
There are several reasons why a popsicle business can be a great venture.
First, it is a low-cost business to start. You likely won't need to rent or buy commercial space, and your only major expenses will be for supplies and ingredients plus a push cart or truck if you go that route.
Second, popsicles are easy to make! With just a few simple ingredients and some basic equipment, you can whip up a batch of delicious frozen treats.
You can even sell your popsicles alongside with a snow cone business for extra cash.
Thirdly, as the costs are low, the profit margins can be quite high in a popsicle business.
That means it is simple to scale up and grow your income as your business gets more successful.
Finally, popsicles are always in demand!
In hot weather or cold, people love refreshing treats like popsicles. And since they're portable and individually packaged, they're perfect for on-the-go snacking.
What are the steps to starting a popsicle business?
If you have decided that a popsicle business is for you, you'll want to follow the steps below to make sure you do things right to give your business the best chance of success.
Get Licensed
Government regulations will vary depending on where you live so make sure to research this before you dive head first into launching your own paleta business.
You'll need to keep up with all regulations in your city or state when it comes to food handling laws.
You'll also probably need to establish a legal entity and register your business.
This will include opening a business bank account and getting a business license.
On the more fun side of things, you need to come up with a name for your gourmet popsicle business.
The right name is memorable and fun and speaks to the type of business you have.
If you need help, Shopify has a great popsicle business name generator.
Choose type of popsicle business you want to start
Will you be selling your popsicles out of a food truck or mobile cart or are you planning to put them in local stores?
Consider who your target audience is and where they are most likely to purchase popsicles.
Are you planning to sell individual popsicles or is your goal to get stocked at a large store like Whole Foods?
Decide on what works best for your lifestyle and business goals and then work on the types of popsicle you will sell.
What kind of popsicles to make and sell?
In the summertime, there's nothing quite like a cold popsicle to cool you down but to stand out you'll want to experiment with small batches of new flavors and colors.
First, you'll need to decide what kind of popsicles you want to sell. Will you specialize in ice pops made with all natural ingredients or unique flavors?
Will you stick to classic flavors like strawberry and chocolate, or focus on gourmet popsicles with combinations like mango-lime or raspberry-lemon?
Bear in mind that if you decide to use alcohol in your popsicle creations, you will need to obtain a liquor license from your local governing body.
Once you've decided on your flavors, you'll need to purchase some supplies.
Choose the type of equipment you will need
Depending on the popsicle business you start, you may need to invest in a new vehicle or a deep chest freezer. You'll also need basic popsicle making equipment and marketing materials.
Popsicle Business Supplies List
To start a popsicle business, you'll need to gather the necessary supplies. You'll need:
Popsicle machine
Ice cream mixer or stand mixer
Fruit juice or smoothies
Fruit
Colorings and flavorings
Any extra ingredients such as edible glitter or chocolate chips
Popsicle Molds
Popsicle sticks for freezing the popsicles
Containers
Labels to put on the packaging
Plastic wrap
You'll also need some kind of deep freezer chest and dry ice to keep your popsicles ready to go.
A used pushcart or truck
Bear in mind that quality equipment is best for your small business.
As a professional popsicle maker, you will be using your gear over and over again so you want it to last.
For example, while cheap plastic popsicle molds can be bought at low cost, quality stainless steel molds will last much longer.
You'll also need to decide on a pricing strategy for your popsicles so that you are competitive with current retail prices.
How much money you make with your business will depend on your weekly revenue minus business expenses.
You want to price your ice pops high enough to make a healthy profit while staying competitive in your local market.
The best way to do this is to spend some time researching how much other players in the popsicle industry in your area are selling their home-made popsicles for.
Ideally you want to compare apples to apples so try and find someone who is making the same type of popsicles as you with the same target market.
Market your popsicle business
The last thing you need to do is actually get customers to try a delicious popsicle from your business!
In the early days, you will want to look for potential customers where ever you can. It can be hard work in the beginning but once you have established a good name for yourself, then it will get easier.
You'll want to order business cards and flyers and then plan out the different ways you will promote your ice pops.
Create a Facebook page and open an Instagram account for your ice pops and make sure to post new photos regularly.
Offer followers promotions and share all your new creations online.
The next step is to open your own website to showcase your business offerings.
You don't have to do this right away but it can help you to look more established and professional. I outline the step step process to creating a website in under an hour here.
Where To Sell Your Ice Pops
Farmers Markets
Your local farmers market is a great place to sell gourmet popsicles in different flavors. On a hot summer's day, many people will be grateful to cool down with one of your delicious paletas or ice pops. You'll need to make your stand look attractive and potentially offer free samples to browsers.
Consider offering a way for people to buy your frozen pops in bulk to take home too.
Special Events
If you are going to be using an ice cream truck or a push cart, you can take your business to all different locations.
Local fairs, street festivals and carnivals often have a place for a gourmet ice pop cart. Contact the organizers and see what you need in order to participate. This is a great way to get your name out there and even secure more bookings.
You can also advertise your popsicle business as being available for birthday parties and weddings. Lots of people like offering their guests an extra special dessert!
You can even combine your popsicles with a cotton candy business for extra income.
Local Grocery Stores
This is a great option, especially if you live in a small town. Will local stores stock your popsicles in return for a small commission or monthly fee? This is one of the best ways to grow your business as quickly as possible.
How much does it cost to start a popsicle business?
It takes time, effort, and money to start a popsicle business. To get started, you'll need to purchase supplies like popsicles and ice cream mixers. You'll also likely need to invest in advertising materials (like signage or social media ads) although you can do this on a budget by using social media and free word of mouth advertising.
However, the rewards of running your own business are worth it: you can make your own hours and set your own salary, which means more freedom and control over your life.
How much it will cost you to set up your popsicle business will vary depending on the size and scope of your operation.
Some general costs associated with starting a popsicle business include initial startup costs such as purchasing equipment and supplies, hiring employees if necessary, and creating a marketing strategy.
You will likely need to invest in advertising materials (such as flyers or online ads), create a pricing structure for your products, and develop a marketing plan to promote your business.
It is important to be prepared for the costs of starting a popsicle business before you begin, as unexpected expenses may occur during the early stages of your venture.
Tips for setting up and running a successful popsicle business
A popsicle business can be a fun and rewarding way to earn extra income during the summer months. Here are a few tips on how to set up and run a successful popsicle business:
1. Choose a good location. Popsicle stands do best in high-traffic areas with lots of foot traffic, such as near parks, playgrounds, or beaches.
2. Invest in some good equipment. A reliable freezer is essential for keeping your popsicles properly frozen. A small fridge or cooler can also be helpful for storing ingredients and keeping your finished popsicles fresh.
3. Make sure your popsicles are tasty! Experiment with different flavor combinations and use high-quality ingredients to ensure that your popsicles are delicious and enjoyable.
4. Promote your business!