At some point, every entrepreneur exclaims "I want a website for my business!". But the issue is knowing where to start. The good news is that you can create a website for your small business yourself, in minutes.
You don't need to hire out to a web designer or specialized company. You don't need to spend thousands on custom code.
This tutorial is going to show you how I build a website for my home-based businesses in minutes.
Even if you are just starting out, a website will help take your business to the next level and help you build a brand that looks professional and reputable.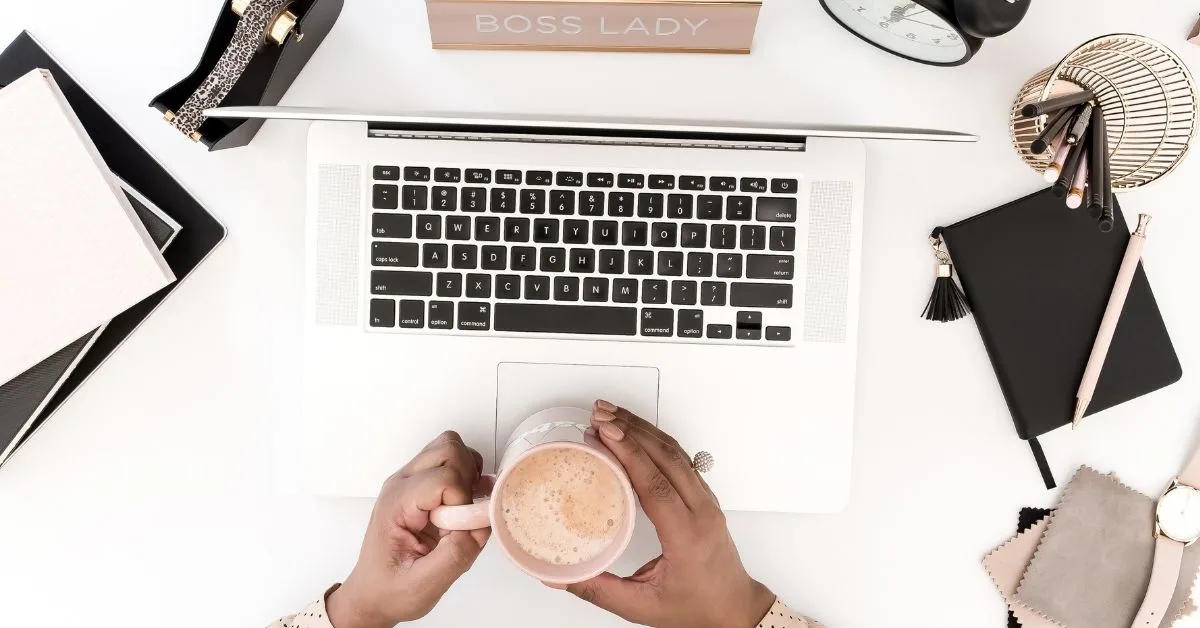 This post contains affiliate links. Please read my Disclosure for more information.
RELATED POSTS
Why Build A Website For Your Small Business?
Nowadays, even the smallest businesses have an online presence.
A website allows potential customers to research your company and check out the services you offer. You can showcase past jobs or post reviews from satisfied customers on your site.
If you are selling crafts or products, you can create a gallery of photos so people can see the kinds of things you offer.
You can post price lists and terms and conditions to save time with back and forth inquiries.
One of the most important reasons for creating a website for your start-up is for Google to find your business.
For example, if you have a lawn care business in Detroit, you want people who go to Google to look for gardeners in Detroit to find your site. Without a website, you will not be as easy to find and you could be missing out on a ton of business.
How Much Does It Cost To Create A Website For Your Business?
You will probably be surprised to learn that you can be up and running with your own small business website in minutes and for less than $50.
Of course, if you have a huge budget, you can add extra items to your website such as specialized plug-ins and merchant capabilities but a basic informational website can easily be build for well under $100.
Yesterday I launched a small website in about 30 minutes. It only cost me $40 for the whole year of domain and hosting. It really is easy to get started for cheap, almost free.
So, How Do I Make A Website For My Small Business?
Follow the steps below to learn step-by-step how to build a robust website for your work at home biz.
Creating your website really shouldn't take long, especially with this step by step tutorial.
1.Choose your website name and buy the domain
Ideally you would be able to buy the domain that relates to your business name. Maybe you already bought the domain as soon as you launched your business but if not, now is the time to nail it down.
To see if the domain you want is available, head to Namecheap.com and plug your chosen name into the search bar.
If it is available, you can go ahead and purchase the domain, if not, you can play around until you find a name that you want that is available.
Namecheap will give you options if your chosen name is not available.
I always try and buy the .com domain as they are more valuable but if you are a local business, you might be better buying a local domain name, for example – .co.uk or .ca depending on where you are located.
If the .com if not available, you can try and buy it from the owner but you might be looking at thousands of dollars.
Keeping your name similar to your business name is the best bet, even if it is not exactly the same.
Once you have chosen your domain on Namecheap, you will get the option to add hosting.
You need hosting for your website but you don't need to spend a ton of money on it, especially at the beginning. I use WordPress for my small business websites because it is really easy to use.
Choose EasyWP WordPress as it has everything you need for a cheap price.
Now you can click the link at the bottom to start creating your website (this will seriously take 5 minutes)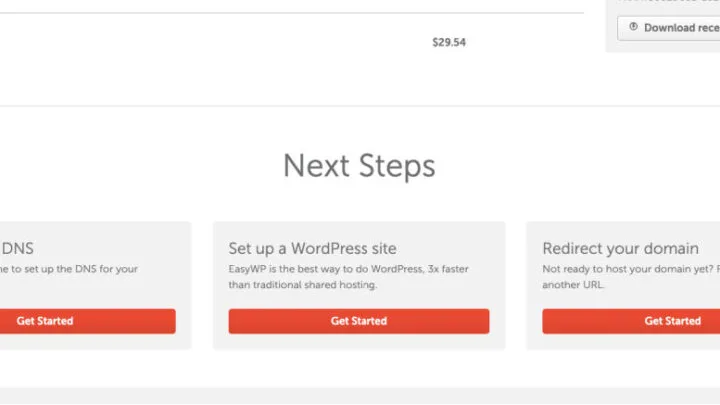 Follow the steps to add the domain that you just bought to your hosting plan and to start your website: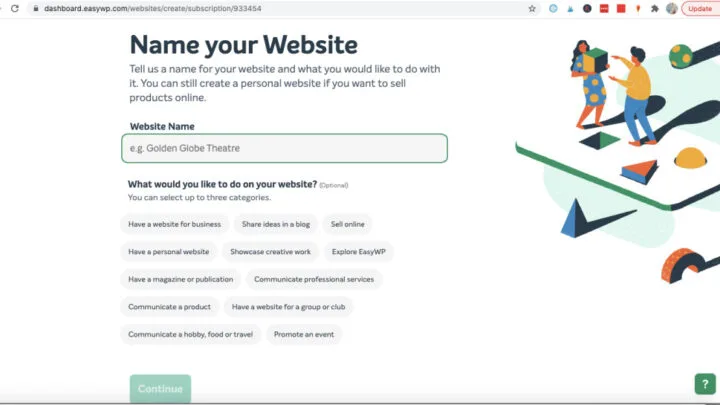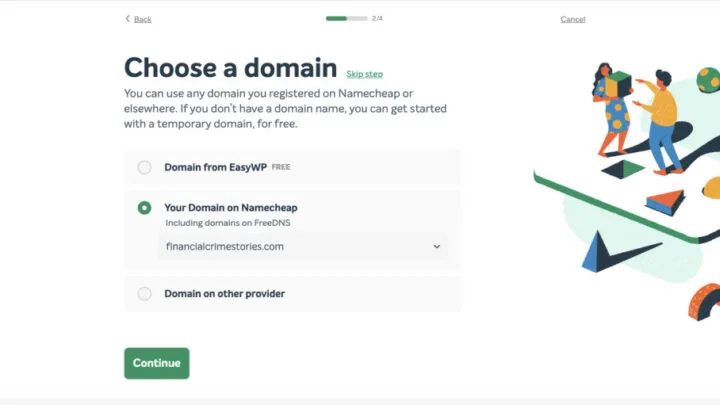 You can then choose some plugins. You can use the free website builder included:
Now you are all ready to launch your site.
All you need to do is pick a WordPress Theme to make your site look nice. WordPress does come with a few free themes but to be honest, I always use a more professional looking theme that has more features.
I recommend using the free theme from Astra. I use it on several sites and it is easy and lightweight so it won't slow your site down. If you want to change themes down the road, it is pretty easy.
Once you have downloaded Astra from their site, you can add it to your website by heading to "appearance>themes" on the left-hand menu:
Once you have added your theme, you can go to appearance> customize and mess around with colors and fonts until you like how your site looks.
Add your business logo and anything else you want to.
How To Add Plugins To Your Site
You will probably want to add some plugins to your website to add more features. Here are my top picks:
Akismet Anti-spam – this plugin will block spam comments on your site
Add To Any – Social sharing plugin to connect your social media accounts to your site
Instagram Slider Widget – connect your instagram feed to your website
WPRocket – or another caching plugin that will make your site much faster
To add a plugin, just go to "Plugins>add new" then search for the one you want.
How To Create Pages On Your Website
It's really easy to create some basic pages on your website. Just go to Pages> add new on the left hand menu.
You probably want to add the following pages to your site:
About
Pricing
Services
Photo Gallery
Terms and conditions
Obviously, the exact pages you need will depend on your business model but that gives you an idea for the kinds of pages you might want to create.
You can create all the pages you need for free on WordPress. Here is an example of a small business website I create using WordPress > my small business website.
I created that website in just about an hour and it does the job to attract new customers and let potential clients know about the services my business provides.
How To Connect Google Analytics To Your Website
Google Analytics is really useful as it will show you how many people are visiting your website and their behaviour. You will be able to learn how visits, what pages they go to, how long they stay on your site and how they find your website.
Setting up Google Analytics on your site is really easy and takes just a couple of minutes:
If you are using Astra as your theme, you can add the Astra Hooks plugin to make this even easier. Go to Plugins>add new> then search for Astra Hooks and add and activate it.
Now go to Google Analytics and sign in with your gmail.
Click "Get Started" and then follow the steps to complete your sign up.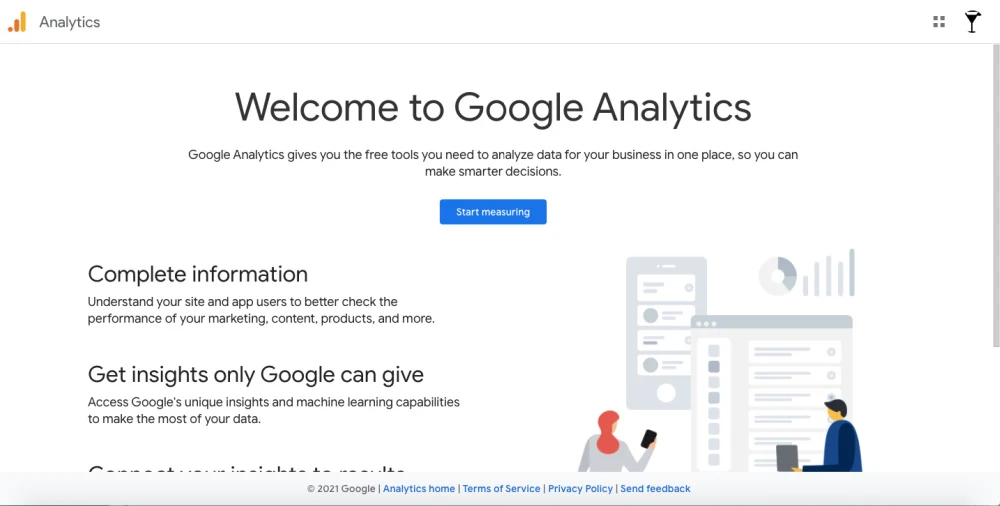 Create a property then click on "Global site tag" and copy the code that appears in the box.
Paste the code to the head section of your Astra Hooks plugin. You can find that under Appearance>customize> Astra Hooks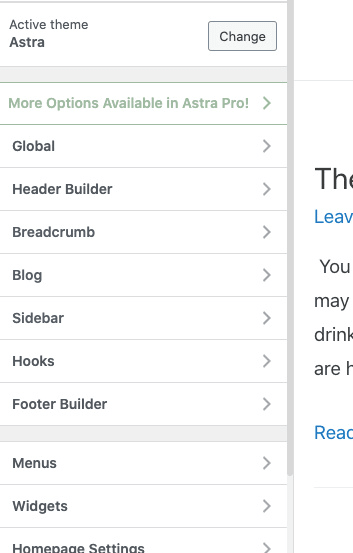 Once you have added the code, click publish at the top to save it. You can now download the Google Analytics app and sign in so you can see your website traffic whenever you want.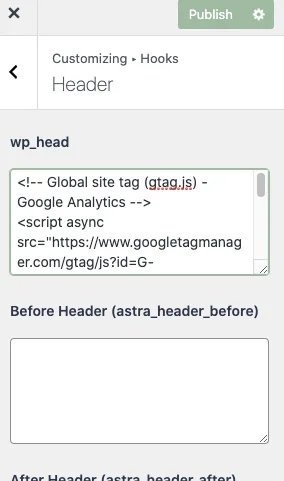 How To Promote Your Website
Once your website is up and running, you need to promote it. In addition to getting Google traffic, you can promote your website on social media.
Make accounts in your business name for the following social media accounts:
Promote your new services and products on social media and drive traffic to your website. You can also post your website on Facebook groups and online directories.
Another way to promote your website is by creating an email list and sending out specials and newsletters. To get started on a budget, check out this list of 11 Completely Free Email Marketing Services.
Final Thoughts On Creating A Website For Your Small Business
A website is a must for any business, large or small. The good news is that you can create a website for your business in minutes and for very little money.
Don't get overwhelmed with extra details, the most important thing is to have an online presence so you can attract new clients.
More Home Based Business Tips
How To Make An Etsy Store Website In Minutes
How To Create Digital Downloads To Sell
How To Design And Sell A Course Online