Are you looking to start your own business this summer? Be your own boss and start a snow cone business! Snow cones are a great summer treat, and are a great way to make some money while enjoying the summer weather.
Snow cones have become increasingly popular in recent years and opening a business that serves them can be an exciting venture for entrepreneurs of all ages.
In this article, we will discuss all the steps necessary to starting your very own successful snow cone business, from budgeting to promotion. You'll learn:
Why snow cone business is so profitable
What you need for a successful snow cone business
How to ensure your snow cones sell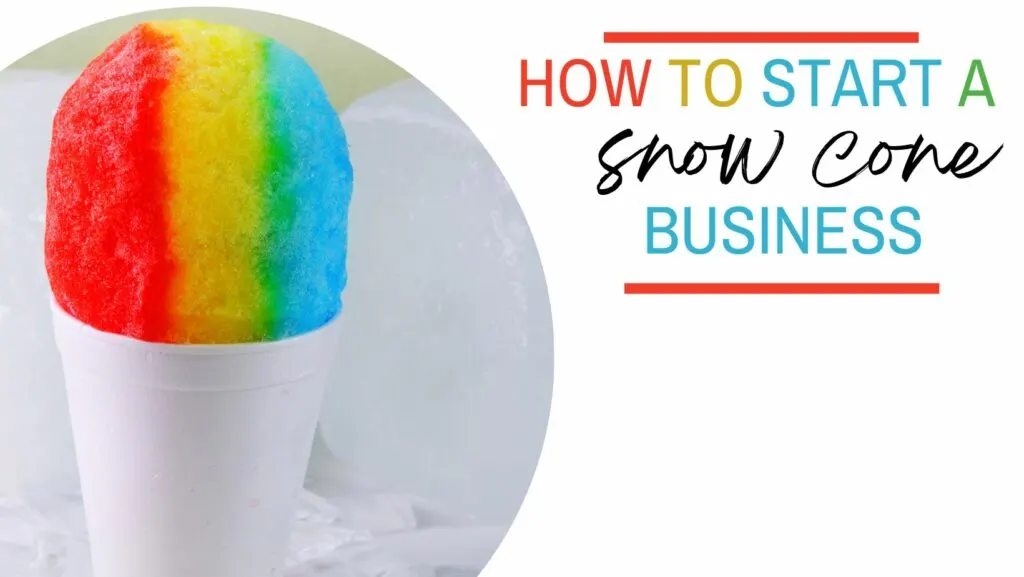 This post may contain affiliate links. Please read my disclosure for more information.
Why start a snow cone business?
As far as business models go, the ice business is one of the best!
For starters, opening a snow cone stand has low startup costs and minimal overhead expenses.
If you have the right equipment and can get in front of your target market, you can turn your shaved ice machine into a profitable business!
There really aren't too many small business ideas that are quite as simple or as popular (a similar one is to start a cotton candy business which you could easily do with your shaved ice).
After all, selling cold treats during hot weather is always in demand so it's likely that you'll have no shortage of customers!
Shaved Ice Or Snow Cones, what's the difference?
Snow cones, also known as shaved ice and Hawaiian shave ice, are a popular summer time treat.
Essentially, a snow cone is a traditional dessert made from finely-shaved ice that is topped with flavored syrup. The sweet syrup combined with crunchy bits of ice creates an irresistible snack for all ages.
The origins of the snow cone can be traced back to Hawaii in the late 19th century where it was originally called "ice shave".
Since then, snow cones have become a staple in many parts of the world and come in various flavors such as cherry, lime, grapefruit, and coconut. They're also served with different toppings like whipped cream, marshmallows or even gummy bears!
If you are considering starting your own snow cone business, know that with the right marketing strategy and a lot of hard work, you could have an awesome side hustle on your hands!
The Pros and Cons of a Snow Cone Business
While there is no doubt that this business model is great if you want to make good profits with little money down, there are some downsides to ice businesses. Here are the pros and cons:
Pros of starting a snow cone business:
Low startup costs: Snow cone businesses generally have low startup costs compared to other food businesses, as they require minimal equipment and ingredients.
High profit potential: Snow cones can be sold at a high markup, which can lead to high profit margins.
Seasonal business: Snow cone businesses tend to be seasonal, which can be beneficial as it allows for a break during the off-season.
Flexibility: A snow cone business can be run on a full-time or part-time basis, depending on the owner's needs and preferences.
Cons of starting a snow cone business:
Seasonal demand: Snow cone businesses may experience slow periods during the off-season, which can lead to lower profits.
Weather dependent: Snow cone sales may be affected by adverse weather conditions, such as extreme heat or cold.
Competition:There may be a lot of competition in the snow cone market, especially in areas with a high tourist population.
High demand for labor: Snow cone businesses may require a large number of employees to meet the demand for snow cones, which can be a challenge to manage.
Step-By-Step Guide To Starting Your Own Shaved Ice Business
Step 1: Market Research
If you have decided that a snowcone business is for you, you'll have to decide which type of business you want:
There are snow cone franchises that you could purchase or you could go out on your own and start a business from scratch.
You also need to consider where you will be selling your shaved ice. Will you have a mobile snow trailer or one of those little snow cone shacks by the beach?
A mobile business will allow you to cater private events such as birthday parties but will require a larger initial investment.
How do you decide which direction to go in? The answer is market research.
Research the demand for snow cones in your area, and determine who your target customers will be.
Check Google trends to see how your potential customers are buying their ice cream and other frozen treats now.
Look at the main players in the snow cone industry in your area and check out their product offerings and prices.
All this will help you to develop a good business plan that outlines your goals, target market, marketing strategies, and financial projections. You'll need this to open a business bank account and apply for a small business loan if you need one.
Step 2: Set Up Your Business
Once you have decided that a shave ice business will work in your area, it is time to make it official.
You'll want to research and obtain the necessary permits and licenses to operate your business, including a food handling permit and a business license. You'll need a business tax ID and to set up a business entity for your snow cones.
You can choose whether to start as a sole proprietorship until you grow or whether to create an LLC (Limited Liability Company). Which way you go will depend on your annual revenue and other factors – speak to a CPA to make the decision that is best for your business.
At this point you will also want to choose and register a business name. You can pick whatever you want as long as it isn't already registered. Make sure that the name is also available on the major social media platforms and make sure to grab those handles right away.
Step 3: Buy The Right Equipment
Whether you decide to purchase a shaved ice truck or a snow cone cart, you'll need to spend money on the right equipment. This is where the bulk of your initial investment will be but as far as a food business goes, it is oretty low.
Expect your total costs to be around $5-6000.
Aside from a food truck, your biggest expense will be an ice shaver or commercial grade blender to create finely shaved ice that serves as the foundation for your snow cones.
How much is a snow cone machine? Expect to pay around $600 for a good quality, durable sno-cone machine.

Snow cone syrup flavors are also very important so you can make different snow cone variations. These come in both liquid form or powder mix-ins that must be diluted with water prior to being added onto the snow cones.
Additionally, it's important to purchase cups and spoons for serving up your delicious treats.
On the marketing and business side of things, you will need a cash register (a mobile Square system works great too) and pricing charts and promotional material.
Step 4: Choose A Location
The location of your shaved ice business will make your break your success.
You need to select the right location for your business that has high foot traffic and is easily accessible.
This is especially important if you have decide to use a permanent location instead of a mobile snow cone shop.
Don't rush this step of your business – make sure to choose a good location where people gather and look for frozen treats. Look for somewhere with concession stands that sell other, non-competing items.
If you are going mobile, you can make a list of places such as parking lots or parks where you can do great business.
Step 4: Choose Your Products And Prices
In any business, your products are the most important key to success. Spend some time researching different types of tasty snow cone. You can serve them in different shapes and flavors.
There are many different flavors of snow cones that can sell well, depending on the preferences of your customers and the location of your business.
Some popular snow cone flavors include:
Cherry
Blue raspberry
Grape
Lemon-lime
Strawberry
Piña colada
Mango
In general, it is a good idea to offer a variety of flavors so that you can appeal to a wider range of customers.
You might also consider offering specialty flavors or custom flavor combinations to differentiate your business from competitors.
Additionally, you can also consider offering other ground-up ice desserts such as Hawaiian style shaved ice and slushies which can also be popular with customers.
As your business grows, consider expanding your menu and adapting to changing customer preferences and market conditions.
Once you have your menu decided, the next step is to work out your pricing strategy. You need to determine the prices for your snow cones and manage your financials to ensure the profitability of your business.
Choosing the best price for a product can be a bit of a learning curve and may need to be flexible to change in the first few months.
In general, you should consider the following factors:
What are your competitors selling their snow cones for?
How much does it cost you to make one snow cone?
How much do you need to sell it for to cover your costs?
Can you add a healthy margin and still be competitive?
Your pricing and making a profit is one of the most important things when is comes to long term success with your business. Take time to get this part right and don't be afraid to increase or decrease your prices as necessary.
Step 5: Promote Your Business
There are many different ways to promote your snow cone business, and the best approach will depend on your target market, the location of your business, and your budget.
Some ideas for promoting your snow cone business include:
Create a website
Nowadays all new business owners need to have a website. There are 2900 searches a month on Google for the term "snow cone stands near me"!
Even crazier – there are over 200,000 searches a month for the term "shaved ice near me". Make sure to include these key words in your website and even your business name.
You can create a website for your business in just a few hours and use it as a hub for everything about your venture.
You should have the following pages on your site:
About us
Menu
Where to find you – special events, stationary location etc
Franchise opportunity information if you decide to expand
Social media presence
Create brand awareness with a good social strategy. This will help you reach a wider audience and make it easier for customers to learn more about your business and find your location.
Create business pages on Facebook and Instagram. You can even post videos of your snow cones on Tik Tok.
Invite people to follow you and offer discounts or promotions to attract new customers and encourage them to try your products.
Partner with other local businesses
Consider partnering with other local businesses, such as retailers or event venues, to promote your products to their customers. Contact party planners and outdoor party venues to see if you can create a mutually beneficial partnership.
Participate in local events
Look for opportunities to participate in local public events, such as festivals or community events, where you can set up a booth and sell your snow cones. These can be the best option for you to get your name out there and create new business opportunities.
Advertise in local media
Consider advertising in local media, such as newspapers or radio stations, to reach a wider audience. It might sound old fashioned but sometimes things like posting flyers in residential areas can really help boost your business in the beginning.
Use word-of-mouth marketing
Encourage satisfied customers to tell their friends and family about your business, as word-of-mouth can be a powerful marketing tool. You can offer repeat customers a loyalty card or discount to encourage them to share their experience.
Asking for reviews on social media and Google can also help you to grow quickly.
Start A Snow Cone Business: FAQS
How much money can you make with shaved ice?
There is no fixed amount of money that you can make with shaved ice, as it will depend on a variety of factors such as the location of your business, the prices you charge for your products, the volume of sales you are able to achieve, and your operating expenses such as labor costs.
On average, a snow cone business in a good place can make up to $200,000 a year.
In general, shaved ice can be a profitable business, especially in locations with hot climates where there is a high demand for refreshing, cold treats.
To determine how much money you can make with a shaved ice business, you will need to consider these factors and do some market research to understand the demand for your products in your area.
Is a snow cone business profitable?
It is possible for a snow cone business to be profitable, but it depends on a number of factors such as location, competition, pricing, and operating costs.
To increase the chances of profitability, it is important to conduct market research to identify a target customer base, locate a suitable location with a high foot traffic, and offer competitive prices for high-quality snow cones.
Additionally, it is important to carefully manage operating costs, including the cost of ingredients, labor, and equipment, to maximize profits.
Do you need a permit to sell snow cones?
Yes, it is likely that you will need to obtain a permit to sell snow cones.
The specific requirements for obtaining a permit to sell food, including snow cones, will vary depending on your location.
In general, you will need to obtain a food handling permit, which may require you to complete a food safety training program and pass an inspection of your food handling facilities.
You may also need to obtain a business license, which allows you to operate your business legally within a specific jurisdiction.
It is important to research the specific requirements for obtaining a permit to sell food in your area, as failure to do so could result in fines or other penalties.
What is the profit margin on snow cones?
Snow cones can be very profitable. On average one snow cone costs around 50 cents to make but sells for $3 -$5!
Combine your snow cones with another product like a popsicle business for even more profits!