Do you like baking? Do you like money? Find out how to start a dog bakery to combine your two passions into a successful business.
I've written before about How To Start A Dog Treat Business and today I have an expert to tell you more about their own doggy bakery.
Kristin Larsen is the owner and founder of the Diva Dog Bakery Shop and course. She has taken a fun idea and turned it into a massive profit-making business and today she will share some of those tips with us!
Some of the things discussed by Kristin Larsen Include:
How she started her dog treat business and why
How much money you can make with a full-time dog bakery
The mistakes newbies make and how to avoid them
The top 3 tips to guarantee success
If you want to start a side hustle and you are interested in baking treats for dogs, you'll get a lot out of this interview from an inspirational woman who was one of the first dog treat sellers on Etsy.
This post contains affiliate links. Please read my Disclosure for more information
MORE FUN DOG SIDE HUSTLES
How To Start A Doggy Daycare At Home
How To Start A Dog Bakery: Expert Interview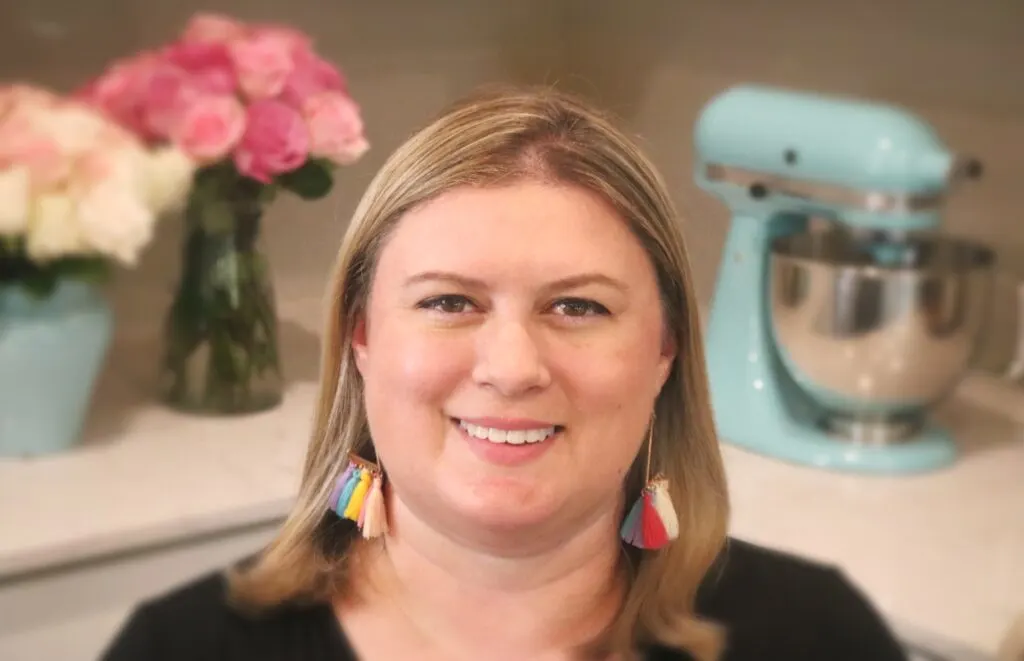 Hey, Kristin. Thank you for sharing a little bit about your business with my audience. Please tell us a bit about yourself and what you do
Hi, I'm Kristin! I'm a full-time online business owner who teaches people how to start their own dog treat business through my course Diva Dog Bakery and how to start a Pinterest management business through various programs at Pinterest VA.
I'm also a proud dog mom to two sweet pups I love to spoil.
When did you start Dog Diva Bakery?
I started my dog treat bakery, Diva Dog Bakery, before the Great Recession. It was originally a hobby-turned-side-hustle, but when I lost my job due to downsizing, it became my full-time job!
I started my course (also called Diva Dog Bakery) about how to start a dog treat bakery in 2020. I've been asked so many times to share how to start a successful dog treat business, and in 2020 I finally took the plunge and launched the online course.

How was life back then before you started the Bakery?
I was working a full-time job and not doing any baking on the side. I think that answer surprises people because they expect to hear that I was interested in baking my entire life. That couldn't be further from the truth!
What did the early days of your bakery look like?
Diva Dog Bakery started with a single cupcake. I was perusing desserts at a local bakery and decided that I wanted to give my dog Bella a natural, healthy, dog-friendly cupcake that looked as pretty as the cupcakes I saw behind the bakery counter.
After trips to a few pet stores and local markets, I realized I wasn't going to find what I wanted – I would have to make it! As someone who rarely baked anything, this was not an easy task but I was committed.
After a lot of time in the kitchen, I made the perfect dog-friendly cupcake for all of my dogs to enjoy. At that point, I was hooked on the idea of making dog-friendly treats, so I created several more recipes for my dogs to enjoy.
At this point, it was all a hobby and I had no intention of monetizing it. But after I started giving away treats to friends and family, people started asking me to buy my dog treats!
Soon after, Diva Dog Bakery was born. It started as a side hustle, but when I lost my job in the Great Recession, it became a full-time business!
Many people who are looking for a way to make extra money from home struggle with choosing the right side hustle. Why did you decide to sell dog treats and what factors did you consider when you made that decision?
I never entertained the idea of selling dog treats until friends and family started asking me to buy them. I was just obsessed with making them and loved seeing how happy they made my dogs and the dogs of my friends and family.
I didn't overthink it – I just dove right in and learned as I went along. It wasn't easy because I didn't have any guidance along the way (I wish I had!), but I enjoyed every moment of it.
You no longer run your bakery (more on that in a minute) but when you did, where did you sell your dog treats and how much did you earn from them monthly?
When I ran the business as a side hustle, I made a few hundred dollars per month. When I turned it into a full-time business, I was making $4,000 to $5,000 per month.
Keep in mind this was almost a decade ago. The prices people are willing to pay now are dramatically higher!
We have students in the course who are making $500 to $1,000+ per week simply running it as a side hustle. As a full-time business, it's possible to make five figures a month.
Why do you think a dog treat business is such a good side hustle?
A dog treat business is such a happy, fun business. That's not to say it's without work (any business requires effort), but it's such an enjoyable business to be in – and you have the cutest customers!
It's also a business that can be scaled and modified to match your lifestyle and schedule.
You can sell offline or online (or both) and you can choose to work when you want. If you want to take a few weeks off, all you have to do is not schedule any markets and let your customers know you aren't taking orders. That's it!
Do you have to be a pro baker to make money with this side gig?
Absolutely not. I had no idea what I was doing when I first started and I still consider myself only a beginner baker. The vast majority of our students start with a similar skill set (that is, none!).
What is the biggest mistake you see people making with their dog treat business?
We have some students who start the course believing the only way to be successful is to become a master cookie decorator, and so they try to design treats with complicated icing designs like some of the gourmet cookies you see out there.
Not only is creating complicated icing designs time-consuming, but it's also expensive and – most important of all – these treats typically don't sell any better than plain treats or treats with very simple icing. We're big fans of keeping it simple!
Is there one thing that you think determines whether a dog treat bakery will be successful or not?
A positive attitude. That might sound overly simplistic, but without fail, our successful students are the ones who never let any obstacles get in their way.
What are your top 3 tips for starting a dog treat business that makes money?
Tip 1:
Try different revenue streams and analyze which one(s) are the most profitable. For example, I cut some of the farmer's markets I was going to because they weren't nearly as profitable as other markets that took a similar amount of effort.
Tip 2:
When your business begins to grow, buy ingredients in bulk.
Tip 3:
Don't waste time or money creating complicated iced treats. Simple is best!
You transitioned from selling dog treats to running a very popular course that teaches other people how to start their own dog treat bakery.
What made you decide to create the course and who is the target audience?
When I was running my bakery full-time, I had a lot of people reach out to me for mentorship. I made a choice back then to eventually create a mentorship program or course, but life took me in a different direction.
In 2020, I finally got the course up and running and it has been growing leaps and bounds ever since!
The target audience is anyone who is interested in creating a fun, dog-focused business. Some of our students became interested in starting a dog treat bakery before finding us, and others found out about the idea from us and are excited to get started.
Tell us a little bit about the course, how many students have taken it so far and what is the best success story you have heard from a student on the course?
We've welcomed over 1,200 students into the program in a little under two years. It's wild to see recipes that I created for my own bakery sold nationwide through student bakeries. I estimate that students have baked and sold over one million dog treats from the Diva Dog Bakery course recipe book!
Editor note: you can download a one free recipe from the book here to see how easy they are!
I am constantly inspired by our students and their successes. I can't pick just one success story, so I'll share a few of the exciting successes I've cheered on:
Made $1,800 from a single farmer's market
Has their dog treats stocked in 10+ local stores
Has their own dog treat food truck
Had an order for over 500 treats from a local groomer
Has their own office and kitchen in a business suite
I'm waiting for a student to show up on Shark Tank one of these days. I know it's going to happen!
Does the course get updated often and do students get free updates?
We've done mini-updates to the course since it was first launched and yes, students get free updates!
We also add a lot of material to the Diva Dog Bakery Community on Facebook. Students get free access for the first month, then they can choose to cancel or continue on for $19/month.
About The Diva Dog Conference
Tell us a little bit about the Dog Diva Conference, is this an annual event?
This is our first time hosting the conference and we hope to make it a yearly event! It's September 22, 2022 in a really beautiful space in Nashville, Tennessee.
It's an all-day event and features guest speakers on photography, cookie decorating, social media marketing and e-commerce through Etsy and Shopify. We'll also have a catered lunch, champagne bar, mocktails and celebratory send-off. We're so excited!
What's next for you and your business? Do you have anything exciting planned for the next year?
We're in the middle of an exciting branding and website redesign that's due to launch in the fall of 2022. The fall can't get here soon enough!
With the new site, we're planning to launch several new lines of digital products. Some of the products will be for people who are dog treat bakery owners and some will be for pet parents.
And, of course, we hope to continue expanding the brand's reach and be a part of even more dog treat bakery openings in 2022, 2023 and beyond!
Links And Resources Mentioned During The Interview:
Get a Free Diva Dog Bakery Dog Treat Recipe Here!
Interested in learning more about starting a dog bakery? Check out my in depth guide to starting a dog treat business here.