Do you have what it takes to make money transcribing? Transcription offers a flexible job that allows you to work from anywhere and put in as many hours as you like.
Secondly, it is in demand. It's not too difficult to get hired as a transcriber once you have the proper qualifications and software at home.
Thirdly, it is well paid. Many transcribers earn upwards of $25 an hour working from home so it is a great opportunity for stay at home moms who an income.
If this sounds like something you would like to get into, read on for more details and tips to get started.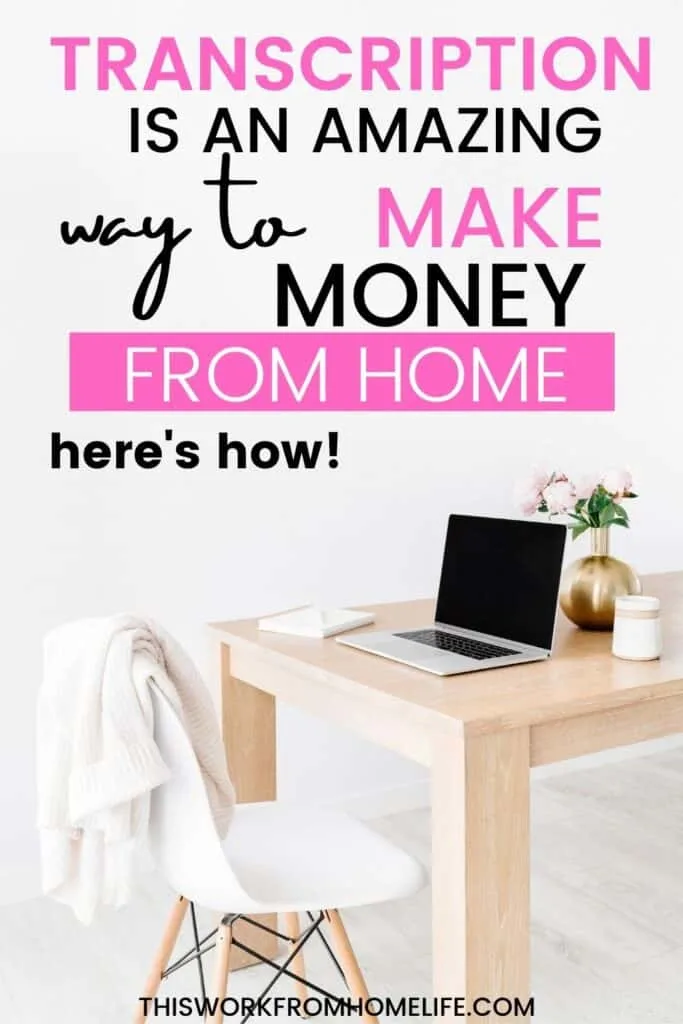 This page contains affiliate links meaning I earn a commission if you use those links. Please read my affiliate disclosure for more information.
How Can You Make Money Transcribing from Home?
Most people associate transcribing with courtroom typists banging away really fast at the keys while they get down everything being said during a trial.
The truth is, becoming a transcriptionist is much more than being a touch typist. You need to have a good listening skills and the motivation to be a freelance worker. You also need to have good grammar and language skills.
Many companies use freelance transcriptionists as part of their day-to-day business, especially with the rise of video communication.
READ NOW: 5 ways to make money fast this week!
And it's not only traditional professions that employ transcriptionists, as the Transcribe Anywhere interview with top podcaster, Charlie Poznek, points out;
"Podcasters compete to get more listens, downloads, and traffic to their websites, so it's in their best interest to do everything they can to drive that traffic in as many ways as possible. Providing transcripts of their episodes is a genius way to do that.".
You can check out the Transcribe Anywhere Blog for interviews with lots of different people who use transcriptionists. The list runs the gamut from business analysts to wine sellers.
What exactly is transcribing?
The exact transcription job description goes something like this "Transcribing is the art of converting speech into a written or electronic text document".
In addition to recording every word spoken in the audio, the transcriptionist inserts punctuation and grammar as appropriate so the document reads well.
How long does it take to transcribe one hour of audio?
Typically, one hour of audio will take a transcriptionist around 4-5 hours to fully transcribe. The exact length of time will depend on how clear the audio is, the number of people speaking and how fast they are talking.
Do you need special equipment to become a transcriptionist?
First and foremost, you need a computer and a headset to allow you to listen to the audio recordings. Some transcriptionists also use a foot pedal to help them work faster.
If you plan on transcribing videos for money , a fast internet connection is a must.
You will also need transcription software, the most popular is Express Scribe (there are free and pro versions).
How much do transcriptionists get paid?
Most transcriptionists are freelancers. On average, new transcriptionists earn around $20 an hour which is a great entry-level wage for a work at home job.
RELATED: How to get started as a Pinterest virtual assistant
Do I need training to become a transcriptionist?
While there is no set rule that you need training in order to make money transcribing, the truth is that without some kind of training, you probably won't get far.
Most companies want to know that they are hiring quality individuals who know what they are doing and without experience, you really need to show that you have some training.
Are there any online transcriptionist courses?
Transcribe Anywhere is the most popular course for beginners who want self-paced online transcription training.
I mentioned Transcribe Anywhere earlier as their website is a goldmine if you want to make money transcribing from home.
They have interviews with successful transcriptionists, ideas for marketing your business and tips from actual people who hire people to transcribe their stuff. It's a fantastic resource for beginners.
The owner of Transcribe Anywhere started the training program as a way to help others get into a business that allows her to work at home on her own time schedule.
What do you learn in the Transcribe Anywhere course?
There are actually two courses available -general transcription and legal transcription. Legal transcription is an especially sought after skill. The earning potential is also slightly higher than for general transcriptionists.
Legal transcriptionist need the same skills as a general transcriptionist with the added knowledge of legal terminology and documentation.
What you will learn in the general transcription course:
where to

get the best deal

on transcription equipment

how to use text expanders and shortcut keys

transcription style guide plus downloadable templates

screencast tutorial videos on software, time coding, and more

how to find work as an employee

how to find higher-paying work as an independent contractor

Seven levels of practice dictations (and answer keys for each)

lifetime access

to all course material and future updates
lifetime access to a

student support forum

on Facebook
a

"100%

thorough

" guarantee

.
You can read more about the Transcribe Anywhere courses here.
Are there any free courses online?
Transcribe Anywhere does offer two free mini courses to give you an idea of what to expect.
You can access the general transcription mini course and the free legal transcription training at the Transcribe Anywhere website
Where can I find online transcription jobs for beginners?
As the majority of transcriptionists are freelancers, the usual suspects are a good places to start. Popular sites include Upwork and Indeed.com.
Most transcription training courses provide support in finding work to their alumni.
More work from home ideas
How to get started as a Pinterest virtual assistant
Start a blog and make money from home
How to find jobs that will let you bring your child to work