With many daycare expenses costing more than a mortgage payment, it's no wonder that so many people are looking for jobs where you can bring your child to work.
The great thing is that nowadays, it has never been easier to work from home or find a position where children are allowed in the workplace.
20 years ago that would have been unthinkable.
Below you will find lots of jobs you can bring your kid to as well as links to a searchable database of companies that allow babies and children to accompany their parents to work.
This page contains affiliate links meaning I earn a commission if you use those links. Please read my affiliate disclosure for more information.
MORE GREAT SIDE HUSTLES FOR MOMS
70 Side Hustles For Single Moms
27 Ways For Stay At Home Moms To Make Money
10+ Jobs Where You Can Bring Your Child To Work
If you're a parent, you know how challenging it can be to balance work and family life.
Finding a job that allows you to bring your children to work can be a game-changer for many working parents.
It's not always easy to find jobs that allow you to bring your children to work, but they do exist.
It stands to reason that many of the jobs are child-orientated, after all, children are most welcome at places specifically for children.
However, you might be surprised to see that there are banks, law offices and even state departments that welcome babies and toddlers into their offices every day.
And don't forget, that if you can't find a job where you can bring your baby to work, you can always start your own business or work from home job that will give you flexibility and some money!
See the bottom of the post for some ideas.
Here are some of the best jobs that allow you to bring your children to work:
1. Nanny
Being a nanny is one of the best paid jobs where you can bring your child. Many families are more than happy to let your kids tag along and may even consider it a bonus feature as you are bringing a ready-made playmate for their children.
Depending on the family, you can find nanny positions through agencies or sites like Care.com. Hours can also be very flexible with some families just needing after school care while others looking for a full-time nanny.
2. School Bus Driver
Out of all the jobs where you can bring your baby, school bus driver may be the most flexible in terms of hours and, if you have school age kids, the chance to be off during the school vacations.
If you only have a limited number of hours a day available, driving a school bus might be for you.
This is a fantastic job for stay at home moms to earn extra money as you can bring your children with you while you work.
I know quite a few moms who drive school buses and the hours are the best part of the job.
Exact hours will depend on your routes but most school bus drivers work from around 7-9.30am and then again from 2-4.30pm. If you want extra hours, you can often pick up charters on the weekend for sports teams and church groups.
3. Cleaning Service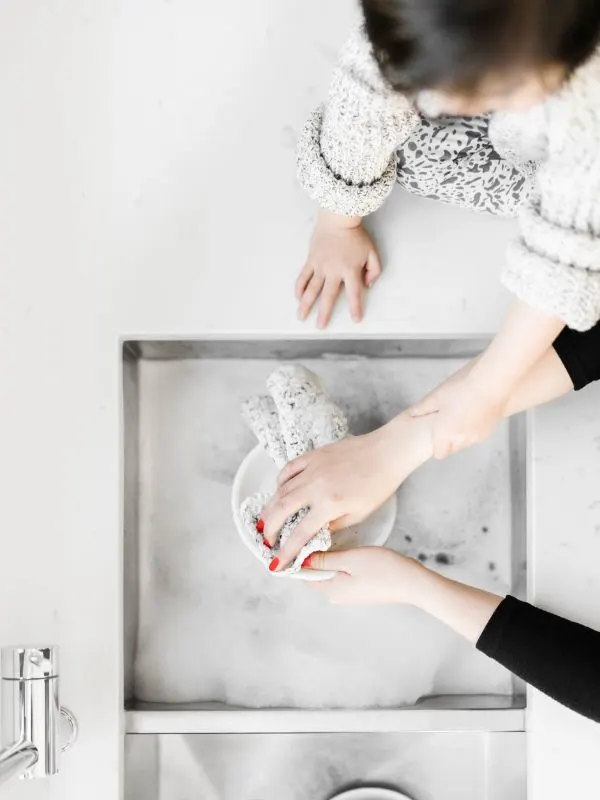 If you have a young baby or a child who will let you get on with your work, house cleaning is another job where you can take your child to work and no one will mind.
If you have a slightly older child, you might even be able to get them to do some dusting or mopping for you!
House cleaning is probably not the best job to can do with a toddler unless they are extremely well-behaved and able to keep their hands to themselves.
Cleaning hours are typically in the mornings, on weekdays when the home owners are at work. Commercial cleaners normally work in the evenings once business have shut for the day so you can work once the kids are in bed or first thing in the morning.
4. Gym or Athletic Club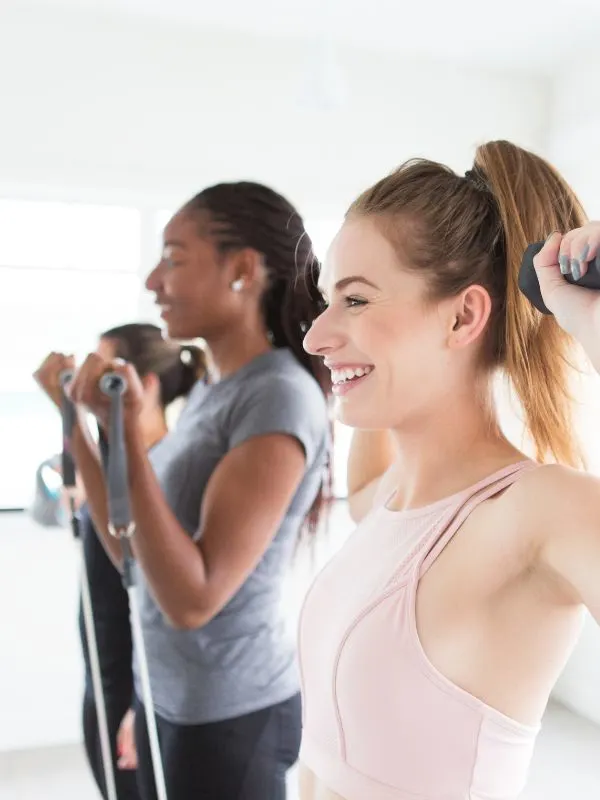 There are a ton of great jobs at gyms with flexible hours.
Most gyms with a childcare facility will let their staff use it while they are working which makes it a great source of take your kid to work jobs.
My local gym has the following positions advertised on a regular basis:
childcare worker
front desk
sales associate
group fitness instructor
cleaner
maintenance
smoothie bar
personal trainer
Most gyms offer part-time hours to staff and as the busiest times are in the evenings, this is a great opportunity for an after-school job or even evening hours.
5. Food Delivery Services
If you are looking for a job where you can bring your child with you, food delivery might be your best bet!
Companies such as Uber Eats are flourishing in cities and even smaller towns. In my town you can get almost anything delivered by Uber Eats, including McDonalds!
This is one of the best jobs you can bring your kid to because they don't even have to leave the car! You can let you baby nap in their car seat while you nip around town delivering pizza and burritos.
You can set your own hours for Uber Eats but bear in mind that most of the deliveries are for dinner. The best thing about it is that you can do the odd hour here or there, whenever you have some spare time so it makes a great way to earn money fast.
Requirements vary in each city but for the most part all you need is a valid driver's license, a newer car and to be over 21 years of age.
6. In Home Daycare
Running your own in-home daycare is a double win – you are saving money on daycare for your own children while getting paid!
If you love kids and can handle more than your own, starting your own daycare business can be a great way to make money and enjoy working from the comfort of home.
Most home daycares are open from 7am to 5 or 6pm at night, Monday to Friday.
If you have school aged children, you can consider offering before and after school care in addition or just offering teachers hours so that you get the summers off too.
Every state has its own regulations and licensing requirements for at-home daycares so make sure to check before opening up shop. Depending on where you live, you can make around $35-55 per child per day and deduct many household expenses in your taxes.
7. Child-focused businesses
There are a lot of jobs where you can take your child to work and they will actually have a great time.
Consider jobs at children's attractions like indoor play places, trampoline parks and sports camps.
If you want to start your own business, any jobs that involve children or entertainment are normally great for bringing your own child.
I have a friend who runs a children's music class and her daughter loves being her "helper".
Another friend runs arts and craft classes for babies and brings her baby with her every day.
If you like fitness you could start your own mommy and me bootcamp or yoga class so you can get fit and stay with your kids.
8. Corporate childcare centres
If you like the idea of looking after children but don't want to commit to running your own in-home daycare, working at a daycare with your child might be a good option.
Most daycare centres will allow staff to being their own children for free or an extremely reduced rate.
This is a great option as your child will be able to socialize with other children and take part in lots of activities.
You can look at private childcare centres but don't forget to check companies such as the YMCA.
9. Companies that welcome children
If none of the ideas above appeal but you really want to find a job where you can bring your baby, one idea is to find a company that is already open to having children in the workplace.
Babies At Work is an organization dedicated to promoting parenting in the workplace through research and support.
They help to educate companies on the many benefits of allowing parents to bring their children to work including:
Earlier return to work after a baby's birth

Increased employee retention

Higher morale

Increased teamwork

Increased efficiency from parent-participants

Recruiting tool

Free publicity
If you are working full-time and hoping to be able to bring your child to work with you, you can find lots of resources that might help you persuade your boss!
If you want to find a company that is already open to having moms bring their children to work, the Babies at Work website has a searchable database of companies that participate in the program.
Examples of companies that will let you bring your child to work include:
State Agencies in several states
Law offices
Vineyards
Public Libraries
Banks and Credit Unions
Chiropractic Offices
Museums
Schools
Retail Stores
Work from home jobs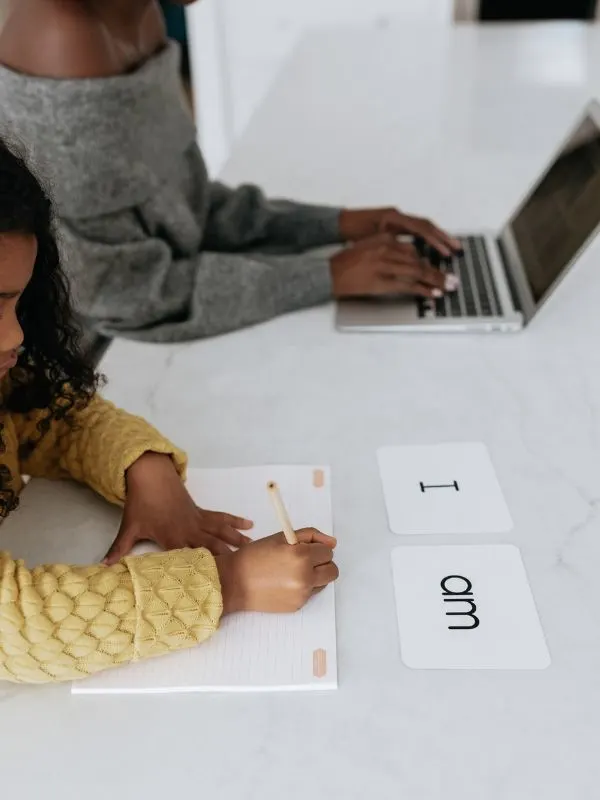 If your city has no suitable jobs where you can bring your child, what about starting your own business?
Although it can be tricky working a regular 9-5 job if you have toddlers in the house, many work from home jobs are flexible and will allow you to work evenings and nap-time to make it work.
I'm writing this post at 6am before my kids get up as it's the best time I can fit in my work at home job.
There are a lot of work from home job ideas you can try, some of the best ones include:
A virtual assistant works remotely for a brand or business and does whatever they need. It often entails managing social media pages, copyediting, organizing schedules or mailing lists.
You can learn more about getting started as a Pinterest virtual assistant
As a freelance writer or editor, you have the flexibility to work from home and set your own hours.
This allows you to be available for your children while still working.
You can work on projects while your children are playing or napping, or even have them help you with research or editing.
If you like writing, consider posting adds on a site like Upwork and working as a freelance or ghost writer.
Many websites need content creators to write blog posts or advertisements and the pay can be quite high.
12. Transcription
Transcribing is one of the best work from home jobs as it is always in demand.
It especially suits stay at home moms and anyone who needs a flexible schedule.
Transcribing entails turning video or audio recordings into text. The main professions that use transcription services are legal and medical but many other industries use transcribers too.
13. Blogger
Blogging is how I make most of my money working from home. Starting a blog is pretty easy and cheap but it can take a while to make money. If you are self-motivated, this is a good option for you.
If you want to start you own blog, this tutorial will take you through the steps from beginning to end.
14. Online Tutor
If you have teaching experience, you can become an online tutor.
Many online tutoring companies offer flexible schedules and allow you to work from home.
This means you can work while your children are nearby, and even have them participate in your tutoring sessions.
15. Event Planner
As an event planner, you can work from home and plan events around your children's schedules.
You can even bring your children with you to meetings or events if they're appropriate.
This allows you to have a flexible schedule and be available for your children when they need you.
One of the easiest event planner jobs for moms with young children is to be a wedding planner from home.
This involves working on the day of the wedding and helping the bride and groom have the perfect day.
16. Direct Sales
One of my friends was able to quit her job to stay home with her kids thanks to her earnings as a Stella & Dot Stylist.
If you can find a product that you are passionate about and you love socializing and networking, direct sales can be a good option.
Some of the most popular direct sales companies include:
Usborne Books – quality children's books
Stella & Dot – fashionable jewelry and accessories
Rodan & Fields – Skincare
Beachbody – fitness supplements and videos
Direct sales are great as you can manage your hours and most work is in the evenings and weekends. The downside is that your earning potential is likely not as high as some of the other work from home opportunities unless you manage your own team.
One of the biggest issues when working at home with kids is that it is hard to go on meetings or talk on the phone. That's why this list of 33 Best Non-Phone Work From Home Jobs is amazing.