We all have more and more apps on our phones these days. From banking to fitness apps, we all use our phones more than ever. With the new gig economy, side hustle apps to make money have become a huge source of income for many people.
If you want to make money doing odd jobs in 2023, now is the time.
From delivering food to renting out your old DJ equipment, there has never been a better time to make money from your phone.
Flexible jobs that pay often are perfect for supplementing your regular income or paying off debt quickly.
Even if you work full-time, you can pick up some extra cash from your phone starting this week.
This page contains affiliate links meaning I earn a commission if you use those links. Please read my affiliate disclosure for more information.
RELATED POSTS
9 Easy Ways To Make Money On Fiverr
5 Ways To Make Money Quickly That Will Work This Week
30 Side Hustle Apps To Make Money in 2023
We all need some extra money nowadays. Whether you are an RN looking for the best side hustles for nurses or a single mom who needs extra cash, these apps will help you get on your way to financial freedom.
The money making apps below are all free to download and have various application processes.
Most of them offer international opportunities especially for side hustlers in the US, Canada and UK.
1. Uber
Driving for Uber in your spare time can be a great way to make extra cash. All you need is a clean driver's license and a newer car in most states and provinces.
Uber is great because you can choose your hours and turn off the app when you are not available.
How Much Do Uber Drivers Make?
You can make a pretty good money driving for Uber, especially if you live near a major airport or large city.
If you live in a more rural location, the key is to become known as the go-to Uber driver in your area so that people connect with you directly. Expect to earn around $8-12 an hour driving for Uber.
2. AirBnB
Even if you don't live in by the beach or in a fancy house, hosting guests via AirBnB can be a really easy way to make money.
You might think that you need to live in NYC or some other highly desirable vacation spot but you would be surprised at the bookings a regular house in Everytown, USA gets.
Bear in mind that if you have a basement apartment or spare room, you can advertise it on Airbnb even when you are there so it could be a year round earner.
Income Potential with Airbnb:
Want to see how much your place could earn? Click here to see the estimate on Airbnb.
Airbnb snapshot of potential earnings when listing a property in Toronto, Canada on Airbnb.
The potential earnings would be $2567 CAD (That's $2032 USD) a month for renting out an entire property to 4 guests.
3. Skip The Dishes
Skip the Dishes is one of the most popular food delivery apps and is a great way to make money on the weekend or evenings.
Once you have signed up as a food delivery courier for Skip , just turn the app on when you are available. You will pick food up at a local restaurant and delivery it to homes.
Clients pay directly (and tip you) on the app so there is no fumbling around with change.
How Much Does A Skip The Dishes Driver Earn? The company doesn't give a clear answer but Reddit users report making around $10 an hour driving for Skip.
4. Foap
Do you take great photos with your iphone? Want to get paid for photos you have taken?
Foap works with brands and advertisers to get you money for your snapshots.
How it works
Download the Foap app on your Android or Iphone.
Upload your amazing photos or videos to the Foap app to create your online portfolio.
When a brand, agency or just anyone purchases a video or picture from you, you'll get 50% of the profit.
Foap is completely free to join and has brands such as Heinz, Nivea and Volvo looking for user-generated content.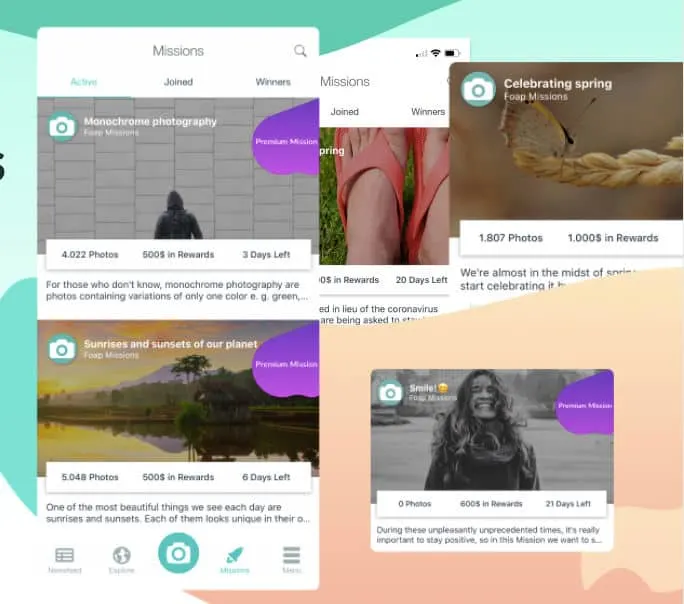 5. Postmates
Postmates is a delivery app that allows you to make money whenever and wherever you like. You can even make some extra cash on vacation if you fancy!
You can sign up in 5 minutes and start making money this week. Postmates fleet members keep 100% of their earnings and tips and get paid weekly by free deposit (or cash out whenever you like).
Income Potential: You can work as much or as little as you want with Postmates. Most people make between $15-25 an hour.
6. Lyft
Lyft is the other large ride-share app and operates in much the same way as Uber.
If you want to maximize your income, there is nothing to stop you from signing up with both companies and taking whatever rides you can.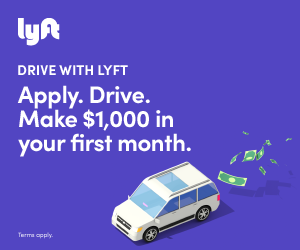 Anecdotally, I have heard that Lyft pays more money but to be honest, you really are better to sign up for both Uber and Lyft so you have as many opportunities to earn as possible.
With both apps you only get paid when you have a passenger in your car so you want to be as busy as possible.
What you need to get started with Lyft:
Clean Driver's License
Be at least 21 years old.
Pass Lyft's free, online DMV and background checks.
Proof of insurance
How Much Do Lyft Drivers Make? Expect to make around $10 a hour driving for Lyft.
7. DoorDash
I have a friend who regularly makes money during her lunch hour with DoorDash.
It works the same as Skip The Dishes and is available in the USA., Canada and Australia. You can set your own hours and as no one is driving with you in your car, the rules are not as strict as with the ride sharing apps.
It's super easy to sign up and start delivering food around your city.
8. Gigspot
If you love shopping then mystery shopping might be for you!
Gigspot is a great app for connecting shoppers with brands and market research companies that need secret shoppers.
Money is not steady but this is a fun app to make money on the side.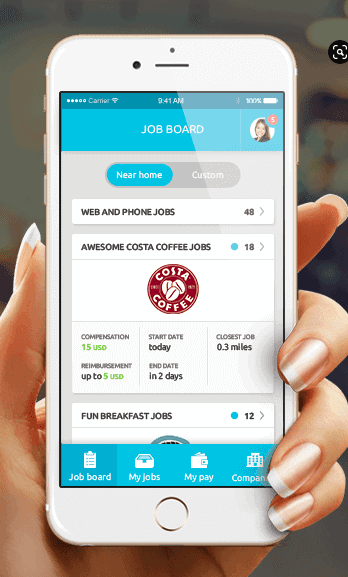 Income Potential: With Gigspot, you will get compensation for any gigs you complete in addition to reimbursement for any costs you incur (meals, drinks, shopping). You can earn around $10-15 per gig
If you are over 18 and love dogs, then becoming a dog walker for Wag might be for you!
This is a super flexible side hustle that you can do whenever suits you.
Currently Wag is available in every state around the USA and payment is directly into your bank account via Stripe.
How To Get Started With Wag
Download the Wag App
Fill out an application form detailing your experience with dogs
Start earning
10. FatLlama
You know you can make money selling your stuff online but what about the things that you don't use but don't want to get rid of?
Fat llama is an ingenious side hustle app that puts you in touch with people looking to rent your stuff for cash.
Did you know people will pay money to borrow your bike, your old camera equipment and more?
It's the perfect solution to our consumer-driven society; instead of buying a power tool for a one use job, rent it from someone who has one collecting dust in their garage.
Fat Llama started in the UK and has now expanded to North America. Some full-time renters make upwards of 5 grand a month.
Explore some of the categories on Fat Llama here and see what you can rent for money.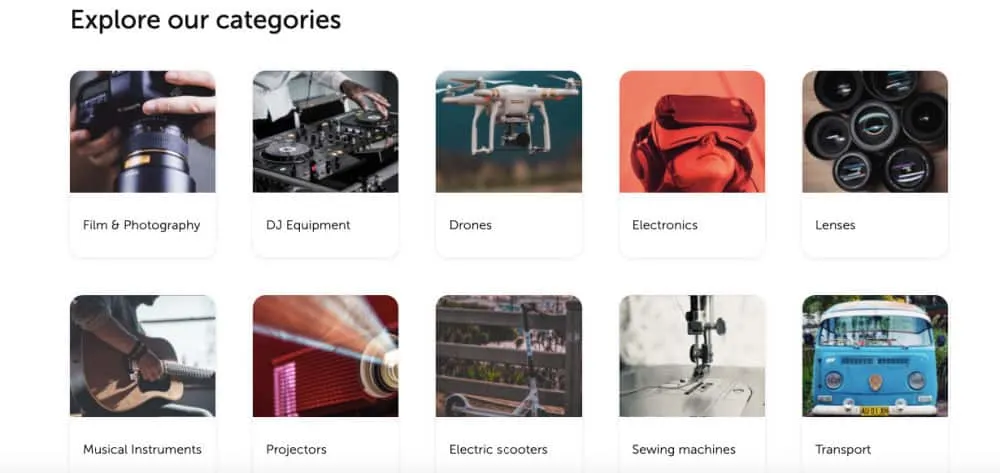 11. Kango
Kango is similar to Uber but it is only for kids. It's perfect for parents who can't make the car pool or need their children drive to an extra-curricular activity.
As you will be looking after children in your car, it is pretty strict to become a driver with Kango. Your car must be a 2010 model or newer and you must have childcare experience.
In addition, you will need to pass the following:
Trustline certification in California (includes fingerprinting)
Background check (includes criminal and sex offender searches from multiple states, counties and databases as well as check for multiple aliases)
DMV check (from multiple states, counties and databases)
Vehicle inspection
Phone screen
Two reference checks
In-person interview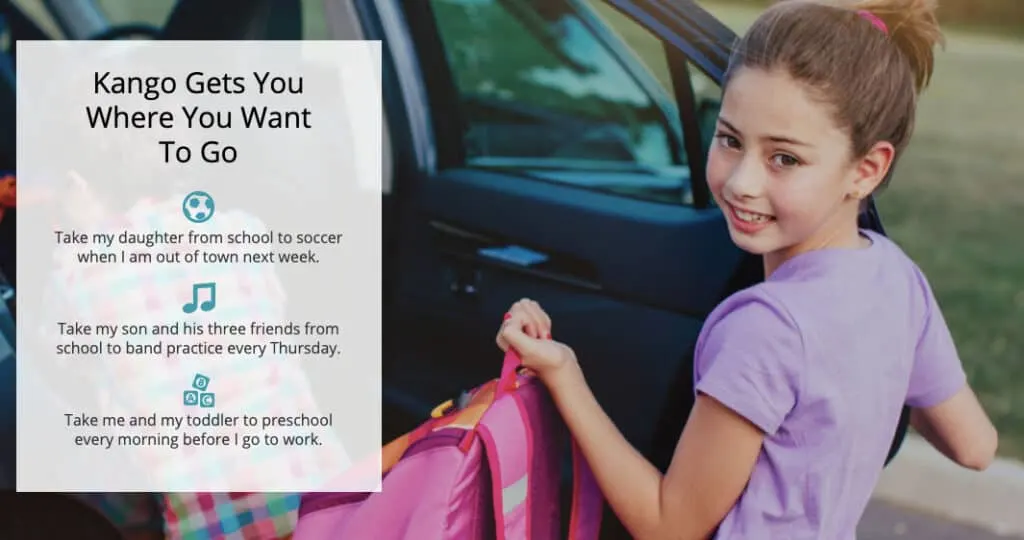 How Much Can I Make Driving With Kango?
Given the requirements needed, drivers with Kango make more money than a regular Uber or Lyft driver.
You can make up to $36 per hour on a flexible schedule plus get a $25 activation bonus when you first start.
12. Field Agent
One of my favorite side hustle apps to make money, Field Agent is another mystery shopping app that pays you to check out businesses.
How it works
Use your smartphone to collect photos, video, and information from stores and other locations and get paid for mystery shopping.
Field app is available in the USA, Canada, UK and Australia amongst other countries.
Income Potential: Like all mystery shopping apps, you can get paid around $10-25 per job plus reimbursement if applicable.
13. Shovler
Shovler is a fantastic side hustle app for for those of us in the north who want to make money and get a workout!
Get paid to shovel people's driveways during the winter and make money doing something you were going to do anyway.
You can set your availability on Shovler and it is available in the US and Canada.

Earning Potential: Shovler lets you set your own prices. One job can earn you up to $100+ depending on the size and time it takes.
14. Presto/Sassie Shops
This is one of my favorite mystery shopping sites.
I've been a member of Sassie Shops for years and often do mystery shops for them.
They pay quickly and normally have a lot of good offers, especially if you live in a major city or region.
I've completed mystery shops at gas stations, hotels and restaurants as well as stores.
15.Uber Eats
Uber Eats is the food delivery branch of Uber Ride share.
If you don't fancy having strangers in your car or your car doesn't meet Uber's specifications, then Uber Eats may be a good option.
For car delivery with Uber Eats, you need to meet the following requirements:
Meet the minimum age to drive in your city
Have a 2-door or 4-door car
Have a valid driver's license and vehicle insurance under your name
Have at least one year of driving experience
If you live in a city centre, you can also sign up for bicycle and scooter delivery.
How much do Uber Eats drivers make?
Uber Eats drivers make around $8 – $12 per hour. You can cash out instantly up to 5 times a day, cash outs are free using the Uber visa card or 50 cents using your own debit card.
16. Instacart
If you love grocery shopping as much as I do, consider becoming a shopper for Instacart.
You can be a full service shopper who shops then delivers groceries or an in-store only shopper who doesn't drive anywhere.
Since the pandemic, more and more people are using Instacart to avoid going into stores so demand is high for Instacart shoppers.
Instacart is a great side hustle for anyone who wants to make some extra cash in their spare time.
The requirements are pretty easy to meet:
At least 18 years old
Eligible to work in the United States/Canada
Consistent access to a vehicle
Consistent access to and be able to effectively use a recent smartphone (iPhone 6s / Android 5.0 or newer)
Ability to lift 50 lbs with or without accommodation
How much can I make with Instacart? Expect to make around $15-20 per shopping trip with Instacart.
17. Rover
Rover one of the most lucrative side hustle apps on this list. If you like pooches and want to make money with your dog (or someone elses), then it is definitely one to consider.
Rover is one of the largest dog sitting apps in the US, Canada and UK.
It allows people to find pet sitters or walkers in their area and schedule everything directly via the app.
As a Rover side hustler, you can offer different services depending on your abilities:
Boarding– Care for a dog (or cat!) overnight in your home. This is the most lucrative option with Rover.
Dog Walking – Pick up dog walks that fit your schedule
Obviously you must love animals to work for Rover plus you need to pass a background check as you may be entering people's homes while they are out.
Income Potential with Rover: Dog boarders can around $50 a night while dog walkers charge around $15-20 per walk.
18. Amazon Flex
Have you ever wondered who delivers all your Amazon orders?
You can earn up to $25 an hour delivering Amazon packages in your area as an Amazon Flex driver/
The app allows you to build your own schedule with opportunities available 7 days a week and high demand for work. You use your own vehicle to deliver the packages around your own area.
Earning Potential: According to Amazon, most drivers earn $18-25 an hour.
19. VRBO
VRBO is similar to AirBnB except you need to vacate your house for your visitors.
Their website has a handy earning potential app so you can see exactly how much you might make.
If you already use Airbnb, you can consider listing your home with VRBO too and their advisors will help you to create your listing.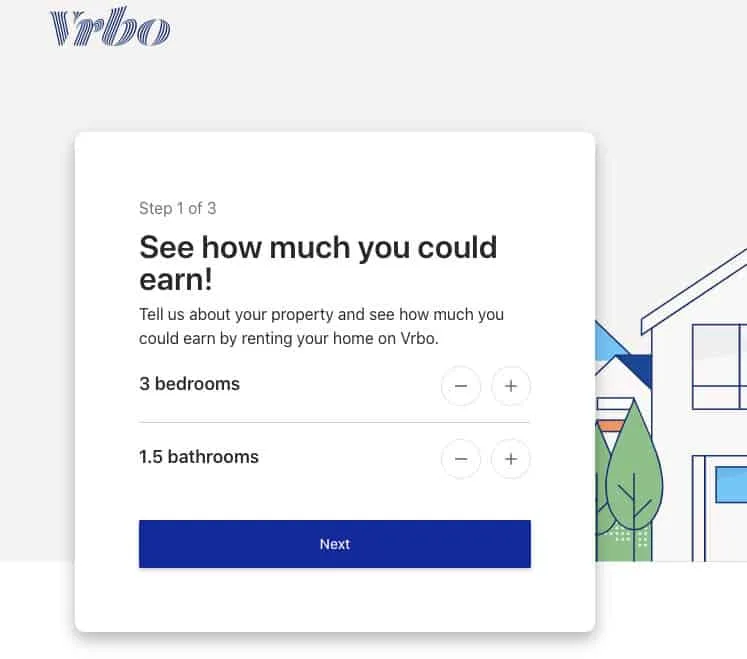 20. Lime Bike Juicer
Lime electric scooters are all over the US and Canada and they are really changing lives in urban areas where people want to get around without a car.
A lime bike juicer charges up the lime bike fleet so they are ready for the next customers.
This is a really flexible side hustle and is pretty easy too.
You will get sent a charger and can then go out and get paid up to $20 to charge electric scooters in the Lime fleet.
21.Turo
If riding people around doesn't sound like your style, how about renting our your car for others to use when you don't need it?
Think of Turo as an Airbnb for cars. It will allow you to get paid even when your car would normally be sitting idle.
You can list your car for rent using this side hustle app and sit back while it makes money for you.

Income Potential of renting your car out on Turo:
You can use the Turo Carculator to see how much money you can make. A lot will depend on the age and make of your car. Most cars can earn between $400-$1000 a month.
You can make even more money with a pickup truck and a trailer!
You set your own price so make sure to check out other cars in your area. You'll earn between 60-85% of the rental price depending on the insurance package your choose.
22. Handy
Are you handy around the house? Sign up for Handy and put your skills to work by helping others with odd jobs.
All kinds of jobs are in demand including:
Cleaner
Electrician
Garage Door Repairs
Home Improvement
Lawn Care
Pool Services
Technology Installs
Income Potential with Handy: You can earn up to $22 an hour as a house cleaner or $45 an hour as a skilled handyman.
23. Taskrabbit
Task rabbit is the Jack of all Trades of apps to make money. Its for anyone who needs anything done but doesn't have the time to do it themselves.
You can help people with any kind of job through Taskrabbit. Tasks could include deliveries, furniture assembly, cleaning or admin tasks.
I have used people from Taskrabbit for moving house, furniture assembly and furniture removal (trips to the dump). They are partnered with Ikea for furniture assembly services.
The app will notify you of jobs in your area and you can choose which ones to take.
Earning Potential: This really depends on the kind of tasks you take on but a full-time income is possible.
24. Bambino
Bambino is a babysitting app designed to make finding a trusted babysitter easy for parents and families.
Sign up for Bambino and sit for families right in your neighbourhood. Jobs go quickly with Bambino so you will want to make sure to check your notifications with the app.
TIP: Get a background check as potential Bambino parents value safety and transparency.
Bambino offers 4 levels of sitters depending on the family's requirements:
Junior Sitters
Junior Sitters are at least 13 years old and they have some babysitting experience. These sitters do not have their own transportation and are between the ages of 13-15 years old.
Standard Sitters
Standard Sitters are 16-18 years old, however experienced 15 year olds can be upgraded to Standard Sitters based on a variety of measures.
Advanced Sitters
Advanced Sitters are generally at least 19 years old
Elite Sitters
Elite Sitters are at least 18 years old and have all cleared a comprehensive Background Check. They must have completed at least 6 sits within the past 2 months, maintaining a 4.8+ Star Rating and an 85% or higher Reliability Rating.
How Much Do Bambino sitters make? This will depend on which type of sitter you are and where you live. You set your own rate so make sure to check out the norms for your city.
25. Gigwalk
Gigwalkers perform market research tasks for extra cash with the Gigwalk app.Download it, sign up and you can start earning money this week, whenever you want.
If you like the idea of mystery shopping whenever you like, this one is for you! You might be in charge of checking a brand is fully stocked at a store or helping conduct market research.
How Much Does Gigwalk pay? Jobs range from $3 to $100 so it really depends what you are looking for and how much you want to work.
More Side Hustles Apps
Here are 3 more posts on apps that can help you make money:
9 Easy Ways To Make Money On Fiverr
How To Start An Etsy Store Successfully
How To Make Money As A Mystery Shopper