Do you have tons of kids clothes taking up space at home? Here's where to sell used baby clothes for cash that you can use to get the next size up or just treat yourself (Lord knows you deserve it!).
Below you will find some great options both online and in person that will let you make money while selling your baby clothes, toys and all that gear like swings, strollers and bouncy chairs.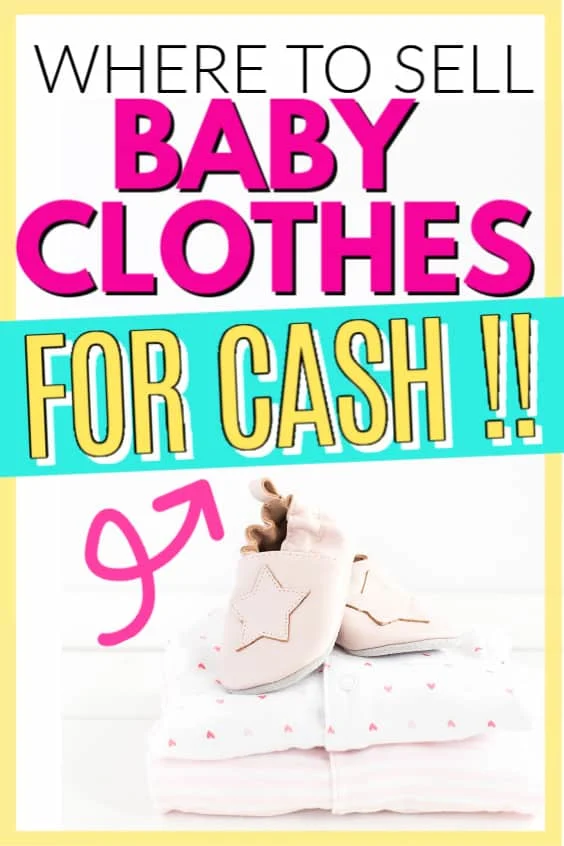 RELATED POSTS
Where To Sell Used Clothes For Cash
DIY Baby Items To Make And Sell
Where To Sell Used Baby Clothes Online
One of the easiest places to sell your baby clothes for cash is the internet. There are a number of sites dedicated to reselling baby clothes that make the whole task super simple. You can also try a traditional site like eBay if you have any high value items.
Rebelstork is great for selling all kinds of baby gear from swings to strollers and everything in between.
How it works
Rebelstock will pick up your baby gear and sell it for you on their platform. Just tell them what you want to sell below, see how much you'll likely make, and let them do the rest.
ThredUp has a whole section of their site dedicated to kids clothes. Popular brands include Mini Boden, Gap and Hanna Anderson.
How it works
Order a Clean Out kit through the website, fill it with your used baby clothes and get paid for the items when they sell.
Swap.com is another great online option for selling your baby clothes for cash. The first time you use the site, you need to pass their acceptance criteria and after that you will be able to send clothes in whenever you like.
How it works
Much the same as ThredUp -Sign up and send your initial items to Swap.com. If accepted, they will do the heavy lifting (processing, pricing, photos, etc.) and you can sit back and start making $$!
Poshmark is a bit different from the sites listed above because you handle the sale and shipment of your items. It works more like a traditional buy and sell site where you list your item then ship it to the buyer.
How it works
Take photos of your items and fill out the price and description. Ship them using the Poshmark prepaid label when they sell.
Everyone knows eBay as the original buy and sell site that has been around for almost twenty years. I have always found it a great place to buy and sell unique, name-brand baby clothes and gear that is in high demand.
How It Works
You can either choose the buy it now option or auction off your stuff to the highest bidder. eBay takes a cut of your sale price. You handle all photos and shipping and need to build that into your price.
Download the Mercari app and sell practically anything including baby clothes and toys. It is free to list an item and Mercari takes 10% once you sell something.
How It Works
List your item for sale then ship it using the prepaid shipping label that you are emailed.
Etsy
Do you have some retro or high quality baby clothes to sell? If so, why look check out Etsy. Although you cannot sell new or modern items on Etsy, selling vintage clothing on Etsy is a-ok.
Where To Sell Used Baby Clothes in Person
Many cities have a Once Upon a Child store that buys and sells all kind of used baby gear and baby clothes. If you have a ton of baby clothes and just can't face selling it piece by piece yourself, OUAC can be a good solution as you can take a whole bin in and they will take what they want.
The main negative I have found is that they are super picky and give very little per piece, but if you goal is just to get rid of stuff and make a little money as easily as possible, OUAC is worth trying.
How It Works
Drop off your baby clothes at the store and within a half hour or so, they will let you know what items they will take and pay you cash on the spot.
Facebook BST
This is probably the most labor intensive of all the options I have on this post.
However, I have found I can make much more money on Facebook than most other methods, if I am prepared to deal with the hassle and drama of no shows and missed pick ups.
How It Works
Join as many local buy and sell Facebook groups as you can. It's a numbers game to get your items in front of as many potential buyers as possible. Look for ones that target moms that already feature lots of baby clothes.
Take photos of your items and provide a price. Offering porch pick up (where the buyer leaves the money in your mailbox) is a good way to encourage buyers.
If you have lots of baby clothes to sell, consider putting together lots for a good price. An example would be a girls summer lot for ages 6-12 months.
Consignment Stores
If your area has private consignment stores, they are worth checking out. These can be particularly good if you have lots of high-end baby clothes in sought after brands and in great condition.
How It Works
There are two types of consignment store. The first is like Once Upon A child where you sell used baby clothes for cash to them and they then do what they want with them.
The advantage with this method is that you get cash right away although you probably won't make as much money as with the second method.
The other option is that the consignment puts your items for sale at a mutually agreed on price. If they sell, you both split the profit, if they don't sell, you can take them back.
Yard Sales
Everyone is familiar with yard sales and they are a great way to sell baby clothes for cash, especially if you have tons of things like onesies and little sleepers.
The key is to make the items look attractive and to price things well. $1 an item is often a great starting point for the basics.
How It Works
Set up your own "storefront" on your driveway and let your neighbours shop your stuff. Make sure to have plenty of change and to advertise around the area so people know that you will have lots of baby gear.
Kid to Kid is a competitor of Once Upon A Child that focuses on high-end baby clothes and items. It can be a good option if you are short on time and just want to declutter your house as quickly as possible.
How It Works
Take your baby clothes into your nearest Kid To Kid store and wait while they are appraised. Take payment as cash or 20% more in store credit.
More Ways To Sell Stuff For Cash
Make Money Selling On Amazon FBA Canada