Learning how to make beauty products to sell or give away as gifts is a great way to make (or save) money and also help the environment by avoiding the use of toxic chemicals and single-use plastic containers.
Whether you are looking for some DIY gift ideas to save money on Christmas and birthday gifts, or are looking for ideas for things to sell in your Etsy Store, here are some great beauty products you can sell or gift to friends and family.
This post may contain affiliate links meaning I make a commission if you click on a link. Please read my Disclosure for more details.
MORE CRAFT IDEAS
11 Easy Things Kids Can Make & Sell
20+ Cricut Maker Projects To Sell
How To Make Beauty Products To Sell
Below you will find the top 10 ideas of bath and beauty products that you can make from the comfort of home and give as gifts or sell at school markets or fairs.
These all make wonderful teacher gifts too!
In each of the sections, you will links to one or two tutorials so you can learn how to make the beauty products yourself without any special skills.
Most of the skincare and bath ideas below can be customized with different essential oils and scents to suit any season (think Peppermint for the holidays and florals for Mother's Day).
18 Beauty Products That Make Great Gifts To Sell or Give
Handmade Soap
Soap is one of the best beauty products you can make at home as you have so many options when it comes to shape, color and scent.
You might even decide to start your own soap making business from home!
Homemade Soap Recipe from Attainable Sustainable
Glycerin Soap from Organized 31
Lip balms and Lip Scrubs
These are so easy to make! I actually made some with my daughter a few days ago and they make such a fun project to do with kids.
Honey Lip Scrub from Whole New Mom
Lip balm recipe from What Che Said
Bath Bombs
Bath bombs are all the rage right now and are easier to make than you think.
You can easily make and sell bath bombs on Etsy or at craft fairs.
You can experiment with scents and colors as well as add-ins like petals.
Lavender scented bath bombs from Conservamome
DIY Moisturizing Bath Bombs from Good Life Eats
Body Scrubs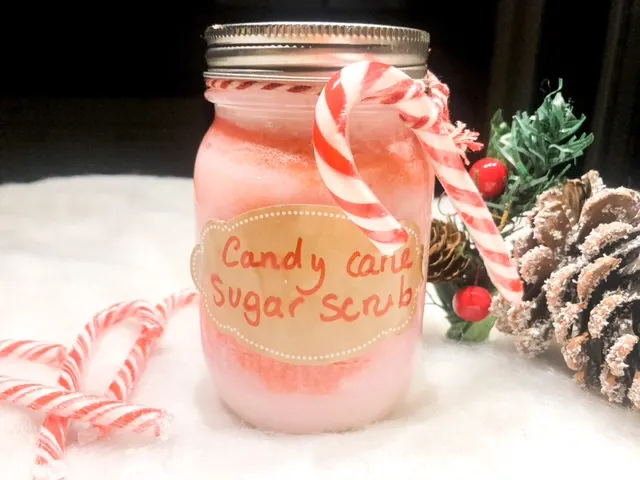 Body scrubs are one of the easiest beauty products to make at home. You really don't need many special ingredients and you can make them in minutes.
For the holidays I always make and gift some candy cane peppermint scrub to family and friends. With only 3 ingredients, it is super simple to make.
Peppermint Sugar Scrub from Seaside Sundays
Lavender Sugar Scrub from Rebekah Joan
Rosemary Mint Sugar Scrub from Good Life Eats
Essential Oil Roller Balls
Essential oils roller balls are a huge hit on Etsy and people love to receive them as gifts. You can create your own DIY essential oil blends for different ailments and create pretty labels too.
DIY Fertility Roller Ball Blends from Seaside Sundays
Lotion Bars
Body Lotion bars in stores are so expensive. Good quality ones can run to $20+. These DIY tutorials are great for making your own.
3 Ingredient Lotion Bars from Conservamome
Natural Hard Lotion Bars from Timeless Mama
Beard Oil
And now a gift idea for the men in your life. Beard oil is easy to make and makes a wonderful stocking stuffer or Father's Day gift.
DIY Beard Oil from Karissa's Vegan Kitchen
Bath Salts
Who doesn't love a nice soak in the tub? Bath salts are incredible simple but make a wonderful present for someone and are always popular at craft fairs and school markets.
Rose Bath Salts from Crayons and Cravings
Quick and Easy Bath Salt Tutorial from Jessica Welling Interiors
Foot Soak
These make a wonderful teacher or hostess gift
Peppermint Foot Soak from Eat Thrive Glow
Shower Steamers
Shower Steamers with blends of eucalyptus or mint are great for stuffed noses and colds.
DIY Shower Steamers from Sustain My Craft Habit
Shower Steamers Recipe from Busy Bliss
Tips and FAQs For Selling Beauty Products
How To Find Beauty Products To Sell Online
Do your research
Make sure to visit local handmade markets and fairs as well as explore sites like Etsy that are packed with lots of ideas for popular beauty products.
Buy quality ingredients
Sub-par ingredients result in lower quality beauty products that smell off or separate and don't look right. Make sure to buy quality products that come with great reviews.
Many of the ingredients you need are available on Amazon or at craft stores like Michaels (don't forget your coupons). For others, you may need to visit speciality natural health stores too.
Check Local Laws
Make sure that you are allowed to sell your handmade products at local sales and fairs. In general, you can sell handmade soaps and scrubs without a license but check your local laws.
Do I need permission in order to sell beauty products on Etsy and similar sites?
Most beauty products you would sell are FDA regulated as cosmetics in the U.S. You do not need a license to sell these products.
These include:
Moisturizers
Lipsticks and lip balms
Body scrubs
Shampoos and conditioners
From the FDA Website
"FDA-regulated does not mean FDA-approved. FDA does not have the legal authority to approve cosmetics before they go on the market.
However, under the law, cosmetics must not be "adulterated" or "misbranded." For example, they must be safe for consumers when used according to directions on the label, or in the customary or expected way, and they must be properly labeled. Companies and individuals who market cosmetics have a legal responsibility for the safety and labeling of their products.
FDA can take action against a cosmetic on the market if we have reliable information showing that it is adulterated or misbranded. FDA takes action within our legal authority, based on public health priorities and available resources."
Where are the best places to sell DIY Beauty Products?
Social media, craft fairs and Etsy are the top choices for selling your beauty products online.
Seasonal products do really well at craft fairs and holiday markets too.
If you want to really start your own craft business, consider selling your beauty products at farmer's markets as they do really well there.
How To Sell Beauty Products On Etsy
Selling your beauty products on Etsy is a great idea as you can tap into a large worldwide audience.
You'll need to figure out how to package your products to make sure they arrive the same as when you shipped them.
If you haven't started your shop yet, make sure to go through this tutorial on How To Start An Etsy Store Successfully
It will take you step by step through from creating to launching your Etsy shop.
It also includes a link for 40 free listings which will help you to start your store for free.
Promoting Your Etsy Store
Although Etsy has millions of visitors who are searching for handmade products, don't rely on your shop organically showing up in search.
You want to promote your Etsy shop on social media and especially make use of Pinterest.
This tutorial will show you How To Use Pinterest For Etsy
Etsy SEO is how you will get your beauty products to show up in the Etsy shop. It involves using keywords in your title and description.
You can use my handy Etsy SEO checklist to help you with this:
How To Sell DIY Beauty Products On Facebook
Facebook is a really good place to sell all kinds of crafts, especially during the holiday season.
On Facebook you have a few options and I recommend you take a 3 pronged approach and try all three of these places on Facebook:
Facebook Marketplace
Facebook marketplace is the obvious place to start selling your items as you don't need to pay anything and can reach a local audience.
You can create as many listings as you like for free.
The only downside is arranging shipping or pick ups with your customers.
Your Facebook Page
You can create your own Facebook Page and promote your handmade beauty items that way.
Ask for people to like your page and advertise sales and promotions.
Facebook Groups
In my opinion, Facebook groups are the best way to sell your beauty products because there are lots of local people looking for special gifts for mother's day, teachers and stocking stuffers.
Join as many local groups as you can.
Look for handmade groups, mom groups and neighbourhood groups.
More Tips For Selling DIY Crafts
How To Start Your Own Etsy Printables Business
10 Best Things To Sell On Etsy To Make Money
How To Open An Online Store With Shopify