Whether you have a baby shower to attend or would like to start your own home-based business, this list of baby items to make and sell will give you some great ideas that are sure to be a hit with new parents!
Homemade baby gifts are nice because they are unique and really show how much you care.
One of the top selling categories on Etsy is baby gifts. People love to wow new moms with a creative handmade baby gift, even if they are not crafty themselves. If you want to start your own Etsy business, baby items are a great choice.
This post contains affiliate links meaning I may make a commission if you click on a link. Please read my Disclosure for more information.
RELATED POSTS
10 Best Things To Sell On Etsy To Make Money
How To Start Your Own Etsy Printables Business
Top Selling Baby Items on Etsy
Some of the best-selling baby gifts on Etsy include:
Teething Necklaces and Jewelry (you can even buy the beads to make your own)
Customized Onesies (a Cricut is your friend for these)
Handmade Baby Shoes – see below for a tutorial
Homemade lotions and creams – keep reading for a non-toxic formula you can make
Hair Bows and clips
Nursery Decor
Photo Frames
Baby Items To Make And Sell
Below you will find links with instructions to some great handmade gift ideas that are relatively easy to make. Some of them require no special skills while others can be knocked out in under half an hour.
You can never have too many washcloths with a new baby! Even 5 years later we still use them for wiping mouths and in the bath. These DIY washcloths are great for sensitive skin as they are so soft.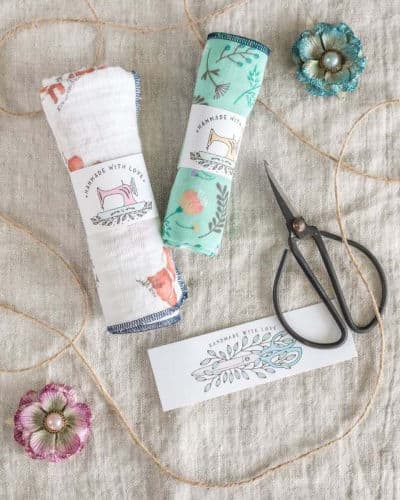 Floral Name Hoop For The Nursery from Cutesy Crafts
This floral hoop is not as difficult to make as you might think and it would make such a wonderful baby shower gift or new baby welcome present.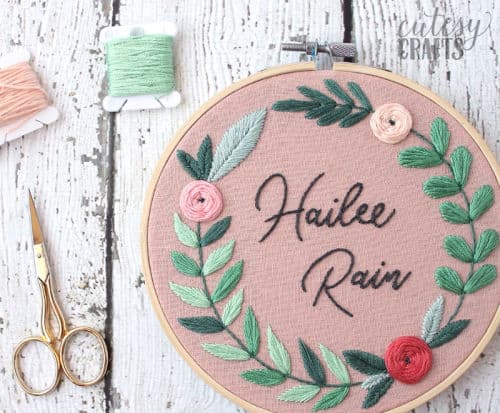 Biblical Version of Guess How Much I Love You from Joyfully Thriving
This is a really unique baby shower gift that anyone can make! You don't need to be craft at all and it is sure to be one of the most original baby gifts I've ever seen.
What it is: A copy of the classic children's book "Guess How Much I Love You", with corresponding Bible verses on each page that illustrate God's love for us.
Click through for full instructions and a free PDF of Bible verse to use.
DIY Baby Flower Headbands from Mom In The Six
Grab your glue gun and get crafting! These headbands are so easy to make and take just minutes. You can easily make a stash to give as gifts or sell at craft shows.
These receiving blankets can make in various sizes and of course, you can choose whatever cute fabric you wish!
Sometimes you just don't want to lug around the big diaper bag, especially for weddings or "fancier" events. That's where this handy-dandy diaper clutch comes in.
It takes under 20 minutes to make these cute diaper pouches and they hold all the essentials for baby – 3 diapers, a package of wipes, and plus room for diaper cream or diaper bags.
The good news? These cut bibs are a no-sew craft that you can whip up in minutes. Customize them by choosing different coloured bibs and making a variety of animals.
Burp cloths are another item that you just can't get enough of! You can literally go through several a day in the first few weeks with baby and the last thing any new mom wants to do is mountains of laundry.
These DIY burp cloths take just minutes to make and are really cute.
This gentle lotion for babies contains just two ingredients, making it safe even for newborns.
Handmade baby shoes are one of the top-selling baby items to make and sell according to Etsy. If you know how to crochet, you can wow the new moms in your life with these cute little baby shoes! Click through for the full pattern.
This foldable mat doubles as a play mat when you are out and about or visiting friends. You can make it in waterproof material for easy cleaning too!
No-Sew Blanket With Minky Fabric from Cutesy Crafts
Minky is the perfect fabric for baby blankets as it is so soft. This version is no-sew meaning even the least crafty of us can make it!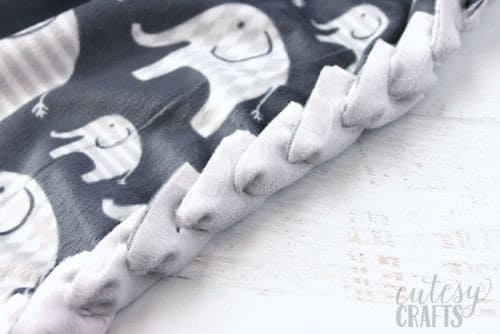 More crafts you can make and sell here:
How To Make Beauty Products To Sell Or Gift
20+ Cricut Maker Projects To Sell
10 Handmade Wood Projects That Sell
10 Easy DIY Crafts To Sell Or Give As Gifts
Like This Post? Pin it!