Are you looking for a fun way to earn some extra cash from home? Why not try your hand at making money with 3D printing?
Printing technology has come a long way and this fun e-commerce business is relatively new and growing all the time.
If you own a 3D printer or are interested in getting one, you can offset the costs by selling products you make using your printer or using your skills and know-how to each extra cash.
In this article, we will show you the various ways you can make money with a 3D printer from the comfort of your home, including:
How much money you can expect to make with 3D printing
The best things to make and sell with a 3D printer
Other ways to turn your 3D printer into a profitable side hustle business
Tips for starting your printing side hustle – what you need and how to market your products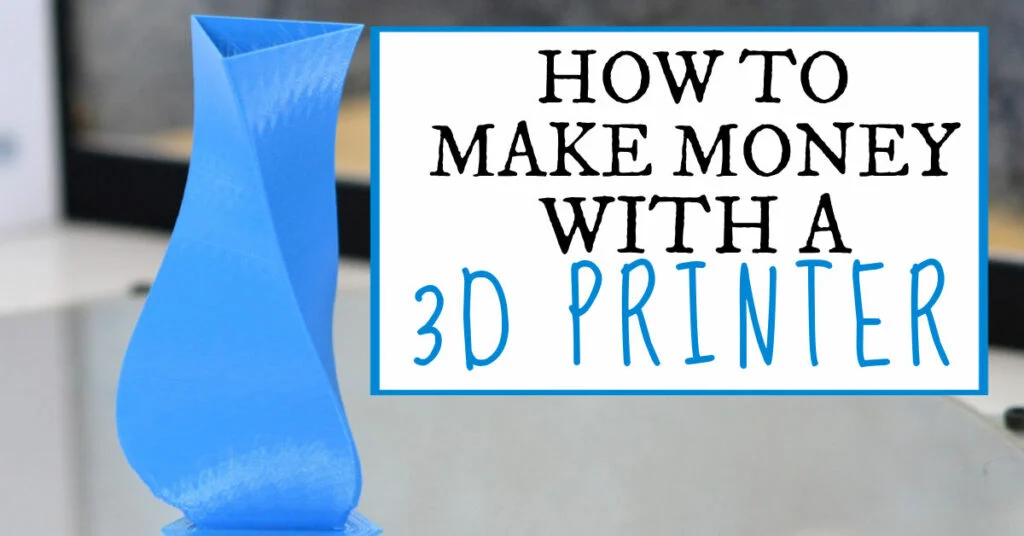 This post may contain affiliate links. Please read my disclosure for more information.
MORE FUN SIDE HUSTLE IDEAS
How To Make Money Recycling Electronics
How To Make Planner Stickers To Sell On Etsy
What is 3D printing?
Let's start with the basics, what exactly is 3D printing and why is it so popular?
3D printing is a process of printing objects into tangible, three-dimensional products using an "additive manufacturing" process. Unlike traditional printing on paper, 3D printers can make all kinds of objects and useful products.
The process involves depositing layers and layers of either liquid or powdered plastic on top of each other until the desired model is created.
The layers are then fused.
Unlike traditional printing on paper, 3D printers can make all kinds of objects and useful products. 3D printer technology can create products such as toys, furniture pieces, household items and even food items like chocolate cake!
5 Ways To Make Money With 3D printing
1. Sell Products Made by Your 3D Printer
The most obvious way to make money with 3D printing is by making and selling items. What exactly you make will depend on the type of printer that you have and the different designs you can make.
The most important thing you need to do is to find products that will sell well. It doesn't matter how great your items are if no one wants to buy them.
There are a few ways you can go about this:
Market Research
Look for products that are in high demand and have the potential to sell well. Consider trends and what has worked before, as well as the needs of your target audience.
Check out sites like Etsy to see what other people are selling and work out how you can improve or change popular sellers to make them your own.
Survey Your Potential Customer Base
You want to make products that people will buy so it makes sense to look for gaps in the market. What problem can your 3D printing designs solve? Ask small businesses around you if they are interested in stocking your products.
The Best-Selling 3D Printer Products
Here are some of the most popular items to make and sell with a 3D printer:
Fashion Jewelry and fashion accessories -Rings, necklaces, pendants and bracelets can be 3D printed for personal use or to sell as unique pieces of jewelry. Home decor items such as bowls or vases

Planters

Gadgets such as an iPhone holder or desk organizer

Ornaments for the holidays

3D printed toys, figures, and decorations such as board game parts, custom chess pieces, doll house furniture and dolls.

Cosplay Accessories: Create accessories such as props, wigs, masks and armour

Make Art Pieces and Sculptures Using a 3D Printer

3D models of landmarks, buildings, and famous personalities.

Personalized items such as name tags or personalized gifts.
To keep your business profitable, you should consider a Print on Demand model.
This allows you to only print items when someone orders them, so there is no need to keep inventory on hand. It also has relatively low startup costs and can be started with any 3D printer. Once a customer places an order for your items, you will start work on the project and then deliver the finished product to them on a pre-agreed schedule.
For best results, it is recommended that you use a POD business model for 3D printing since it will allow you to save time and money while still providing high-quality products or services to your customers.
How To Sell Products Created With Your 3D Printer
Once you have chosen some great products to sell, it is time to start selling them!
The easiest way to do this is to upload your creations to online platforms such as Etsy or Shopify where they can be sold for a profit.
Etsy is an excellent option when you are just starting as it doesn't require any start-up costs.
You can start an Etsy shop for free and if you use this link, you will get 40 free listings.
Make sure to promote your shop through social media channels and marketing campaigns to increase its visibility and drive sales of your pieces online or at exhibitions/shows/events etc.
Another option is to sell your items online on Facebook Marketplace or at local craft fairs and farmer's markets.
Even local stores might be interested in showcasing your products if they are unique enough.
Print out unique designs so customers can see what they're buying before committing; also consider printing marketing materials such as business cards or brochures with information about your services and your contact information.
2. Sell Pre-Made 3D Models
Another business idea for your 3D printer is to make and sell the plans for 3D models for buildings, toys or even vehicles.
You'll want to start by identifying a niche for your 3D model business and then looking for clients in that niche. Local businesses are often a great place to start looking for work.
3. Sell Your Designs
Selling digital goods that you make with CAD software is an excellent way to create passive income with your printer.
Rather than selling physical products, selling printer designs to customers offers a great opportunity to make lots of sales with one design.
Etsy is a great place to sell your digital files online and you can easily start your own Etsy printables business in minutes.
Starting a website is another great option although you will need to promote it through social media channels and build an audience for it so that potential customers can easily find you when they're ready to buy 3D model files online.
To create your site, you will need to purchase a domain name and hosting then use a platform such as SquareSpace or WordPress to create the pages of your site.4.
4. Offer 3D Printing services
If you own a 3D printer, you have a valuable source of income at your fingertips. You can offer printing services to other people who don't have a printer.
To do this, you can advertise your 3D printer locally on Facebook marketplace or even using old-fashioned bulletin boards.
You'll want to set a price for each print and give examples of the kinds of things your printer can do.
While you likely won't get rich overnight doing this, it can be a great way to make some extra cash to offset the costs of owning a 3D printer.
5. Rapid Prototyping
If you are serious about making money with 3D printing, then making prototypes of products is a great way to build your business fast.
You can create 3D representations of products for businesses to use. As 3D printers are so quick, many companies are turning to this method for creating prototypes that they need in a hurry.
To find clients for this kind of work which can be very lucrative, provide 3D printed models as free samples before investing in production time and money.
6. Online Courses and Affiliates
Are you an expert at 3D printing?
Why not create an online course that teaches people how to use 3D printers?
You could earn money by selling it on your website or using an online course platform like Udemy.
You could also start a YouTube channel and make money via advertisements and affiliate links.
Create a printing blog as part of your website where you offer tutorials and tips for people to use your 3D printing.
Tips for making money with your 3D printer
Create valuable products
Make sure to do market research so that you are offering your customers a product that hits a pain point – that is, it solves a problem that they have.
Offering unique, creative solutions to problems is the easiest way to ensure your business is profitable.
Promote to your target audience
Find out where your ideal customer is and promote your products to them. This might mean using Instagram or Facebook ads or going to in-person craft fairs.
The more eyes you have on your products, the more chances you have for sales and income.
Become an expert at 3D printing
Learning the basics of 3D printing is essential as it will help you understand how the printer works, how to use its software, and how to avoid potential copyright licensing issues.
It is also important to be familiar with the laws surrounding 3D printing so that you are aware of your rights and responsibilities when using this technology.
How To Make Money With 3D Printing: FAQ
What are the different ways to make money with 3D printing?
There are many ways to make money with a 3D printer, including:
Selling 3D prints on sites like Etsy

Offering designs for printing through online marketplaces.

Providing 3D printing services for customers who need them.

Creating custom products such as phone cases for individual customers.
How much money can I make with 3D printing?
This will depend on the types of products that you sell. Small items on Etsy might fetch $20+ each while a large commission for a prototype may fetch hundreds of dollars per project.
What Do I Need To Start A 3D Printing Business?
First and foremost, you will need a good quality printer. These cost anywhere from $400 to $6000 depending on how complex they are. To begin with, you can probably get away with a mid-range model that you can buy on Amazon or a specialty store.
There are also various types of materials that are needed for 3D printing. What exactly you need will depend on what you are making and the type of printer you have.
You will need materials such as:
ABS plastic

PLA

Nylon

Epoxy resins

Polycarbonate
How can I use my 3D printer to make prototypes?
1. Choose a product to design and print a prototype for.
2. Create a 3D model of the product using computer software or by scanning an existing object with a 3D scanner.
3. Use stereolithography (SLA) or fused deposition modelling (FDM) to print out your prototype in plastic or metal material depending on the type of product you are making a prototype for.
4. Test out the prototype and make any necessary adjustments before sending it off to companies who may be interested in collaborating with you on the production of their product line
What kind of copyright laws do 3D printing businesses need to be aware of?
As with anything that involves using designs and software, there are some copyright laws that you need to know when launching your 3D printer business.
Specifically, there are two types of copyright laws that affect 3D printing:
Designer's license: This allows the designer of a model to control how their design is used and distributed. It overrides any other copyright laws if a model contains copyrighted or trademarked content.
Copyright law: This protects the intellectual property rights of creators, giving them the exclusive right to use, reproduce, modify and distribute their works for a set period (typically 50 years after publication).
If you are creating designs yourself, then these laws won't be as worrisome but if you plan to purchase other people's designs and then create products that you sell from then, you will need to carefully check the license you buy.
What is the best software for 3D printing?
There are several 3D modeling programs available that are suitable for 3D printing. You don't need to spend a lot of money to make great 3D printing models.
Here are some great options for 3D printer software:
Ultimaker Cura is the world's most popular 3D printing software and it is completely free.
With Cura you can prepare prints with a few clicks, integrate with CAD software for an easier workflow, or dive into custom settings for in-depth control.
This is one of the most robust solutions for software to create all kinds of designs to sell.
It is not free but a good option if you plan to scale your business quickly. The price of the 3DS Max subscription is $290 monthly.
This is an open-source software with advanced features for modelling and creating 3D designs.