These amazing work-from-home gifts are perfect for the remote worker in your life.
Nowadays, more of us than ever are working in a home office so why not pick something from this list of gifts for people who work from home for your next gift-giving celebration?
Whether you are looking for holiday gifts or a home office gift for a colleague or employee, there is something for everyone in this gift guide.
I've chosen some great options from useful work-from-home gifts to more fun ideas that will make their remote office a pleasant place to be.
This post may contain affiliate links. Please read my Disclosure for more information.
MORE WORK FROM HOME TIPS
9 Tips For Working From Home And Staying Sane
35 Fun Gifts For People Who Work From Home
If you are looking for the perfect gift for someone who is working from home, you will love this list of the best work from home gifts right now.
These gifts are perfect for any gift-giving occasion -not just the holiday season.
I've found these make the perfect work from home gifts for occasions like birthdays, employee thank you or anniversary gifts and any other celebration you can think of.
All of the gift giving ideas below are available with shipping from either Etsy or Amazon making them the great choice if you also work from home!
If you want to make them extra special, you can include my free printable work from home binder , print it off and add it as a bonus gift.
Top Work From Home Gift Ideas For 2023
Let's start with the most important part of working from home- your coffee or tea!
This ingenious cup warmer will keep your drink piping hot at your desk so you don't waste time going to the microwave to warm it up.
This is one of my favorite birthday or Christmas gifts for people who work from home because most people don't have one already and it is always well received.
A succulent is the perfect work from home gift to brighten up the home office.
These ones from Etsy come in a personalized plant pot making them an extra special present for your WFH friend.
Desk organizers have come a long way in the last few years and this marble -look one has everything you need to keep your workspace organized and neat.
A tidy space can make you feel more organized and keep your desk and mind clutter-free – essential for remote workers.
We all know that sitting down all day isn't good for you but when you are working at a computer, it can be hard to get on your feet a lot and most standing desks are really expensive.
A great solution is a standing desk converter that is the fraction of the price of a standing desk.
It sits on top of your regular desk and can be raised or lowered as you desire.
You know how hard it is to get the lighting right when you are on a video call?
This mini ring light solves your problems with a bright light that perches on top of your laptop or computer screen.
One of the hardest things of working from home staying sane is avoiding distractions.
Whether it kids running around or just the hustle and bustle of the household behind your office doors, it can be easy to waste time on unnecessary activities.
Noise cancelling headphones are one of the most perfect work from gifts for someone who lives in a nosy house and needs space to concentrate.
Staying healthy while working from home can be a challenge so a steps tracker like a FitBit is a great option.
It can help you to stay on track with fitness while being in the house all day.
It may seem like a strange choice but a FitBit is one of the best gifts for people who work from home and like to stay healthy.
Pair with a standing desk converter for even more health benefits.
What is working from home without some great snacks?
A great remote office gift idea is to give the gift of a snack box subscription that can be enjoyed month after month.
Last year I gave someone the Universal Yums subscription box and it was a bit hit.
Every month you get a box filled with fun snacks from a different country.
It's a fun way to learn about different places around the World while tasting their top snacks.
Use my special referral link and get $5 off your Universal Yums Subscription.
You can't beat the old standby gift – a candle.
Take it to the next level with this really fun work from home scented candle from Etsy.
You can choose from a number of fun scents including " Parisian Pumpkin" or "Spiced Habano" and it is a clean burning soy candle which makes it great for small spaces.
One of the benefits of working from home is that you don't need to wear fancy dress shoes or heels.
Take it to the next level and give a home office gift of some fuzzy socks with non-slip soles.
They are perfect for feeling comfortable while you work away at the remote office.
Even with all our technology, nothing beats a paper planner for noting down your goals and brainstorming ideas.
An undated planner makes for a great home office gift because it can be started at any time of the year.
I love the Legend Planner Weekly that comes with a mesmerizing soft-touch leatherette cover, 120 gsm pearl white paper, 3 bookmark ribbons, beautiful planner stickers and a sturdy pocket for notes and receipts.
A wireless phone charger that you can plug into your computer via USB is great for the home office when you need every outlet you can get.
All you have to do it put your phone on the pad for it to start charging – this one from Amazon has over 100,000 great reviews.
Bluetooth speaker are great for playing music outdoors or anywhere you need some extra volume.
They are also brilliant for using instead of your laptop speakers to play music and podcasts while you work at home.
Brighten up the home office with some funky artwork like this print from Etsy.
The handmade marketplace is a fantastic place to find unique and fun gifts for people who work from home.
I've been using this back support pillow for the last two years and it is a lifesaver for the work at home life.
This one is nice as it has straps that fit around the chair back to keep it in place.
I've also used it in the car for long journeys and it really saves my back.
You have never have enough mugs and when working from home, you definitely need a special one to mark the occasion and make that morning coffee extra special.
Give this fun "Promoted to home office" mug along with the coffee warmer for a really neat gift for the remote worker in your life.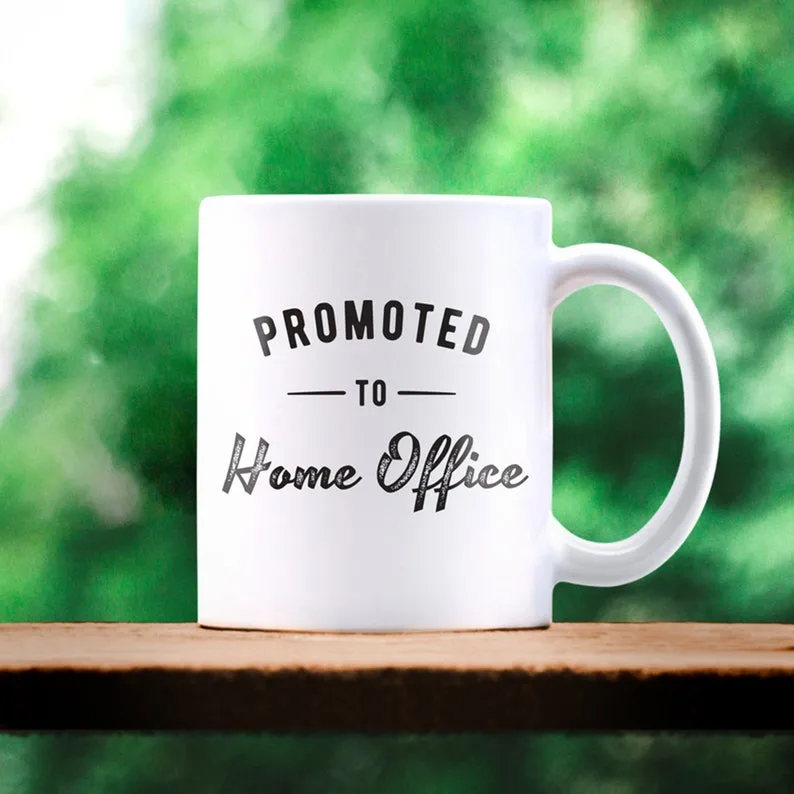 For the person who already has everything and is working from home, how about a funny t-shirt that they can wear in the home office?
This tee is from Etsy and comes in three colors – black, gray or white.
A LED desk light is a great investment and a must-have for the home office.
Proper lighting is important to avoid eye strain and headaches when you are working long hours in front of a screen.
This one from Amazon has 3 brightness levels so you can adjust it depending on your needs.
Help your friend stay fit at the home office with this fantastic gift idea!
Time, speed, calories, and distance are all tracked with this under the desk exercise machine that you can use while you work.
It is also pretty small and compact making it perfect for small spaces.
Keep the office smelling fresh and even provide some aromatherapy while working with an essential oil diffuser.
Different scents can work to help you relaxed during stressful meetings (lavender) or perk you up in the mid-afternoon slump (peppermint).
You can get a simple and good looking diffuser on Amazon for a great price.
This diffuser is the one I have and it comes with a set of oils making it the perfect gift.
Although this might seem like a silly gift, if you have a friend or colleague who is new to working from home, they will likely welcome office supplies like Post-it notes.
I love this set from Post It that has different sticky note pads in all different shades.
Sometimes you need a break from the office and a sturdy lap desk is perfect for moving the office to the backyard, the living room or even to watch the kids play soccer or hockey.
Lap desks are an inexpensive accessory that many remote workers don't have but they can be really useful if you are working from home full-time.
They avoid the laptop on the knees scenario which can cause overheating and bad posture.
A docking station is a wonderful work at home gift idea because it a great space saver.
You can charge your phone, watch and earbuds at the same while staying super organized.
Docking stations come in all kinds of designs, from classy wood to more modern versions.
I love a good podcast and they are perfect for keeping you entertained while working from home.
One of my most favorite home office gifts I got this Christmas was a subscription to Wondery + which has so many great podcasts, especially if you like true crime.
Blue light blocking glasses are great for people who spend a lot of time looking at screens such as gamers, office workers and people who like reading tablets.
If you are looking for a gift for someone who works from home at a computer, then a pair of inexpensive blue light glasses is a great idea.
Here's another work from home gift idea that falls into the "useful" category.
Did you know that a regular mouse can lead to wrist problems such as tendonitis and carpal tunnel syndrome.
An ergonomic mouse positions your hand differently and can help avoid straining the tendons in your arm.
Some fun stickers for your laptop are a great way to spice it up and make your home office more interesting.
I love these laptop stickers from Etsy because you can customize the skin tone and eye color to make them look like the gift recipient.
No office is complete without a nice notice board for sticking memos, receipts and other papers that you need off your desk.
I love wire notice boards like this hexagon one from Etsy because they look modern and are perfect for keeping your home office looking fresh and uncluttered.
Keep the peace with a door magnet that lets everyone know not to disturb!
This magnetic sign takes inspiration from the "do not disturb" signs at hotels and is great for anyone working in a home office who needs to be left alone.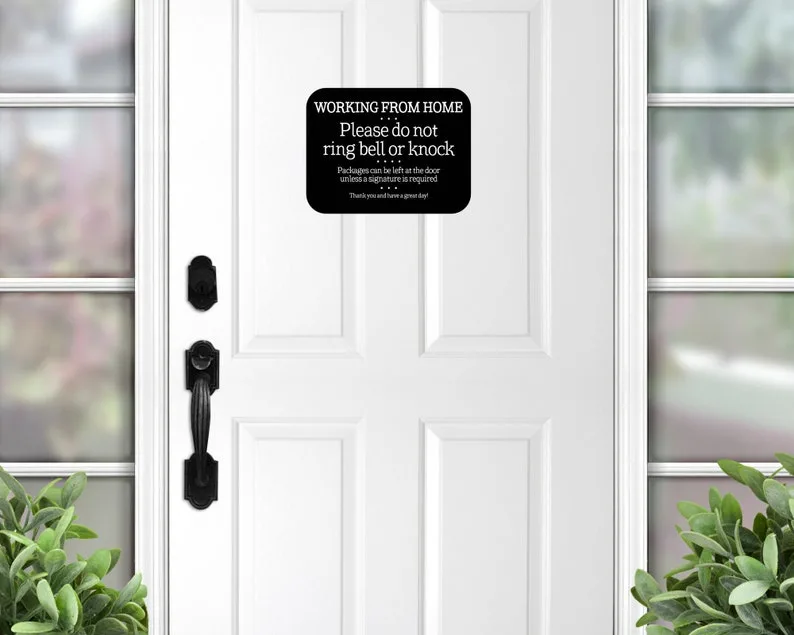 Not all gifts for people who work from home have to be big or inexpensive.
These personalized work from home coasters make a fantastic gift for employees who are working remotely or as a stocking stuffer for anyone with a home office.
A stand like this wooden one from Etsy can act as a riser for your laptop on your desk but also as a table for working in bed on or on the couch.
They come in really handy for people who are working from home without a dedicated spot for their computer.
Wrist support pillows are a great way to make working at your computer more comfortable while also brightening up your home office space.
This pillow from Etsy is filled with spelt husks making it a healthy choice as far as home office gifts go.
This top rated screen cleaner works to clean up even the most coffee stained computers with ease.
It makes a fantastic small work from home gift for anyone with a remote office.
This leather mouse pad looks great on any desk.!
It's the perfect size and the engraving is crisp.
It will adds professionalism to any work at home desk space!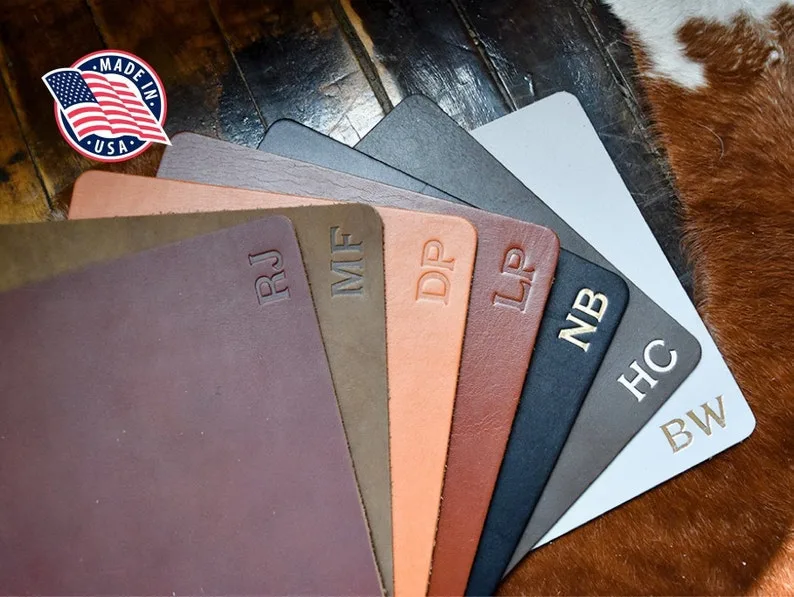 If you can't quite spring for a $400 Mont Blanc version, that doesn't mean that a luxury pen is out of your grasp.
Nice quality pens are one of those things that no one actually buys for themselves but that everyone appreciates as a gift.
You can get really nice pens for under $50 from Amazon and they come in boxes that are perfect for gift giving.
The Best Work From Home Gifts: Final Thoughts
I hope you have enjoyed the home office gifts that I have curated in this list.
As you can see there are lots of options to suit any budget.
By giving one of these fun ideas for the office, you can help your friend spruce up their workspace, stay healthy while working from home and stay organized during their remote work.
Everyone appreciates a thoughtful gift and the ideas in this work from home gift guide are perfect for showing that you care while giving something useful for the holidays, birthdays or any event.
More Ideas For People Who Work At Home
Sale Samurai Review -The Best Etsy Keyword Tool
10 Work From Home Jobs To Start Today