Online tutoring is big business with more and more parents looking to supplement their child's education with extra help. For students, online tutoring can be a cost effective way to get one-on-one help without the need to sign up for an after-school program.
For tutors or anyone with an interest in teaching part-time, the demand for this kind of educational support means that it is easier than ever to become an online tutor.
I've already spoken about how to teach English online to foreign students but you may not realize that the demand for tutoring for all subjects in our own countries is huge.
One of the easiest ways to get started is to become an online tutor with Course Hero, one of the fastest growing resource sites for students.
This post contains affiliate links meaning I make a small commission if you click on some links. Please read my Disclosure for more information.
How To Become An Online Tutor With Course Hero
What Is Course Hero?
Course Hero is an online learning platform for students. On the Course Hero site students can access over 25 million course-specific study resources contributed by a community of students and educators.
This includes practice problems, study guides, videos, class notes, and step-by-step explanations for all subjects — from economics to literature, biology to history, accounting to psychology, and everything in between.
In addition to this resource database, Course Hero offers 24/7 tutoring support to their student members. Students can login and ask questions related to their course work or get a tutoring session.
What Does A Course Hero Tutor Do?
Unlike traditional online tutors, Course Hero offers students on-demand 24/7 help with their schooling. This means there are opportunities to earn every single day of the week, at any hour.
Course Hero Tutors answer questions posed by students who need help with their coursework. Answers could be as easy as a 5 minute explanation or could require an in-depth lesson.
Here are what students say:

Advantages of Tutoring Online
Supplement your income
Part-time online tutoring is a great way to make extra money for vacations, renos or just to pay down your debt. Some tutors make full-time salaries teaching online but most people use online tutoring as a means to make some extra cash on the side.
Flexible Hours
You can work as many or as few hours as your wish making this a great job for stay at home moms who need extra money. It's also perfect for anyone who works a regular job but needs to supplement their income in the evenings and weekends.
Convenience
No commute, no snow days and no annoying co-workers! As long as you have a stable internet connection and meet the requirements, you can become an online tutor with Course Hero.
Share Your Passion
Actually put your degree to work by sharing your passion with students. This is one of the nicest things about teaching online – you can showcase your talents and share your knowledge to help the next generation of scientists, mathematicians or writers.
What Do I Need To Become an Online Tutor With Course Hero?
You do not have to be a certified tutor or professor to tutor with Course Hero.
However, you do need to prove that you have an expertise in the categories which you would like to tutor.
In addition, you must:
Have a Bachelor's degree to teach with Course Hero
Be a fluent English-speaker.
Be based in the United States, Canada, United Kingdom and Australia.
What Subjects Can I Teach?
Students are looking for help in lots of different subjects including..
Accounting
Biology
Business
Chemistry
Finance
Statistics and Probability
Economics
Computer Science
Math
Psychology
Physics
US History
Calculus
Management
How Much Does Course Hero Pay?
Tutors with Course Hero earn an average of $500 per week. This makes it one of the best online work from home Jobs you can do – remember you can work as little or as much as you like to boost your earnings.
Is there a minimum number of hours I have to work?
No, you can work as few hours as you like, however, bear in mind that the more you work, the more opportunities you will be offered (and thus make more money).
How To Get Started With Course Hero
Go To The Tutoring Section of The Course Hero Website
Create a username and password. Under educational institute, you can put your Alma Mater.
Pick the Subjects You Wish To Tutor
You can choose up to 5 categories (the blue dots show how demand the subject is = higher chance of getting work)
Click Next and Fill Out The Tutor Application Form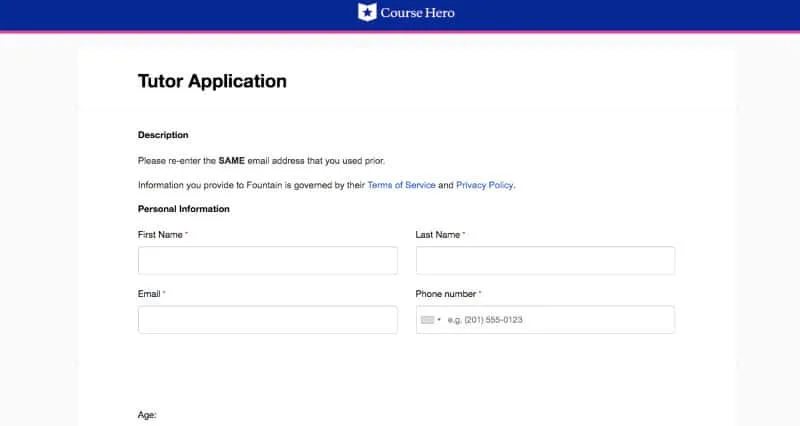 Upload Your Degree, photo and identification
Click submit and your application will start to be processed.
How long does it take to process my Course Hero application?
This depends on the number of applicants at any given time but if you have been accepted, you can expect to hear back via email within a few weeks.
Course Hero Tutor Reviews
Here are a few snippets from some current Course Hero tutors:
"The income I've earned from online tutoring has helped me [cover our] home expenses. Also, I've been able to help my little brother pay for his high school studies in my home country," Juan – Math tutor
The most enjoyable aspect of online tutoring is the opportunity to help students who fall within my areas of expertise. I love the chance to help them learn while showcasing my passion for the subject," Saba – Accounting and Finance tutor.
"As long as there is a stable Internet connection and a common language, you're good to go." Ivon – Chemistry Tutor
Like this post? Pin it!