Are you a stay-at-home parent eager to have an outside job but not willing to put your parenting aside?
Maybe you homeschool your kids but need some extra income for activities and sports.
Whether you are a former teacher or have been mentoring in the workplace for years, teaching English with EF can be a great way to build an income from home – on your terms!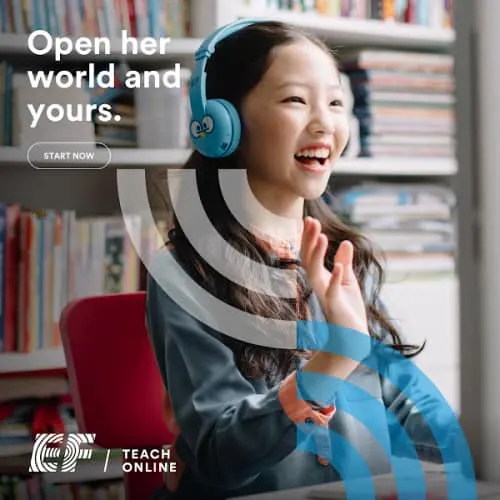 This post contains affiliate links. Please read my Disclosure for more information.
Who Is EF?
EF Education First (abbreviated as EF) is an international education company that specializes in language training, educational travel, academic degree programs, and cultural exchange.
The company was founded in 1965 by Bertil Hult in the Swedish university town of Lund. It is still a family owned company to this day.
RELATED POSTS
How To Become An Online Tutor With Course Hero
How To Teach English Online (Who's hiring now!)
Why Teach for EF?
EF is one of the only US based online teaching companies. They are really well-known Worldwide and have a great reputation.
I actually spent a few summers during college teaching English (in person!) for EF. I have nothing but good things to say about their methodology and work culture. I really enjoyed my time working as an English teacher for them.
What I love about EF Online Teaching
The largest and most well-respected foreign language company in
the world
• Operates in over 60 countries
• USA/UK based teacher support team means EF staff are on-hand to
support teachers along the way
• Competitive pay rates
• Teach the same students each week
• Straightforward pre-teaching introduction, including Q&A session
• Easy-to-use custom-designed admin platform and online classroom
for remote teachers
• Access to EF's high-quality lesson materials
• 24/7 teacher support
• Local EF headquarters for easy communication and payment
What does a day look like for an EF Teacher?
With 25-minute class-blocks on early weekday mornings and late weekend nights, this rewarding role can be the
perfect fit for your already busy life.
You can connect from home and teach the same students week after week.Set your own schedule so that teaching fits into your life. You can work before the kids wake up in the mornings or after they go to bed.
This is a perfect work from home opportunity for stay at homes or anyone who needs some extra income.
Students want to book lessons with the same teacher, at the same time each week for at least four to eight consecutive weeks.
This means you can plan your schedule ahead and know exactly when you will be working in advance. This works great for work from home moms.
Repeat students are great way to secure income and work for months in advance.
Responsibilities include:
Delivering 25-minute high-quality and engaging one-on-one online classes to kids ages 6 to 10
Plan your availability for lessons using the EF scheduling system
Use the prepared lesson materials (they are great, by the way!) but use your own teaching skills to give awesome lessons!
Give feedback to your students throughout the class and to their parents in post-lesson reporting
What is required to teach English With EF?
The most important factor is where you live – EF will currently only accept English teachers from the US or UK. Yep, that means Canadians, Kiwis and Aussies are currently not allowed to apply with EF.
As a Brit currently living in Canada, that means I'm out as it's your residence that matters, not your citizenship.
I'll update the post if the requirements change.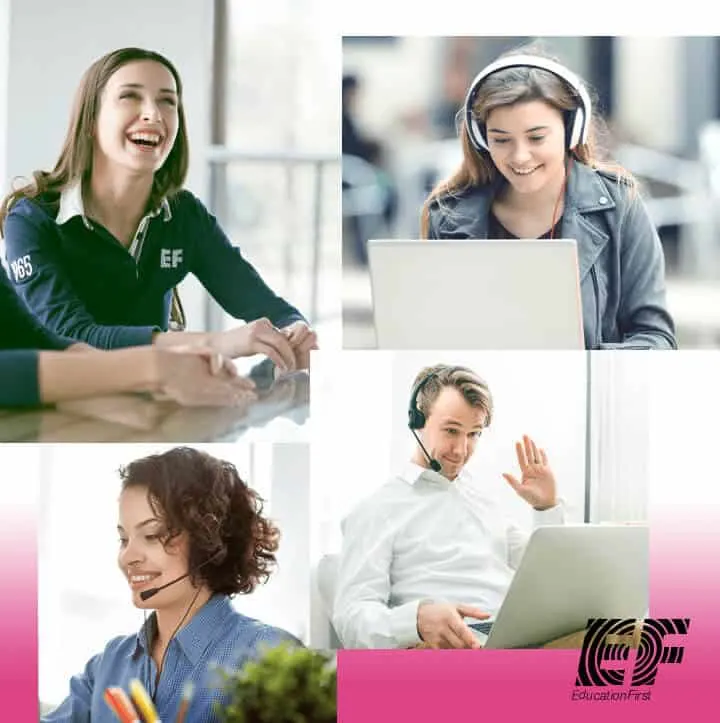 What you need to teach with EF
Bachelors degree
This can be in any field but must be from a US or UK university
Residency in the US or UK
Teaching experience
Early childhood development, teaching, coaching or mentoring is preferred, but not required. Life experiences count. Home schooling is a great plus.
High-speed internet, computer & webcam/microphone
English as a Foreign language certificate
You require a 40 Hour TEFL (Teaching English as a Foreign Language) certification (or higher). This can be obtained after applying to teach with EF.
Personal Skills
Excellent cultural awareness, communication and motivational skills
Availability
You must be available to work during the hours required by students (see next section)
What hours will I work?
The hours below are based on daylight savings time (subtract one hour for non-daylight savings).
Weekday Mornings
Peak hours are weekday mornings (6:00am EST to 9:30am EST)
Weekend teaching hours
Lessons also take place on weekend nights/mornings
Friday night 9:00pm EST to Saturday morning 9:00am EST
Saturday night 9:00pm EST to Sunday morning 9:00am EST
For UK based teachers:
Peak hours are weekday mornings (10:00am GMT to 12:30pm GMT).
Weekend lessons are 9:00am GMT to 1:00pm GMT
How do I apply to teach English abroad?
Before becoming a teacher, you need to complete the application process which you can find here EF English First Application
Click the photo below to go to EF's website:
How Much Do EF Online Teachers Get Paid?
Teachers with EF receive local US and UK-based support and payment.
Most teachers with EF earn between $12- $16 per hour. Starting wages is based on your qualifications with potential supplemental fees for repeat bookings and lessons completed during peak hours.
Like most online side hustles, this an independent contractor position (no benefits or taxes withdrawn at source).
UK based teachers have a paid holiday policy and the option for EF pension participation
Learn more about Teaching English with EF here
More Work From Home Ideas
21 Online Work From Home Jobs For Moms
13 Places To Sell Your Stuff Online (For Cash!)
30 Side Hustle Apps To Make Money in 2019
Like this post? Pin it!