Maybe you want to stay home with your kids but need to make some income to make it work. This post has the best jobs for stay at home moms with no experience.
Now is a great time to be looking for online work from home mom jobs of kids all ages.
There are lots of opportunities of remote work and online home-based businesses you can start.
Gone are the days of sketchy jobs that involve stuffing envelopes for hours..and paying for a "starter package".
Remember those?
If you are a stay at home mom, looking for a job with flexible hours, this list is perfect for you!
We have compiled the top 29 jobs that require little to no experience.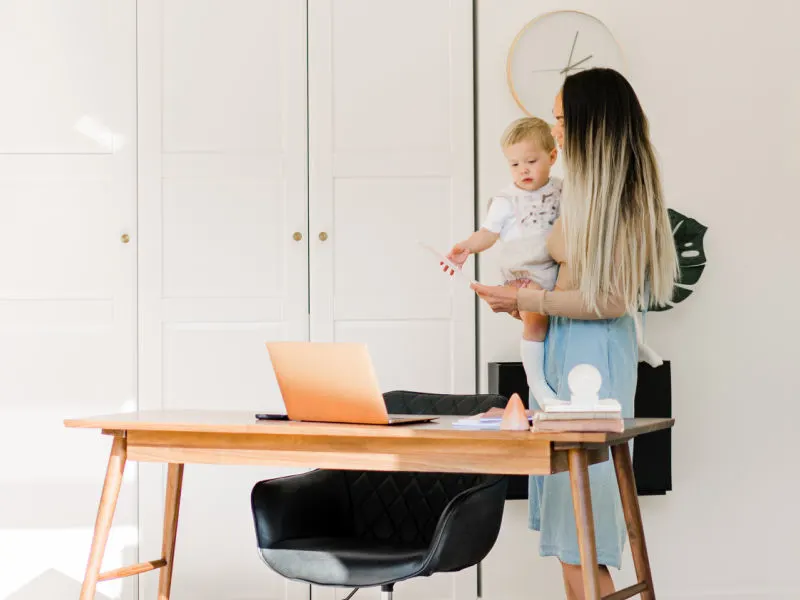 This post contains affiliate links, please read my Disclosure for more information.
RELATED POSTS
The 29 online income ideas below are perfect for anyone who is looking to make money from home.
Some of the jobs are great for stay at home moms with no degree, while some require certain skills such as tech expertise or teaching experience.
Whether you want to start your own business or are just looking for a work from home job with no fee, there are so many options for you:
29 Online Jobs for Stay at Home Moms
As a stay at home mom, you know how challenging it can be to find a part-time jobs with flexible hours.
That is why we created this list of the best jobs for stay at home moms with no experience. These work at home jobs are perfect because they offer flexibility and can be done from your own home!
As a quick note, I did not include any multi-level marketing jobs in this list.
I'm sure as a stay at home mom, you are more than familiar with all the #bossbabe jobs out there and are inundated with Facebook messages inviting you to join various companies.
This list is for jobs that offer legitimate work opportunities for moms who need extra cash.
Sell Printables On Etsy
Open A Shopify Store
Teach Online
Book Publisher
Graphic Designer
Course Instructor
Transcriptionist
Virtual Assistant
Flea Market Flipper
Social Media Manager
Freelance Writer
Amazon Seller
Start An Etsy Craft Shop
Sell Clothes for a profit
Proofreader
Start a Blog
Home-Based Travel Agent
Chat Online For Cash
Social Media Influencer
Scopist
Sell Photos Online For Cash
Online Tech Support
Real Estate Investor
Affiliate Marketing
Interior Designer
Online Tutor
Online Customer Service Agent
Data Entry
Virtual Bookkeeper
The Best Jobs For Stay At Home Moms With No Experience
While there are lots of jobs that will let you bring your child with you, sometimes you really need a work from home gig.
The list below has 29 amazing opportunities for moms who need money and are busy with their kids.
1. Sell Printables on Etsy
If you are stuck thinking of an idea for a side hustle, have you considered creating an Etsy store that sells printables?
You can sell printables on Etsy for a little extra money each month for not much work .
My friend made over $6,000 doing this side hustle!
What are printables?
Printables are digital downloads that a buyer can purchase and print at home. Things like printable trackers and checklists for all kinds of things sell like hot cakes online.
People love buying printables because they get them instantly and can print at their leisure plus they are much cheaper to buy than paper products
The amazing thing about selling printables on Etsy is that you can make them at home in your free time and then sell them again and again. It's the perfect side hustle for a mom with young kids who can only work when they are sleeping.
This was my dilemma to be honest. I knew for a few years that I wanted to sell printables on Etsy but I couldn't work out how to make ones that look professional
Last December I took the E-Printables course by Cody and Julie. and I am loving running my own Etsy shop – its the best stay at home job I've ever had.
The videos in the course are step by step and actually taught me what to do.
Open a Shopify Store
If you want to own your own online business, opening a store on Shopify is a great option for you.
The biggest names on Shopify are making $100,000+ a month selling printables, binders and other online products – from the comfort of home!
If you've been thinking about starting an online business, but haven't done anything yet because of all the work it takes to set up an e-commerce site, then this article is for you!
We'll cover everything from why you should open your own Shopify store, how to find products and what the best payment gateways are.
Teach Online With Outschool
If you have kids (and I guess you do because you are reading this article, you have probably heard of Outschool).
Outschool is a platform that connects teachers with students in need of one-on-one attention. The company strives to help both the student and the teacher by providing a space for learning that's not confined to classrooms or textbooks.
If you have any kind of skill, you can become an Outschool teacher. My kids love attending their online classes and have taken Preschool Halloween Math, a Frozen Dance Party and a Fancy Nancy Craft class.
This is one of the best online jobs for stay at home moms because it is such a flexible job. You can set your own class schedule and work whenever you want.
It is a great way for stay at home parents to make some extra money.
Book Publisher
If you have expertise in a certain topic, you might have success publishing ebooks on Amazon Kindle Self-publishing.
Canva is the perfect platform for anyone who needs to create an ebook.
For no money down, I can get my eBook created with this awesome design tool that also has some free templates too so all skill levels are welcome here.
Once designed, publishing takes less than 5 minutes on Amazon Kindle Direct Publishing (KDP).
Then once approved by KDP step six occurs automatically which brings me back about 200 bucks monthly passively without doing anything else.
Read my tutorial on Kindle publishing.
Graphic Designer
Graphic Designers are hired every day to create logos and branding for bloggers. They also format ebooks, templates , powerpoint presentations or flyers-anything that needs a professional touch!
The great thing is that you can easily get work as a graphic designer using a program such as Canva and this is a fantastic remote job that you can do anywhere as long as you have an internet connection.
Most graphic designers freelance on Fiverr because it's so easy to get started making money doing what they love best.
Read more about how to become a graphic designer with no experience.
Teach Courses on Udemy and other online platforms
Here's another easy way to make money with no prior experience
If you have a particular skill-set that you could use, consider creating a course on Udemy and making money teaching online. I love this idea of making money as it can be a great way of making a passive income for years to come.
Teaching courses on Udemy is a great way for people with no or little experience to make money online.
You can be an expert in any topic, teach about something you love and share your knowledge with the world!
Take a look on the Udemy site and you will see there are courses for literally anything, from how to be a freelance model to ancient history.
If you are teaching on Udemy, it's important to get feedback from students so that you know what they like/dislike about your course. Getting testimonials is also a good idea because it will provide social proof which will help more people enroll in your course.
Transcription Services
Transcriptionists are in high demand and it is a relatively easy career to break into.
This is one of the best work at home jobs if you want to make a lot of money and are prepared to do some training courses.
A transcriptionist is someone who listens to recorded speech or music and types out what they hear.
This person not only has to type the words, but they must also punctuate, spell, and include any other special information that was said in the recording.
Medical transcription and legal transcription (court reports) are the most common kinds of transcription services that you can do from home.
Transcription is the perfect job for a stay at home mom because it allows for a flexible schedule and it pays really well. Plus, you can get started with little to no experience.
How to get started as a transcriptionist
Transcribe Anywhere does offer a free course to give you an idea of what to expect as a work-at-home transcriptionist.
You can access the general transcription mini course and more info at the Transcribe Anywhere website
Virtual Assistant
For moms who want to work from home and stay connected with clients, this job may be perfect.
Virtual assistants complete many different tasks for their clients including making videos or creating social media posts on behalf of them in order to promote products they've branded themselves (e-commerce stores).
Some people might think that working as a virtual assistant requires too much talking and is too difficult with kids around.
In fact, it actually has very little voice interaction during normal business hours when you're not assisting someone else's company; instead most duties entail completing paperwork via email correspondence while also managing meetings remotely if necessary.
Other tasks can include:
Managing schedules and appointments
Editing websites
Creating social media posts
Coordinating meetings
Editing documents
Sending emails
It's a good side hustle to do from home in your spare time and can be very lucrative.
Virtual assistants can easily earn $1000+ working part time from home.
If you are interested in getting started as a VA, I highly recommend checking out this blog post that will help you find virtual assistant jobs that pay well.
Become A Flea Market Flipper
Selling things you find at flea markets or thrift stores for a profit is an awesome side gig that is so much fun.
You can get started for free by looking for no-cost items on the curb or on Craigslist. Once you have exhausted those options, you can start looking for items that you can buy low and sell high for a profit.
What items are great for flipping for a profit?
Here are the best things that you can buy and sell for a profit, you will probably be surprised at some of the weird things that people buy!
This is a great side hustle for single moms – you might be shocked to learn that there are flea market flippers who make six figures with this side hustle.
Social Media Manager
Social media managers manage all the social media channels for a brand or business – from creating images and researching hashtags to scheduling content and responding to DMs (direct messages).
This is a great job if you love social media and is great for moms as it is a smart-phone heavy job that you can do at all hours.
What I like about this job is that it is one of the best jobs for stay at home moms with no degree as your expertise in using social media is what is important (although marketing experience will certainly be an asset).
Your tasks as a social media manager may include:
Posting in Facebook groups
Managing a Facebook Page
Creating and updating social media accounts
Posting on Instagram and Twitter
Responding to DMs
The easiest way to get started with this kind of job is to contact local businesses and ask if they need any help with their social media. Average rates for social media managers are around $300-1000 a month depending on the hours and scope of the work.
Freelance Writer
A freelance writer is someone who has the ability to write content for other businesses.
This could be anything from advertising copy, website pages or even blog posts on behalf of clients as opposed to organizations they work with directly.
A freelancer's writing comes in many forms:
Journalism (news articles)
Fiction novels and plays
Creative nonfiction
Copywriting
Ghostwriting
Blogs and magazine articles
If you are creative and love to write, this might be the perfect work for you.
If you are interested in becoming a freelance writer, my go-to recommendation for freelance writing tips is Gina Horkey.
She is a guru in starting a freelance writing business and has tons of tips on her blog.
This post is packed with great information for you to get started finding freelance writing gigs.
If you like writing, an easy way to get gigs is via a site such as Textbroker.
They connect authors with different kinds of jobs which takes the marketing part out of running your own writing business.
Amazon FBA
Fulfilment by Amazon, or retail arbitrage is something I have been intrigued by for a few years.
It is a really highly effective way of making a lot of money from home if you know what you are doing.
What is Amazon FBA? It's the "art" of buying products at a deep discount and then selling them on Amazon for a huge profit.
It really works and some people like Cliff and Jessica from The Selling Family make up to 100% profit on their products.
To find out how to start your own Amazon FBA business, I highly recommend checking out their free report on building your own Amazon FBA business today.
Sell Crafts on Etsy
If you make crafts at home, then Etsy is a great place to sell them online!
You can choose what products to sell and how much they cost.
After making your listings, the only thing left to do is wait for orders!
If you are moderately crafty or good at sourcing crafty materials, starting a Etsy store might be for you.
One of my friends started a T-shirt business last summer and just sold her 1000th T-shirt via Etsy!
What kinds of crafts sell well on Etsy?
You might be surprised but anything handmade from baby clothes to knitted items all sell really well.
For an idea of some of the best things to sell on Etsy, check out these 50 Etsy Shop ideas.
How to get started with Etsy
Here are some tutorials that will help you get started with your Etsy store:
How To Start An Etsy Store Successfully
The Best Things To Sell On Etsy To Make Money
Flip clothes on Poshmark Or eBay
Poshmark is a site for selling second-hand clothes, completely online.
If you have an eye for good quality, brand name items, this can be an amazingly fun business to run!
Scour second-hand stores, thrift shops and Facebook marketplaces for clothes you can "flip" on Poshmark.
This is a great opportunity for people living in big cities with great thrift stores.
When I lived in Los Angeles, I loved to scour the thrift stores for bargains.
I often flipped stuff on EBay but Poshmark would be much better!
You know what sells crazy well on Poshmark and eBay? Shoes!
It may sound strange but there is SERIOUS money in this creative side hustle idea. The profit margins are insane.
Check out this amazing flip my friend Beau scored – he bought these shoes for $10 and sold them on eBay for…..
Beau is such an expert in flipping shoes for money that he has created a course to teach others how to do it.
You can check out the entire course here.
About The Course:
The workshop includes 4 training sessions

​We cover brands to look for, how to clean and take great pictures, how to list to get he sale and how to package and ship them!

You get PDF downloads with every week to help you find, clean, and SELL your shoes!
Proofread For Court Reporters
If you're a perfectionist at heart, proofreading might be your perfect career.
This business is the stage after transcribing. Once audio has been transcribed, it often needs to be proofread for accuracy and grammar.
Book editors also rely heavily on proofreaders for checking work before it goes to be published.
You take on the task of catching typos and errors in texts such as legal documents or medical articles to make them readable.
Proofreaders also assist with formatting by making sure all paragraphs match up properly according to their designated stylesheet.
This means that there will never again need an extra "em" added into someone's dialogue because we missed it out when copy editing last week 🙂
This really isn't just any old 9-5 either, an online proofreader can set their own schedule and work as much or as little as they like.
Although you don't need any experience to become a proofreader, you can command a higher price if you have some training.
Check out the free webinar by ProofreadAnywhere which will take you through everything you need to know to get started.
You can also check out my list of amazing proofreading jobs that don't require any experience at all.
Start a blog
While blogging isn' t the best way to make money fast, it can be a great option if you like writing and taking pictures and have a knack for connecting with an audience.
I started my first blog in 2017 and have been making a full-time income since about 6 months in.
You can start a blog about almost anything and make money although some have more potential than others. The important thing is that you provide useful information to your readers.
Big bloggers make millions a year and even smaller bloggers can make a few thousand a month as a part-time job.
In my post, How To Start A Blog That Makes Money, you will see some examples of different bloggers who make money online.
Work At Home Travel Agent
If you know the best places to travel then this is a great way to earn extra cash.
Working as a travel agent is one of the best jobs for stay at home moms with no experience.
Travel agents help people with planning their vacations, booking excursions and making reservations at theme parks and more.
If you have a passion for travel , you can make at least $2000 a month as a travel consultant with no experience at all.
Travel is starting to pick up again and it is the perfect time to get started with your travel agent side hustle.
Check out this post for more information on getting started as a work from home travel agent.
Be an online friend
Chatting online is a great way to make some extra money.
All you need are internet access and some spare time on your hands!
If flirting with strangers sounds like fun, this is a great job that allows for a fantastic work-life balance.
You can earn some additional source of income chatting to lonely people on the phone in a gig that doesn't require much commitment or hard work and that allows you to set your own hours.
Sell Photos
Do you take gorgeous photos? If so, consider selling them online for cash.
The Internet has created an entire industry of people who are making money by selling their photographs, whether they are taking the pictures themselves or finding them from other sources.
There are many ways to sell your photos online for profit, including through stock photo sites and auction sites like eBay.
You could sell your selfies for cash or jump on the bandwagon of selling foot pics for a profit.
It's important that you know what type of photography works best so that you can better market yourself in order to be successful.
Here are 15 Best Stock Photo Sites To Sell Images to start you off.
Scoping
Internet scoping is a new and growing side hustle that could potentially earn you $70K+ per year as full-time job.
Scopers edit court reporter transcripts to correct errors or add details.
This is one of the best jobs for stay at home moms with no experience because it is so flexible and you can work when the kids are asleep.
A free introductory course from Internet Scoping School teaches everything you need to know about getting started with this lucrative side hustle .
Social Media Influencer
Now this one is not easy to break into but it really is a viable online business in this day and age.
Everyone has heard of influencers, especially on Instagram, who make over $10,000 + a month posting photos and promoting brands online.
As a brand ambassador, you will work with the company to encourage people to follow them and buy their products.
The easiest way to get started as an influencer is to build online presence.
Grow your followers on as any many social media platforms as possible and start looking at the big names in your niche and seeing how they pitch brands.
You can start your own YouTube channel and do product reviews and make money from brand sponsorships that way.
Online Tech support
Obviously for this business, being tech savyy helps!
Online tech support is a great business that you can start from home if you have a the knowledge and the time to lend to helping people with their websites and blogs.
Website owners are always looking for ways to get on Google's page 1, increase their site speed or just fix general issues and will pay for someone to help.
Remote Job Platforms
Cloud working is the newest way of hiring talent.
Modern companies love being about to source talent from around the World and employees love making more money while working on their own schedule – from home.
Companies that are currently hiring workers in all kinds of roles:
Invest online in Real Estate
This way of making money online can seem like a bit of a gamble but in fact investing in real estate is a really popular way of investing with less risk than the stock market.
For an overview of how to investing using Fundwise which is one of the easiest companies to get started with, check out this article from Forbes.
Affiliate Marketing
Affiliate marketing is the art of making money recommending products to people.
You earn a commission when they buy these items from your affiliate links, and there are many YouTube videos that have used this as their platform for success because it's so easy!
You can promote your affiliate links on a blog, on social media or on YouTube. Its a great way to make some extra income .
There are many online courses about affiliate marketing, my favorite is Affiliate Marketing For Bloggers By Carly Campbell
Interior Designer
If you love home decor and have an eye for design, you could launch your own online interior design business.
If you want to be an interior designer without any experience, then you need to work on your skillset.
You can do this by taking a class in design and learning about the different types of lines and shapes that they use.
You can hire or intern with an existing designer so that you can get some experience before trying to start your own company.
Online Tutor
I tutored high school students for many years, and I made a very healthy side-income.
If you have a bachelor's degree then you can likely become an online tutor from home teaching high school or elementary subjects.
Look for ads on Facebook or post your own offer to local mom groups.
Online Customer Service Agent
Many companies hires online customer service agents to help answer their support tickets.
This job is important because you will be the first point of contact for customers who want to reach out to a company or organization.
You can find online customer service gigs on job boards and also on the websites of sites such as Amazon who often hire CSR agents.
To be a good customer service agent, you will need to be computer with a computer and also ok with taking phone calls when you are working.
It's important that you know how to be friendly and professional while also providing excellent customer service, because it's likely that the person on the other end will have questions about your product or services.
Data Entry
For those looking at making money from home as an extra source of income Data Entry might fit well into your schedule because its mindless nature means you don't need much time commitment outside regular days job duties
Virtual Bookkeeper
If you are good with balancing your household budget, then bookkeeping is a fantastic work-from-home side hustle that requires no telephone calls or in person meetings. I even know bloggers who employ freelance bookkeepers to get them ready for tax time!
A lot of small businesses need help keeping their invoices and paperwork up-to date so they can focus on growing their business.
More Money Making Ideas
13 Places To Sell Your Stuff Online (For Cash!)
30 Side Hustle Apps To Make Money
How To Make Money Selling Stickers On Etsy