Starting your own Etsy store or selling at craft fairs is a great way to make extra money. If you are somewhat handy and like woodworking, then you can jump on the farmhouse decor craze and start selling some cool handmade wood projects.
If you love these handmade wood projects, make sure to check out my 12 Farmhouse Wood Projects To Make And Sell
This post may contain affiliate links. Please read my Disclosure for more information.
MORE PROFITABLE WOOD WORKING PROJECTS
Simple Wood Pallet Projects To Make And Sell
12 Farmhouse Wood Projects To Make And Sell
Where To Sell Wood Crafts
Here are 9 places to sell your wood crafts for money. Make sure to factor in shipping costs for the online sites.
Create a Facebook page and promote on neighbourhood groups
Book a table at local craft fairs
Host private parties in your home
School and Church bazaars (here are some great wooden projects to sell at Christmas)
eBay
Your Instagram page
If you are serious about starting a wood business, make sure to read my post about How To Make Money Woodworking.
Handmade Wood Project Ideas That Sell
Below are the best selling wood crafts that you can make and sell.
Most of them are relatively easy for a moderately handy person and allow you to add your own creative flair.
The key to success with selling crafts online is to sell quality, durable goods and offer great customer service.
How experienced do I need to be at woodworking?
There are many online tutorials (see below) that can take you from beginner to expert with some practice!
Most experts recommend using hand tools instead of power tools when starting out.
This will help you hone your technique and unleash your creativity.
Power tools are faster for small projects but are not as easy to use for intricate finishes.
RELATED POSTS
10 Easy DIY Crafts To Sell Or Give As Gifts
30 Side Hustle Apps To Make Money
Where to find tutorials for Woodworking Crafts
Some of the crafts below (like the coasters) are pretty much self-explanatory but if you want some concrete plans for the more complicated projects, I like Ana White Plans.
Wooden Signs To Make and Sell
If you are just beginning as a woodworker and are not super handy with a lathe, wooden signs are a great place to start.
Everyone loves wooden signs with quotes at the moment and you can make them using stencils and paint that you can buy at most craft fairs.
This best selling Welcome sign is from Farmhouse Finishings on Etsy is a great example.
Wooden Candle Holders
Tealight holders made out of wood are really popular and look so cute as wedding centrepieces or as home decor.
You'll need a wood lathe to make this kind of project.
If you are interested in making easy holders for large candles, I like this tutorial for making candle holders out of scrap plywood.
Image from:End Grain Wood Shoppe
Wooden Planters
Small planters for succulents are a great craft that you can sell at craft fairs.
These ones from Minimum Design On Etsy are fancy and so cute.
Wooden Toys
Handmade children's toys are hot sellers. Montessori parents love them and they are perfect for anyone trying to reduce their plastic consumption.
Consider classic toys such as a Jacob's Ladder, an abacus, blocks and wooden puppets. Larger toys such as puppet theatres, dollhouses and wooden trucks are also really great.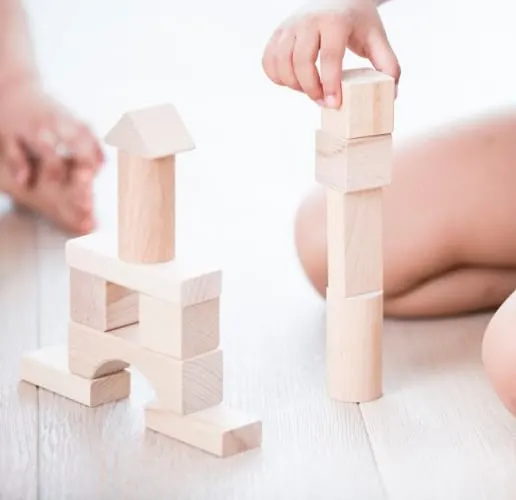 Birdhouses
Someone in my neighbourhood has a whole business creating wooden birdhouses to sell. You can paint them pretty colours or offer unpainted ones for children (or adults) to finish themselves.
If you want to start a business selling wooden crafts, birdhouses would be a great choice. Make different designs with different cut-outs and colors and in no time you will have a thriving side hustle!
Wooden Cheese Boards
Fancy cheese boards or wooden cutting boards make an awesome gift around the holidays. You can easily create a business around selling wooden boards for teacher or hostess gifts.
Personalized charcuterie or cutting boards are also one of the most profitable laser engraved products if you own a laser wood burner.
Frames
Wooden frames for chalkboards or letter boards are a great thing to sell at craft fairs. You can use plywood and chalkboard paint to make chalkboards and this tutorial will show you how to make your own letter boards.
Wooden Coasters
Coasters have to be one of the easiest things to make out of wood but they sell really well! You can experiment with different shapes and patterns. Package sets of 4 coasters in ribbon for an easy gift that will sell like hotcakes!
Stools
Stools make a great introduction to wood furniture. From little step stools for children to the Montessori style learning towers like the one in the picture, they are really popular at handmade markets and online.
More Wood Crafts That Sell
Wood Crafts That Sell At Flea Markets
25 Fun Wood Lathe Projects That Sell Well
Simple Wood Pallet Projects To Make And Sell
More Things To Sell For Money
10 Easy DIY Crafts To Sell Or Give As Gifts
10 Best Things To Sell On Etsy To Make Money
Like this post? Pin it!