Can I change my Etsy shop name?
This is one of the most frequently asked questions by Etsy sellers Worldwide.
Thankfully the answer is yes. You can change your Etsy shop name if you have realized that it no longer fits with your business model.
Many of us create Etsy shops without giving much thought to their shop name.
As a result, the name is often not representative of what we end up selling selling and can turn off potential customers.
This article provides step-by-step instructions on how you can change your Etsy shop name without any hassle.
It also discusses things to consider when changing your Etsy shop name as well as benefits of doing so.
If you are unhappy with the Etsy shop name you have chosen, this easy to follow guide will help you get a new name in minutes!
How to change your Etsy shop name
To change your Etsy shop name, follow these steps:
Go to your shop section on Etsy
Click on settings and then Info and appearance
Click the tab that says "shop name"
Pick a new shop name.
Click "Save Changes."
What happens when you change your shop name?
All links to your shop continue to work, and no one can use your previous shop name.
Your shop will have a new URL. Your shop name becomes part of URL: http://www.etsy.com/shop/shopname and shopname.etsy.
This means that all the items in your store will get a new URL. '
If you promote your listings on your own website or on social media, you might want to change your URL to match your new shop name.
You will also need to consider your branding and marketing.
Common things that you will want to update include:
Business logo
Watermark on photos
Etsy shop banner
What if someone clicks a link with my old Etsy shop name URL?
Links to your previous shop URLs will redirect to your new shop URLs so you don't need to worry about lost sales or people not finding your listings.
Etsy uses 301 redirects to help maintain your search engine rankings after the change.
That means that if your products were being found via Google search before, nothing should change with that.
Benefits of changing your Etsy shop name
If you are wondering whether or not to change your Etsy shop name, take some time to review your shop name and whether it fits with the ethos of what you sell.
It's important to keep in mind that what people know and see you sell is what your Etsy store name should be.
If not, then there may be problems with customers finding it when they search for something specific or if the name doesn't reflect the type of products you sell.
If you sell paper products, try and incorporate that somewhere in your shop name, for example.
Examples of good Etsy shop names are:
AnimalCrochetStore – little crochet stuffies for kids
WoodSignsByMajoPage – Wooden signs for the home
MarkyBabyMilkJewelry – Breastmilk keepsake jewelry.
To get a ton of tips on choosing the best name for your shop read this in depth guide >>
What makes a great name for an Etsy shop?
The first step in choosing a name for your Etsy shop is to be consistent with your branding.
You want to choose an easy-to-remember and simple, specific name that will make it easy for people to find you when they search on Etsy.
Make sure that the social media handles for your chosen name are also available (you can easily do a search on Instagram and Facebook etc).
If you are going to build your own website to sell your items, then make sure to check namecheap.com and see if your chosen domain is available too.
With the shift of focus from ecommerce websites like Amazon and Ebay, many online shops are focusing more on creating unique shops rather than following the trends of others.
How to know if an Etsy shop name is available
If you want to change your Etsy Shop Name, you can find out if it's available by typing in the name and seeing if there are any other shops with that name.
If not, try searching for the shop on Etsy and see if they have already used it.
But it might be that someone else has already registered their own Etsy Shop Name, which means you won't be able to use the same one.
Keep in mind that the name won't appear in search if it's a username or a shop that has been closed even thought you will to be able to use the name.
Remember that even if you change your Etsy shop name, Etsy will not allow anyone else to register that name again.
How to find a name for your Etsy shop
Choosing the right brand name can be a true challenge. Some things to consider before changing your Etsy shop name include:
– What word or words describe your store?
– How will this change affect the way people perceive your business?
– Will it help you attract new customers and increase sales?
Remember that if you use more than one word in your Etsy shop name, then they will all be squished together.
You can capitalize letters in your name to distinguish separate words and make the name more memorable.
How to change your Etsy Shop Name – The golden rules
While changing your Etsy shop name is easy, there are a few rules to remember:
The name cannot exceed 20 characters
There is no punctuation or spacing
Shop names must be appropriate and follow Etsy guidelines
You can't use the old name again if you change it.
You can only change your shop name 5 times
5 Tips for Changing for Your Etsy Shop for good
Given that it can be a bit of a hassle to change your Etsy shop name, especially if you have branding and logos to consider, it is best to only change it one or two times max.
Here are some tips to make sure you pick the right name this time so you don't need to read this post again!
Research Your Brand
Before you start searching for a name, make sure that the name is reflective of your product and brand.
Take a look at the other shop names in your niche and see what is trending. Can you make your shop name catchy and indicative of what you sell?
Make sure to adhere to the regulations
Keep in mind that the total length of your shop's name cannot be longer than 20 characters.
Also, there is no punctuation allowed so make sure that when you put all the words together, they still look ok and don't read something funny or rude.
Your name must not contain anything explicit and you cannot use any trademarked words eg. Disney.
Create a Business Plan
Look ahead and review what kinds of products you plan to sell. It is better to choose a more broader name that will allow you to switch products a bit rather than a super narrow topic that might cause problems down the road.
For example, if you sell knitted dog toys:
Not so great name: KnittedPoochPals
Great name: KnittedToyWonders
(both these names are fake by the way).
The first name is perfect for selling dog toys but what if you want to branch out to cat toys? Or to knitted baby toys?
It is best to leave your options open a bit when choosing your new Etsy shop name.
Remember your Etsy SEO
Try to use keywords in your shop name so that it will come up in the search.
For example, if someone is searching for knitted toys, the second shop name above is likely to be found. The first one, not so much.
If you need to learn more about Etsy SEO, you can download my free checklist here:
Be Unique
One of the most important things about your Etsy shop name is that it should be unique to you.
Don't copy another name, especially from a more successful shop. All that will happen is that you will lose business to the other shop as people will get confused.
You may also even run into copyright issues if the name is too similar.
Pick your own new Etsy shop name that people will remember.
How To Change Your Etsy Shop Name FAQS
Can I change my Etsy shop name twice?
If your shop isn't open yet, you can change your name as often as you like before you open your shop.
Once your shop is open, you can change your shop name using the method above up to five times.
If you need to change it again, follow the same method to submit a name change request to Etsy Support.
Detail exactly why you need to change your shop name again and how important it is for your business.
Etsy Support will then review the request and either approve or deny the name change.
Will people on Etsy know my shop name has changed?
For 45 days, this icon will appear next to your shop name on shop pages, your profile, and shop search results to let people know you recently changed your shop name.
What about previous customers?
You might be wondering what will happen to the receipts and order details from people who have previously purchased from you.
Don't worry – if someone bought an item from you when you still used your previous name, they will always see your previous and current shop name on their receipts and transaction pages.
What if I change my mind? Can I go back to my old Etsy Shop name?
Unfortunately once you decide to change the name of your Etsy shop, you cannot just go back to the old name.
You won't be able to use a shop name that you've previously used on another account, even if that account is closed.
Instead, you can reopen your shop by clicking on the closed shop in your shop manager and clicking "reopen".
Final Thoughts On Changing Your Etsy Shop Name
While the good news is that the answer to the question "can I change my Etsy shop name?" is an easy yes, you need to make sure to follow the rules when doing so.
It only takes a couple of minutes to change your Etsy shop name but you can't do it as many times as you want.
If you made a mistake the first time around, make sure to take some time to really research your perfect name this time and avoid having to make another change down the road.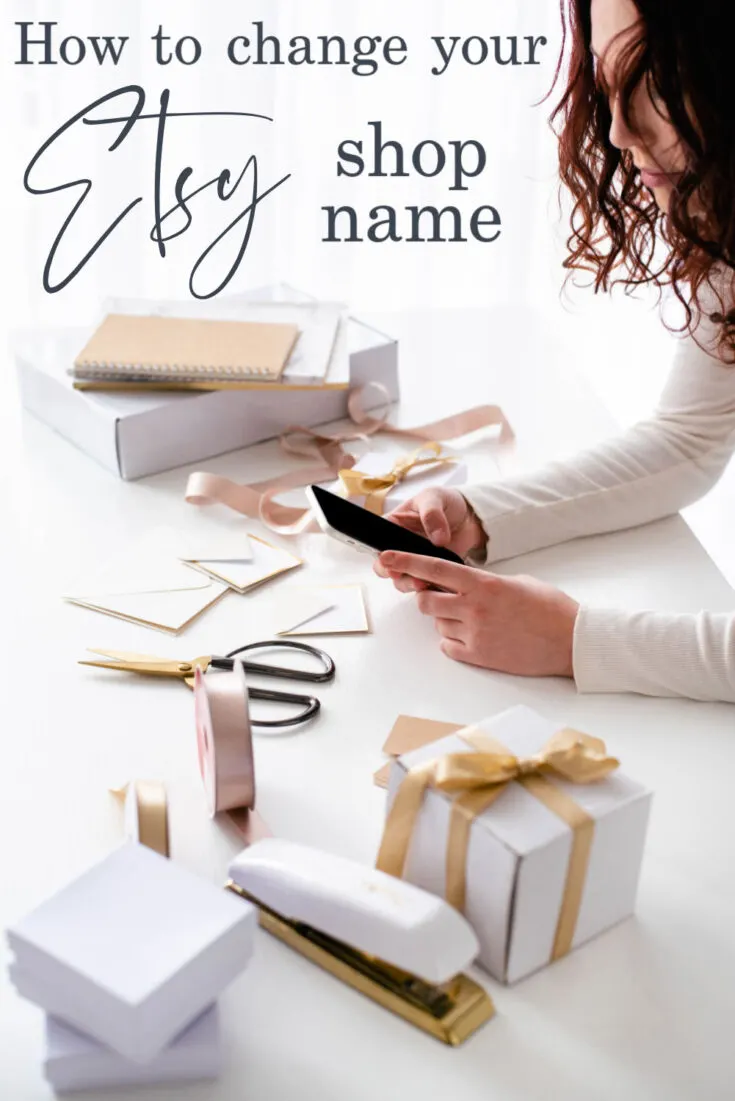 More Etsy Tips
How To Sell Coloring Pages On Etsy
51 Best Selling Printables on Etsy