Candles are one of the small indulgences that are both recession-proof and popular all year round. That's why learning how to sell candles from home can launch a lucrative side hustle for anyone who is a bit crafty.
According to the National Candle Association, US retail sales of candles were $3.14 billion in 2013 and this number has only grown since 2020.
With more people staying home and looking for creature comforts, the use of scented candles has exploded.
As has the market for homemade crafts and gifts.
Put the two together and you have the recipe for a lucrative work-at-home business idea!
In this post, we will show you exactly what steps you need to take to launch a successful at-home candle business including:
The Process of making your candles
Branding your candles
The bestselling scents
The business side of selling candles at home
Where to sell your candles
How to get more sales
Ready? Let's get started and learn how to make candles to sell at home!
This article may contain affiliate links. Please read our disclosure for more information.
RELATED POSTS
How To Sell Coloring Pages On Etsy
Start A Soap Making Business From Home
How to start a candle making business at home
Candle making is a business that you can start with little to no money which makes it a fantastic side hustle.
The other great thing is that candles eventually burn out meaning your customers will keep coming back for more when they need a new scent!
How to make candles to sell at home
Candles are a great way to make money from your home.
There are many different ways to make candles, but when it comes down to it, the most important thing is making sure you have the best quality ingredients that still enable you to turn a profit.
Step 1: Gather your candle making supplies
The materials you'll need to make candles can be bought online or sourced locally.
You can also buy items in bulk, which saves a lot of money over purchasing small quantities of materials.
Here are the main materials you will need:
Wax
Containers or jars
Wicks
Double boiler
Thermometer
Scale
Fragrance oils
Dyes for coloring your candles (optional)
You will may want to buy or make labels, ribbon and other packaging supplies, especially if you are selling the candles and need to ship them.
Different Types of Candle to make
There are different wax types to consider and then fragrances and dyes.
Let's look at a few of your options:
Soy candles

Soy wax is made from soybeans and candles made from it are higher quality than regular candles.
The nice thing about soy candles is that it burns cleanly for up to 80 hours with no soot.
Soy candles cost more to produce, but offer a better quality product.
A lot of people prefer to buy only soy candles because they emit fewer toxins into the environment.
You can buy soy wax at most craft stores and even on Amazon.
Price for a 10lb bag of Soy wax shavings: around $40
Paraffin Candles

Paraffin candles are a popular choice for people who want to make money selling candles from their homes.
They have significantly less burning times, cost effective production and strong scents.
Paraffin wax comes in small round pellets that you can melt down and dye or add scent.
Price for a 10lb bag of Paraffin wax Pellets: around $35
Beeswax Candles
Beeswax is an environmentally friendly option, but it's a little more expensive.
The advantage of beeswax to make candles is that the wax is non-toxic, and it burns cleaner than other types of candle.
Most beeswax candles come in more natural colors and scents than soy or paraffin candles.
You can buy beeswax pellets for candle making or buy sheets of beeswax that you can roll up to make easy candles to sell.
Price for a 10lb bag of Beeswax Pellets: around $50
Should You Dye Your Candles?
Many people prefer completely natural candles now with minimal dye and additives.
Soy candles are naturally white so they are perfect for a clean look that goes with any scent.
If you do decide to sell candles from home in different colors, you can choose from a few different types of dye:
Candle dyes are easy to use and make the bonding of colors easier.
There is a wide variety of color options available for candle dye blocks, including red, blue, yellow, green and brown.
It can also be cost effective to purchase eco-friendly dyes in bulk, which reduces waste and increases profits.
Choosing Fragrances for your candles
According to this CNBC report, in 2020, companies selling scented candles reported record sales in home scented products.
Adding scent to your candle will allow you to create lots of different varieties while using the same process.
You can make seasonal scents such as holiday blends and summery candles plus fun ones that stand out from the crowd.
The best scents to use for making candles are pure essential oils.
You can buy all kinds of blends and fragrances to start you off.
Here are some ideas of the top selling scents to sell:
Holiday scents – peppermint, balsam fir
Clean scents – citrus, spearmint, lemongrass
Summery fragrances – rose, sweet orange, honeysuckle
Relaxing spa scents – lavender, eucalyptus
How To Make Candles- step by step guide
1.Prepare and melt your wax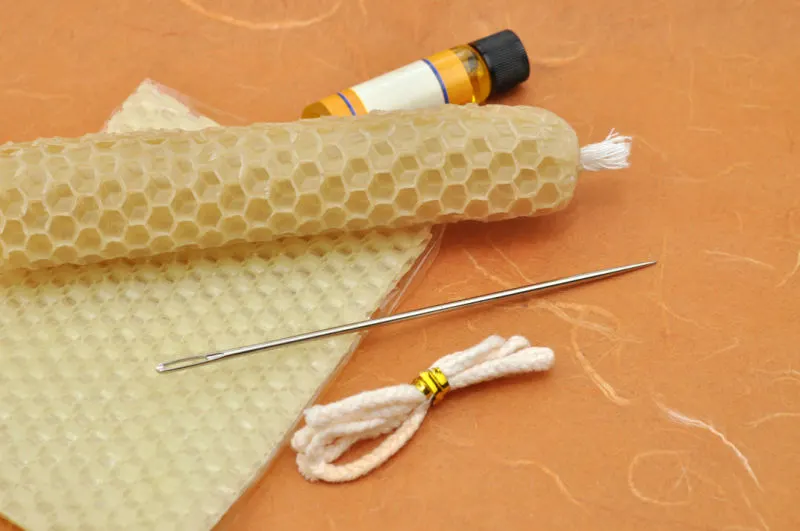 Gather all your supplies. Measure the wax required to fill the candle jar you are using. Make sure to take into account the room you will need for the dye chips or block plus the fragrance.
Melting your wax is the most important step in making your candle.
You can use a double boiler (or a smaller saucepan over a larger one with about 2 inches of water). This will stop the wax from burning and ruining your candle.
Make sure to read the instructions for the type of wax you are using as they all melt at different temperatures.
Here are some tips that will help you when pouring and measuring your wax:
-soy wax melts at 120°F and is pourable at 167°F
paraffin wax melts at around 185°F
-fragrance goes in at 180°F
-dyes melt between 190°F and 210°F
-it takes twice as much wax chips as the size of your container to fill it when melted down
2. Add your scent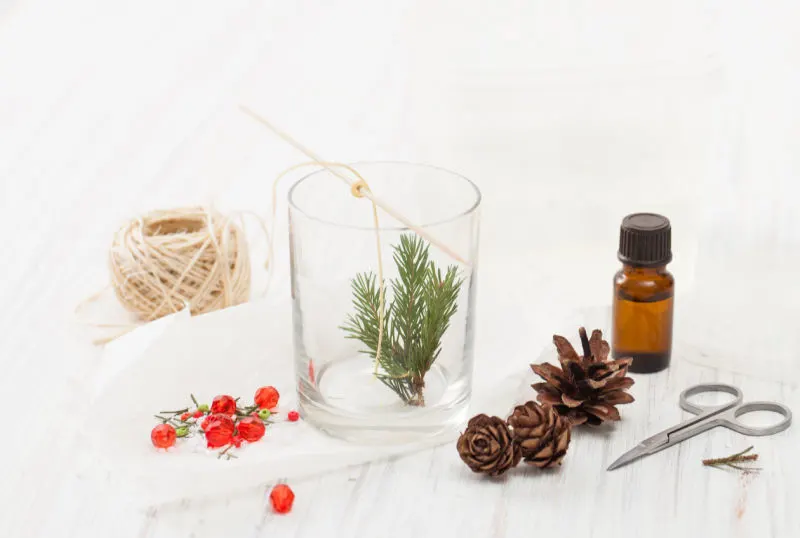 Once your wax has reached the right temperature, add in your scent.
Make sure not to add too much scent as this will cause your candles to sweat.
Stir in the fragrance thoroughly and completely before moving to the next step.
3. Add in your dye (optional)
If you want to create colored candles, then this is the time to add in your liquid or block dye according to the package instructions.
Remember, less is more and it is easier to add more dye than to take it away if you add too much.
4. Attach the wick
This step can feel a bit tricky. Use candle wick stickers to attach one end of the wick to the bottom of your jar.
5. Pour your candle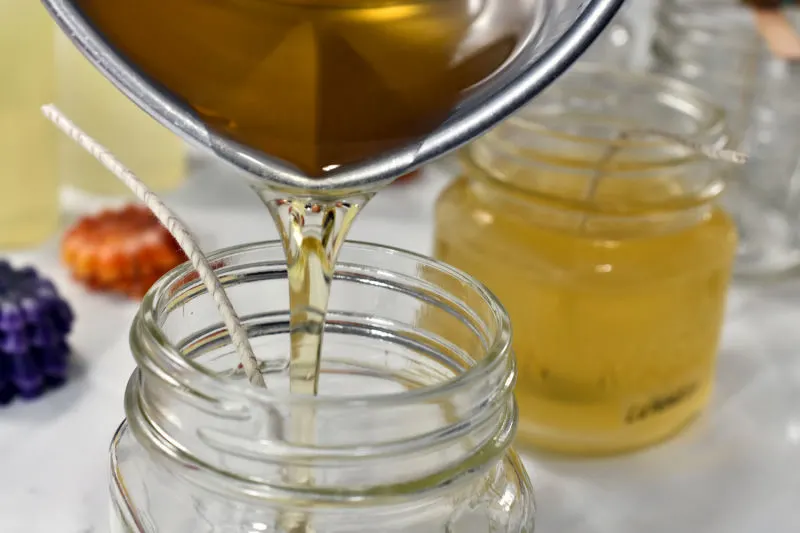 Once your wax is fully melted, you can pour the wax into your container making sure to keep the outside end of the wick above the wax.
If you loose the end of the wick then you won't be able to light the candle.
Make sure the wick is upright and as straight as possible.
Allow the wax to cool before trimming the wick. You should use a professional wick trimmer to ensure a clean cut.
Preparing your candle for sale
In order to sell your candles, you will likely want to add a cute label.
The label will say the scent of the candle or a cute message – whatever you like. This is where you can get creative and really build your brand.
You can make your own labels using free software such as Canva. You can also make a logo for your business on Canva that you can use on business cards and candle labels.
Another really important thing to include is a candle safety sticker. These will make sure your candles are in compliance with any local laws.

Launching Your At-Home Candle Business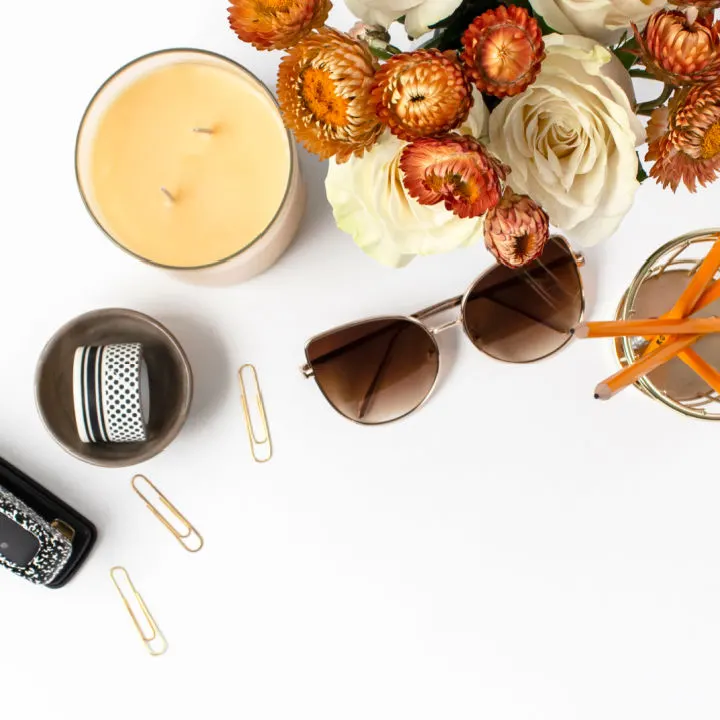 Make sure to register with the proper authorities before starting up a candle business. You must comply with legal requirements for selling candles, such as obtaining licenses from the state or county in which you live.
Is it legal to make and sell candles?
Yes, it is legal to make and sell candles from home.
But if you want to start a business making and selling candles from home you will need to adhere to all state and local laws.
As long as the products you are manufacturing are not violating any trademark or cosmetics laws you should be just fine!
Most states allow home-based businesses as long as they do not violate any zoning laws.
Do I need a business license to sell candles?
Yes, and not just for candles.
The right to sell any product from your home is actually a privilege that required licensing in most municipalities.
You may be able to get by without one if the number of items you are selling is small enough or if all your customer traffic originates in person (e.g., your front yard).
Generally speaking if you're running an online business with no physical location then chances are high that you will need one or more licenses and potentially to register for a tax number too.
These licenses may also grant permission for vending at parks, flea markets, craft fairs etc.
Do I need insurance to sell homemade candles?
You will want to get insurance for both the candle making business and your potential liability as a seller.
If you are well-known, have an existing product line, or are using someone else's trademarked logo on your products, you may even require professional licensing to sell candles.
Check with your homeowners insurance before starting your business to see if you need to add an additional rider to your policy in case of a mishap with your candles.
You also need to decide how many products you want to produce and what channels of distribution will be available when you start your candle business.
Where can I sell homemade candles?
Now you have made your candles, it is time to get them ready to sell.
Here are some places to consider selling your candles:
Craft Fairs and Farmer's Markets
Etsy
eBay
Amazon
Social Media
Your own website
Farmer's Markets and craft fairs
One of the best places to sell candles is at a farmers market.
You'll be able to make a good profit and reach more people by selling them in your local area.
Online Marketplaces
Online marketplaces such as Etsy, Amazon, eBay, Craigslist and Facebook Marketplace are also good options for selling handmade crafts like candles.
Selling Candles on Etsy
Etsy is an online marketplace where people can sell handmade items, vintage goods and other things.
The website charges a $0.20 listing fee for each item and a 5% transaction fee on top of that.
Even with the fees, Etsy is a great platform to sell handmade candles as the potential audience is huge.
The key to success on Etsy is to really find a niche for yourself.
Regular candles are a dime a dozen but high end or "different" candles can make a lot of money.
Even fun labels like the one on this candle can make your Etsy shop stand out.
If you haven't started your shop yet, make sure to go through this tutorial on How To Start An Etsy Store Successfully
It will take you step by step through from creating to launching your Etsy shop.
It also includes a link for 40 free listings which will help you to start your store for free.
What Are The best Selling Candles On Etsy?
Wondering what the top selling candles are on Etsy?
Luckily it is easy to find out using a keyword tool like Sale Samurai.
It will show you the types of candles with the highest number of searches on Etsy plus how much they sell for.
This kind of information can be priceless when it comes to starting your own candle business on Etsy.
Here are the best selling candles on Etsy right now:
Wedding Candles
Funny Candles (think candles with cutesy labels)
Halloween Candles
Beeswax candles
Floating candles
Dough Bowl candles
Healing Candle
Mom Candle
Fall Candle
Spiritual Candle
You can see from the list above that you can build your brand in a number of different ways:
With scents – Fall, Holiday etc
With labels – mom candles, funny candles
By using different containers and molds – Dough bowl candle, floating candle
Promoting Your Etsy Store
Although Etsy has millions of visitors who are searching for handmade products, don't rely on your shop organically showing up in search.
You want to promote your Etsy shop on social media and especially make use of Pinterest.
This tutorial will show you How To Use Pinterest For Etsy
Etsy SEO is how you will get your ornaments to show up in the Etsy shop.
It involves using keywords in your title and description.
You can use my handy Etsy SEO checklist to help you with this:
Selling Your Candles At Local Stores
You can sell your candles at local stores if they will allow you to display them in for free.
Most small stores will allow you to sell your candles in exchange for a small commission on anything sold.
Selling Candles on Amazon
Amazon is a good place to sell your candles, but you will need some help to get started.
They charge a fee for each item sold and you can take advantage of Amazon warehouses by using Fulfillment by Amazon which makes things easier.
Write detailed product descriptions that have images and videos n order to attract customers.
Another tip is to include personalized notes with each purchase.
This will encourage good reviews and also if you include a discount code for the next purchase, you might get return sales.
Ebay
Ebay has a large audience and is a popular place to sell.
However, if you are looking for the convenience of Fulfillment by Amazon, eBay may not be right for you.
You'll need to package and ship all your own products which adds to your workload.
Ebay can be an effective way to market your homemade candles or other products, but it takes some time and effort on your part.
Read now: How To Make Money On eBay
Selling candles on social media
Selling candles from your home can be a lucrative business. However, it does not happen overnight.
Consider using social media to build up your following and get started selling for yourself.
You will need to build up your followers to get sales.
Additionally, staying active with your followers is important in order to keep them interested in what you are offering and coming back for more.
Posting your products on Instagram, Facebook, and other popular platforms will help you engage with people who comment or like your page so that they continue to be interested in what you have to offer.
How To Sell Candles on Facebook
Selling your candles locally on Facebook is a really good way to get started if you are new to making money with your hobby.
On Facebook you actually have a lot of different places to promote your candle making business:
Facebook Marketplace
Facebook marketplace is the obvious place to start selling your items as you don't need to pay anything and can reach a local audience.
You can create as many listings as you like for free. The only downside is arranging shipping or pick ups with your customers.
Your Facebook Page
You can create your own Facebook Page for your candle business.
Ask for people to like your page and advertise sales and promotions.
Facebook Groups
In my opinion, Facebook groups are the best way to sell your candles, especially around gift giving occasions such as mother's day or the holidays.
Join as many local groups as you can. Look for handmade groups, mom groups and neighbourhood groups.
Selling Candles On Your Own Website
One of the best places to sell your candles at home is on your own website.
Your website will allow you to build your brand and also get sales without paying a lot of fees.
You can choose to either sell your candles directly on your website or use your site to advertise your products and direct customers to make a purchase on your Etsy shop.
You can create your own website in just an afternoon and for under $5 using a host such as Bluehost.
Bluehost will give you a free domain name to make it easy to get started.
Make sure when choosing your domain name (that's the www.) that the same name is available on Facebook and Instagram as a username so that you can have a cohesive brand.
Selling Candles from home FAQS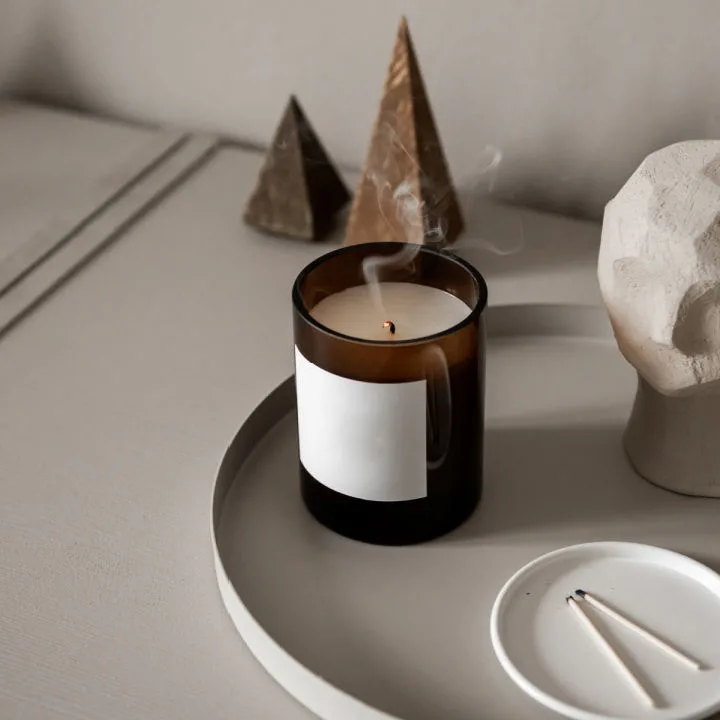 What is a vegan candle?
Vegan candles are made with a soy wax and do not use any animal products.
This means they don't contain beeswax or other animal parts of the process, like stearic acid.
Vegan candles are in demand for those who want to avoid using animal products in their home.
How can I get more sales to my candle making business?
The best way to boost your sales is to research your competition.
In order to make money selling candles, you first need to do some research the candle market.
This can be done by looking at what is trending and which types of consumers are buying different kinds of candles.
You also want to spend some time looking at the top selling candle makers on sites such as Etsy and to see what they are doing well. Don't copy but learn from them then find your own special niche.
How much can you make selling candles at home?
You can start a candle making business from the comfort of your home.
Start with less than $100 and make more money in the long run because candles and other home fragrances are consumables.
Candles sell on Etsy for $15-30 and as it costs just a few dollars to make each one, your profit margin will be fantastic.
If you sell 100 candles a month at $30 each with a $20 profit margin, you can easily clear $2000 a month working part-time selling candles. The sky is the limit!
How much does it cost to make and sell candles?
If you want to start a candle making business at home, it's important to understand the various costs associated with running one.
It can be difficult to set up and maintain an effective candle-making business if you haven't researched the market and chosen a niche.
The first step is figuring out what kind of market you are going to target.
The luxury candle segment is really lucrative with candles selling for over $100 in some cases but they will require top-notch supplies and processes.
The more affordable segment focuses on easy to get supplies with a twist, think cute labels and shapes to stand ou
How to make money selling candles from your home
There are many ways you can make a profit.
For example, if you don't want to sell wholesale, then find a niche market.
Maybe you're a "mom candle" kind of person who sells candles with labels that say, "MOM".
Or are you more of an artist who wants to have fun with different scents, labels and containers?
No matter what you decide to do, the easiest way to get started is by learning to make your own candles then experimenting with scents and labels until you have a winner!
Good luck!
More Home-based Business Ideas
Making and Selling Jewelry Successfully- How To Get Started
How To Start A Dog Treat Business {in 6 Easy Steps)
451 Most Profitable Crafts To Sell