If you want to start an Etsy business. , one of the most important things to consider is how to name your Etsy shop. Your Etsy store name will be your brand and you need it to be memorable and searchable to draw your clients in and make them coming back for more.
There are many factors to consider when choosing a name for your store, from the products you sell to the ease of promoting it on social media.
Even if you are in a rush to get your Etsy shop up and running, it's important to take some time to choose a great name that you love now and will still love in 5 years time.
Read on for some top tips to consider when choosing your Etsy shop name plus some inspirational names to get you going.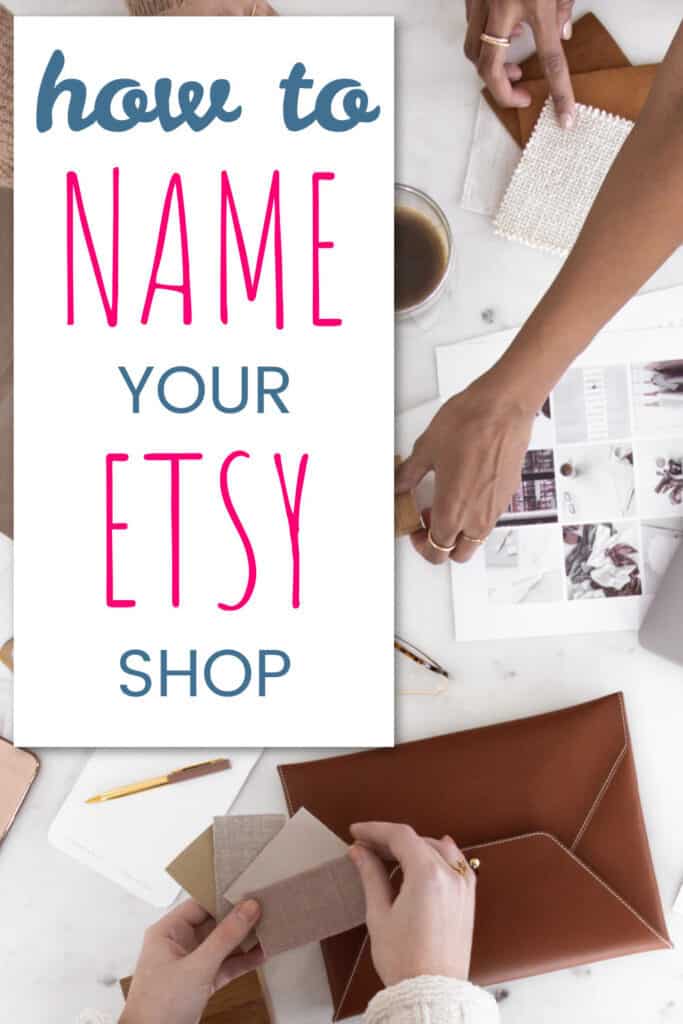 This post may contain affiliate links. Please read my Disclosure for more information.
RELATED POSTS
How To Name Your Etsy Store
Once you are ready to set up your Etsy store, you can start planning things like branding and name. Note that you can't open an Etsy store without adding at least one listing to your store so make sure you have products ready to go.
Open your Etsy store here and get 10 free listing to start you off.
There are a few things you really need to look at before you settle on an awesome Etsy store name.
Don't get your heart set on a name before you go through this list, it might seem annoying but in the long term you shop will have more chance of success.
Remember that you want a name that is memorable and easy to say/spell.
Think about it like this, imagine you sell beautiful scarves. One of your customers wear it to work and everyone is asking where she bought it.
Here is your opportunity for more sales!
But if your Etsy shop name is completely forgettable, they will probably just say, "Oh I got it from Etsy, can't remember the shop's name".
Make your Etsy shop name unforgettable
Etsy Shop Name Availability
First of all you need to do a Etsy shop name search to make sure that whatever name you have chosen has not already been used. This should be your first step every time you find a name that might work.
Even if the name was used by a shop that is now closed, you will not be able to use that name. Etsy will not let you register a store with a name that was used in the past.
So if you have a special name in mind, do the search ASAP before you get disappointed further down the road.
Brainstorming an Etsy Shop Name
Here are some ways to get your creative juices flowing:
Choose An Etsy Shop Name Based On Niche
This is the most logical way to choose your Etsy store name. If you are selling handmade soap for example, consider weaving the word soap into the shop name somehow.
This is the ideal way to name your Etsy shop because it will help people searching to know exactly what you sell and also highlight that you are a specialist in that field.
Here is a cute example, the shop name is "SoapBotanist" which tells you exactly what they sell and the kind of soap they have.
It will also help your Etsy Shop SEO (search engine optimization) because if someone searches Etsy + succulents, you have more chance of coming up in the results.
Use your name or someone else's name
This is a really common way to name an Etsy Shop. You could use your name, your kid's name or even your grandmother's maiden name.
It adds to the handmade feel of your Etsy shop and appeals to those buyers who like to support small businesses (which is most Etsy buyers)
Of course you can combine your niche and your name to come up with a unique Etsy shop name as long as no-one else has used it.
Here is a shop name that includes both the niche and a name: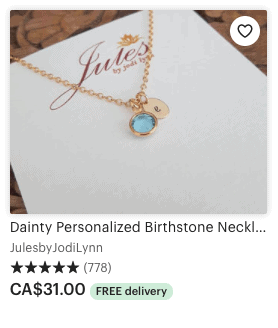 Look at Existing Etsy Shops
Obviously don't copy someone else but you can get some inspiration from your competitors or even shops in different niches.
It is always a good practice to check out other shops in your niche anyway so market research should be part of your process in choosing your name.
Use an Etsy Shop Names Generator
If you are really struggling to come up with a cool name, there is help at hand.
You can plug in your niche and some other details and let an Etsy shop name generator do the work for you.
Here is a popular business name generator:
Shopify Business Name Generator
What To do Once You Have Found The Perfect Etsy Stop Name
Social Media Handles
So you have found the perfect Etsy shop name and it's available? Great but hold your horses. Before you register the name, you need to check the shop name availability in a few other places.
You will want to create social media handles for your store so you can promote it on Instagram, Pinterest, Twitter and Facebook.
Do some searches for your store name and if it is available, then go ahead and grab the social handles ASAP. If possible, avoid having to add "shop" or "store" or any other superfluous words to your shop name.
Also make sure that your Etsy shop name is not too long, every social platform has different limited for handle names:
Etsy: No more than 20 characters long, no spaces.
Pinterest: Your username can be 3-30 characters, and can't have spaces, symbols or punctuation
Twitter: 15 characters maximum
Instagram: No more than 30 characters long
Facebook: No more than 50 characters long
Domain Name
The last step is to register your domain name (your www. name)
While it is true that you will be selling mainly on Etsy, it really is a good business practice to also have your own website.
Many customers will want to check our your website and it will help with Google SEO plus social media promotion. You can direct any perspective buyers to your Etsy shop so it is another way to get clients.
Make sure your chosen domain name is available and then register it. You can do this pretty cheap and then for a little bit more $3 a month, you can purchase hosting for your site.
I use Bluehost as you get a free domain name when you purchase their hosting and it is really affordable.
You can also use their site to search and see which domain names are available for free.
Of course, once you have your domain name, you can make a website for your Etsy Store. That way you will get even more sales.
Can I change My Shop Name on Etsy?
If you choose a name and then regret it down the road, are you able to change it? Yes, you can change it but only one time.
To change your Etsy store name, go to Settings, Info and Appearance.
Be warned: you can only change your Etsy store name one time. If you want to change it again, you will need to appeal to Etsy and see if they approve the change.
Should I Trademark My Etsy Shop?
You don't have to trademark your name but it is always a good idea, especially once you start making some money and have a website too.
If you are in the USA, check out the United States Patent and Trademark site for the process.
In Canada, you can check out the information at Canada.ca
More Tips For Starting Your Etsy Shop
How To Start An Etsy Store Successfully
10 Best Things To Sell On Etsy To Make Money