Are you interested in a growing passive income from home? Use this list of the best selling printables on Etsy to get started this week!
Printables are so hot right now and its the perfect time to jump aboard the gravy train and get a piece of the action.
Selling digital downloads on Etsy is not only fun, but it can help you build the life of your dreams.
Etsy is a true mecca for selling all kinds of printables but deciding what to make is the hardest part.
In this article we will look at the top 50+ best selling digital downloads on Etsy so you know exactly what will work and what won't.
The Best Selling Printables On Etsy
Calendars
Coloring Pages
Greeting Cards
Baby Shower Games
Halloween Printables
Bookmarks
Thank You Cards
Stickers
Habit Trackers
Grocery Lists
Letters To Santa
Paint By Numbers
Day Planners
Gift Tags
Paper Dolls
Meal Planners
Bridal Shower Games
Valentine's Day Printables
Christmas Printables
Budget Planners
Preschool Printables
Wall Art
Weight Loss Trackers
Gift Certificates
Wedding Invitations
Mother Day Printables
Wedding Planners
Scavenger Hunts
Bible Study Printables
Bachelorette Party Games
Motivational Quotes
Father's Day Cards
Affirmation Cards
Fitness Planners
Chore Charts
Placemats
Party Decorations
Cash Envelope printables
Mindfulness journals
Gratitude Journals
To-Do Lists
Bill Trackers
Cleaning Charts
Pregnancy Announcements
Birth Announcements
Wine Labels
Homeschool Printables
Save The Date Cards
Wedding Decor
Nursery Art
Recipe Cards
Is It Worth Selling Printables On Etsy?
The passive income you can make with an Etsy printables business is crazy.
I think this is one of the best side hustles I've seen to-date. Once you create the printable or digital download, there's not much extra work needed (unlike selling physical products). You could sell 100+ copies of your design with no packing, shipping, or delivery needed.
First of all, let's actually talk about what printables are. It might seem obvious but printables are anything that you can print out at home or at an office supplies store then use.
People love printables because they can buy them and get them instantly.
Before printables were a thing, you would make an order then wait for your item to ship but now you can buy the digital file and print it out whenever you want and as many times as you want.
Printables are perfect for last minute shoppers, for people on a budget and for anyone who has a printer and knows how to use it!
Why This List of Printable ideas to sell?
I've spoken before about how exactly to make printables to sell on Etsy and also how to start up your own Etsy printables business but a lot of people get stuck on what exactly to make for quick sales.
When I first started thinking about selling printables on my own Etsy store, I took an amazing Etsy printables course called E-Printables Side Hustle Course that really helped me to understand what to do.
One thing that is included in the course is access to a VIP Facebook group and I've noticed that many people struggle with working out exactly what printables to sell online.
That's why I researched and created this list of the best selling printables on Etsy so you can easily see the kinds of printables that people are searching for and buying right now.
By the way, if you want to check out the Etsy printables course, you can read my in depth Gold City Ventures Course review here.
What Are The Most Popular Printables On Etsy?
Most Etsy printables experts will tell you to niche down your store.
It can be tempting to make one of everything on this list of the top 50 best selling Etsy printables.
However, you will build your brand better and get more sales in the long run if you focus on one or two types of printables.
Of course, you don't need to focus on one tiny product but choosing a specific category such as weddings or wall art can really help.
Another thing to consider is seasonality.
There are two main types of printables you can make:
Seasonal Printables
These printables are only popular at certain types of the year but when they are popular, they are crazy good sellers.
Obvious examples of seasonal printables are Christmas cards or 4th of July Party printables but there are other products that do especially well at certain times of year.
For example, although people buy budget planners year round, January is typically the best time to sell this kind of printable as everyone is trying to get their finances back on track after the holidays.
The same goes for fitness planners and habit trackers in general.
Evergreen Printables
On the other hand, evergreen printables are not seasonal.
They are printables that attract buyers all year round and are really good for making sure your Etsy shop is not a one hit wonder that only comes alive once or twice a year.
Examples of evergreen printables to sell on Etsy include birth announcements, birthday party decorations and homeschooling printables.
To create an Etsy printables shop that makes you money all year, its best to have a solid mix of both evergreen and seasonal products in your store.
Even if you choose a niche, let's say, weddings, you can still create seasonal products within that niche. Christmas weddings will probably demand more festive invitations and decor than your regular wedding invitations, for example.
So while it is important to pick a niche, consider the seasonality of your Etsy printables shop too.
Once you have decided that, its time to look at the best products to sell within your niche or category. Below we will go through each of the 50 best selling Etsy printables category by category.
Best Selling Printables On Etsy by Niche
Below are the best selling printables on Etsy in all the most popular categories of digital downloads.
Planners, Journals and Trackers
Seasonal Products
Products for children
Weddings
Parties and Life Events
Art and Giftable Items
Planners, Journals and trackers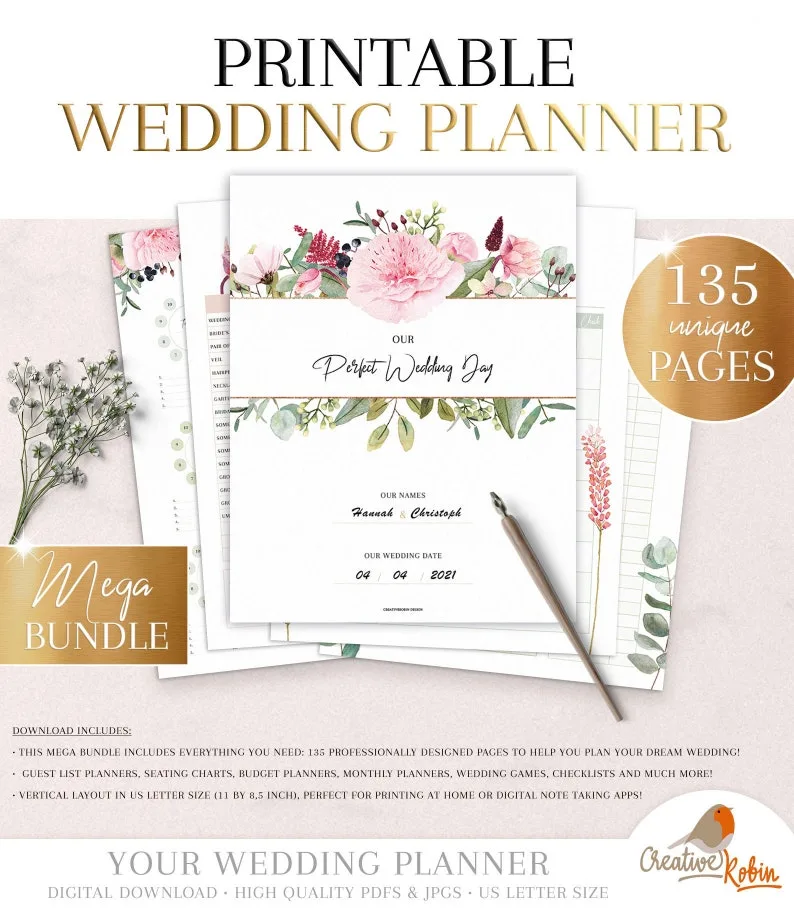 Planners and journals are perennial favorites in the world of printables.
In fact, making journals to sell on Etsy is one of the top work-from-home jobs right now.
Consider the following products that sell like hotcakes
1. Planners
From large weekly planners you can stick on the fridge to daily and yearly planners, this is a niche that has endless possibilities.
2. Printable Monthly Calendars
The great thing about creating these kinds of digital downloads is that you can make one basic planner or journal and then work from it to create lots of different variations.
The same works for trackers.
If you spend the time making one really great fitness tracker, it probably won't take you too long to transform it into a fantastic water intake habit tracker.
Now you have two easy products to sell in your Etsy shop.
If you sell planners, make sure to consider adding planner stickers to your shop too.
5. Planner Stickers
Stickers are the one of the best selling printables on Etsy.
I had no idea that people even bought printable planner stickers until I took a free online course by Mim Jenkinson.
Most people who are into journalling or using a planner like to use cute stickers to go with them and Mim has created an entire Etsy empire selling downloadable stickers in her store.
Journals
Journals can take all kinds of forms, from printable bullet journals which are really hot to niche journals for certain hobbies or life stages such as pregnancy journals or baby journals.
Trackers
Habit trackers can easily be made using a free program such as Canva and you can create a whole business selling all different kinds of trackers and lists.
Anything that can help people stay on track with new habits and goals can be turned into a tracker or list that you can sell as a printable on Etsy.
Here are some of the most popular:
9. Habit Trackers (self-care, skincare, water intake, etc).
10. Grocery Lists
11. Meal Planners
14. Cleaning Charts
Financial Printables
Another huge seller in the realm of trackers and journals are financial printables. Things like debt pay-off trackers and savings planners are all hot, especially in January.
17. Budget Planners
Seasonal Printables
Although some people shy away from selling seasonal printables because they are worried it will result in too much of a feast or famine situation, if you create enough seasonal products for the whole year, you can create a constant stream of income.
The best thing to do is make a list of all the holidays and special events you can think of and go from there.
You might be surprised that there is something to celebrate almost every month of the year, from Valentine's to Halloween.
If you want lots of seasonal printable ideas, make sure to download this free ebook from my friend Julie who runs a successful printables business on Etsy.
Christmas and Holiday Printables
There is not bigger event in the year than the holidays and it is typically the busiest time for many Etsy printables sellers.
Consider the following Christmas printable ideas:
19. Letters To Santa
20. Gift Tags
Other holidays have lots of printable opportunities for you too:
22. Valentine's Day Printables
For Valentine's Day think of products such as love coupons, hot chocolate bomb gift tags and of course, cute printable Valentine's Day cards.
There are lots of awesome Halloween printables you can design such as Trick or treat cards and signs and party decor. Games and scavenger hunts are another big seller.
26. Scavenger Hunts
Printable scavenger hunts are popular in every season and can be made for both adults and kids alike.
27. Placemats
This is a new product that I just discovered, printable placemats are great for Thanksgiving and other holidays to keep the kids entertained while the adults cook or socialize.
Products For Children
There are so many fantastic printables for children that you can create and sell on Etsy.
Some of these are a complete niche in themselves and can make you a lot of income passively.
Teachers and daycares are always looking for fun printables that they can print off for the class and keep them busy.
28. Coloring Pages
Seasonal coloring pages always do well but also consider coloring sheets around various popular learning themes such as fall, the environment and historical figures. Read my guide onHow To Sell Coloring Pages On Etsyfor more information.
29. Paint By Number Printables
Who doesn't love a paint by number? You can create these sheets for both adults and kids.
30. Paper Dolls
I was surprised to find these on the best selling printables on Etsy list but in fact they are pretty hot sellers and easy to make!
Mazes, word searches, scissor practise sheets and more are all examples of fun preschool printables that sell really well on Etsy.
At my church, we use printables every single week to keep the kids entertained.
From cute cut-out crafts to crosswords and coloring sheets, this is one niche that does really well on Etsy.
Similar to preschool printables, homeschool moms and dads are always looking for new material to keep the kids motivated in class.
34. Chore Charts
I actually just bought one of a printable chore chart on Etsy to put on the fridge.
They are super easy to make in Canva and you can sell each one for a few dollars.
Weddings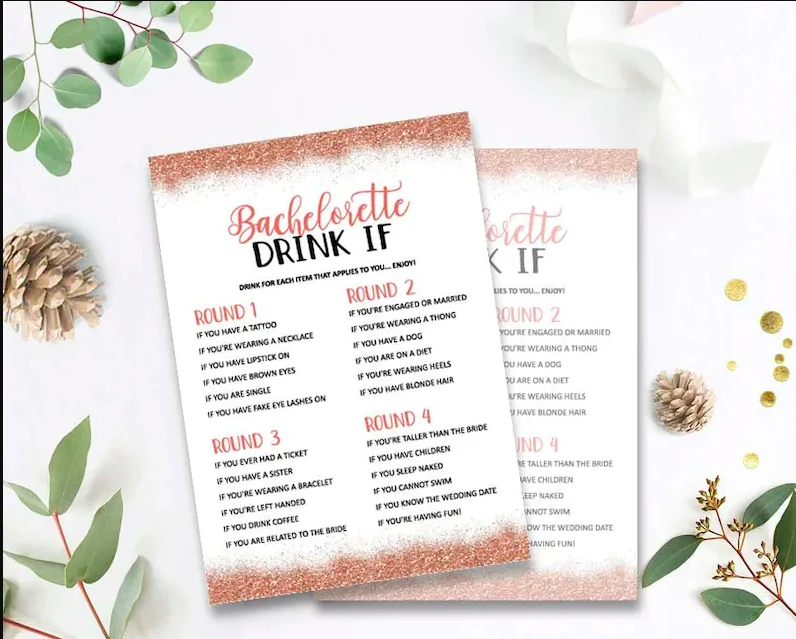 Weddings are one of Etsy's most popular categories and many brides look to the site for all their wedding decor needs.
Many wedding printables are editable and customizable with dates and names – these can easily be created on a program such as Corij and can be sold at a premium.
When you consider printables in the wedding niche, don't overlook the surrounding events such as bachelorette parties, bridal showers and rehearsal dinners.
These all require invites and decor and can be a huge source of income if you can create matching sets that cover all the wedding events.
The options for wedding printables are really limitless but here are some of the bestsellers:
Printable wedding invitations are great for brides on a budget. You can offer editable versions or you can customize the invitations yourself to provide great service.
If you are interested in this niche make sure to read my article that will show you How To Start An Invitation Business On Etsy.
36. Wedding Decor
Everything from table numbers, ceremony programs and menus can all be sold on printable format on Etsy.
Other ideas include:
Drinks menus
Guest book signs
Seating Charts
Place Cards
Wedding Favor tags
Etsy is a really popular place to look for printable party games and bridal showers are no exception. If you can offer customizable versions, you will really set yourself apart from your competition.
Many couples like to send out Save The Date cards well in advance of their wedding and if you create beautiful cards, you can set yourself up for return business.
I know an Etsy seller who exclusively sells printable games for bachelorette parties and she makes a killing. From scavenger hunts to bingo games, there are lots of options.
40. Thank You Cards
Most couples want matching thank you cards that go with their wedding theme and if you sell thank you cards in addition to invitations, you can double your sales easily.
You can also consider selling bundles of wedding printables that contain everything the couple needs in terms of invitations, save the dates and thank you cards all in the same theme.
Parties and Life Events
Moving on from weddings, there are lots of other occasions that call for printable items such as invitations, decor and party games.
From birthdays to graduations and anniversaries, there are lots of year round opportunities to create and sell printables on Etsy.
Party decorations such as cupcake toppers, banners and menus are all great printables that you can make and sell on Etsy.
You can sell a bundle of party decorations including:
Banners
Food Labels
Menus
Signs
Invitations
Thank You Cards
Cupcake toppers
Water bottle labels
Lots of couples look for printable pregnancy announcements on Etsy so they can take photos of them and upload them to social media or surprise friends and family with their news.
Just like bridal showers, baby showers are always packed with fun games for everyone to play.
Printable game packs are one of the best selling printables on Etsy and these are one of the best DIY baby items to make and sell.
They make the host's life easy because all the games are done and ready to print plus they make the party look pretty and cohesive for a low price.
Printable birth announcements and newborn signs are another one of those things that could make a whole Etsy store.
They are a great evergreen product that you can make and sell in lots of different themes and colors.
Art and Giftable Items
One of the first printables that gained popularity on Etsy was printable wall art with quirky sayings and fun quotes.
This kind of printable wall art is still really popular and a great way to make money selling printables on Etsy is by building up an inventory of fun printable home decor.
45. Wall Art
From watercolor printables to sassy sayings, the World is really your oyster when it comes to creating printable art work that sells on Etsy.
If you are artsy, you can create designs on an app like Procreate and go from there otherwise, you can use Canva to create pretty artwork in minutes using clipart and fun fonts (make sure to check the commercial license of any elements you use).
Posters featuring quotes and inspirational sayings are really easy printables to make and sell.
Plus they are super trendy right now and some of the best selling printables on Etsy this year.
47. Nursery Art
This sub-niche is really popular and not too competitive making it a great side hustle for artists.
If you can offer personalized artwork with the child's name then you are sure to be a success.
As a spin-off from the motivational quotes, you can create cute affirmation cards that people can put in their wallets on hang on their fridges.
Giftable Printables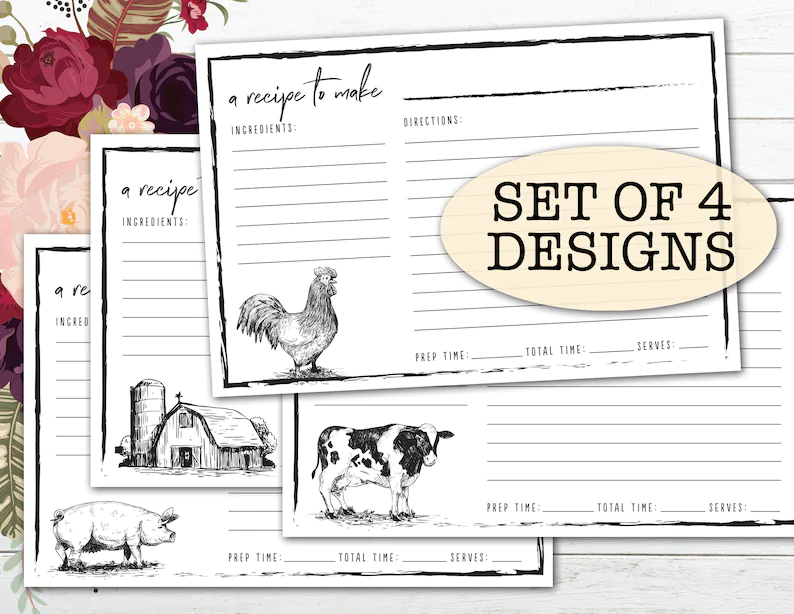 Another type of printable that sells really well are giftable items such as wine labels and signs.
Consider the following best selling printables:
49. Recipe Cards
Recipes make a great gift especially if people are looking for an heirloom gift idea. You can sell printable recipe cards in different designs and themes.
50. Wine Labels
Printable wine labels are a really hot seller on Etsy because they are so easy to make and are perfect for gifts.
People also like to use them for engagement announcements and occasions such as asking someone to be a bridesmaid.
51. Bookmarks
If you are considering selling printable artwork on Etsy, you should add bookmarks to your store too.
Printable bookmarks in the same designs as your artwork are a really way to upsell customers and get more sales.
Best Selling Printables on Etsy FAQ
How Much Does It Cost To Sell Printables On Etsy?
So here is the good news.
After the initial outlay of Canva (which is free but I recommend springing for the premium version if you can), and maybe some clipart if you need it, expenses are low with an Etsy Printables Business.
To list an item on Etsy, it will cost you $0.20 per listing and then 5% of your transaction for every sale you make.
To help you save a bit of cash, if you open your Etsy store with this special link, you will get 40 free listings to start you off.
Make sure to factor these costs into your pricing when you are listing your Etsy printables.
Where Is the Best Place To Sell Printables?
Etsy is a great place to sell printables because you can tap into almost 40m active buyers on Etsy Worldwide.
Selling printables is fantastic because you can tap into an international market without worrying about shipping or customs duties.
Etsy customers are often ready to buy and know what they want so if you can fulfil their need, it is pretty easy to get started and make some sales.
How Much Money Can I Make Selling Printables On Etsy?
It is not unheard of for Etsy printables sellers to make 6 figures with their stores.
The nice thing about selling printables on Etsy versus other physicial products is that this is a completely passive way to make income.
You can sell the same product over and over again without every touching it after the first time you make it.
For example, my friend Julie who created the Etsy printables course I mentioned above, made over $1000 last month with her Etsy printables store and she hasn't even created a new product in 6 months!
Her products are all in the wedding/bachelor party niche and she has some items that have made her over $1500 and they only took an hour or two to make!
Julie also has a free e-book of hot-selling seasonal printables to give you some ideas on what to make for holidays and special events. You can download the free ebook here.
Are Printables and Digital Downloads The Same Thing?
Not exactly. Although some people use the terms interchangeably, printables are normally printed before use.
Whereas digital downloads may or may not be printed out.
Digital downloads are typically files that can be manipulated online and used on a computer without the need to be printed out.
Examples of best selling digital downloads include:
If you want to know more about selling digital downloads, you can read this post on How To Create Digital Downloads To Sell.
What About Selling Printables On Amazon?
Amazon is a great place to sell printables because of the massive audience that you can reach.
The other nice thing is that Amazon will do everything except create your product.
They will market them for you, print them out, ship them to your buyer and deal with all the payments and customer service.
If you are creating printables to sell on Etsy, then you should definitely consider also listing the for sale on Amazon. To get started selling your printable products on Amazon, you will need to create an Amazon KDP account and upload your products.
You can follow my step by step guide to selling on Amazon here.
How To Start Selling Printables on Etsy
If you are interested in selling printables on Etsy, make sure to first check out my tutorial on how to start an Etsy store successfully.
Next, you can read my other posts on how to sell printables on Etsy:
How To Make Money Selling Printables On Etsy
Gold City Ventures Reviews – E-Printables Course Review
How To Make Money Selling Stickers On Etsy
5 Steps To Your Own Etsy Printables Business {Ultimate Guide}