Do you have a spare bedroom or house and are looking for a way to make some extra money? Or do you want to help someone else in need and make some great friends in the process?
Foreign exchange students are a great opportunity for both of these things!
In this article we will show you how to get paid to host a foreign exchange student and what you need to consider.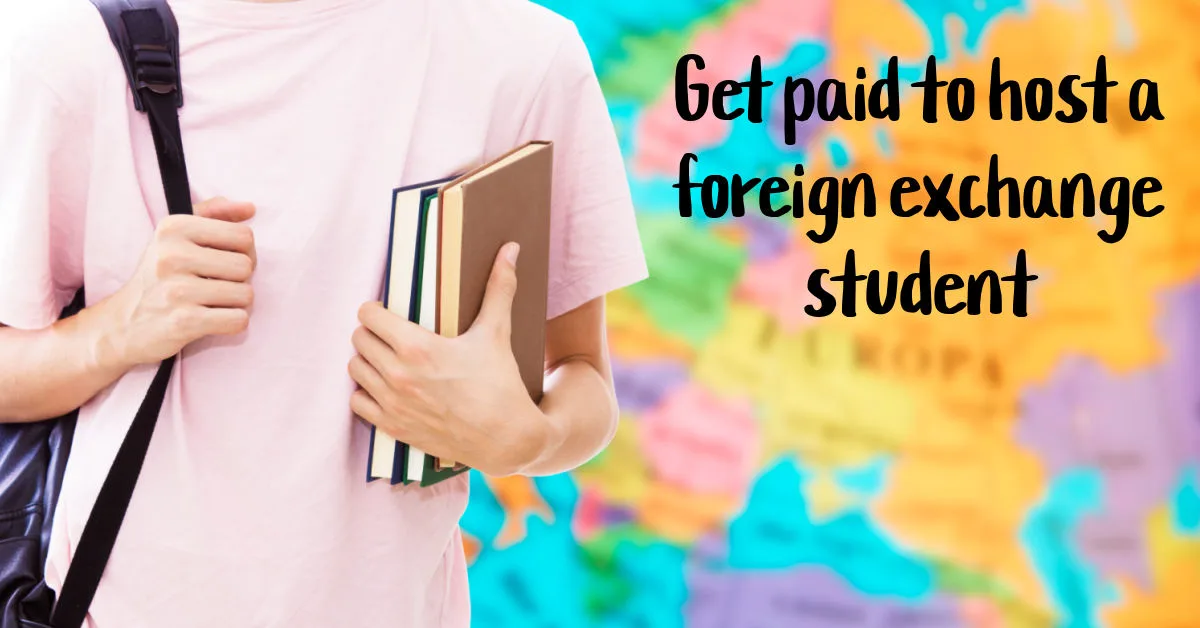 This post may contain affiliate links. Please read my Disclosure for more information
MORE FUN MONEY MAKING IDEAS
How To Make Money On Teachers Pay Teachers
The Art Side Hustle: 53 Ways To Make Money As An Artist
What is a foreign exchange student?
A foreign exchange student is a student who is temporarily living in a foreign country as part of an educational exchange program.
In order to improve their language skills and learn more about the host country, many choose to live with a family.
Why Host A Student In Your Home?
There are plenty of reasons to billet a foreign student in your home.
You can open up yourself and your family to a new culture, do your part in helping someone adjust to an unfamiliar setting, and potentially build a friendship that lasts a lifetime. And of course, you can get paid to host a foreign exchange student which makes it even more appealing!
The experience of inviting a foreign exchange student to stay with you for a semester or year can be enriching for your entire family, including your children.
If you're interested in learning more about what it takes to host a foreign exchange student, you've come to the right place!
Through this article, we will answer some of the most frequently asked questions about hosting a foreign exchange student, including how much you will be compensated, what the requirements are, how to get started, and more.
How Much Do You Get Paid for Hosting Foreign Exchange Students?
Hosting a student from another country can be a great way to learn about their culture and meet new people.
Plus, it can be a lucrative opportunity – with average earnings of $1,000 per student, being a host can be a lucrative way to make some extra money.
Some people are surprised to find out that you do indeed get paid to host a foreign exchange student at your house.
If you're hosting a foreign exchange student in the United States, you can expect to get paid up to $1,500 per month.
Of course, this income comes with some additional obligations, such as ensuring that the student has meals and transportation to get to class and extra-curricular activities.
In addition to the extra income, the IRS offers you a tax deduction of 50 dollars per month for hosting a foreign exchange student.
If you are hosting a college student in your home who is over 18, you can also expect to earn a bit of extra income.
Most people can expect to make anywhere from $500 to $1,000 a month for hosting a student over eighteen years old.
If your agreement includes providing meals, you can expect to earn a bit more.
Requirements to Host a Foreign Exchange Student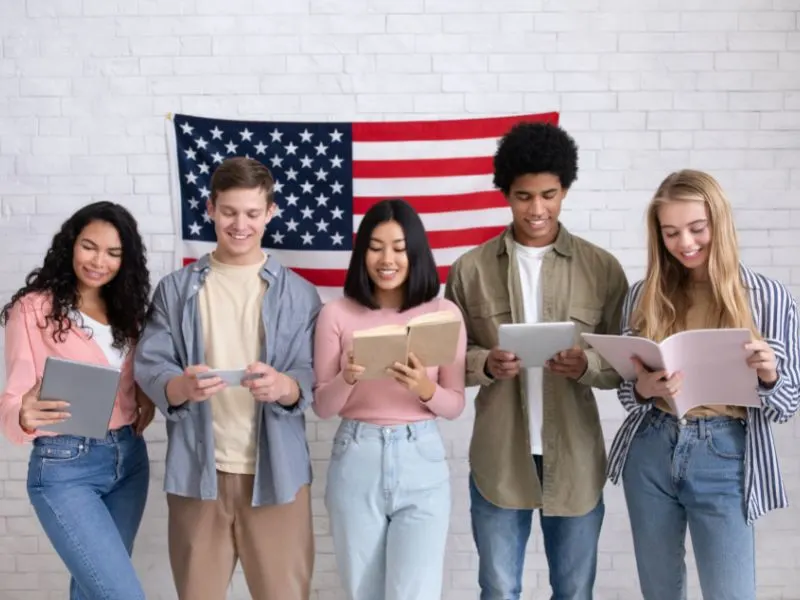 When it comes to hosting a foreign exchange student, the most important thing for you to consider is whether or not you are ready to host students in your home.
You'll need to have the following:
Clean welcoming home
A private room for the student
Proximity to schools and amenities
The willingness to care and feed for a teenager
You may also need to provide transportation as required
You'll need to keep a clean home and provide adequate space for the student who will be staying with you.
Providing a private bedroom for the student is a must for anyone who is looking at hosting a foreign exchange student.
You will also want to make sure that the student has enough storage space for all of their belongings during their extended stay with your family.
Other important factors to consider are the location of your home and how far away you are from schools and other activities that a student may want to experience during their time in the United States.
Although it is not a requirement that you live within a certain distance of the school they will be attending, being within close proximity can add value to the student's experience abroad.
You will also neded to provide adequate care to the student during their stay with you.
This includes ensuring that the student has access to three meals a day throughout their stay.
Sit-down meals with your family and the host student are great so that you can participate in sharing cultures with one another.
Remember, your host student is a guest in your home. Ideally, you will treat them as one of the family for the duration of their stay, regardless whether you are doing it for extra income or not.
At the same time, part of hosting an enriching and authentic experience for the student is allowing them free time to travel, socialize, and participate in other activities.
Pros and Cons of Hosting a Foreign Exchange Student
Hosting a foreign exchange student in your home is a rewarding and challenging experience.
Some of the benefits of hosting a foreign exchange student include:
Learning about another culture
Making new friends from around the world
Giving back to your community
Helping a young person achieve an aspiration of studying in your country
Earning additional income without getting a second job
If you have children, a foreign student can be a fun and educational experience for them
Like any rewarding experience, you will face challenges when it comes to hosting a foreign exchange student.
Hosting a student in your home is a huge commitment.
Most exchange programs last from four to ten months.
Supporting the student when they are feeling homesick or if they are having trouble making new friends.
Another potential challenge that you will face is having additional expenses while another person is living in your home.
You will need to adjust things such as the grocery budget and factor in additional utilities.
Best Student Exchange Programs for Host Families
There are plenty of options available when it comes to choosing a student exchange program.
Here are some of the top recommendations that offer enriching experiences for you and a potential foreign exchange student.
I recommend researching all available programs to find a good fit for your family.
This unique program provides students with the opportunity to live with an American family while they further their education.
Through the PIA Homestay Program, students will get familiar with American life, improve their English, and take part in cultural exchanges with their friends and host family.
Host families that qualify for this program are located close to campus and can provide a comfortable, clean home.
Academic Year in America helps support students' dreams of studying in America and has been doing so since Robert F. Kennedy founded it in 1981.
This not-for-profit organization ensures an enriching experience for everyone by pairing students with host families who suit their needs and lifestyle preferences.
They work with over 45 different countries and offer a 24-hour support hotline to provide support or assistance as needed.
Since 1991, International Cultural Exchange Services has been helping pair host students and families together.
This program focuses on enriching cultural experiences and broadening perspectives for both the student and the host family.
As a host family, you will provide the student with meals and room and board.
The student is responsible for additional expenses and spending money.
Other Places To Find Foreign Exchange Programs
In addition to contacting the agencies above, there are other options if you want to get paid to host a foreign exchange student.
First of all, you can contact local schools and your city council as they may organize exchanges.
Secondly, sports associations are often looking for families to billet young athletes who need to train away from home. Football, hockey and figure skating are all sports that often use host families for young athletes.
How to Get Started Hosting Foreign Exchange Students
Once you have determined that you and your family are ready to host a foreign exchange student with an enriching experience abroad, it's time to do some research.
This is important because different programs will have different requirements and expectations.
After you have found a program, you will need to apply to become a host family.
The application process varies from program to program. Many will include an in-home interview to ensure that you can provide the necessary accommodations.
The general steps to become a host family look like this:
Contact your local school or exchange program
Fill out an application and provide references
Complete a home study visit
Host the student for at least 10 weeks
Get Paid To Host An Exchange Student: FAQS
Do you get paid to host an exchange student?
Hosting an exchange student can be a great way to learn more about a new culture, make new friends, and make money. Families that host students can expect to receive $500-$1000 per month, depending on the country of origin and other factors.
In addition to the monthly stipend, families are also often provided a few weeks of training.
Can a single person host a foreign exchange student?
Yes, single parents and individuals who live alone are more than welcome to host a foreign exchange student. All kinds of families are welcome to act as hosts, from empty nesters to families with kids.