Do you want to learn how to make money on Teachers Pay Teachers?
This resource-sharing site allows teachers to buy pre-made lessons and other resources, from other teachers.
TpT is a great place to start if you want to make money on the side as a teacher as you may already have teaching resources that you can sell yourself.
In this easy step-by-step guide we will show you how to sell on Teachers Pay Teachers and turn what you already know into a side hustle.
We will look at:
How To Choose The Right Product
Tips For Creating Products
Getting Set Up and Starting To Sell
How To Increase Your Profits on Teachers Pay Teachers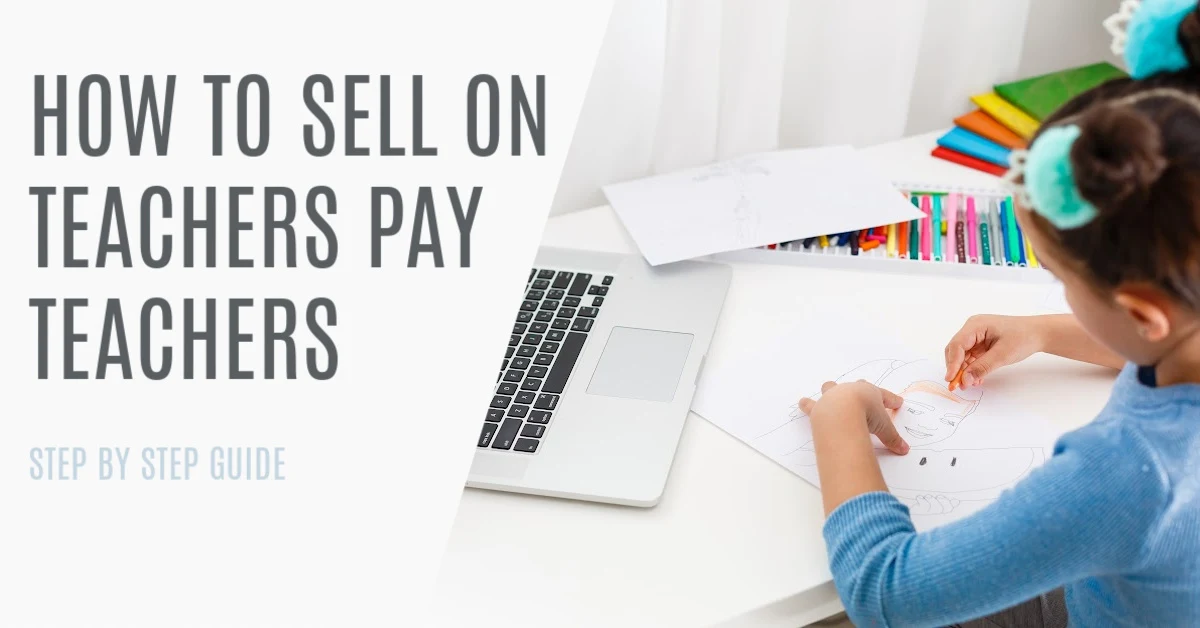 This post contains affiliate links. Please read my Disclosure for more information
MORE WAYS FOR TEACHERS TO MAKE MONEY
15 Best Summer Jobs For Teachers To Make Money
How To Make Money On Teachers Pay Teachers
Selling on TPT can be really lucrative once you know what to make and how to make it.
It can be a really good way for teachers to make extra cash but anyone can do it. In fact, it is one of the best ways to make money in grad school.
In this guide we will take you step by step through everything you need to know to start a really successful Teachers Pay Teachers store.
What Is Teachers Pay Teachers?
Teachers Pay Teachers is an online marketplace for teachers to sell share, and buy original educational resources, created by other teachers.
The founder of TpT, Paul Edelman, is a public school teachers from NYC who understand what works in the classroom.
In 2006, he decided to create an online marketplace where teachers can find inspiration, collaboration, and essential resources and TPT was born.
More than 7 million educators use TpT each year to share their learning materials with the world.
About 1 billion resources have been downloaded from the platform in recent years and at any given time, there are over 5 million resources available on the platform.
How To Sell On Teachers Pay Teachers – Step by Step Guide
Step 1: Choosing The Right Product
Without the right product, you won't have any sales on TPT. It may seem obvious but so many people go crazy making a bunch of products then wonder why they have no sales after a month.
The first step to selling on Teachers Pay Teachers is finding products that you would use and thinking how you could improve on them, make them for different grade levels or expand on them.
You are your own customer when it comes to TPT so consider the kinds of educational resources you need in the classroom and make those then sell them!
You don't want to copy other sellers but you can look at what is already selling for inspiration.
One way to see what products sell well is to look at the bestselling items on the site.
Luckily for us, Teachers Pay Teachers actually publishes lists of the weekly bestsellers so you can see how seasonal trends play out too.
What Kinds of Products Sell Well On Teachers Pay Teachers?
Nearly all the best selling products on TPT are digital printables. These are normally PDF files that the buyer can download and print for their classroom.
I've written a lot about selling printables on Etsy and Teachers Pay Teachers is very similar.
Here are 10 bestselling products to sell on Teachers Pay Teachers:
Clipart
Posters for classrooms
Google slide templates
Color By Number sheets
Writing practice sheets
Worksheets
Activity Books
Test Questions
Sheet Music
Book Reviews and Questions
Consider what you have expertise in and what you can make easily to sell on the site. If you work with what you already know, it will be much easier to make a bunch of products that make money.
How To Create Products To Sell On Teachers Pay Teachers
Your product should be professional looking and attractive so it is important to spend time learning how to make products on TPT. If your product that doesn't have an attractive design, it is not likely to succeed as it will not stand out from the other products that are vying for sales also.
In order to make great products that sell well, you will need a few different things beyond clipart.
A design software program (free or paid)
Fonts and graphics for your designs
A printer for testing out your designs
What Software and Tools Do Need To Sell On TPT?
Many people including myself uses Canva for software to create printables such as planners, trackers and artwork but there are lots of other software programs to use, some of which are free.
Depending on the kinds of printable you decide to make, you might want more than one kind of software.
Here are my top choices:
Canva (free or $12.99 a month for the Pro version)
Canva is the number 1 choice for people who run a printables business because it is so easy to use.
Why I love Canva:
It is free to use and also includes lots of free elements (graphics, fonts.
The pro version is not too expensive and will allow you to download PNGs with a transparent background and create folders of your designs.
Google Sheets, Documents and Slides – Free
If you plan on making digital downloads such as writing practice sheets, tests and simple worksheets, you might be able to get away with using a free program such as Google Sheets and docs.
There are lots of successful Etsy printables shop owners who use these programs exclusively.
Procreate is an app for the iPad that will let you create all kinds of designs. You can use it to create clipart.
Graphics and Fonts For Your Teachers Pay Teachers Business
Don't create a product without first learning the basics of copyright and intellectual property. You will need to buy a commercial license for graphics and fonts so that you can use them in your store.
It's important to get proper copyright licenses for any of the designs you want to sell, especially if these items are digital based like graphics and fonts.
Here are my top pick for finding high quality artwork and fonts:
Creative Fabrica
I love Creative Fabrica because it allows you to purchase a Print on Demand license for many graphics which means that you can use them in your products without changing them.
Often the print on demand license is just a few dollars more than the regular license so it is worth buying.
Creative Fabrica has fantastic bundles on sale all the time, they are definitely worth checking out. You should also check out their free section as there are often great graphics and fonts there too!
Canva
Canva is handy because chances are, you are already inside the program using it to make your printables.
On Canva, you can use clipart and fonts that are FREE to use for commercial use.
This includes most of their graphics and some of the fonts. If you have Pro, you may not use the graphics marked as Pro in your TPT items.
I know this sounds completely wrong but there is no typo in the above.
Paying for the pro plan does not give you permission to use the Pro images or fonts in commercial use products.
The only catch with the free graphics is that you can only use altered graphics and media:
From the Canva website:
Unaltered vs altered media
By using content in a design or a composition, you're creating something unique – once you do, there are very few restrictions on what you can do with your creations. Go wild!
However, unaltered media has restrictions – it can only be used in up to 800×600 (or 600×800) pixel dimensions and it can't be sold or printed on products or merchandise.
The Hungry Jpeg
The Hungry Jpeg. offers lots of great value bundles of graphics, fonts and illustrations for great prices.
They also have a weekly freebie (sometimes a font, sometimes graphics) that includes a complete commercial license that you can use on products for sale – check out this weeks freebie here.
Creative Market
Creative Market is another great place to source fonts and graphics for your digital products.
Make sure to purchase the commercial license if you are planning on using the item in your store.
Step 2: Setting Up Your Shop
How To Start Selling On Teachers Pay Teachers
The first thing you need to do once you have your products ready is to open up your free seller account on Teachers Pay Teachers.
The basic seller account is free and gives access to everything in the TpT membership platform plus the ability to sell resources.
Teachers Pay Teachers takes a larger transaction fee commission (45%) from each of your sales with the basic account.
Your other option is to go with a premium account. This type of seller account costs up front ($59.95), but Teachers Pay Teachers will then take a smaller transaction fee cut (20%) of your sales.
My advice to to start off with a Basic Seller account at first and then upgrade your account once you start making sales.
Other Fees On Teachers Pay Teachers
In addition to the cut of your sales, you will need to pay a transaction per resource that you sell. For basic accounts, you will pay 30 cents per resource and for premium accounts, the transaction fee is 15 cents for orders totalling less than $3.
How To Open Up Your Seller Account on TPT
You will first need to create a regular user account on the site. Just head to TeacherspayTeachers.com and sign up.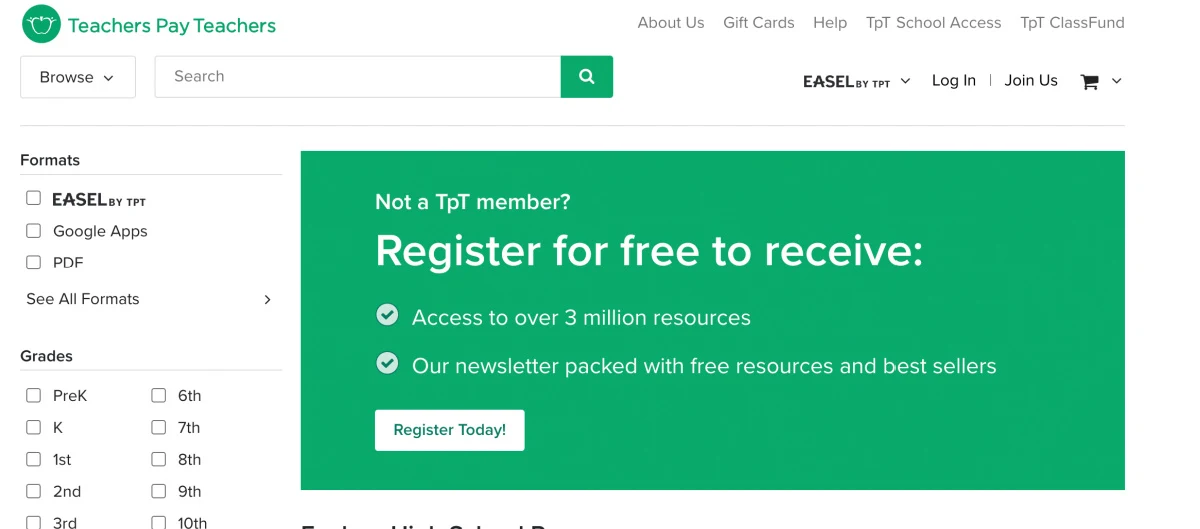 Once your user account is created, you can convert it to a Basic Seller account:
Hover your mouse over "My TpT" in the top right hand corner of your homepage.

From the dropdown menu, click on the option to "Become a Seller."
Enter your information and you're all set!
Opening Your TPT Shop
Your products will exist at a unique store URL that's created when you sign up as a Seller.
You'll be able to personalize your store page by uploading a profile image or logo, telling your visitors about yourself and your experience, adding a store banner and so on.
The first thing you'll want to do is create a unique name for your shop:
Consider a unique shop name that stands out from other sellers on TpT so it can be easily found by consumers.
The name should be descriptive of your teaching style and the products you will be selling
To see if a shop name is available, type it into the search bar on the website and determine whether it is taken by anyone else.
Another thing to consider is whether down the road you will want to open up your own website selling your educational resources. If so, it is worth buying the domain name that goes with your TPT shop name.
To check whether the domain name you have chosen is available, you can do a free search on Namecheap.com.
If you find out that someone else owns the domain name matching the TpT shop name you want, it is best to think of something else. You want your name to be unique and preferably not already in use.
Another thing to consider is social media. It is worth checking whether the Instagram, Facebook and Pinterest handles for your chosen name are available too.
Once your shop is up and running, you will be able to upload your products.
Tips For Promoting Your Teachers Pay Teachers Store
Although your products may be found organically on TPT, it makes sense to do your own promotion too.
Advertise your shop on social media and let all your friends and family know that you are selling teacher resources.
Pinterest is another really great place to promote your products. You can read my guide on How To Use Pinterest for selling on Etsy and other online platforms.
How To Increase Your Profits on Teachers Pay Teachers
If you want to really boost your sales on Teachers Pay Teachers, there are a few tricks of the trade that you should know.
Offer Free Products
It may seem counterintuitive but offering a great free product can really boost your sales.
Freebies are an important marketing tool because they show potential customers the kinds of high quality products you offer and give them something to use as a trial before purchasing other items.
One way to use free products is to offer smaller versions of your paid products for free. For example, if you have an activity workbook about The Romans, offer a one page worksheet for free.
Sell Bundles
Bundles are a great way to increase profits because they are typically good value for money. To sell bundles, all you have to do it bundle similar products together in order to make more money.
For example, sell a whole month of lesson plans instead of just one or two. Or sell a whole series of themed activities around a topic instead of selling them all separately.
Although your bundle may sell at a discount from the price each individual products would sell at, you are likely to make more money due to the high dollar amount on a bundle.
Sell On Other Platforms
To really boost your sales, why not list the same products for sale on other sites? Etsy is another huge market for educational worksheets and activities and it is completely free to list your items there.
To get started with your own shop, read my step by step guide to How To Start An Etsy Store Successfully (you can even list 40 items for free using the special link in that post).
How To Make Money On Teachers Pay Teachers- FAQS
Is Selling On TPT Worth It?
Many teachers buy resources rather than create them because they can save time by purchasing them. A lot of people would rather buyBuying from another teacher because then they know the product actually works.
TPT is still growing each year, with new teachers looking for resources from around the world.
For sellers, Teachers pay teachers provide the opportunity to sell original resources and make good money. There are many teachers who sell on TPT and make a great income on the side.
How Much Money Can You Make On Teachers Pay Teachers?
There are many teachers making $1000+ a month selling their resources on TPT. While the Top sellers on Teachers Pay Teachers make up to $1,000,000, on average most people make $300-1000 a month.
Is Teachers Pay Teachers a Scam?
Teachers Pay Teachers is not a scam and there are teachers legitimately making good money selling their digital products on the site.
If you sell quality products that are not copied from someone else, you can really do well on the site.
Sell on Teachers Pay Teachers – Final Thoughts
If you are a teacher and you need to make some extra cash on the side, it makes sense to do what you know – teach! Creating and selling teaching materials for other educators is a great way to start a side business.
In this guide, we have looked at how to start your shop and everything you need to know about making money on TPT.