If you want to avoid being a starving artist, then you probably need a way to make money but have you thought about starting an art side hustle?
A side hustle is a hobby or passion project that you enjoy doing in your spare time. If art is your passion, then why not capitalize on your talents and make some extra cash?
A side job can be anything that makes you some extra money or it could become your primary source of income. If you are making a profit, it is considered to be a side hustle.
This list of creative side hustles is perfect for any aspiring artist who wants to make some cash with their hobby without necessarily giving up the day job.
Although you may think your only option is to become a world famous artist and sell your work for millions, you actually have a ton of art side hustle options you can try:
Start An Art Blog
Sell Your Art On Etsy
Create logos for brands
Create A Print on Demand Book of Your Art
Sell Printables Online
Draw Caricatures
Start An Artist YouTube Channel
Sell Your Photos For Money
Design Store Window Displays
Work as a 3D artist
Children's Book Illustrator
Event decorator
Christmas Light Designer
Sell Your Artistic skills Online
Interior Decorator
Technical illustrator
Photographer
Paint houses
Teach art at Community Centres
Graphic Design Work
Sell Lightroom Filters
Draw Portraits
Independent curator
Social Media Manager
Sell Merchandise of your work
Sell Digital Clipart
Studio Assistant
Make an online course at Udemy
Start An Art Camp For Kids
Create Powerpoints
Pinterest Manager
Artist-in-residence Programs
Online art therapist
Sell Templates On Canva
Photo editor
Sell Designs For Tattoos
Guest Lectures
Create and sell Digital Stickers
Forensic sketch artist
Teach Art On Outschool
Freelance video creator
Sell your work at Farmer's Markets
Start a Greeting Card Business
Print illustrator
Sell Digital Prints on Etsy
Create and Sell fonts
Start Your Own Painting Business
Set Designer
Children's Entertainer
Mural artist
Landscape Designer
Art tutor
Selling Art as a Side Hustle
This post may contain affiliate links. Please read my Disclosure for more information
RELATED POSTS
The Best Part-time Jobs For Artists
The best art side hustles are ones that allow you to grow and learn as an artist while using your creative talent to make money.
You can use your side gig as a way to gain experience and new skills.
Freelance creative entrepreneurs still holding down full-time jobs can find inspiration in their work at the office and prioritize the biggest priorities for their art practice.
Start an Art Blog
Blogging is a great way to make money. In fact you might be surprised at how much money bloggers can make.
There are many six figure bloggers out there.
Bloggers can earn royalties, generate passive income, and get their art out there in the world.
There are many different ways of making money with your blog, but the most popular options include advertising on your blog or getting paid for sponsored posts.
Starting your own art blog is a great way to make money with your passion.
Want to start a profitable blog? Follow my step by step tutorial for more details.
Sell Your Art on Etsy
Etsy is a marketplace that allows people to sell artwork, jewelry, and other handmade items.
Many artists run their Etsy store as a full-time business but it can also be an amazing creative outlet.
Its one of the easiest places to get started with your art side hustle because you can promote all different kinds of art and reach an international audience.
Etsy has an easy-to-use interface which makes it very accessible to all kinds of artists. You can easily set up a store page and display your most prominent pieces on it.
To start your Etsy store successfully make sure to check out my easy to follow tutorial that also includes 40 free Etsy listings to get you started.
Create Logos for Brands
If you're looking to make some extra money, you can create logos for freelance services sites like Fiverr.
This is also an easy way to turn your creativity into a career as many people are becoming more interested in this type of work.
With Fiverr, you can showcase your work and get paid for it.
You can even set up yourself as a professional logo designer which will allow you to earn commissions for every design job that comes through the site.
Create A Print on Demand Book of Your Art
You can create and sell a book of your art.
Print-on-demand services print individual copies of your book as orders come in and then ship them to the customer for you.
Customers can order and pay for your book online through stores like Amazon, Barnes & Noble or wholesale book networks including Ingram or Baker & Taylor.
The great thing about this is that you don't stock any books yourself (so there's no risk if it doesn't sell), and the selling, packing, and posting parts are all taken care of for you (depending on the service you use).
Of course, you will pay for the convenience of this service but it does mean that you don't have to make a huge initial investment. .
One of the most popular services for this is BookBaby.
If you are interested in learning more about publishing on Amazon, check out my post about Amazon KDP publishing.
Sell Printables Online
Digital products are really popular right now and you can make money by selling printables online.
This is a great way to start an art side hustle if you don't have the confidence or skill in traditional mediums, like painting or drawing.
You can find printable templates all over the internet and the easiest place to get started is on Etsy.
Learn how to start this lucrative art side hustle here.
Draw Caricatures
If you're looking to make some cash, try drawing people. People love having their caricatures drawn and it is a fun way to make extra money.
Your skills can earn money at either an open air venue or in the mall – just have displays of other drawings on hand and watch customers stop by for a sitting!
Start An Artist YouTube Channel
Starting an artist YouTube channel is one of the best ways to get your art in front of people.
You can focus on showing off your art and also share the process of creating your pieces.
How -to videos work really well on YouTube and people love following tutorials on different drawing techniques.
Even kids love following how to draw videos on different cartoon characters etc.
Timelapse videos are generally used for bigger projects, so if you're just starting out with smaller pieces then consider using a different type of video format like stop-motion or time-lapse.
Advertising can be turned on in your YouTube channel to monetize it plus you can make money with affiliate links.
Sell Your Photos For Money
If you are an artist or photographer, then your photos may be worth money.
The best way to sell them is by using a stock photo agency like the ones in this list.
You would be surprised at how in demand your photos may by by ad agencies and businesses who want unique, royalty-free images.
Design Store Window Displays
Window displays are a great way to get people into your store and keep them coming back.
I'm sure you've noticed the same thing as me – sometimes, shop owners will just reuse their old display rather than creating something new for each season or event that happens in town!
Some stores want painted windows while others want an interior display.
If this is a side hustle that interests you, start off by approaching smaller stores and asking to speak to the manager.
Wedding Invitation Designer
Designing and creating wedding invitations is a great side hustle that you can do in your spare time and you don't need to be graphic designer to get started.
Opening an Etsy store is the easiest way to get started and then you can sell the same design multiple times over.
Of course, don't forget you can branch out to baby shower invites and even birth announcements too.
Work as a 3D artist
3D artists are always in high demand for technical work and design projects.
You work be working to create CGI artworks or samples for companies and even government planning agencies.
This is a contract based freelance job that can easily grow to become a full-time gig. Many 3D artists make over $70K a year.
Children's Book Illustrator
The art side hustle is a great way to make some extra money on the side as an artist.
There are many different jobs that fall under this category such as children's book illustrator.
If you can show a portfolio of your work to an editor, they might be able to offer you some freelance work or other opportunities that aren't available on the open market.
Event decorator
Event decorators are creative people who help make event planning a success.
They are the vision behind making a wedding, party or corporate event look spectacular.
This side hustle has immense potential for growth into a thriving business with lots of room for creativity and innovation!
For more information on becoming an event decorator, you can take a course such as the Qc Career School Event Planning Course.
Christmas Light Designer
Christmas Light Designer is a job for someone who loves to design and create.
Nowadays, a lot of people don't have time to put up their own Christmas lights and put their visions into reality.
That's why they hire people with artistic flair to do the work for them. A Christmas Lights designer will work with a team of technicians who will put the lights up.
You will create the design and coordinate the decorating process.
Sell Your Artistic skills Online
Offer your artist abilities on Fivver.com or another freelancing website.
If you love art, and are talented and gifted while doing it, why not showcase your abilities on a website like Fiverr?
If your art style is a popular one then you can make money creating one-off designs for brands and individuals.
There are plenty of people who have problems with art and need someone else to do their artwork for them, so you could be that person!
You can outline what you can do, share pictures of your most recent work, set up tiered pricing (more money), etc.
Interior Decorator
How about lending your artist's eye to people who want to make their house look beautiful?
Many people struggle with matching paint colors and working out how to arrange their furniture and you can make money as a freelance interior decorator by helping them.
Technical illustrator
A technical illustrator is an artist that specializes in drawing complex diagrams, schematics, and concepts.
This work is pretty specialized but very in demand. You can get started on the freelance job sites and bid for contractual work.
Photographer
If you are good at taking photos and editing them, you can make a lot of money as a part-time photographer.
Taking photos for weddings, family portraits and headshots are some of the best ways to get started.
Its easy to promote your photography business online via social media and your own small business website.
Paint houses
One of the best ways to make money in a creative industry is by painting houses.
Although you may find this isn't the best use of your artistic creativity, it can be extremely lucrative so don't discount it out of hand.
An average family home of 2000 sq. ft would cost around $2000-3000 for a full paint job so this is a great way to make extra money if you have some friends willing to join you on this venture.
The price will depend on the size of the property, location, and weather but expect to earn around $50-$150 an hour depending on where you live.
Teach Art at Community Centres
This is a great way to earn some money and share your passion with others. You can teach anything from pottery, to painting, or even how to sew.
This will help you to meet new people and can be a great way to have some creative time in the day when teaching.
Graphic Design Work
You don't need a degree in graphic design to start a successful side hustle creating digital downloads.
From creating business cards to helping with restaurant menus and signs, if you are creative, then you can make money with your talents.
Sell Lightroom Filters
This may sounds crazy but as someone who has bought Lightroom filters herself, I can assure you that this is a big business.
You can list your filters for sale on sites such as Creative Market and create a passive stream of income.
Draw Portraits
I know you are probably thinking that only the Royals commission artists for portraits nowadays but the truth is, many people would love to have a hand drawn picture of their children or family.
You can create your own business and market yourself on Instagram and TikTok.
Independent curator
The curator is the person that puts collections together, often for museums, galleries and exhibitions.
They are more like an editor than an artist but a knowledge of art is really important for this role.
Social Media Manager
You might think that this isn't for you but hear me out.
Running Instagram or Tiktok ads and accounts for businesses can pay big bucks.
Lots of companies just don't know how to get started with marketing to Gen. Z and they need help with attracting the right customers.
As a social media manager, you will be in charge of making posts and curating the feed to make it look good – something thats an art in itself.
Sell Merchandise of your work
Creating merchandise of your artwork is one way to make extra money and enhance artistic skills.
Your artwork can be make into shirts, mugs and other items that people buy through print on demand sites such as Redbubble.com.
You can use any type of format you wish, or even take it digital with a drawing app.
It's also an easier option for artists who are just starting out, as they don't have to worry about getting their work into the hands of consumers in physical form.
For more information on getting started with a merchandise site, check out How to make money on Redbubble.
Sell Digital Clipart
Sell your watercolor designs on sites that sell bundles and individual clipart and digital drawings and make money with your art!
Here is an example of a watercolor illustrator who is killing it on Creative Market.
You will need to provide your work in a few different digital formats such PNG, Jpeg
You also need to work with formats compatible with software such as Compatible with: Adobe Photoshop, Adobe Illustrator, or Adobe InDesign.
Studio Assistant
Working for an experienced artist can be a way to get paid while being surrounded by art.
Although you might not make a ton of money with this side hustle, this can be a great way to learn more about art from someone more experienced.
Make an online course at Udemy
One of the most popular side hustles is creating a course on Udemy.
Help inspiring artists to improve their skills by sharing your knowledge with them.
Udemy has over 60 million students from 190 countries who have purchased over 10 billion courses since 2011. It's been praised by Forbes, Inc., Entrepreneur Magazine, and the New York Times.
The nice thing about this art side hustle is that it allows you to create a course once and then sell it again and again.
The more you sell your course, the more money you make!
Start An Art Camp For Kids
If you want to share your passion for art, running a small art camp can be a great way to make money on the side.
Art Camps are a great way to get children interested in art.
You can make money while teaching them how to be creative can help kids find their own style and express themselves through art.
My daughter was actually in an art camp this summer for a week and she loved it.
For 1.5 hours a day, she learned new techniques while making friends.
I paid $175 for the week and it was held in the artists backyard. There were 7 other kids in the class and it ran both mornings and afternoons.
If we assume there were 7 kids in both sessions thats 14 kids a week x $175 = $2450.
Even accounting for tools and materials, this is an awesome way to make some extra money with your art!
Create Powerpoints
This gig involves you creating and designing powerpoint presentations for businesses and individuals.
A lot of people need Powerpoint presentations but can't stand making them or are not good at making them look professional.
You can find this kind of work on a freelance job board and you will most likely get paid per project or per slide, depending on the scope of the work.
Pinterest Manager
One of the major roles of a Pinterest manager is to create pins for brand and bloggers. You can use your skills in this fun art side hustle to create eye-catching designs and copy using software such as Canva and PicMonkey.
Learn more about becoming a Pinterest Manager here
Artist-in-residence Programs
State arts agencies and nonprofit organizations often sponsor artist-in-residency programs.
In these programs, a successful artist teaches on a temporary, part-time, or full-time basis in school systems, community programs, social service, and healthcare facilities.
My high school actually ran a program like this and it was awesome to learn more about the creative arts.
Many different states have opportunities for artist in residents such as the William James Association Arts Project or Ohio's Artists in Schools program.
Online art therapist
An online art therapist helps people through the creative process.
Therapy sessions are often via video call and can be done from anywhere in the world.
To become a certified art therapist you will need to complete some training.
Most of the time, an undergraduate degree in fine arts, psychology, social work or counselling is required before entering an art therapy programs.
Sell Templates On Canva
You can sell a wide range of items in Canva, from photos & graphics to animated stickers and videos.
It is as easy as uploading your work and getting paid for it.
The nice thing about selling templates and digital work on Canva is that it helps you to Build your artists portfolio and establish your brand.
It doesn't cost anything to list your content on Canva and you get access to a global audience of 55 million users without paying a cent.
Photo editor
As a freelance photo editor, you would be able to do everything from editing raw pictures according to needs to just making minor tweaks.
Freelance design work is becoming more and more popular in today's marketplace because it has many benefits: there are no long-term contracts, the hours are flexible and convenient, and there is no need for expensive equipment or toolsets.
You can look for freelance photo editing work in much the same places as a freelance writer.
Sell Designs For Tattoos
Have you ever wondered where all those designs come from at the tattoo shop? Someone like yourself may be designing them.
To get into this business, you will need to make connections at local tattoo stores and ask if they will accept your designs.
Guest Lectures
Many types of venues such as educational organizations, colleges and universities, local associations and cruise ships and resorts hire artists for "guest appearances."
You may give lectures on your own work or on other artists of your genre.
Create and Sell Digital Stickers
You can make and sell stickers on sites like Etsy.
This is a really good business for people with artistic talents. You can design your stickers on an iPad app like Procreate then upload them to Etsy and sell them as digital or paper stickers.
It's easy to do, anyone can start it up, and it's a great way to make extra money!
Forensic sketch artist
If you have ever watched Law and Order then you know what a police sketch artist does.
Officially known as forensic sketch artists, this is a really rewarding job that plays a major part in solving crimes.
You need to provide accurate sketches of suspects based on eye witness reports and the evidence from victims of crimes.
How to become a police sketch artist
Forensic sketch artists typically work as members of a law enforcement team or as freelancers.
You will normally need a bachelor's degree in fine art, criminal justice, or computer science with a specialization in 3D modeling.
Teach Art On Outschool
If you love teaching children and are an art enthusiast, how about teaching classes on Outschool?
Outschool allows you to set your own schedule and teach exactly what you love, when you want – from the comfort of home.
You do not need a teaching degree to teach with Outschool and its a fantastic art side hustle for anyone who loves kids. Learn more about getting started with Outschool here.
Here are some examples of art classes currently on Outschool: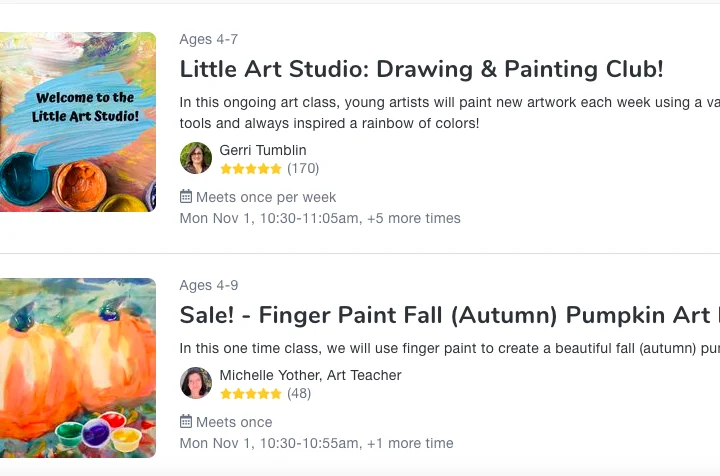 Freelance video creator
Many companies want to use video to attract new customers but either don't have the skills or manpower to do it.
As a freelance video creator, you will be in charge of creating short and long videos for brands and bloggers who need video copy.
Sell Your Work at Farmer's Markets
Farmer's markets and craft fairs are a great place to sell your artwork and make money on the side.
Although you won't become a millionaire with your craft sale stall, you can definitely work this as a nice side hustle.
Start a Greeting Card Business
The holidays are a great time to start a greeting card business.
There's always going to be someone in need of a thoughtful and heartfelt note and you can make a lot of money with your designs.
You can learn more about starting a greeting card business here.
Print illustrator
Print illustrators draw the pictures for magazines and newspapers. This is a nice art side hustle that you can do on a freelance basis.
It can also make a great jumping point to a full-time job as an illustrator.
Sell Digital Prints on Etsy
A lot of people are looking for cute artwork to put up in their home but without the big price tag of canvas paintings.
One way you can make money with your art is to sell digital art prints of your work on a site like Etsy.
Create the art one time and you can sell it over and over again for big profits.
Make sure to offer different formats such as PDF and jpeg and to sell your art in various sizes to fit different frames.
Create and Sell Fonts
Fonts are big business. Lots of people are willing to pay for premium fonts that are unique and special for their business.
You can sell your fonts on sites like TheHungryJpeg. or Creative Market.
Another option is to sell through sites like HypeForType where others are looking for fonts they need.
If you're an artist who wants to share their own font, Etsy might be another good choice because there are so many people on the platform who love unique, original artwork.
Start Your Own Painting Business
Have you seen the ads for those wine and painting nights?
They are help everywhere and are super popular night out idea for groups.
You can start your own business holding painting nights either in person or online.
All you need are the skills to show step-by step how to create a painting and a way to market your business such as your own website.
You will need to provide the painting materials to your patrons and also find cool places to hold the classes.
Wineries and restaurants are often more than happy to host events as it brings them a lot of business.
Set Designer
I have a friend who works as an assistant set designer on all those Hallmark Christmas movies that come out every year.
Its such a fun side hustle that she does every summer (yes they film these movies in July!)
Children's Entertainer
This art side hustle isn't for everyone but you might want to consider using your artistic skills to make money at children's birthday parties.
You can make $200+ for a hour of making balloon animals and face-painting plus its fun too!
Mural artist
Muralists are artists that create large-sized works of art on buildings or buildings.
They typically work outdoors and must have a lot of physical stamina and height to do this job, as well as a strong portfolio and experience.
You can advertise on freelance job boards such as Upwork and also check out specialized sites such as Find a muralist.
Landscape Designer
Although this can be a lot of manual labor, you do need an artists eye in order to be a good landscape designer.
Knowing what plants and trees would look good together and turning a yard from blah to wow takes skill and creativity.
Art tutor
You can make money as a tutor to both adults and children.
There are several different types of tutors, but the most popular type is private art lessons. Private art lessons can give you an extra income once in a while.
Advertise your services on social media and on websites such as Craigslist, making sure to look after your personal safety.
Selling Art as a Side Hustle
Selling art can be a side hustle in itself but its probably the toughest part-time job for artists.
Its a competitive market out there and its not easy to get full-time work selling art.
First, you have to find an audience that are willing to buy your artwork. Then you have to sell enough pieces to make a profit when you consider your tools and materials, not to mention your time.
Most amateur artists who sell their work make around 10-20 pieces for every one they sell so this is not super easy to make money on.
If you do want to get into this side hustle, join local art groups and reach out to restaurants and stores that will display your work for free and give you the money if you sell a piece.
Here are some tips on How To Make Money As An Artist Online.
How to find an art side hustle as a creative person
Do you love art and enjoy drawing? Are you good at sculpting, painting, or designing? Maybe you have an excellent eye for design?
I hope you have enjoyed these fun ways to create a new source of income while still doing artistic work.
Whatever your interest, opportunities exist for you to work as an artist!
More Creative Side Job Ideas
80+ Creative Side Hustle Ideas
30 Best Side Hustles For Introverts