Are you looking for a way to make some extra money? Crafting can be a great way to generate some income, and there are plenty of recycled crafts that you can sell. In this post, we have 26 amazing recycled crafts to sell on Etsy or at craft sales.
Recycled crafts are a great way to get your craft business off the ground because you don't need to invest much money to get started.
Scouring flea markets and your local thrift store is an easy way to find materials to make cheap crafts you can sell.
There are a number of recycled crafts out there that can be used to create unique and one-of-a-kind pieces.
Recycling old pieces of furniture, old t-shirts, and other materials, means you can create unique handmade crafts that are sure to impress.
There are many easy crafts that can be sold to make money.
Some of these crafts include:
Repurposed items like old furniture, otherwise known as flea market flipping
DIY projects from old clothes, and toys
Artwork made from recycled materials
Crafted items made with natural materials like clay, wood, or feathers.
Mason jar crafts and gifts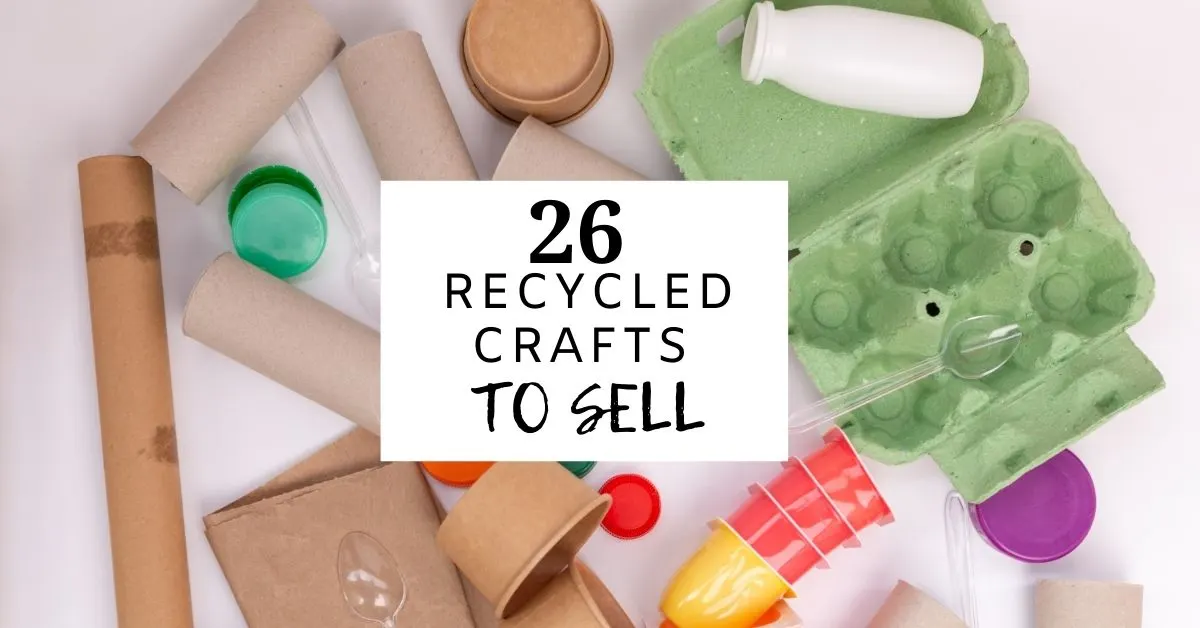 This post may contain affiliate links. Please read my Disclosure for more information
MORE FUN CRAFTS TO SELL
11 Best Cardstock Crafts To Sell
21 Profitable Craft Business Ideas
Why look for recycled crafts to sell?
There are many reasons to sell recycled crafts, including:
They are great for the environment
Recycling reduces the amount of waste that ends up in landfills, and it also helps conserve natural resources.
To save money
Crafting with recycled materials is a budget-friendly way to create beautiful pieces of art.
While there are a lot of free things you can sell on sites like Etsy, recycled products are some of the most profitable crafts out there.
It's creative
Recycled materials can be used to create all sorts of unique and interesting projects.
Support sustainability
Crafting with recycled materials is a sustainable way to produce art, and it also helps reduce pollution.
Recycled Crafts To Sell
Crafting is a popular hobby, and many people enjoy making things from recycled materials. This involves using materials that would otherwise be thrown away, such as old newspapers, plastic bottles, and cardboard boxes. There are many ways to recycle these materials into beautiful and unique crafts.
The ideas are below are great DIY crafts that you can make and then sell online. Just click through to each one for full tutorials and how to guides.
Where To Sell Recycled Crafts
There are many ways to sell recycled crafts, and the best way to sell them depends on the type of craft and the audience you are targeting.
You can sell your crafts at local craft fairs, online markets, or through consignment stores.
You can also create your own website or blog to sell your crafts online.
Whichever route you choose, make sure you price your crafts appropriately and market them effectively.
How To Sell Recycled Crafts On Etsy
It is really easy and free to get started on Etsy.
If you haven't started your shop yet, make sure to go through this tutorial on How To Start An Etsy Store Successfully
It will take you step by step through from creating to launching your Etsy shop.
It also includes a link for 40 free listings which will help you to start your store for free.
Promoting Your Etsy Store
Learn how to use Pinterest for Etsy and start promoting your store as soon as you open it. In addition, learn everything you can about Etsy SEO.
This is how you will get your crafts to show up in the Etsy home feed. You can use my handy Etsy SEO checklist to help you with this
How To Sell Crafts At Local Stores
You can sell your handicrafts at local stores if they will allow you to display them in for free in exchange for a commission.
This can be a really good way to become known locally for your work.
Selling Recycled Crafts On Facebook
Facebook is a really good way to get started if you are new to making money with your hobby.
There are three different places to try on Facebook:
Facebook Marketplace
This is the obvious place to start selling your handmade products as you don't need to pay anything and can reach a local audience.
You can create as many listings as you like for free. The only downside is arranging shipping or pick ups with your customers.
Your Own Facebook Page
You should make a Facebook Page to promote your crafts. Make sure to post photos of anything new you make and also ask customers for reviews.
Facebook Groups
Facebook groups are a great way to sell crafts of all kinds. Join groups that are local to you as well as groups of other crafters.
Start A Craft Blog
Starting your own website is a great way to cut out the middle man, especially once your business gets going.
You can start a blog and then make money through affiliate marketing, advertising and also sell your products via your site.
Recycled Crafts For Adults To Sell – Final Thoughts
Using waste materials like old wine bottles, milk jugs and empty egg cartons in unique ways to make homemade crafts is a great way to make money.
One advantage of recycled crafts is that they are often more affordable than traditional crafts.
This is because you can use things you already have lying around the house, rather than having to buy new supplies.
Recycled crafts are also environmentally friendly, because they reduce the amount of waste that ends up in landfills.