Are you an inspiring poet or songwriter? Maybe you love creating raps or jingles in your head and are wondering if you can get paid to write song lyrics for a living.
The truth is, while it is very difficult to get a gig writing the next Drake hit, you can indeed get paid to write lyrics for songs, hooks and more.
If this is something you think could be the dream job for you, read on for all the details on how to get started as a songwriter and how much you can make.
This post contains affiliate links. Please read my Disclosure for more information.
RELATED POSTS
15 Best Things To Sell On OfferUp
How To Make Money Welding In Your Garage
How To Get Paid To Write Song Lyrics
If you want to know how t0 get paid to write rap lyrics or country music ballads, you need to know that this isn't a get rich quick scheme.
It is extremely hard to break through in the music industry and become a big player.
That being said, it is possible to get paid to write song lyrics for all different kinds of projects, most of which do not involve you becoming famous and driving around L.A with Justin Bieber.
What Experience Do You Need To Be A Songwriter?
This is one job or side hustle where you don't need any "official" qualifications to become a professional. Experience is not as necessary as talent and perseverance.
Of course you do need to have a way with language and many freelance songwriters are good poets or at least very interested in poetry.
If you do want to take a class before you launch your lyrical career, you can check out the budget-friendly online courses on Udemy.
The best one for aspiring songwriters is the The Ultimate Songwriter's Masterclass that costs less than $20.
8 Ways To Get Paid For Writing Songs
Once you have honed your song writing skills, you can start thinking about how to get paid to write song lyrics.
Although writing hit songs for pop-stars might be your first thought, there are actually a lot of other options to consider, including:
1. Staff Writer for a Recording Label
As salaried staff writer for a major recording label you will have stable, reliable work and be part of a team.
This is the most lucrative way to get paid to write lyrics but also not easy to get into.
Bear in mind that you will need to check your ego at the door once you become a staff writer. You will write in collaboration with others and will need to be open to edits and changes in your lyrics (this is often the hardest part for artists).
As an example, see below the number of writers on Beyonce's big hit "Irreplaceable" including Bey herself.
2. Freelance Lyricist
A freelance lyricist has to hustle for work. This is where you will be building a name for yourself by networking and getting known as the go-to songwriter.
You can send your demos and lyric samples out to various organizations and pitch them your work to get started – see below for a list of places to where you can sell song lyrics.
3. Public Royalties
Now we get into the real deal when it comes to writing song lyrics for money – the royalties.
Once you have written a song and got paid for it, you are entitled to royalties every time it is used. Public royalties will be owed when the song is performed at a concert or event or is broadcast on the radio.
4. Mechanical Royalties
Mechanical royalties are paid when every time your song is downloaded or bought.
5. Placement Fees
If your song or jingle is featured in an advertisement, TV show or video then you will be paid placement fees.
The funny thing is that many songs become hits after they appear on commercials so this can actually be a great way to get started.
6. Record Deals
Obviously this is your holy grail for getting paid to write song lyrics. If you manage to get yourself a record deal then you will get paid an advance for writing a certain number of songs for one or several artists.
7. Get Paid For Writing Songs For Upcoming Artists
This is one of the best ways to get paid to write song lyrics. It is a great idea to partner with upcoming artists in exchange for publicity and free studio time.
You might also want to write for artists in exchange for them recording demos for you.
Why do you need demos?
Well, no one will "read" your lyrics when you pitch them. They want to actually hear them in a demo so you will need to have that recorded at a studio. If you are not a good singer yourself then you could offer to write lyrics in exchange for demos.
8. Get Paid For Writing Hooks or Jingles
Yes, I know, you want to become a serious artists and are not interested in creating catchy jingles for TV. You also want to make it as a songwriter though, right? This is a great way to get your feet wet and your name out there.
How Much Can You Get Paid To Write Song Lyrics?
According to Glassdoor.com, the average songwriter makes around $50-65,000 per year. In reality, your income can vary depending on the type of lyrics you sell and the amount of work you can find.
An established songwriter can easily command over $1000 for a one -time gig while a newbie might be able to charge closer to $500.
How To Get Started Writing Lyrics For Money
Once you have your demo sorted out, you can start making contacts through social media and by sending your demo out to the companies in the list below.
Head to Instagram and TikTok and start contacting producers, upcoming singers and other music industry pros.
Producers are a great option as they have the music and need lyrics in order to get it out there.
This is not a job for the faint of heart and you will need to really work that self-promotion.
Partnering with an artist or producer is your key to breaking into the industry and making your name.
Where To Sell Song Lyrics
Submit demos and songwriting examples to as many sites as you can to boost your chances of work.
You can either sell your lyrics directly to websites and distributors or you can look for work for hire gigs – below you will find some options for both.
13 Places To Sell Lyrics For Money
Songbay is a lyric library that allows you to choose from different membership plans depending on how you want to sell your lyrics. You own the copyright to your lyrics and can reach a global audience easily.
You get to set your own sale fees and keep all your royalties and income earned on Songbay.
Songbay doesn't accept all uploads but they will give you an explanation for any that they reject.
Submit your music to TuneCore and they will look after your performance and mechanical royalties. They will also pitch your music for placements in film, TV, commercials, and video games.
There is a one time $75 membership fee for TuneCore and then they take 15% of your royalties and/or 20% of any sync fees collected if your lyrics appear in any placements.
It costs $75 to submit your work to Lyrics.com and your listing will never expire. For that reason, it isn't my top choice because of the initial investment however, it is worth checking out.
Ditto Music allows you to upload songs and sell them through them on sites like Apple Music, Spotify and Pandora for a small fee.
You keep all Royalties and rights to your music.
You can also choose to make your music eligible for the Billboard charts around the World.
Note that you cannot sell just song lyrics on Ditto. It is for actual music and songs so you would need to partner with a producer and artist on this one.
If you have at least 10 works to sell then you can apply to be a lyricist at Premium Lyrics, a song lyrics supplier for musicians and composers.
There is no membership fee to work with Premium but they take a cut of your sales instead.
Sign up for the free newsletter and you can start submitting your lyrics to artists and producers.
Ascap (The American Society of Composers, Artists and Producers) isn't exactly for selling your songs but it is a site that will pay you to write lyrics – in royalties.
First you need to become an Ascap member for $50. You can then register your songs and Ascap will send you notifications when they have been used so that you can be paid the royalties.
Song Cast Music is a distributor much the same as Ditto Music. You can submit your music (not lyrics only) to their site and they will help distribute it to Apple Music, Spotify etc.
Songtradr is another music distributor however this is one that will let you submit your music for free. You can submit your work to Songtradr completely free of charge and instead they take a cut of your royalties (10%).
You can choose to upgrade to Songtradr Pro if you prefer to pay a membership fee and keep 100% of your royalties.
Songwriting Gigs/Work For Hire
Another way to get paid to write song lyrics is to look for work for hire gigs. Although the work might not be a steady, you can become a freelance lyricist and make good money.
Here are some of the places to look for work:
You may not have thought of this but you can sign up for Upwork and browse the many lyric writing jobs that are available. These are most likely one-off gigs that will require you to create lyrics for a special project.
Below you can see a snapshot of some of the offers I saw while researching this post.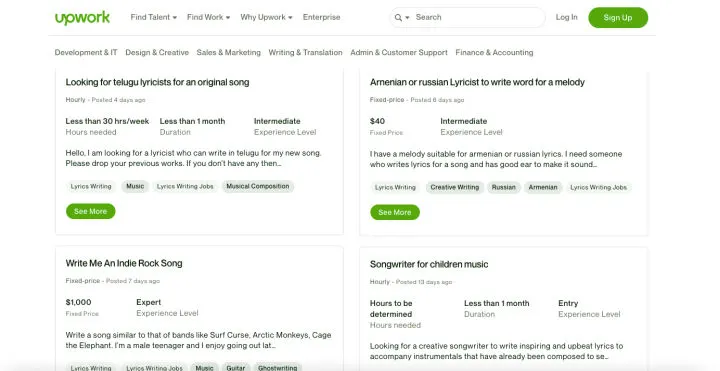 SoundBetter is a job board for anything music. You can find all kinds of different requests for lyrics. Below is one example I found when searching for postings.
AirGigs is another place you can look for job postings of post your own ad looking for a songwriting gig. Below are some examples of postings by lyricists: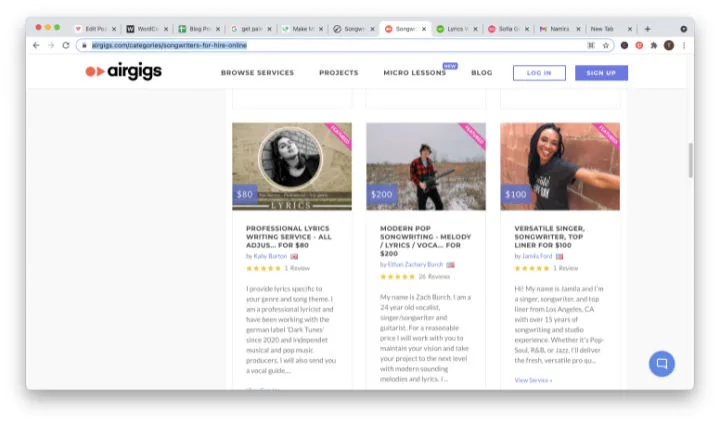 Twine is a site that matches all kinds of freelancers with different jobs. They do have a segment for songwriters so it worth joining to see what jobs are on offer for you.
Final Thoughts On Getting Paid To Write Lyrics
If you have a talent for penning lyrics and would like to make some extra cash, this can be a great side hustle or even full-time gig.
From submitting your work to songwriting sites, hustling on social media and looking for gigs on the freelancer sites, there are plenty of opportunities for lyricists to make some money doing what they love.
More Money Making Tips
How To Sell Short Stories For Money
How To Become A Wedding Planner From Home
80+ Creative Side Hustle Ideas