Do you love chatting to people online? Many of us enjoy meeting new people virtually (MSN messenger, anyone?) now you can get paid to be an online friend.
That's right! There are people who will pay you to spend time chatting with them, listening to them and maybe giving some life tips.
You don't need any special qualifications to start this side hustle and as you will see below, getting paid to be a virtual friend can be an extremely lucrative way to make money on the side.
Read on for all the details on getting started plus the legit virtual friend sites you can sign up for today.
This post contains affiliate links. Please read my Disclosure for more information.
RELATED POSTS
How Do Virtual Friend Sites Work?
If you have any experience on online dating websites then you will already know the set-up.
Bear in mind that online friend sites are strictly platonic and are not for dating, relationships or anything in between.
They do work just like dating websites and other membership sites in many ways, however.
First you will want to register on the site and create your profile.
1. Creating A Profile
Just like with a job hunting site or a dating website, you need to put your best foot forward when creating your online profile.
If you want to get paid to be an online friend, you want to stand out from the crowd.
Remember, you are selling yourself to potential customers who are browsing the site to see which "online friend" they want to chat with.
Don't rush your profile – take some time to really hone the details and research other profiles to get ideas of what people put down.
Things to include in your online friend profile:
Any languages you speak
Unique talents or interests that might spark conversation with like-minded people
Books or movies you have watched recently as ice-breakers
Your general field of work or any interesting titbits that might interest people
Even if you think you have no interesting hobbies or experiences to talk about, you never know what other people want to talk about so include anything relevant.
If you love travelling, mention some places you like to go. Favorite foods or hobbies. Have you recently taken up pilates? Include anything you can think of.
2. Pass The Test
Some of the sites that will pay you to be a virtual friend require you to pass a "test" before you are approved.
This step is really just to make sure you are suited to online friend work and nothing to do with your intelligence or general knowledge.
3. Add Your Payment Details
You will get paid either via PayPal or your bank account in most instances. Make sure to fill out your details before you get started as you will typically get paid as soon as your jobs are completed.
If you live outside the US, a great way to get set up easily is with an online bank account with Payoneer.
I use them for my online payments as they essentially give you a US (or Canadian, or EURO) bank account for free and then you can take payments from around the world and transfer them to your own bank account.
The fees are less than Payoneer which is why I like using them.
How Much Can You Get Paid As A Virtual Friend?
Some of the online friend sites will let you set your own rate up to $50 an hour so in theory that is how much you can make as an online friend.
That being said, you have to wonder if you will get as much work at $50 an hour than if you set your rate to a more average $20 an hour.
After all, if your rate is $50 an hour but no one is booking you, then your rate is really $0 an hour!
According to Rent-A Friend which is one of the biggest players in the virtual friendship field, the average worker makes $25 an hour.
Let's say that you work 15-20 hours a week in your spare time, in the evenings and weekends.
At 20 hours a week @ $25 an hour = $500 a week before tax.
So you could potentially make $2000 a month working as a virtual friend on a part-time basis.
That is actually amazing earning potential for a side hustle that doesn't require:
Any special equipment
An initial investment
Training or qualifications
You to even leave the house!
Who Can Get Paid To be An Online Friend?
As I just mentioned, you don't really need any special qualifications to get paid to be an online friend but it is not for everyone.
To be successful at this kind of work, you will want to:
Enjoy talking to new people
Be good at making small talk and breaking the ice
Enjoy learning about people
Be a good listener who can give advice where needed
Be reliable and on time
One of the main complaints from both men and women on online dating sites is that people have lost the ability to hold a conversation.
Listening, asking questions and talking about relatable experiences will go a long way to making you a successful online friend.
If you are an introvert and really hate talking to people over the phone or by text, this might not be the side hustle for you. Instead, check out my list of 15 Work From Home Jobs For Introverts that don't involve phones or talking to people.
Tips For Getting Paid To Be A Virtual Friend
While earning money just for making small talk or lending an ear can seem like an amazing way to make money (and it is!), bear in mind that you need to have your wits about you, even when dealing exclusively online.
There are scammers everywhere so you want to be careful with your personal information and how much you reveal about yourself.
Consider the following:
1. Safety
Your safety is the most important thing when doing anything online and it is easy to get carried away, especially when you are making good money.
Make sure to never reveal your name and address or information that could help someone to find you on social media.
It's best to create a pseudonym before you get started and to realize that however close you may feel to someone, it is best to guard your personal information just in case.
2. Secure Payments
We've all heard about payment scams on Craigslist or sites like OfferUp. The best way to safeguard yourself from getting ripped off or not paid is to only accept payments through official sites such as PayPal or Payoneer.
Don't accept any cheques or wire transfer proposals as they are rife with scammers.
3. Scam websites
You won't have to worry about this if you use my list below. I've researched the legit websites where you can get paid to be an online friend so that you don't have to worry abut being scammed.
4. Platonic Only
The sites below are strictly for platonic relationships between adults. If you are uncomfortable or are being asked to do something you don't want, you are in control.
Of course, once your job is done, if you have formed a connection with someone and wish to pursue it "offline" then that is up to you.
Are you willing to go a bit further with your online chatting? Learn How To Get Paid To Sext
Where To Get Paid To Talk To Lonely People
FriendPC is a great site if you want to get paid to be an online friend. People might hire you for emotional support, to play video games with, boost their self-esteem, or to start a conversation about (almost) anything.
There are four main kinds of virtual friend on FriendPC and customers can filter based on that criteria:
Virtual Friend
Life Coaches
Virtual Gamer
Virtual Girlfriend
How Much Does It Cost To Be A Friend on FriendPC?
Signing up for a FriendPC account as a Member is a free. Depending on what services you choose to offer as a Virtual Friend, you may be charged a small fee to cover your listings.
Once you begin earning money by providing Services to Members, you'll take home 90%-95% of your earnings from each booking.
How Much Can I Earn On FriendPC?
As an independent contractor, you set your schedule and you can also choose your rates. Bear in mind that being a "virtual girlfriend" will net you more money than being a regular virtual friend.
Rates seem to vary from $5-$2000 depending on the type of friend services offered.
Pros
I really like FriendPC because you get paid as soon as your work is completed, you don't need to wait for a minimum balance to get paid which is always nice.
Cons
Competition is fierce and you might not make as much per hour as you could on some of the other online friend sites.
You know all those Hallmark movies where the lady pretends she has a boyfriend when she goes home to her family for Thanksgiving?
Well Rent A Friend is what she needs!
There are currently over 621,000 people registered to be "friends" on the site and it is growing every day.
The website is aimed at helping solitary users hire a (purely platonic) companion for a variety of reasons.
This site is not just for online friends so you might find that some people are looking for a friend to meet with in person.
It is completely free to join Rent A Friend and you can set your own pricing. You keep 100% of your earnings.
On Rent A Friend, you can offer virtual Friend Services such as Facetime, Zoom, Texting, Penpals, Phone Friends and more.
How safe is Rent A Friend?
Rent A Friend is comparable to online dating sites.
No background checks are performed so you are advised to follow regular online safety tips such as meeting in a public place and letting someone know where you are going.
How much can you make on Rent A Friend?
Most of the Friends on RentAFriend.com start at $10 an hour and the average earnings are $25 an hour.
You can set your own rates on the site up to a maximum of $50 an hour.
Pros
Great pay and a well-known legit site that has a proven track record.
There are no membership fees to become a friend (people looking for friends do pay $24.95 to become members).
Cons
The website is outdated and looks like something out of 1997.
Rent a Cyber Friend offers all kinds of virtual friend opportunities. In addition to just being a companion, there are experts who are virtual online trainers, language tutors and mentors.
This is a much smaller site that Rent A Friend. When I did a search for available friends right now, there were only 186 to choose from so this can be a good option with less competition than Rent A Friend.
Pros
Modern site with little competition.
Cons
Not as popular as Rent A Friend and much more expensive for friend-searchers meaning less opportunity for you to find work. Plus friends also have to a pay a membership fee starting at $29.99 a month to join the site.
You can make money doing almost anything on Fiverr and being an online friend is no exception.
You can list your services on Fiverr, set your prices and wait to get bookings. Note that this is a freelance website and not specifically for finding an online friend so you will want to be very clear with what services you are offering.
How Much Money Can You Make As A Virtual Friend on Fiverr?
Based on my research, it looks like around $10 an hour is average for online friend services. Lots of friends also offer their services as virtual assistants for the same price.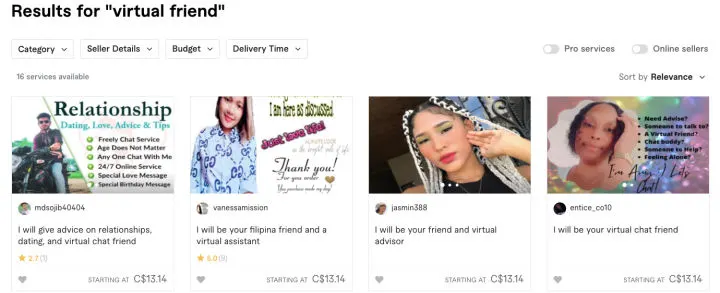 Pros
Easy and free to join. Lots of opportunities.
Cons
Competition is fierce and earnings are lower than on other online friend sites.
Get Paid To Be An Online Friend – Final Thoughts
If you love talking to people and giving advice then you can get paid to be a virtual friend in your spare time.
Successful "friends" can make really good money on a part-time basis and work when and where they want.
Although sites like Craiglist and Kijiji have postings for virtual friends, stick to the legit websites above for this kind of work as the line between legit platonic virtual friend sites and scams can be easily blurred.
More Ways To Make Money Online
80+ Creative Side Hustle Ideas
The Best Places To Sell Used Underwear
How To Create Digital Downloads To Sell