If you love everything about weddings and are looking for a flexible job that you can do a few days a week, you might want to become a wedding planner from home.
Given that you can easily do wedding planning as a side job while working full-time, it is great for stay at home moms who can work on the weekends or anyone with a Monday to Friday job that would like to make some extra money.
According to The Knot, around 27% of couples hire a wedding planner or day-of coordinator to help with their big day, making wedding planners in demand nationwide.
The best thing about being a wedding planner is that you can choose to work as little or as much as you like and can make up $1000 for a day's work at the top end.
In this article we will show you everything you need to know about becoming a successful business offering wedding planning services to couples near you.
You'll learn:
The different types of wedding planners
How much money successful wedding planners can expect to make
The best online courses for a professional wedding planner
The wedding planning process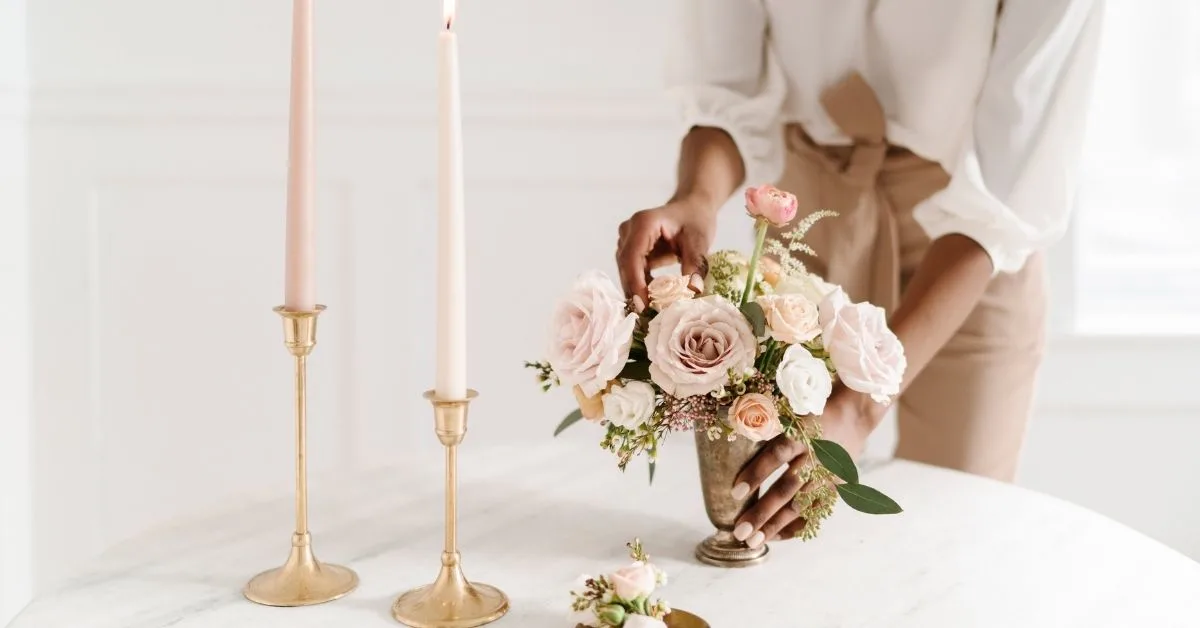 This page contains affiliate links meaning I earn a commission if you use those links. Please read my Disclosure for more information.
RELATED POSTS
What Is A Wedding Planner?
Wedding planners are professionals who help couples plan and execute their wedding day.
They work closely with the couple to ensure that all aspects of the event run smoothly, from choosing the venue and selecting vendors to managing logistics on the big day. Wedding planners may also offer guidance on budgeting, design, and etiquette.
To become a wedding planner, there are several steps you can take. First, consider getting a degree or certification in event planning or hospitality management.
This will provide you with a strong foundation of knowledge and skills that can be applied specifically to weddings. Next, gain practical experience by working for an established wedding planning company or as an intern under an experienced planner.
Additionally, it's important to develop strong communication and organization skills as well as a keen eye for detail. Building relationships with vendors in the industry is also key to success in this field. Finally, market yourself effectively by building a professional website and social media presence showcasing your expertise in wedding planning.
The Different Types Of Wedding Consultants
Although we all know what a wedding planner is from the movies, in practice there are actually a few different types of wedding day service you can offer couples.
Before you start your wedding planning career, take some time to look at the different industry professionals who work with brides and grooms and decide what job works for you.
Full-Service Planner
This is the classic wedding planner who organizes the bride's special day.
As a full-service wedding coordinator, you will be responsible for everything from finding the perfect venue and choosing catering options to coordinating all vendor contracts and making sure the dream wedding takes place.
It requires a high level of organization, attention to detail, and excellent communication skills.
To become a successful full-service planner, it's essential to build strong relationships within the industry. Attend local wedding events, connect with other planners and wedding vendors, and build your network as much as possible.
Finally, always remember that your job as a full-service planner is to make your client's vision come to life. Listen closely during consultations and pay attention to small details that may seem insignificant but are crucial for making their day special. With hard work, dedication, and passion for what you do, anyone can become an excellent full-service wedding planner!
Day-Of Planner
One of the essential roles in wedding planning is that of a day-of planner. This person ensures that everything runs smoothly on the wedding day by coordinating all vendors, ensuring timely delivery of goods and services, and managing any unexpected issues that may arise. As a day-of planner, you must have excellent communication skills to work with various vendors and be able to manage time effectively.
​if you are looking to work as a wedding planner but don't have time to dedicate to becoming a full-time employee, working as a wedding day coordinator is your best option.
To become a successful day-of planner, you need strong problem-solving skills as unexpected problems often arise during events.
Destination Wedding Planner
Although many destination wedding planners start off as travel agents, there is no reason you can't start your own destination wedding business from scratch.
A destination wedding specialist handles all aspects of the wedding day and either travels with the couple or works more as a virtual wedding planner, helping out from home.
To specialize in destination weddings specifically, it is important to research popular destinations and become familiar with local laws, customs, and vendors. Building relationships with trusted vendors abroad can also be key to success in this niche market.
Event Coordinator
The last career choice for prospective wedding planners is to work as an event coordinator at a wedding venue. This means that you will plan the weddings that are booked at your banquet hall or restaurant, creating the perfect wedding day for the happy couple.
Event planners typically are hired by the venue themselves and may work at all kinds of events such as parties and corporate celebrations too.
My Experience As A Wedding Planner
I started my wedding planning business in 2011 after my own wedding that April.
Many people had commented to me during the planning process that I was very organized and had a ton of good ideas and that I should open my own business. I took the plunge that summer.
By the following summer, I was making $2-3000 a month in high season working 3-4 days a month.
I quickly built up a book of referral clients and was lucky enough to be given the Couples Choice Award by Wedding Wire in 2014.
Wedding planning is an awesome side hustle if you are willing to work long hours for a couple of days a month and know how to market yourself to get established in the business.
RELATED: How to become a work from home travel agent
How Do Wedding Planners Make Money?
With the average wedding costing over $35,000, couples are looking to save money where they can and get the most bang for their buck.
Although it seems paradoxical, a good wedding planner can help cut wedding costs by leveraging their contacts and networks.
Wedding planners make money by charging a set fee for their services (either a percentage of the wedding costs or a standard planning charge).
They may also receive kick-backs or commissions for promoting specific vendors. This is frowned upon by many wedding planning organizations as they believe it to be unethical and means you may promote one vendor over another.
Bear in mind, however, that travel agents make all of their money from commissions earned by recommending certain tour operators and hotels so this business model is completely normal in some industries.
How Much Do Wedding Planners Make?
Some top wedding planners make a lot of money. Obviously the more established and in demand you are, the more you will be able to charge your clients.
A part-time wedding planner can hope to make around $2000 a month throughout the summer if they can book a wedding or even most weekends.
If you are interested in starting your own wedding planning business there are a few things to know, first of all, there are two different roles in the wedding planning business – wedding planner and wedding coordinator.
How Much Do Wedding Planners Make A Year?
The salary of a wedding planner really depends on how many weddings they work a year. Those who do the job full-time obviously make a lot more than people who are wedding planning as a side job.
Typically the wedding planner fee is 10% of the wedding budget or minimum $1500.
That means you can expect to earn around $3500 for the average wedding in the US or UK.
The average wedding planner works 10-20 weddings a year and makes around $40-60,000 per year.
You will also get reimbursed for travel expenses (over a certain distance) and have a meal provided at the wedding.
What Does A Wedding Planner Do?
Assist and plan the wedding budget
Source all vendors, review contracts and attend meetings
Provide guidance on decor and food choices
Meet monthly/weekly with bride and groom to review planning
Attend wedding rehearsal and assist coordination
Arrive at the venue early to supervise set-up. Make sure everything is in order.
Meet groom and make sure he is settled. Help with boutonnieres
Coordinate bride's arrival and help with ceremony timing
Assist photographer to corral family and friends for photos
Liaise with MC and DJ for timing of events
Make sure the cash envelopes/gifts are secured (do not handle the cash yourself for liability reasons)
Help with wedding clean up at end of night
Stay until the venue is closing up to make sure everything is packed away.
READ NOW: Classy But Cheap Wedding Reception Ideas
How To Become A Wedding Planner
Now you have decided to become a wedding planner, what do you need to do?
There are a few steps to take:
Make sure you have the right skillset
Look into professional certifications
Take an optional internship and get experience
Create and market your business to brides looking for the right wedding planner
What Skills Do Wedding Planners Need?
One of the most important aspects of being a successful wedding planner is having excellent organization skills.
You need to be able to juggle multiple tasks and prioritize them based on their level of importance.
This means that you must have good time management skills to ensure that everything gets done in the right order and on schedule.
Another essential skill for becoming a wedding planner is excellent communication abilities.
You will be working with many different vendors, clients, and stakeholders throughout the planning process, so you need to be able to communicate effectively with all of them.
This includes negotiating contracts, addressing concerns or complaints, and ensuring everyone is on the same page when it comes to expectations.
Although you might not think it, you'll also need to be relatively string and in good shape.
Wedding planner involves physical work such as moving centrepieces or decor around.
Finally, becoming a wedding planner also requires strong marketing skills.
You will need to know how to effectively market your services so that potential clients can find you and choose your business over others in the industry.
This could include building a website or social media presence, attending networking events or bridal shows, and creating promotional materials like brochures or flyers. With these skills in place, anyone can become an event coordinator successfully!
How To Become A Wedding Planner From Home: Qualifications
Do you need a degree to be a wedding planner? A degree is not necessary to become a wedding planner but of course, at the beginning you won't have the years of experience needed to get a higher salary.
In fact, no training is required to become a wedding planner but I would definitely recommend a course to learn the basics of contracts and client expectations.
A lot goes into wedding planning and clients will expect you to be the expert.
There is also a lot of competition in the wedding industry and anything you can do to give yourself an advantage will help.
Online Wedding Planner Courses
The Wedding Planning Course by QC Event School is very good.
They offer payment plans which is helpful and it is one of the most comprehensive wedding planning courses online.
If you want to become a wedding planner at home, the QC school of Wedding Planning courses are great for online learning.
Here is a snapshot of the course outline for Wedding Planning Course.
American Academy of Wedding Professionals
This is probably the most comprehensive course out there but it is also pretty pricey. The cheapest option is $1195.
The course includes one-year membership into the academy plus many extras. You can download the entire course brochure on the website.
How To Become A Wedding Planner For Free
While I highly recommend taking a course in wedding planning before launching your business, the truth is, that may not be possible for you.
The good new is that you can still become a wedding planner for free if you are prepared to do the learning yourself.
If you aren't ready to take an online course just yet, you can learn a lot from the books below.
Although there is no substitute for a full course run by wedding professionals, you don't need to have any qualifications to start your wedding planning business.
How To Become a Wedding Planner Books To Read
Below are the top books on becoming a wedding planner that can help you get started without a course.
How To Become A Wedding Planner In Canada
Aspiring Canadian wedding planners can also take the QC Wedding Planning Course or they can take an in-person course specifically for Canadian wedding planners.
If you want to become a wedding planner in Ontario or BC, I recommend taking the intensive course with the Wedding Planners Institute of Canada (WPIC).
This is the course I took to become a wedding planner and I found the course and the networking opportunities invaluable.
How To Become A Wedding Coordinator
This is the wedding planning that I enjoyed the most, and found the most lucrative. A wedding day coordinator steps in typically a month before the wedding to make sure everything runs smoothly on the wedding day.
It's the best option if you want to become a part time wedding planner because you only really work on the wedding day and the night of the rehearsal.
The rest of the wedding coordinator tasks can be done by email or telephone.
The wedding coordinator is on hand to make sure the couple is not bothered by the minutiae of the planning as the day draws near.
On the actual wedding day, you are the go-to person for all vendors and family members.
The bride and groom should not be bothered by any issues at all and should leave the wedding thinking that everything went off without a hitch (even if you just spent the last 12 hours putting out fires!)
Wedding Coordinator Duties
Confirm Vendors
Attend and coordinate the wedding rehearsal
Arrive at the venue and supervise set-up. Make sure everything is in order.
Meet groom and make sure he is settled. Help with boutonnieres
Coordinate bride's arrival and help with ceremony timing
Assist photographer to corral family and friends for photos
Liaise with MC and DJ for timing of events
Help with wedding clean up at end of night
Jack of all trade to solve all and any problems that may arise – from fake eyelashes falling off to missing limos.
How Much Do Wedding Coordinators Make?
This is very regional but most wedding coordinators make around $400 if they work in a small town while those in larger cities may charge up to $1000 per day.
Bear in mind you may need to pay an assistant out of those fees.
How To Start A Wedding Planning Business
Here is what you need to start your wedding planning business:
A Business license
Once you have your training done and are ready to get started, you need to come up with a business name and register your company with your city or state.
This is typically a quick and easy process that costs less than $100.
You will want a professional looking website where you can display photos of past weddings you have worked at and also show your prices and services.
Most couples will find you through Google or at least want to check out your site before they book you so this is a really important part of your website.
I have a step by step tutorial on how to create a website for your small business.
I highly recommend BlueHost as their plans start out at $2.95 a month for hosting and a free domain name.
If you want an easy way to get started you can create your site using WordPress, that way you can create posts about your services and also add photo galleries.
WordPress is completely free once you have your hosting and domain. (My tutorial above will show you how to use WordPress).
How To Promote Your Wedding Planning Business
Promotion is the most important part of establishing your wedding planning business. Eventually, you will get clients via word of mouth but in the beginning, you will need to heavily promote yourself to get new clients.
Things You Will Need:
Marketing Materials and Business Cards
You can order business cards and materials from Vistaprint.
It's nice to have a brochure and maybe a magnet or other branded item to give to your clients. This will make you look professional and experienced.
Contracts and documents
You will need a contract outlining exactly what services you will be providing and your payment terms.
If you wish to use your client's photos for your website, you will need to include that in your contract too.
You will also need other documents such as
Vendor suggestion files that you can provide to clients.
Wedding day timelines to provide to the bride and groom, the DJ and the MC.
A Portfolio
Prospective clients will want to see your past weddings and any awards or reference letters that you have received.
It is also useful to have a portfolio of photos from weddings you have worked when you are discussing decor with your brides and grooms.
I used a simple photo album for this and it was great to serve as a talking point whenever I met with perspective clients.
An Emergency Kit
This is the most important piece of equipment a wedding planner needs.
The emergency kit will show your clients exactly how useful you are when things go wrong and they need a quick fix. I've hemmed pants, reglued false eyelashes and fixed centerpieces thanks to my trusty bag of supplies.
Get your free printable Wedding Day Emergency Kit supply list here:
Advertising for your services
Once you are established, you will get most of your business from word of mouth and referrals but in the beginning, you need promote your business.
The best ways to get clients as a new planner are Facebook wedding groups, bridal shows, and wedding vendor networking events.
How To Grow Your Wedding Planning Business
Become A Wedding Planner Assistant
Become a wedding planner assistant and learn the ropes on the job.
Most wedding planner assistant jobs are volunteer based – think of it as an internship.
Working as a wedding planner assistant is a great way to learn from a professional.
Another added bonus – if you do a good job, you may get work sent your way if the planner is unavailable for a job.
How do you become a wedding planner assistant?
Contact planners in your area and offer your services for free. Most wedding planners will be more than happy to have a pair of extra hands to help out.
In exchange for some photos for your portfolio and a recommendation letter this can be a great way to gain some experience.
Create a Preferred Vendors List
Contact wedding photographers, DJs and other vendors in the industry and create a list of "preferred vendors" who you recommend to couples.
See if they will offer a discount to your clients. Some may offer you a kick-back for recommending their services.
You can also see if local venues will give you a tour or provide you with preferred pricing or free upgrades.
Start a blog on your website
Having a "blog" section of your wedding site where you talk about wedding related topics will help to establish you as an expert in the wedding industry.
You can advice to brides and bridegrooms, give ideas for bridal showers or wedding decor.
A day in the Life of a Wedding Coordinator
Here is a little itinerary of the typical day in the life of a wedding day planner on the big day:
9am – Pick up any last minute necessities. Check that you have packed the emergency kit and itinerary.
10am – Arrive at reception venue to set up centrepieces, guest book table, confirm all vendors and cake arrival
12pm – Head to the ceremony venue to set up decor, pew bows and programs
1pm – Meet the groom and his groomsmen at the ceremony venue. Settle them in the bridal suite. Put on all the boutonnieres and brush them down with a lint brush. Make sure the ushers know what to do.
1.30pm – Meet with the officiant to reconfirm all details.
1.35pm – guests start to arrive at ceremony. coordinate ushers and make sure they are doing their job properly.
1.55pm – Wait outside for the bridal party. Help them out of the vehicle, line them up and advise assistant inside that it's show time.
2pm – Cue the bridesmaids and parents walk down the aisle. Fan the bride's gown before she enters the church
****wedding ceremony****
3pm – After the ceremony, gather family and bridal party for photos at the church
3.30pm – Head to the reception venue for final set up (candy buffet etc) meet banquet manager and confirm bridal suite entry. Confirm evening's events with the MC.
***3.30pm – Wedding planner's assistant – accompany bridal party for photos and act as photographer's assistant ***
5pm – Meet bridal party at reception. Line them up ready for the grand entrance. Cue them in.
5pm -9pm – Dinner and speeches (MC should handle but be on hand). Ask a trusted family member to move the gift box with envelopes to a safe place.
9pm – dancing begins. End of regular services. Say goodbye to the bride and groom and their parents.
How To Become A Wedding Planner: FAQS
What's The Difference Between A Wedding Planner And A Wedding Coordinator?
Think of the wedding planner as someone who helps with the wedding from start to finish. They help the couple choose a venue, pick vendors such as a florist and a DJ and they are there for every moment in the run up to the big day.
A wedding coordinator is normally hired for a specific time – it could be the month running up to the wedding or even just the wedding day (A day of wedding coordinator).
Wedding coordinators are there to ensure that everything runs smoothly for the bride and groom and that there is no stress on the actual day.
Should You Become A Freelance Wedding Planner?
There are two options for wedding planners – freelance or employee.
A freelance wedding planner works for their own business and is responsible for finding their own clients. If you are just starting out, it can be easiest to start as a freelance wedding coordinator because you can set your own rates and own hours.
The other kind of wedding planner is one that works for a banquet hall, hotel or restaurant. They are in charge of working with couples who are booking the venue both before and during the big day.
Wedding planners who work as an employee don't have to worry about finding clients but they may not get paid as much as a freelancer.
Final Thoughts On Becoming A Wedding Planner
Wedding planning can be a really fun job if you love weddings and have an eye for details. A cool head and an organized mind are essential to the wedding planner business.
Your job is to make someone's big day as perfect as possible which is truly rewarding.
If you want to become a wedding planner, you can take a course or learn online or even learn from a book.
More Side Hustle Ideas
38 Woodworking Projects That Sell
How To Make Money Flipping Items