It's what you've always wanted to do, but what are the steps? This is your ultimate guide on how to become a freelance writer with no experience.
You'll learn what it takes and what skills you need for this job.
You might think that it is impossible to get freelance writing jobs without a large writing portfolio but the truth is very different.
There are a lot of writing job opportunities for people without writing experience if you know where to look.
Read on to learn exactly how to get started with your freelance writing career and where to find freelance writing jobs once you are ready.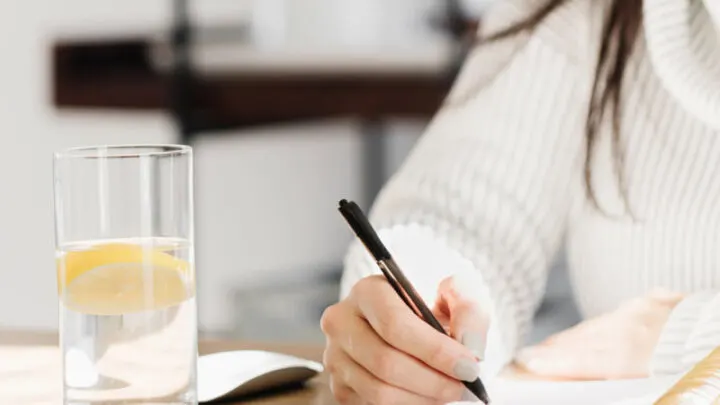 This post may contain affiliate links. Please read my Disclosure for more information.
RELATED POSTS
How to Become A Freelance Writer With No Experience
As a freelance writer, what's your ultimate goal?
For many people, it is to be able to quit their day job, work from home and set their own hours.
Maybe you've had some success as an independent blogger or content creator on sites like YouTube and now want more income with less work.
Or maybe you're just getting started in the field of writing and want some guidance on what steps to take next.
Whatever stage of life you are in, this guide will give you a step-by-step plan for how to become a freelance writer with no experience!
What Is A Freelance Writer?
A freelance writer is someone who provides writing services for businesses in exchange for money.
Freelance writers can work from a remote location as long as deadlines are met, which can be very flexible depending on the business's needs.
Furthermore, freelance writers are able to take the reigns over their career growth by choosing their own schedule and what type of projects they want to work on.
The downside to that is that they don't have employee benefits, and they pay taxes on their own.
The most common types of freelancers include content creators (bloggers), copywriters, journalists, graphic designers, etc.
Pros and cons of freelance Writing
While being a freelance writer can be stressful at times, there are a lot of benefits, one of the best things is that you are your own boss and can pick and choose the work you do.
Advantages of Being Freelance V Contract
Freedom to set your own schedule
Opportunity to write in lots of different subjects
Freelance writing gives you a chance to broaden your writing styles
Control of workload – you decide how little or how much you work
Independence – you are not tied down to any company or type of writing
Disadvantages of working as a freelance writer
Sporadic Work – no guaranteed income
Lack of benefits
Need for business skills – managing jobs and paying taxes
How To Become A Freelance Writer With No Experience
This article will cover everything you need to know about becoming a freelance writer.
You don't need any expensive certificates or degrees to start your career as a freelance writer, nor do you have to be confined to just one location.
If you're equipped with a keyboard and internet connection, what is stopping you?
Here is a step by step guide starting your path to becoming a freelance writer:
5 Easy Steps To Become A Freelance Writer With No Experience
Take A Freelance Writing Course
Pick A writing Niche
Build Your Writing Portfolio
Promote Yourself On Social Media
Find Freelance writing jobs
Step 1: Take A Freelance Writing Course
Freelance writing courses can help you become the best writer possible and increase your potential for success.
I know you are probably looking to increase your income and not spend more write now but hear me out.
Even if you are a great writer already, taking an online course can show you how to perfect your writing style and also how to scale up your freelance career.
Learning from a pro can be a great way speed up your freelance writing career path.
A freelance writing course doesn't need to break the bank either, here are a few good ones you can check out:
Freelance University has helped 14,000 students through this program over the last decade.
Freelancers can enroll in 80+ courses for an affordable monthly price that will help them with all aspects of running a successful freelance writing business.
You will learn everything from how to market your work and set rates to building relationships with clients or improving grammar skills!
This in depth course is by freelance writer extraordinaire, Elna Cain. Elna is the owner of a really successful blog called Twins Mommy but she is also a freelance writer.
Elna's work has been featured on OptinMonster, Blogging Wizard, Huffington Post, Psych Central, and she also ghostwrites for big-name bloggers and influencers.
In her course which is perfect for anyone who wants to make freelance writing a full-time job, you will learn:
20 Different Types Of Writing Service You Can Offer
How To Build Your Writer Platform
The Importance of your portfolio
How To find freelance writing clients
The course helps students learn how to make a full-time salary as a freelance writer.
It's for people who dream of being writers, but lack confidence or knowledge in the field and want guidance on what steps they should take next with their career aspirations.
This class touches upon topics such as choosing an appropriate niche that would be profitable enough financially while also allowing them freedom from any other jobs needed just so you could focus solely writing alone; launching your website properly utilizing all available SEO opportunities to get more business.
Step 2- Pick A Niche
While it can be fun to write about different topics , a good way to land your first client fast is to focus on one particular freelance writing niche.
Almost everyone I know who is a full-time freelance writer focuses on one narrow niche. This allows them to really hone their writing skills for their target audience.
Narrowing in on your niche(s) can be difficult, but it's not impossible with a little exploration. Explore past work experiences and hobbies or interests for insights on potential niches that you may excel at.
Here are some examples of freelance writers who picked a great niche and ran with it:
Elna Cain – Within six month of focusing on her niche of Digitally native brands, Elna was making a full-time income as a freelance writer.
Gina Horkey – With more than a decade of experience in the financial services industry, it was a no brainer for this successful freelancer to position herself as an expert personal finance writer.
There are many different kinds of freelance writing that you can do:
Technical writing
Digital Marketing
White Papers on specific topics
Real Estate Copy writing
Ghost writing for bloggers
Content marketing writing for brands
Marketing material for small businesses
Step 3 -Build Your Writing Portfolio
Now it is time to start writing! Your writing portfolio is one of the main ways that prospective clients will find you. They want to see that you are a good writer who can fulfil their needs.
The way to create your writing is portfolio is by creating writing samples in your chosen niche.
Until you are a successful freelance writer with lots of actual job examples to show potential clients, it is a good ideas to build up as many free examples of your work as possible online.
Here are some ways you can get your work out there and in front of the people who might hire you:
Start Your Own Blog
Starting your own freelance writing website is an excellent way to start building a portfolio and brand for yourself in the industry.
A writing blog can help new freelance writers to showcase their writing samples and also get some traction for their brand.If you already own a personal blog, you could add a Freelance writing section to it so that all your blog posts act as examples of your skill sets.
If you don't have your own blog, then don't fear. It is really easy to create your own website and you can do it in an afternoon.
On your writing website, make sure to have the following web pages:
An about page that explains who you are
Contact information including your email address
Services/Hire Me Page
As many samples as possible of the kind of work you are looking for
Any feedback or reviews you receive from clients
Want more help setting up your writers website?
Elna has a fantastic quick course that you can take over a weekend.
It will take you through everything you need to know to have your site published so you can start making extra money .
When you enrol in Writer Website in a Weekend you get:
Lifetime access with all updates for free
5 modules with 26 video step-by-step lessons
Canva tutorial
WordPress overview
Starting Your Blog Post to Attract Clients guide
Best WordPress Plugins for Freelance Writers guide
Best Tools to Start Your Freelance Writing Business Off on the Right Foot guide
Customized tips for your website
The course is under $50 and packed with lots of great information. You can check it out here.
Once you have created your portfolio, it is worth also uploading your work samples to other writing sites in order to increase your reach of clients.
Here are some free sites where you can create a profile and upload your samples:
The free plan with Journoportfolio will allow you to add 10 articles and get a personalized domain name( yourname.journoportfolio.com)
It is worth adding your information to the site as another option but it is still best to have your own website as well.
This is another site that has a free option for you to create your own online portfolio with up to 10 samples.
Writer's Residence lets you create a website, résumé/CV and portfolio using only your web browser.
Guest Post On Blogs
The best way to get a lot of writing experience quickly is to guest post on other blogs. The more you practise writing, the better writer you will become.
Guest posting on someone else's website can be a great way to get your writing out and having published work to show potential clients.
It shows dedication and initiative, which is impressive in itself!
I would recommend finding reputable blogs within your niche and apply to guest post.
How to find sites accepting guest posts?
The main goal when looking for guest blogging opportunities is to find sites that are relevant to your niche.
First, you have more chance of getting your guest post accepted that way and second, you want your writing samples to be relevant to the work you are trying to get.
The easiest way to find websites that will accept guest post is to simply google.
Figure out the keyword that you want to use with your guest post and then just plug in one of the following terms:
keyword "submit a guest post"
keyword "guest post"
keyword "guest post by"
keyword "accepting guest posts"
keyword "guest post guidelines"
keyword "write for us"
These searches lead you to the pages on blogs with guidelines for submitting guest posts.
How To Land A Guest Post Opportunity
Read the guidelines.
Most blogs that accept guest posts have a set of guidelines that you must adhere to. Make sure to take them seriously.
Here is an example of some guest post guidelines:
Personalize your email. Nothing worse than getting an email addressed to Site owner.
Address who you are.
Follow their social media accounts before you pitch and make sure to let them know that you will share the post on your own social too.
Publish Your Work For Free On Contently
Contently is one of the best online platforms for getting writing jobs. Simply create a profile and upload your work.
Contently is the perfect way to get started as a freelance writer with no experience because you can publish your work without incurring any extra cost.
You can create samples, add images and make your writing look professional–all without paying anything at all.
Write Articles For Linkedin Pulse
Publishing on Linkedin Pulse is a great way to get your work published and out there to a wider audience. Anything you publish on Pulse, which is the blog section of Linkedin, will be automatically posted to your Linkedin profile.
It is so easy to get started, simple click the "write an article" tab on your homepage:
You are allowed to write one article a year for Pulse and it is definitely worth it for attracting new clients. According to this article, https://thewritelife.com/linkedin-marketing-for-freelance-writers/, some Pulse posts get up to 10,000 views. That's a lot of great job opportunities!
Publishing Your Work For Free
I know it may seem that all you are doing so far is to give away your writing but this type of work will pay dividends down the road as you will be in a good place to get freelance writing jobs.
And let's face it, as a freelance writer with no experience, you have to start somewhere.
Make sure to publish your samples to the free portfolio sites and places like Linkedin for the most impact and chances of landing a great job.
Promote Yourself On Social Media
One of the first things you will want to do is to get yourself visible on search engines through social media.
The main thing to do at first is to create social media accounts for your freelance writing business. This is one of the most important things you can to do promote yourself online.
Make sure to consider where your potential clients are hanging out. If your chosen niche is fashion, then Instagram might be for you.
Facebook is also a really important place to have an online presence as there are lots of groups where you can find writing jobs.
I would suggest making the following profiles and adding your services and links to anywhere you have been published (yes, Linkedin Pulse and guest posts count!
A business Facebook Page
Twitter account
Instagram
Linkedin
Medium Account (you can submit posts to Medium for free for some exposure)
What kinds of things should you post on social media?
Your social media promotion shouldn't take too much work. You can even use a program such as IFFT.com which will repost your Facebook posts to Instgram and Twitter to save you time.
Here are some ideas of things to post on your social media profiles:
Links to your blog and newest blog posts
Links to any new articles you have published
Bite-sized tasters of articles you have written to encourage people to read them
Promotions of any guest posts you have done
Reels and Facebook lives of new things you are working on
Stories about your writing process and your work station
How To Find Freelance Writing Jobs
Now you are ready to find some fantastic paid freelance writing gigs.
Where you find the most work will likely depend on your particular niche. Below I will give you the best places to find work from home writing jobs:
Facebook Groups
The first place to look are Facebook groups for freelance writer jobs, you would be surprised at the different job postings you will find. It is a good idea to join as many Facebook groups as you can to see if they have any good opportunities for you.
They can be an easy way to find jobs that are high paying and frequent.
Content Writing And Writers Work
Freelance Essay & Assignment Writings Jobs
Freelance content writer, content marketing
Freelance Copywriter Collective – The JOB Board
Another place to look are Facebook groups for Bloggers.
A quick search will bring you up a ton of great options and you will be able to advertise your ghostwriting skills to bloggers and brands like this one: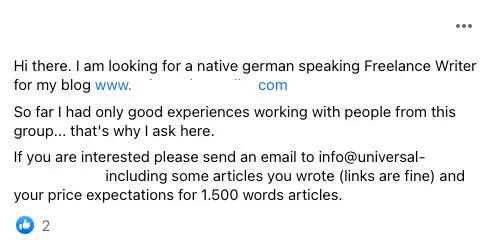 Writing Job Boards
There are two main types of job boards for freelance writers – paid and free.
You can try both but the hourly rate is often higher on the paid sites so you may find that it is worth paying a subscription.
Here are the most popular job boards to check out:
Content Writing Jobs
Flexjobs
Upwork
Fiverr
I've also found that just by inputting "content writing jobs" in search engines, you can find some great freelance writing opportunities:
Content Mills
Content mills are middle men for freelance writers to land jobs.
If you have no experience as a freelance writer and want some paid gigs under your belt, they are a great place to start but bear in mind the pay is normally low because of the cut they take from every job.
Here are some content mills to check out:
Cold Pitching
You knew this was coming.
If you really want to learn how to become a freelance writer with no experience, then you need to start email marketing .
Cold pitching is a necessary evil in the world of writing. Yes, it is hard work but is it one of the best ways to get writing assignments.
It means reaching out to potential employers, looking for business opportunities and then putting yourself forward as an excellent candidate when it becomes available so that they will hire you instead of someone else
The easiest way to start pitching is to force yourself to send a cold email or two a day.
Ideally you would contact 5-10 small business owners everyday.
Create a template using canned responses in gmail and you have send lots out in no time at all.
How Much Money Do Freelance Writers Make?
Ok, the important stuff, when are you going to start seeing money in your bank account ? It is not without question that you could land your first freelance writing job in the first month so you need to know how much money you will be making.
Around 10 cents a word is a good benchmark for new writers to start with and as you get more experience, you will be able to command higher prices.
Many freelance writers make $2000+ a month and the good news is that it doesn't take a long time to get there.
Just follow the easy steps outlined in this blog and you will be well on your way to learning how to become a freelance writer with no experience!
More Tips For Becoming A Freelancer
How To Become a Freelance Model In 5 Easy Steps
10 Work From Home Jobs To Start Today
30 Best Side Hustles For Introverts