Did you know that there are a number of ways to make money with your car and get paid weekly?
If you are in need of some extra cash or create a side income, drivers are in high demand in most cities.
Most jobs offer very flexible schedules where you can work as little or as much as you like.
There are even ways to make money with your car without ever getting behind the wheel! As long as you have a vehicle in good condition, you can make some extra cash.
If you're looking for an easy way to make some money, then there are plenty of ways you can do that with your car.
You don't have to have a lot of money or an amazing brand new vehicle to create an income with your car.
The Top 10 Ways To Make Money With A Car
Drive for a ride-sharing program
Turn your car into advertiser on wheels
Get paid to share your driving data
Use your car for food deliveries
Lend others your car
Get paid to park your car
Drive for Amazon
Help people move stuff
Do alcohol home deliveries
Deliver groceries to homes
This page contains affiliate links meaning I earn a commission if you use those links. Please read my Disclosure for more information.
RELATED POSTS
Ultimate Guide To Making Money On Turo
How To Make Money With A Pick Up Truck And A Trailer(35 Genius Ideas)
Why Use Your Car To Make Money?
The lifestyle of today's typical person is hectic and demanding. Work, school, family, and taking care of the daily household tasks all leave little time for anything else.
With long commutes to work becoming more common, people are looking for ways to make their car useful for something other than transportation.
With gas at an all time high, it makes sense to use your car as an income generator.
Who knows, you might even get it to pay for itself in no time!
10 Best Ways To Make Money With Your Car
Below you will find some great ideas for making money with your car. If you own a larger vehicle, make sure to check out my list of 35 ways to make money with a pickup truck and a trailer.
Drive For A Ride-Sharing Program

If you have a car in good working order and a clean driving record, consider signing up to drive with a ride-share program such as Uber or Lyft.
You can make considerable amounts of money driving people from A to B especially if you live in a large city or near a major airport.
The great thing is that business is booming for these apps as the holidays approach. Many people do not want to risk driving after holiday parties and gatherings and demand is high.
Add in the busiest nights of the year such as NYE and Christmas and you could be laughing all the way to the bank come January.
With both of these ride-sharing programs, you only work when you want to so this job can make you as much as little as you put into it.
It is also great for people with children who need to work evenings and weekends.
How ride share apps work
The passenger downloads the app and activates it when they need to be picked up. Available drivers close by can "claim" the ride and make their way to collect the passenger
All money is handled by the app which pays the driver directly by direct deposit.
When you do not want to work, you simply turn off your availability
Both ride-share apps pay weekly which is great for people who need extra cash fast
How much can you expect to make?
Lyft
has a nifty calculator on their homepage that shows you average earnings for select cities.
Here is a selection I pulled:
10 hours a week in Chigaco = $250
30 hours a week in NYC = $1140
15 hours a week in Birmingham, Al = $525
5 hours a week in Dallas, TX = $110
As you can see, you can often earn more per hour in the smaller cities as there is less competition for drivers AND distances may be longer.
About Uber
Uber is the original ride-sharing company and was started in 2009.
Over 1 million people have used the location-based app since launch
Uber operates in over 45 countries including the USA, Canada, and the UK.
Depending on the kind of car you have, you may be able to drive for Uber Black or UberLux which charge more
The requirements to drive for Uber vary per city but here is what you need to drive in the Toronto area which is a good example of a large North American city:
4-door vehicle with independently opening doors
Vehicle newer than 2007
Good condition with no cosmetic damage
No commercial branding
No salvaged or rebuilt vehicles
Snow tires or all-weather tires installed from December 1 until April 30
Pass a vehicle inspection by a licensed mechanic
Sign up to drive for Uber!
About Lyft
Lyft was launched in 2012 and is very popular in cities like Chicago and New York. It is currently not available internationally.
If you live in a city that offers Lyft and you want to make money with your car, it's one of the best companies to sign up with.
Lyft offers four types of rides within the app:
The carpool option, Lyft Line.
The basic and most popular offering, Lyft, that matches passengers with nearby drivers.
Lyft Plus matches passengers with a six-seater car.
Lyft Premier matches passengers with a more Premium ride with seating for four.
People looking for a luxury vehicle would go for the Lyft Luxe option.
The requirements to drive for Lyft are similar to Uber:
You must be at least 21 and own an iPhone or Android phone. As part of our approval process,
you'll undergo a DMV check, plus a national and county background check.
in-state driver's license that is at least a year old.
Your car needs to have four external door handles and at least five total seat belts.
You must be a covered party on your car's in-state insurance and have in-state license plates.
There are different state and cities laws which also apply (for example SFO drivers need a business license)
Turn your car into an advertiser on wheels
Selling ad space on your car is a great way to make some extra cash on the side.
If you have a car that is sitting in your driveway most of the time, you are not making any money.
All you need to do is put an advertisement on it and turn it into an advertisement on wheels.
You can advertise anything from clothing to rental properties, depending on what is available in your area.
You can earn up to $300 a month for turning your car into a driving billboard.
All you do it sign up and allow a brand to use your car for advertising wrapping.
It's a win-win.
You get paid for going about your normal life in your car and they get advertising.
If you are already a ride-share driver then you should seriously consider putting ads on your car as many brands specifically look for Uber or Lyft drivers to advertise their brands.
Some of the companies to sign up with include:
Drivertise – Canada only
Drivertise is a great vehicle advertising option for Canadian drivers.
Carvertise – USA
The nice thing about Carvertise is that you get to choose which brand advertises on your car. Most compaigns pay around $100 a month and can last for up to a year.
Market Your Car claims to pay up to $800 a month for billboard advertising on cars.
Get paid to share your driving data
Do you ever get tired of being stuck in traffic?
Have you ever imagined what it would be like to get paid cash for knowing your way around town?
With the rise of "driverless cars" on our minds, this may seem unrealistic.
But to help commuters avoid congestion and parking hassles, many companies are using data to solve these problems.
A 2016 McKinsey report showed that many of us are willing to share our precious car data with manufacturers and insurance companies as long as there is something in it for us.
Right now there are not many car companies paying for your data however there are quite a few apps that will reward you for driving in a safe manner.
Safe2Save will pay you to not use your phone while driving. For every 2 minutes you drive over 10 mph and don't look at your phone, you will earn points. Redeem those points at local businesses and restaurants.
Mobilio will pay you in Crytocurrency when you drive undistracted.
Another way to get paid to drive safely is to contact your car insurer.
My car insurance company offers a discount of up to 30% off my premium if I am willing to install a device that tracks my data.
If I am a safe driver, I will get the discount, if I don't qualify my rate stays the same so there is no option to lose.
Use your car for food deliveries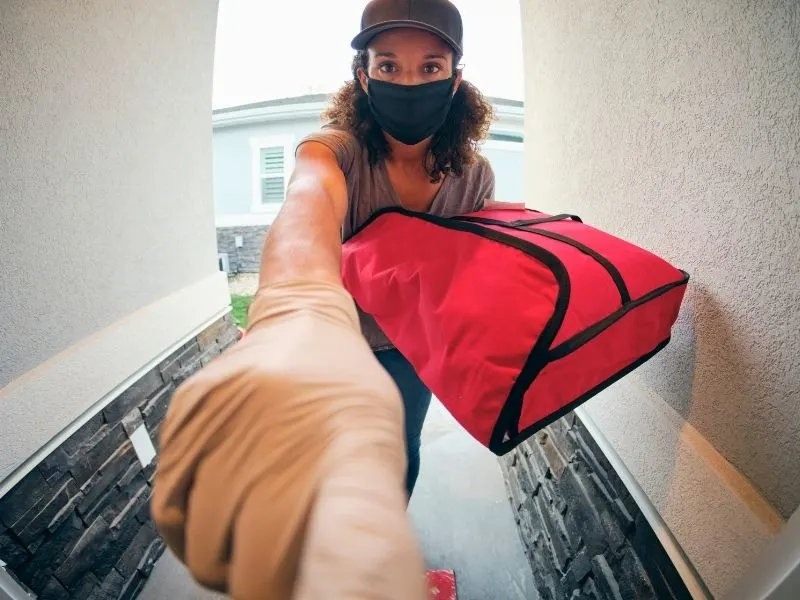 If you don't feel comfortable having strangers in your vehicle but would like a flexible side job that allows you to make money with your car, driving for a food delivery service might be for you.
Work on your own schedule, as much or as little as you like and using your own vehicle.
The vehicle requirements are less strict than the ride share programs as you will not be transporting any passengers.
How it works
Customer order food from a variety of local websites using the Ubereats app. You then pick it up and deliver it to their house. Simple as that!
There a few companies that are currently looking for drivers including:

Uber eats works very similar to the regular Uber system, you will get paid weekly and the driver requirements are the same. The car requirements are slightly more relaxed:
Model year must be 1997 or newer
2-door or 4-door vehicle
Salvaged vehicles are allowed
No commercial branding
Vehicle inspection not required
No car? No problem. You can also deliver by bike!
Skip the Dishes
Skip the dishes works in much the same way as Uber eats and is available in the US and Canada. Drivers claim to make around $10-$25 an hour plus tips which can make up the bulk of your money.
Skip the Dishes drivers are called couriers and are paid weekly. Drivers keep 100% of the tips and delivery fees.
Requirements:
A smartphone
A working vehicle (reliable, insured and fuel efficient)
Valid driver's license
Proof of eligibility to work
Lend others your car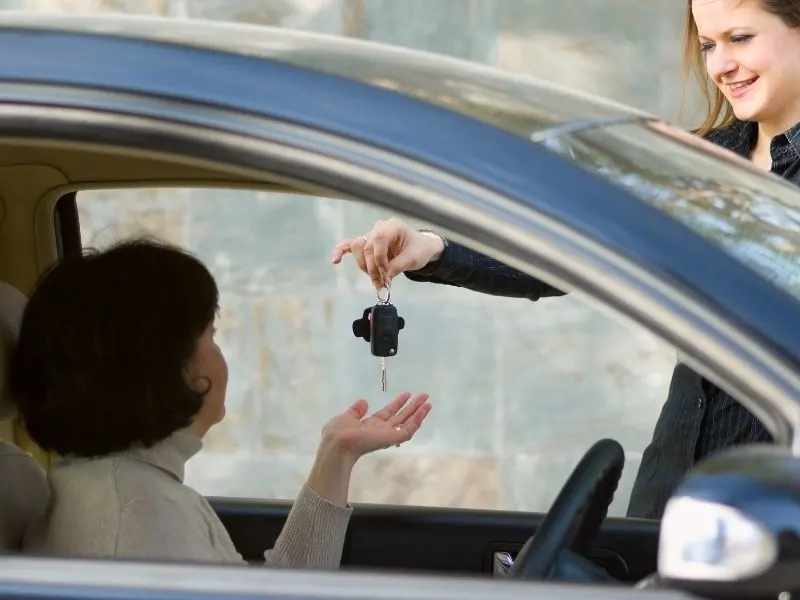 Lend your car to others and make some money in the process.
Whether you're looking for a quick buck or an ongoing income, earn cash by letting someone else take advantage of your wheels.
Let's face it: we're not always in need of our own vehicle so why not make some money when your car is not in use?
Turo is the world's largest car sharing company and a great website to sign up with if you are willing to rent out your car.
I've written an Ultimate Guide To Making Money On Turo because it is such a great way to make money passively.
According to Turo, you can earn an average of $620 a month by renting out your car when you don't need it. That's money you can make for doing nothing!
It's free to sign up with Turo and you set your own rates. You will get paid via direct deposit within three days after each trip.
You'll earn 70% of the trip price, unless you waive Turo protection to use your own commercial rental insurance.
You'll also get reimbursed for things like fuel and any mileage beyond your limit.
Get paid to park your car
Even if you are not the best at parallel parking, you can still make money with your car by parking it!
Next time you are heading to the airport, instead of paying for expensive parking, use a car sharing lot and make money while you are on vacation.
How it works
List your car on one of the car share sites and then park your car at the airport.
While you are away, trusted drivers will use your car and when you get back, you will get paid!
You get free airport parking and make cash while someone else uses your car!
Intrigued? There are a couple of websites you can sign up with:
Get free airport parking and a free car wash and make money at almost every airport in Canada with Free2Move.
Pull up at the airport lot, get the shuttle to the airport and earn $25 a day for sharing your car. Avail is available at
To join Avail, your car must meet the following requirements:
Automatic transmission, gas-powered cars
2011 or newer with fewer than 125k miles
No visible damage or major maintenance issues
Have no open recalls and records for previous recalls
No pickup trucks, electric, or two-seater cars accepted. Hybrids are ok.
Drive for Amazon
Amazon Flex
Amazon Flex drivers can make $18-25 an hour according to their website. It's currently available in 33 US cities and there are more being added constantly.
How does it work?
Using the Amazon Flex app, you head to the warehouse, pick up and scan your packages then deliver them. The app provides directions and you can also track your earnings.
Help people move stuff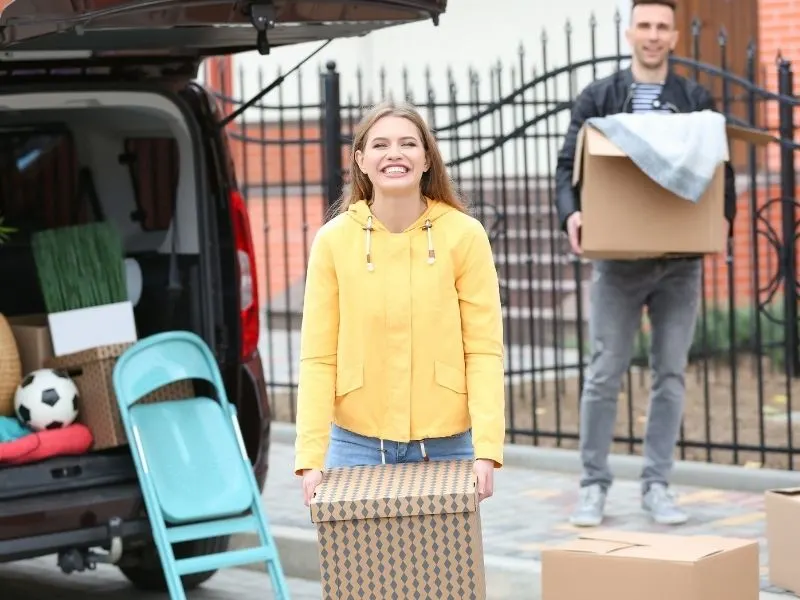 I have mentioned this in my post about making money with a pick-up truck and a trailer but if you own a car, you can also get in on the action.
Make money with your car by helping people move yard sale finds, big deliveries from stores and even small house moves.
You can sign up for an app like Dolly which matches local helpers and truck owners with people who have moving, delivery and hauling needs.
Do Alcohol or Cannabis home deliveries

The next step from food take-out deliveries are delivering alcohol and cannabis to homes.
To get a job as courier for these kinds of products, you will need to be over 21 and have a secure, lockable trunk in your car.
Emjay is one of the biggest home delivery companies for cannabis and they are currently looking for drivers.
Minibar is one of the alcohol delivery companies that is currently looking for drivers.
Deliver groceries to homes
If you enjoy grocery shopping, why not become a shopper for Instacart?
As a full-service shopper for Instacart, you can choose to work whenever you want so it is a great way to make money in your spare time.
You'll need a smartphone so your customers can text you and you can message them with any substitutions but other than that an a vehicle, there are not too many requirements.
You can make around $10-15 an hour as an Instacart Shopper.
Making Money With Your Car – Final Thoughts
Earning money with your car is possible.
There are many different ways to make money with your vehicle.
Whether you decide to rent out your car or use it as a delivery driver, you can earn significant monthly income if your car is in good shape.
Make sure to have a clean license, good insurance and a nice clean car then start making some money!
More Tips For Making Money
451 Most Profitable Crafts To Sell
How to Become A Freelance Writer With No Experience (5 simple steps)