Have you ever wondered about making money with your car as an Uber or Lyft driver? What about making money on Turo?
Last week, my husband looked into driving for Skip The Dishes and UberEats but was really disappointed to find out they are inundated in our area.
Luckily if you want to know how to make money with your car, there is another option – peer to peer sharing.
You've probably heard of peer-to-peer sharing. It's really trendy now and has created a wonderful way for anyone to make money on the side.
This post may contain affiliate links. Please read my Disclosure for more information.
RELATED POSTS
What is peer-to-peer sharing?
If a person needs something, they can rent it from someone who already has it rather than going out and buying the item themselves.
For example, people are renting out things like power tools, bicycles, storage space, and some are even renting out their backyards as campsites. Renting out your car is becoming especially lucrative.
Yes! You can make extra money in the peer-to-peer sharing industry by renting out your car.
How To Rent Out Your Car For Cash
To rent out your car completely on your own would be quite difficult.
You would have all of the challenges of starting a new business, such as filing a business name, getting the necessary licensing in your area, setting up payment processing, getting the proper insurance, and more.
The good news is that you don't have to do any of those things because there are a few companies that have already taken care of all of that.
These companies put those who need to rent a car together with those who would like to rent out their vehicle.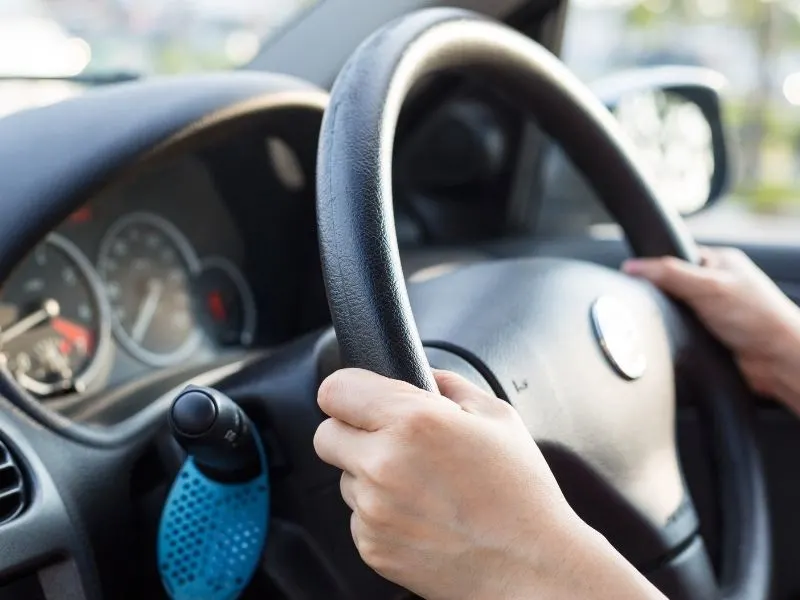 Why Rent Out Your Car For Cash?
Maybe you are wondering why exactly you should consider making money on Turo.
Of course, everyone has their own reasons for needing extra money but according to Turo, many of the 350,000 car hosts cite the following reasons:
Offset the cost of car ownership
Many Turo hosts list their cars so they can cover their monthly payments, while others simply want help managing insurance and maintenance costs.
Opportunity to buy a better car
Many car enthusiasts often use Turo as an opportunity to buy cars that may have otherwise been out of their price range.
If you know that your payments will be covered, you can stretch the budget a bit further.
Make Passive Income
Turn a profit by sharing your car when you are not using it. Instead of having it sit on the driveway, make some extra cash on the side.
Turo is the world's largest peer-to-peer car sharing marketplace, operating across the US, Canada, and the UK.
There are currently over 450,000 vehicles listed and over 850 unique makes and models available to rent.
The Turo Calculator
The Turo Carculator is my favorite feature of the website. It lets you see how much you can make with your car.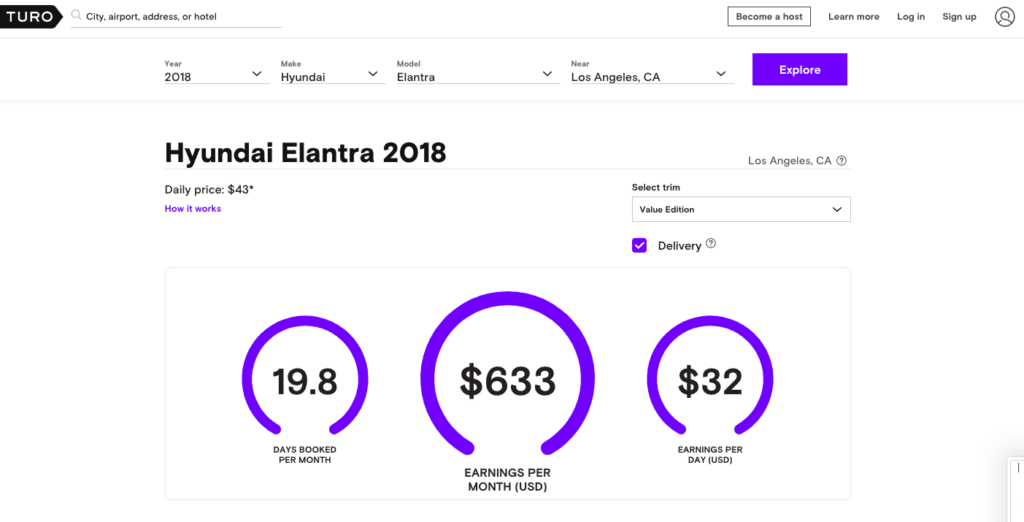 What Cars Are In Demand On Turo?
Although there are all different makes and models listed, Turo does say that certain cars are in high demand.
If you own one of these cars, consider listing on Turo for some easy money:
According To Turo, Jeep Wranglers can pay for their monthly payment in just a week and make more than double the average price per rental making $851 a month.
Ford Fiesta
You might think this is a simple basic car but people who just want to get from point A to B can help Fiesta owners earn an average of $497 a month
Porsche Boxter
I know you are probably thinking that if you owned a Porsche, you wouldn't need to list it on Turo but hear me out.
People rent these cars for the experience of driving a Porsche and they make their owners $1365 a month on Turo. Makes that monthly payment a bit more palatable.
Other Types Of Car That do well
Pick-up trucks and SUVs are all really popular (although, of course, there are lots of ways to make money with a pick-up truck and a trailer).
If you own a mini-van, you can also consider renting it out. In fact, the Dodge Grand Caravan makes on average 2.5 x the monthly payment.
How To Get Started Renting Out Your Car With Turo
Create an account on Turo.com
After you create your account, put in your car's details: the make, model, and year of the car along with its mileage.
Upload a few photos of your vehicle
Make sure it is nice and clean.
Update your calendar and set your pricing
This will to let potential renters know when your vehicle will be available and how much they will need to pay.
Wait for your first request
After you've set everything up, you'll start receiving requests.
The requests will be submitted to the website and the website will in turn pass the request along to you so you can accept it.
You'll also have the option to contact the renter if you have any questions.
Meet the renter
When they come to pick up the keys, you can check their license and make a note about the current mileage and amount of fuel in the vehicle
What Happens After The Rental?
When your car is returned, inspect it to ensure everything is in good condition.
You can log onto the website and rate the renter so that other vehicle owners can have information about the people who may rent their vehicles.
What Are the Risks of Renting Out Your Car?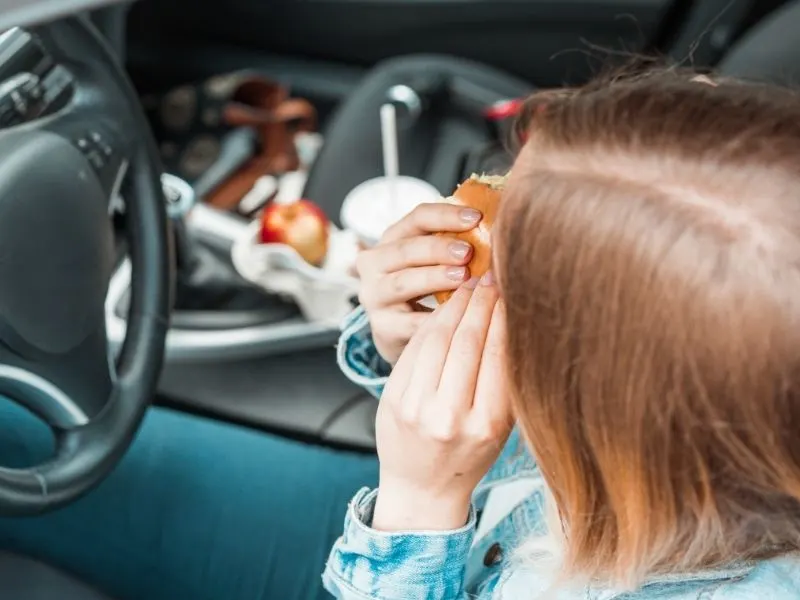 You may have some concerns about renting your car to a total stranger.
If the person who rents your car gets into an accident what happens?
What if they smoke and the car smells like an ashtray?
And what if they leave food wrappers, greasy fingerprints, and potato chip crumbs all over the vehicle?
Luckily, by going through Turo, you are well protected:
Renters are prescreened. They must meet the eligibility criteria before they are allowed to rent vehicles.
All drivers must possess a current, valid driver's license.
Drivers must be at least 21 years of age.
They must also have a driving history that doesn't show any major violations and no more than two minor violations in the last three years or one minor violation in the last year.
Turo carries a $1 million liability insurance policy. This protects you against any claims from third parties for injuries or property damage. It will also cover any physical damage to your car up to the cash value of your vehicle.
The insurance also includes comprehensive coverage that protects your vehicle from fire, theft, and vandalism.
If someone leaves food and trash all over your car or stinks it up with cigarette smoke or pet hair, contact the company within 24 hours of receiving your vehicle back and the renter will be charged a fee to have your car cleaned and detailed.
How Much Money Can I Make With Turo?
The amount of money you can make by renting your vehicle out varies according to a number of different factors.
Turo claims that the average driver makes $702 a month renting out their car to strangers.
You get to set the rates
You can set them by the hour, day, or by the week. Keep your rates competitive with similar models in your area to boost your chances of getting bookings.
Your Type of Car
The amount you can expect to receive will depend on the age, make, and model of your vehicle. For example, a 2007 Toyota Corolla won't command as much money as a 2020 Tesla.
Generally speaking, you may be able to get anywhere from $10 to $50 per hour for your vehicle, depending on these factors.
Rent Often for More Income
Logically, the more you rent your car out, the more money you will make. Consider walking or taking public transport in in-demand times to maximize your earnings.
Commission Rates Vary
Your portion of the rental income varies with the website. The amount of money you make will also depend on which website you sign up with.
It may seem a little odd to hand the keys of your car to a total stranger.
But with the prescreening and the $1 million insurance policy protecting you and your vehicle, there's not much to worry about.
This is a pretty easy way to put some extra money in your pocket.
Even if you just make an extra $400 or $500 per month, you'll make that money without doing very much work because the Turo takes care of most of the heavy lifting for you.
So if you have a vehicle sitting in your driveway, you might want to consider putting it to work, earning you some extra cash.
Alternatives To Turo
There are two main alternatives to Turo if you want to rent your car out.
Getaround is car sharing for entrepreneurs. If you want to get into the car sharing business, then Getaround offers you the chances to start your own business.
GetAround.com takes a 40% commission to cover their costs and provide them with a profit, leaving you 60% of the gross revenue.
Justshareit is a simple site to list your car on. You will receive 60% of the vehicle base price from each rental on JustShareIt.com.
More Ways To Make Money From Home
How To Make Money With YouTube
Making and Selling Jewelry Successfully- How To Get Started