Did you know that dog treats are big business? If you love baking and love your pooch, have you thought about how to start a dog treat business?
I've written before about how to make money from a home-based cookie business and this post about how to start a dog treat bakery business is a bit of a spin on that.
If you like baking cookies, have you ever considered selling homemade dog treats at farmer's markets and online?
Learning how to start a pet bakery can open the doors to a great side hustle that you can do from home in your free time.
Homemade dog treats are really popular and sell like crazy. They are also really easy to make in your own kitchen.
Today I'm going to show you how to start a dog treat business from home and make money on the side.
There is even a free workshop on starting a dog treat business that you can attend (more on that later).
In this post, we will cover 6 easy steps to follow to start a dog treat business.
How To Start A Dog Treat Business In 6 Easy Steps
Here what's you'll learn in the article:
What you need to start a dog treat business
Where you can sell your dog treats (and keeping it legal)
How to pick the perfect dog treat bakery name
Where to find recipes for delicious dog treats
The Dog Treat Bakery course you can take (plus a free workshop)
How to promote your dog treat business on and offline.
This post contains affiliate links. Please read my Disclosure for more information.
MORE FUN SIDE HUSTLES
How To Become A Wedding Planner From Home
Starting A Cookie Business From Home
How To Start A Dog Treat Business
First of all, let's look at why you would want to start a dog treat business – there are a few reasons homemade treats are really popular:
They are healthier and more natural than many store bought dog treats
You can cater them for special diets that dogs might require
You can make them in fun shapes and flavors (bones, cupcakes, doggy shapes)
Homemade is always great! Just like homemade cookies for humans are yummy – so are homemade dog treats!
Can I make dog treats at home and sell them?
The answer is yes! You can make dog treats to sell from home as long as you comply with state or country regulations for where you live.
A lot of people wonder if it is legal to make and sell dog treats at home.
As dog treats are classified as a pet food, there are certain regulations that you will need to be aware of.
Check with your local state for the specific requirements but in most places you will need to make sure you have a business license in order to sell your dog treats.
The regulations for selling homemade dog treats in Canada are a bit different than the USA.
As long as the items are baked or classed as "low risk" you can make and sell your homemade dog treats in Canada according to this article by the CBC.
I recommend that you contact your local Chamber of Commerce or city hall to see whether you need to obtain a dog treat business license or permit where you live.
How Do I Start Selling Dog Treats?
In order to start selling dog treats, you will need to choose some recipes and experiment with different types of treats to see what works.
You will need to source quality materials and baking equipment before you get started.
To learn how to make dog treats to sell, check out Pinterest. There are lots of great recipes on the site for free.
Here are a few to get you started:
3 Fantastic Dog Treats For Your Dog Treat Bakery
Peanut Butter Apple Dog Treats
Peanut Butter Pupcakes (these are adorable)
You can also download a free dog treat recipe book here.
Once you have your kitchen set up and have perfected a few recipes, you can start to plan your business launch.
Make sure you have some batches of dog treats ready to sell and decide where to sell them.
You should also pick catchy dog treat names so that your target market is intrigued by what you have to offer.
Pupcakes is a great example of a fantastic name.
You might also want to invest in some signage or promotional materials such as flyers or banners if you plan on selling at a farmers market.
How Long Do Homemade Dog Treats Last?
Just like human food that you prepare yourself, there are no preservatives in homemade dog treats which means that they won't last as long as commercially made products.
The ingredients that you use and the storage methods you employ will determine how long your items last.
You need to make sure all your cookies and treats are cooled completely before storing them.
Airtight containers or plastic baggies are a must.
Most dog treats are freezer-safe so you can store them until you are really to ship or sell them.
If you are planning on selling your items online this is very important as your customer may want to store the items for a while themselves too.
You can also made treats that come frozen to sell at farmers markets if people want to buy big batches from you.
You'll just need a cooler larger enough to store them at the market.
How Much Should I Charge For Homemade Dog Treats?
This is always the hardest part of making homemade dog treats for sale.
Deciding how to price your dog treats is always tricky but there are some ways to make sure you are not over or under charging.
The best thing to do when you are starting to sell your dog treats is to take a look at the competition.
See what is selling in your area and what they sell for.
You can check out local stores or go on Etsy to see what others are pricing their dog treats at.
You can then price your items accordingly, bearing in mind that you want to turn a profit on top of the ingredients and supplies you buy and use.
if you use high end ingredients or only produce organic or cookies for special dietary needs, you may charge extra for those.
I always aim for a 25-35% profit margin to account for spillages and losses.
How Much Money Can You Make Selling Dog Treats?
My friend Kristen made around $500-$1000 a month making and selling dog treats when she first got started.
She quickly went full-time with her dog business as it really took off on Etsy.
Full-time dog treat business owners can make really good money, especially if they move to a commercial kitchen that allows for big batch cooking.
Scaling up your business to earn up to $8000 a month is totally doable.
Is Selling Dog Treats Profitable?
Not only is it profitable, it is in demand! Consider these facts:
What Do You Need To Start A Dog Treat Business
You really don't need a lot of things in order to launch your dog treat business.
There are no big investment costs and you can be up and running in just a few days.
To be successful with your dog treat business, you will need the following:
🐶 A love for dogs!
🐶 A passion for baking or at least the desire to learn to bake
🐶 The drive to start your own money making business from home
🐶 A kitchen (or a ghost kitchen if you want to rent one out)
🐶 Supplies for baking, wrapping and storing treats
🐶 A Business License for your city or state
The only other things you really need to be successful with your dog treats is somewhere to sell them.
My friend Kirsten started an Etsy store but there are a lot of places you could promote your business – both online and offline.
Where To Sell Homemade Dog Treats
You could pick just one place to sell your dog treats but the most successful businesses sell their goodies in multiple places to maximize sales.
Here are some of the most popular:
Farmer's Markets
Instagram
Facebook
Your Own Website
Pet Stores and Vet offices
Etsy
Word of Mouth
Selling Dog Treats At Farmer's Markets
Farmer's markets are a great place to start selling your homemade dog treats.
People look at Farmer's markets for fresh, healthy food so you have a great audience already.
Bear in mind that you might need to register for the whole season or pay for a local business license in order to run a stand at your local farmer's market.
You will also want to have signage and pretty packaging for your dog treats.
RELATED POST: What To Sell At A Farmer's Market To Make Money
How To Sell Homemade Dog Treats On Etsy
Etsy is a great place to sell your dog treats because it allows you to reach a huge audience that would otherwise not be available to you.
Selling dog treats on Etsy is a great way to start your business without spending a lot on money.
An Etsy store is free to open and you can be up and running in minutes.
If you haven't started your shop yet, make sure to go through this tutorial on How To Start An Etsy Store Successfully
It will take you step by step through from creating to launching your Etsy shop.
Plus it includes a link for 40 free Etsy shop listings to get you started.
Tips for A Successful Dog Treat Etsy Store
1. Pick An Awesome Name
Your Etsy store name is really important for searches so make sure to read up on How To Name Your Etsy Shop.
You want your Etsy shop name to reflect what you sell.
You also want your Etsy shop name to be the same as your social media handles and your website URL if you decide to start your own website too.
How To Pick The Perfect Dog Treat Business Name
If you are stuck for ideas on how to name your dog treat bakery, you can brainstorm ideas based around doggy words such as:
Paw, Bark, Canine, Fur, Mutt, Hound, bones, leash, woof, pup, puppy, K-9, Kennel, Wag, Rover.
Combine one of those words or a variation of one of them (Pawsible, wagging etc) with a word about treats or the city you live in or even your name.
Some great dog treat business names from Etsy include:
2. Take Great Photos
Make sure your Etsy dog treats look amazing. Use good lighting and a great background to show your treats at their best.
Remember that people will be judging your treats on the photos so take some time to really make them look good.
Check what other people are doing so you can see what works.
If you need help with listing images, you can sign up for my Free Etsy Listing Image Templates to get you started.
You can use the templates to add listing photos to your Etsy store in minutes.
3. Research Your Audience
The key to a successful business is to know your customer.
Knowing your target market will help you to plan out future products and items that sell as soon as you list them.
Ask yourself the following questions:
What kind of treats are people searching for?
Do they want to buy in bulk or in small packages?
What kinds of dietary requirements are the most common?
Are certain flavors more popular than others?
Will personalized cookies give you the edge?
Cater to your customer and your business will flourish.
Look at other listings to see what is popular.
For example, I saw that gift baskets of dog treats like this one sell really well. People love to order them as gifts.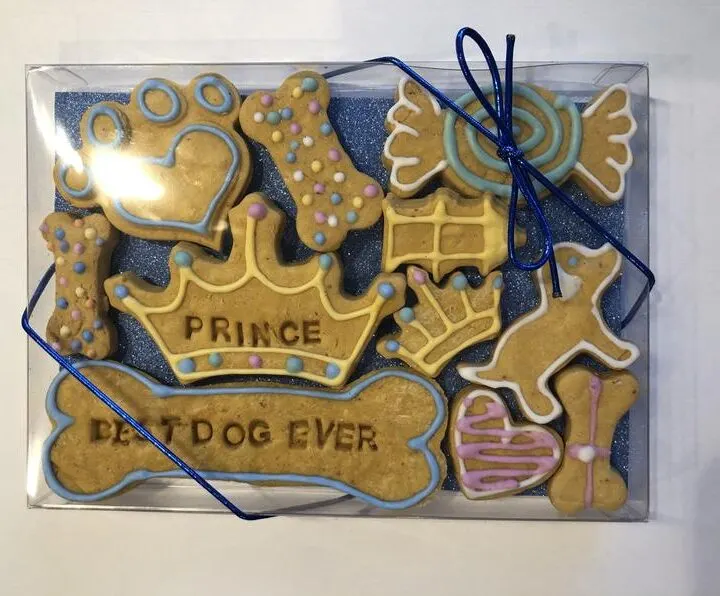 4. Promote Your Etsy Store
Although Etsy has millions of visitors who are searching for handmade products, don't rely on your shop organically showing up in search.
You want to promote your Etsy shop on social media and especially make use of Pinterest.
My tutorial on How To Use Pinterest For Etsy will help you tap into this fantastic audience.
You can also download my Free printable Etsy SEO Checklist that will help your store get found on search engines like Google.
How To Start Your Own Dog Treat Website
Starting your own website to sell your dog treats makes good business sense.
You will be able to direct potential customers to your site so they can see pictures of your work and get ideas for what you can offer them.
On your website, you can show price lists and reviews from happy customers. You can also let customers know where they can find you (at fairs and farmer's markets, for example).
It is also not as hard as you might think. You can get started for around $5-10 a month and then promote your site on social media.
Add links to your Etsy store to create even more opportunities for product sales.
You can read my tutorial on How To Create A Website For Your Small Business.
Here's an example of a dog treat website to give you a some ideas:
FREE Workshop On Starting A Dog Treat Business
If you're interested in starting a dog treat business from home, you can attend this free workshop from Kristen of Diva Dog Bakery.
She was so successful with her own dog treat business that she decided to teach others how to do it.
Selling Your Dog Treats On Social Media
You can use social media to promote your Etsy store or website or you can take orders directly from Facebook or Instagram.
Post photos of different treats that you may and offer to take orders via your Facebook page or DMs.
You can also join local dog lovers groups on Facebook and ask if you can promote to their members.
Encourage people to follow you to check out your sales and new products. Ask satisfied customers for reviews.
How To Sell Your Dog Treats In Stores and Veterinarian Offices
Another option is to visit local pet stores and veterinarian offices and show them your treats, Ask if they will display and offer them for sale to their customers.
If not, you can ask if you can leave your business card at the counter or a poster if they have a notice board. You can get flyers and business cards made for cheap at Staples or on VistaPrint.
This is a great way to get your name out in your local community for free.
Dog Treat Business Success Stories
Kristens website has a ton of really good dog treat business success stories from people who completed her workshop and course.
I like checking out the photos for ideas on how other people approach this business.
Here are some great examples of how a Farmer's market stand could look and also how to display your dog treats at a festival or fair.
And here are even more success stories from people who started their own homemade dog treat business and are killing it!
You can see that people get really creative with the kinds of dog treats they make. Packaging is also really important and can help to boost sales, especially if people are buying for gifts.
I also really enjoyed reading this interview with someone who sells their dog treats at a Farmer's market. It's full of great tips.
Another Dog Treat Business Success Story – Kristen
My friend Kristin Larsen founded the Diva Dog Bakery™, a boutique dog treat bakery while in college.
She wanted to create dog food for her furry friend and make extra money in the meantime.
After she was laid off from her 9-5 during the Great Recession, she quickly scaled her bakery to a full-time business, selling treats both in-person (at farmers markets, craft fairs and neighborhood meetups) and online (via Etsy).
Read my interview with Kristen here to learn all about how she grew her dog treat business quickly.
She quickly started making hundreds of dollars at in-person events on Saturdays and consistently selling her treats every day through her Etsy shop.
Her bakery was picked up by print magazines and online press, and she even was invited by the Emmy's (!!!) to gift her dog treats in the swag bags
If you want some ideas of the kinds of dog treats you can make, check out these photos from Kristen's Etsy store.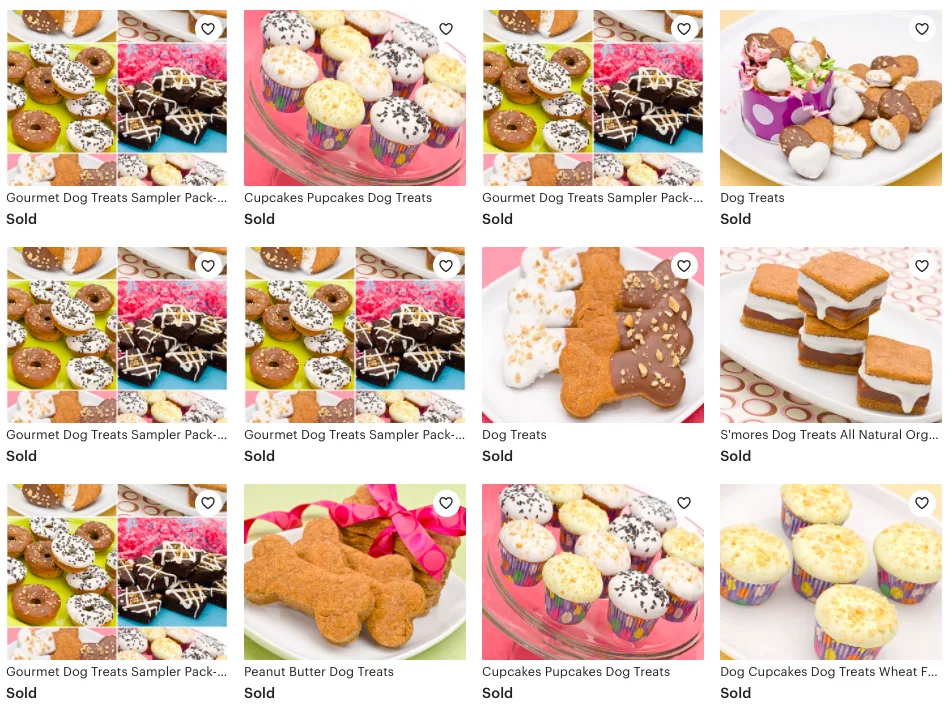 After all the success of her selling dog treats in her Etsy Store, Kristin wanted to help others get into this lucrative home-based business.
According to Kristin, selling homemade dog treats is the ideas home business for a few reasons:
🐶 There is no baking experience required; in her Dog Diva Bakery course, Kristin shares dog treats recipes that she personally developed and used so you don't have to waste time and money on trial and error.
🐶 You can sell online, offline, or both. – your options are limitless as dogs are the number 1 pet so many people are looking for dog treats for their pets.
🐶 You can make between $500-$1,000 a month with a dog treat bakery side hustle, or scale it into a 5-figure full-time business.
How To Start A Dog Treat Business Course
If you're ready to start your own dog treat business from home – Kristin's course, Diva Dog Bakery™ is exactly what you need.
It's the only dog treat business course that will take you from setting up your business through the launch and beyond.
The course teaches students how to start a homemade dog treat bakery and sell treats in person or online.
This side hustle is for people of all ages and backgrounds and can bring in $500 – $1,000+ per month. (It can also be scaled up to a full-time business if desired!)
What's Included in the Diva Dog Bakery Course?
This is a self-guided course, that you can do in your own time. You can access it from any laptop or mobile device and stop and start as needed.
Your access to the course doesn't expire so you can take your time and even repeat it if you want to revisit a few parts.
The course material contains 8 modules packed with everything you need to know about starting your own dog treat business.
You can read all about the Diva Dog Bakery™ course here
Here's what's inside:
Module 1: Practice Makes Perfect
In this module, you will learn Kristin's favorite recipes and everything you'll need to get started!
We urge you to start with what you have and build from there. You don't need to invest in fancy equipment from the get-go.
Module 2: Hobby to Business
Next, it's time to formalize this endeavor!
Kristin and her team share the process of forming your business so you can legally sell dog treats. Don't worry, it's easier than it sounds.
Module 3: Presentation is Everything
In this module you will learn how to make your dog treats look beautiful (without hours of effort) and how to efficiently get everything packaged and shipped. This is really important for Etsy and other online stores.
Module 4: How to Price Your Treats
Don't get stuck worrying what to charge. In Module 4, Kristin breaks down pricing structure for you so you're ready to roll and actually make a profit!
Module 5: Where to Sell
Whether you want to sell your treats in person, online or both, Kristin has got your back! She'll share proven strategies to get your baked goods in the marketplace using easy to follow techniques.
Module 6: How to Accept Payment
Keeping the money flowing means being ready to receive it! She'll walk you through everything you need to know about accepting payments.
Module 7: Shipping and Delivery
Wondering how to ship your dog treats and what to include in your packaging? In this module, Kristin will review her preferred shipping method and cover the must-have items inside your package.
You'll also get a bunch of dog treat packaging ideas to make your treats look really special.
Module 8: Promote Your Business
It's time to announce your brand new business – and this module will show you BEST ways to promote it (for free!). Get excited because now it's time to share with the world what you've been baking in the kitchen!
Course Bonuses
There are also 3 bonuses that everyone who enrols in the course will get:
Bonus #1: Guaranteed Analysis / Nutrition label ($99/treat value)
You'll learn everything you need to know about creating nutrition labels so your clients are never wondering "what's in this?". This is required by certain states in the U.S. and in this bonus, you will get the exact information needed that will literally save you HUNDREDS of dollars!
Bonus #2: Dog Treat Recipe Book ($49 value)
Kristin is sharing her exact recipes that she spent months perfecting that went on to become best-sellers online and in-person! Inside the recipe book, you'll learn how to make all of the dog treats from scratch, which will help you get a jumpstart in the kitchen.
Bonus #3: 30 Days FREE Access to Diva Dog Bakery™ Group ($19/month value)
The supportive Facebook community will help you get all your questions answered while you launch and grow your new side-hustle.
In the group you can ask other dog treat business owners tips for marketing, tech and the day-to-day running of a dog treat business.
It is a great community that can help you take your business to the next level.
Interested in learning more about running your own dog treat business?
Check out Kristin's free workshop for more information on her course and information on getting started with your business.
In the workshop you will:
Learn more about Kristin and hear more of her success story
Find out how to make $500-$1,000+ per month from your dog treat business
Get information on how to price and sell your dog treats.
Find out the best places to sell your dog treats to make money fast
The other amazing thing about the workshop is that it contains a $100 coupon code for the Diva Dog Bakery™ Course.
Start A Dog Treat Business From Home – FAQS
What are the legal requirements for dog treat businesses?
It is important to make sure you know how to sell dog treats legally before launching your business.
Before you start your pet food business, you will need to make sure that you comply with all federal regulations.
Although the rules of a pet treat business are not as strict as the rules for human food, you still need to make sure that you make all your products in sanitary conditions and that they are free from harmful substances.
If you are in the USA, the best place to read more on what is required is the Association of American Feed Control Officials. You can check out the AAFCO website here.
Do I need to register my dog bakery business?
Although you can run a very profitable business selling custom-made treats as a sole proprietorship (without incorporating), you will still need to register with your state's business agency. Depending on where you live, you might need to apply for a license and a tax ID too.
What are the typical start-up costs for dog treat bakers?
​Apart from any licensing and inspection fees. your main costs for your own dog treat bakery are the natural ingredients you will need to make healthy treats.
When you are creating your business plan, make sure to research the prices of ingredients such as whole wheat flour and fresh produce. In order to make really healthy dog treats that pet owners want to buy, you need to make sure to use high quality ingredients.
The good news is that you can start selling tasty treats from your home kitchen for as little as a $100 investment. By using an online store and promoting via your social media accounts, you won't have too many overheads.
Final Thoughts Starting A Dog Treat Business
Learn how to start a dog treat business and make money from your baking hobby!
Starting a pet bakery is easy and really lucrative! A dog treat business isn't the most well-known side hustle but it is an in demand business that you can start from home and grow into a full-time career.
Homemade pet treats are really popular right now and there are people making over $5000 a month selling them on Etsy and at Farmer's markets.
Even if you have no experience as a baker or are not a qualified cook, you can start making and selling dog treats on Etsy or at Farmer's market.
Kristen's free workshop is worth checking out if you want to learn more about starting a profitable dog treat business.
I love dogs but I'm not a baker, what other side hustles can I try?
If you love the idea of working with dogs and pets but are not quite ready to start a baking business, try one of these other dog side hustles:
How To Start A Doggy Daycare At Home
More Home-Based Business Ideas
Become A Work From Home Travel Agent – No Experience Needed!
How To Become A Proofreader From Home