Must love dogs! If pups are your passion, then why not get paid to walk dogs? You might be surprised to learn that dog walkers can earn $40,000 or more a year exercising dogs full-time.
Although many people get started walking dogs in their neighbourhood and organically grow their business by word of mouth, it is actually possible to be a freelance dog walker using apps that match you with your perfect canine companion.
In this post, we will teach you everything you need to become a professional dog walker:
Find the top dog walking apps that you can join today to start making money with this fun side hustle.
How to set your own rates and schedule
Why becoming a pet sitter may be for you
How to find potential clients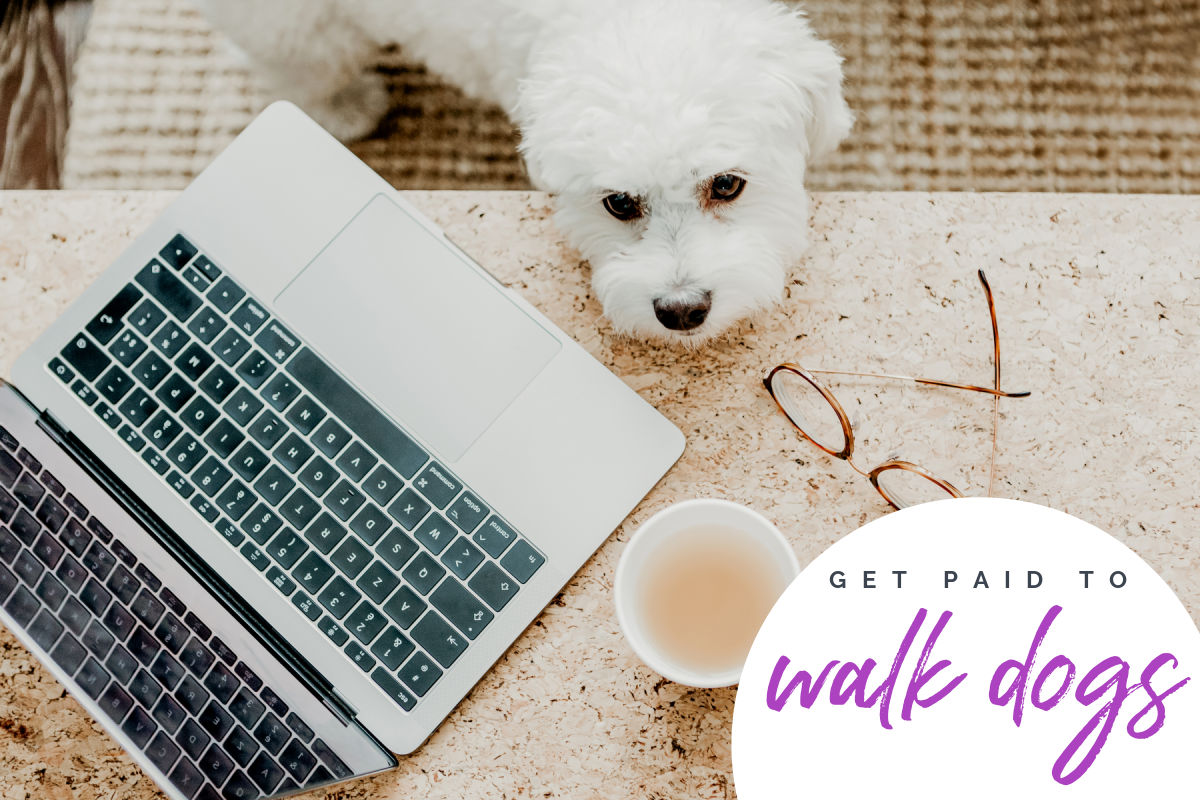 This post contains affiliate links. Please read my Disclosure for more information
RELATED POSTS
How To Make Money Flipping Items
How To Become A Dog Walker
The good news is that it's pretty easy to become a freelance dog walker. There is demand in most areas, whether urban or suburban.
Many people who work outside the home need a dog walker during their workday and this even goes for people who work remotely.
This could mean visiting the person's home and taking the dog out for one or two walks a day depending on the size of the dog.
Some dog walkers walk multiple dogs at the same time so that make more money per hour while others coordinate their schedule so they are walking dogs all day long (great exercise!)
Dog walking is a great job for teens, you can become a dog walker at 14 or even 13 years old as long as you are responsible.
A quick note – if you love dogs and want to really expand your money making possibilities, have you considered starting a dog treat business from home?
This is a great way to make money if you don't have time for dog walking right now.
What Does A Dog Walker Do?
Looking after someone's cherished pet is a big responsibility which can be an amazing way to earn a living.
Most of the time you are helping dog owners who don't have much time or are out of the house a lot. Just like with child care, pet caregivers will perform a number of tasks during the day:
Some of your tasks will include:
Collecting dogs from different houses and looking after keys/entry codes responsibly
Planning routes and outings to dog parks
Being responsible for the dogs food and hydration needs while you are with them
Cleaning up after dogs while on walks
Making sure the dogs stay safe
Dealing with any emergencies that may arise
Coordinating schedules and booking clients
Who Makes A Good Full-time dog walker?
This is a great side hustle for animal lovers who want to make extra money either in their spare time or as a full-time job.
Offering dog walking services is perfect for you if you:
Want to set your own schedule
Are organized enough to become an independent contractor and handle the bookkeeping aspect of owning a business.
Know how to take care of dogs
There is no such thing as the average dog walker. Many college students enjoy this kind of work while empty nesters can also make money as a part-time dog walker.
The earning potential of a dog walker
How much money do dog walkers make?
The national average hourly rate for a dog walker is around $20 an hour. Obviously, this can vary depending on the number of dogs that you take care of and people in major cities and urban areas may have higher rates. If you offer additional services such as feeding the dog or taking them to dog parks, you can earn more.
Bear in mind that many dog walking apps will offer a 30-minute walk as standard so you will need to have a lot of bookings for a steady income.

Do I need qualifications to be a dog walker?
You don't need any specific qualifications to become a dog walker but the following does help:
Experience – You will want to be familiar with pets and dogs in general, most owners will ask if you own a dog yourself. You need to be prepared for any issues that might arise (if your dog gets loose or fights with another dog at the park, for example)
First Aid – Canine first aid will be a huge asset and may help to set you apart from other dog walkers in your area. You can take a great online course in doggy CPR and First aid on Udemy.
Reliability – You need to be consistent in walking the dogs under your care as they will be expecting you every day
If you do want to take a dog walking course, you can do an online one which will take you through the steps of starting a dog walking business.
Start A Dog Walking Business in 7 Days
One bestselling course on starting your dog walking business is How To Start a Pet Sitting & Dog Walking Business in 7 Days.
In this budget-friendly course you will learn everything you need to get paid to walk dogs:
Discover exactly how to launch, attract clients and make a profit.
Create a hobby business, side gig, part-time or full-time pet business in only a week.
Know when it's time to leave your 9-5 job to create your pet sitting or dog walking business.
Utilize low-cost and free proven marketing strategies to gain new clients
Learn how to powerfully use your website and social media
Identify your ideal clients and start marketing directly to them.
Set up your pet sitting and dog walking business for long-term, profitable success.
How To Start A Dog Sitting Business
If you want to make even more money looking after dogs, you can start a dog sitting business. The course I mentioned above covers this too.
Running a Doggy Day care At Home is obviously more labor -intensive than dog walking but the money is also much better too.
Dog sitters look after dogs in their own homes or they may stay at the owner's home while they are away.
Dog sitting requires more qualifications and experience than dog walking, especially when you will be staying at someone else's home.
To be a dog sitter you might need:
A background check
A business license
Insurance (in case there is damage to a owner's property while you are sitting)
CPR and Doggy first aid
If you are planning to dog sit in your own home, you should consider dog proofing the areas where the dogs will be:
Use baby gates to limit access to areas that are off-limits.
Make sure your yard is fenced and safe
Cover upholstered furniture with sheets, slip covers or plastic wrap.
Remove or hide items that could be easily broken, chewed or soiled.
If possible, relocate house plants
Hide electrical cords or protect them with plastic tubing.
Secure any items that hang such as tablecloths and runners.
You should also supply your home with crates where needed
Have a pet first aid kit available
To learn more about dog sitting, check out my in depth tutorial on How To Start A Doggy Daycare At Home.
How To Find Dog Walking Jobs
To start walking dogs for cash, you really have two options: you can use one of the popular apps to post your ad and look for customers. The other option is to start your own dog walking company.
You'll have to decide which one is a good fit for you but there is no reason you can't do both in order to get work on a regular basis.
The Best Apps To Find Dog Walking Jobs
Using an app is the best way to start your own business right away.
Here are the most popular dog walking apps that will match prospective dog walkers and sitters with families in need.
Although the apps take a commission for helping you find a job, you are more likely to be able to find consistent work this way so it worth signing up for as many apps as possible while also looking for work through friends and neighbours.
Rover
Rover is the nation's largest network of dog lovers and one of the best apps for finding dog walking and pet sitting gigs. It works pretty much like a regular babysitting app – complete a profile on the site and then people can search and find you.
I like Rover best out of all the dog-walking apps because they offer liability insurance and make it easy to earn extra cash ASAP. All you have to do is create a Rover profile and you can get going quickly.
Prospective pet parents can get $20 off their first booking with this link.
How Much Does Rover Pay per Walk?
With Rover, you can set your own prices so what you earn is really up to you.
The search results in my area shows that most dog walkers are charging around $18-25 per walk. Rover takes 20% of the money you earned to cover processing fees and their refund guarantee.
In addition to Rover dog walking jobs, you can become a dog sitter and make even more money with Rover.
Boarding a dog in your own home is the most lucrative option and also the most in demand.
Boarders charge between $40-65 a night in my area (mid-size city).
Rover also just announced a partnership with Dogvacay which will make their reach for dog sitting even wider.
The other nice thing about Rover is that you can get the Rover Walking Certification when you sign up.
What Is The Rover Walking Certification?
This is the process of being approved to work for Rover Now which is the on demand feature of Rover. This is not available in all cities right now but if it is in your city, it is worth doing.
How it works:
The certification focuses on two different pieces:
General dog walker information—including dog safety and best practices
Using the Rover app
Here's how to get your Rover Walker Certification
Once you complete your profile, the Rover team will review it.
If your profile is approved, you'll get an email and text with details about starting your certification.
Answer additional questions about availability, locations you'd like to walk, and more.
Receive information on collars and harnesses, the app, and safety and service expectations, and take quizzes along the way.
The final step is an in-person harness check on site.
Your certification should take about 2-3 days to complete.
Wag!
Wag! is another great site that I use to find dog walking jobs near me. It's currently only available in the US (Rover is available in the US and Canada).
Like Rover, you will be required to complete a background check before being accepted on Wag! You must be a US resident to sign up on Wag!
You will also need to pass a pet care quiz before you can begin to get jobs.
With Wag! walks are GPS tracked using a tag on the dog's collar.
This enables the pet owners to be sure that the walks are taking place as they are supposed to and also provides some security for dog walkers that they cannot be accused of not completing their tasks.
How Much Does Wag! Pay For Dog walking?
With Wag! you do not set your own prices, their website has the following prices listed which seem to be similar to the averages on Rover:
Average Cost Per Walk For One Dog –
20 min – $12.75 – $19.99
30 min – $17.00 – $26.99
60 min – $25.50 – $36.99
The main difference between Rover and Wag! is that Wag takes 40% as a fee from anything you earn.
Pawshake
Pawshake is a Canadian pet sitting company that matches owners and sitters (no dog walking only). It's a great option if you want to do pet boarding and want to maximize your chances of jobs.
Pawshake has default pricing on their website but you can change them to suit you. They take a 19% cut of any earnings you make.
Petbacker
Petbacker offers dog walking and pet sitting in over 50 countries including North America and most of Europe.
A 15-25% service fee is deducted from any bookings you get. The fee is reduced as you become more established with Petbacker.
Barkly Pets
Barkly Pets is available around the US and provides dog walking only services to pet parents. It is also the only commission-free dog walking app.
How Barkly Works
There is a one-time admin fee of $10 when you join Barkly. Then there is a membership fee of $8.50 once you earn more than $100. You set your own prices for dog walking and keep everything you earn.
Fetch!
Fetch! Pet Care is another pet care app that is available throughout the USA.
Fetch works a little differently than some of the other dog walking apps – pet owners do not get to scroll through and pick a dog walker – instead, they are matched with a primary dog walker and a back-up so that their dog gets used to the same person each time.
Dog walkers for Fetch report earning around $11 for consistent work.
Local Dog Walking Apps To Try
There are quite a few localized dog walking apps that you can also check out, sometimes they have more opportunities than the big nationwide sites so they are definitely worth checking out.
OutUGo – Chicagoland based dog walking and sitting service
Really Love Dogs – Dog walking in New York City
Second City Pet Care – Chicago area dog walking.
Starting Your Own Dog Walking Business
If you want to make good money as a dog walker, another option is to create your own business and use social media to promote your services. You don't need anything fancy, just a cute business name, some pricing and a love for dogs.
Promote your dog walking services on Facebook groups and let all your neighbours know. You might be surprised how many jobs you get!
If you want to create a website for your business, you can make one in a few minutes using my guide here.
Final Thoughts On How To Get Paid To Walk Dogs
If you love dogs and have spare time, walking pups for cash can be a great way to get some exercise, make money and have fun.
You can get dog walking jobs with no experience making it a great job for teenagers or people with extra time to earn some money.
You can look for jobs on neighbourhood websites or even post notices on mailboxes. Alternatively, the new way to get paid to walk dogs is by using one of the many apps that have become popular during the gig economy.
More Money Making Ideas
How To Sell Short Stories For Money
Proofreading Jobs From Home, No Experience Needed