Who doesn't love a good party? If you are organized, love socializing and have great attention to detail, read on to learn how to start a party planning business from the comfort of home.
An event planning service is a rewarding way to make money from home and you don't need to have a degree if you have experience and marketable skills.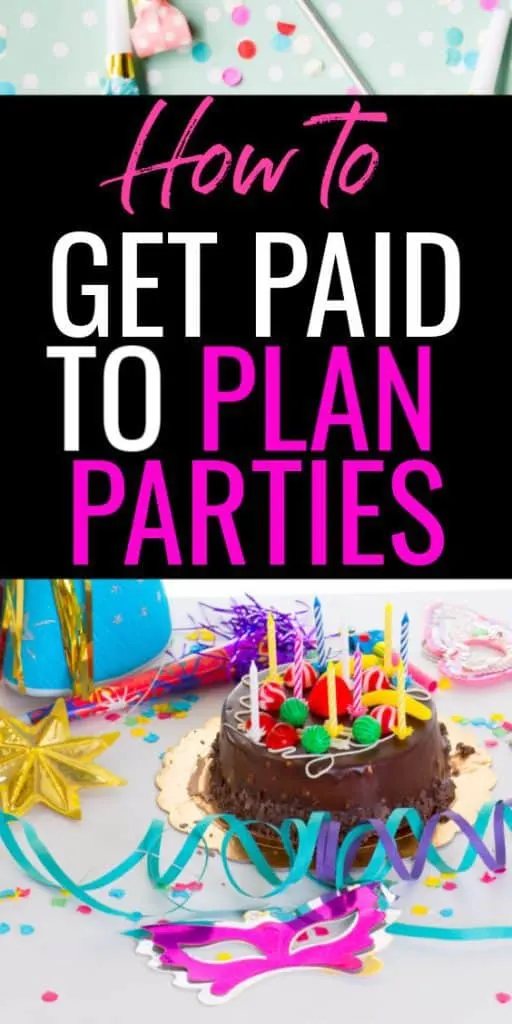 This post contains affiliate links. Please read my Disclosure for more information.
RELATED POSTS
How To Become A Consultant From Home
10 Work From Home Jobs To Start Today
Why Start A Party Planning Business?
Many people are unsure of their ability to plan parties, so they look for expert assistance. A party planner helps to create memories by offering the perfect party experience.
People hire event planners because:
They don't have time
It's overwhelming
Party planning stresses them out
They want to impress their guests with a really special party
If you're organized and like the idea of creating memorable events, becoming a part-time party planner might be a great option.
Like most small businesses, a party planning service is scalable to provide a full-time income after you get some experience.
What Skills Do Event Planners Need?
Be Organized
Organizational skills are pivotal. The devil is in the details. There are so many pieces that must come together to have a successful party.
Be Adaptable
Expect the Unexpected. Since there are so many moving parts, you must have the ability to deal with the inevitable hiccups. It's almost guaranteed that something unexpected will happen. The ability to adapt and overcome is critical.
Good Under Stress
You are the glue who holds the event together. You need to be able to handle anything that is thrown at you, from wardrobe mishaps to the caterer not showing up. Being unruffled despite the chaos around you is key.
Personable
If you don't really like people, starting a party planning business is probably not for you. (instead, check out these 15 Work From Home Jobs For Introverts).
You will meet all sorts of people and need to be able to engage and wow them with your social skills. From meeting potential clients to dealing with difficult guests, intra-personal excellence is a must.
Getting Experience as an Event Planner
If you've never planned a significant party or event, you need some experience. Consider volunteering if necessary.
You'll learn:
How to create a party budget
Which local vendors are good for flowers, food, decorations, and music
Where to find the best deals on invitations and other printed supplies
Managing the logistics of sending invitations and receiving R.S.V.Ps
Event decorating
Planning and dealing with catering
Creating fun activities
Billing
The Kinds of Parties You Can Plan
If you're in a large metropolitan area, you can specialize in particular types of events. The less populated the area, the more you'll have to branch into many types of parties to find enough work.
Consider your interests and the likelihood of finding a sufficient number of clients.
Types of parties to offer
Birthdays: Adult or children
Anniversaries
Bar/bat Mitzvahs
Family reunions
Cocktail
Dinner
Retirement
Graduations
Holiday
Engagement parties or wedding showers
How To Start A Party Planning Business
Plan out how you envision your party planning business and get organized before you launch.
1.Make a list of suppliers and vendors.
Include at least two vendors for each thing you might need. It will depend on the types of parties you're planning, but your list might include things like live music, florists, clowns, magicians, venues, and caterers.
2. Create or purchase the necessary forms
You're likely to need budget forms, contracts, and invoices to get started. A checklist for all the supplies and services you'll need for a particular party will be helpful, too.
You can find many templates online for a small price or for free.
3. Create your marketing materials
As with most businesses, marketing is critical. It's quite inexpensive to create or purchase the brochures, fliers, and business cards you'll need. See what your competitors are doing and try to make yours stand out from the crowd.
Vistaprint is a really low-cost way to get all you need to start your business. You can upload a logo or image and have it on all kinds of materials such as flyers, business cards, banners and more.
4. Determine your rates
It's easy to choose your rates. Call around and ask for some quotes for various types of parties to price your services appropriately.
5. Create a Web Presence
There is no less expensive way to reach so many people. Also, many prospective clients will automatically google your business name for reviews and to see pictures of events you have already run.
The easiest way to start your own website is using WordPress.org. this tutorial will help you get started. (it is for bloggers but the premise is exactly the same and I used it for my own wedding planning site).
Write articles related to parties and party planning. Ask if you can make a guest post on the websites of your vendors and other party planning contacts.
Be sure to include a link back to your website.
Invite your vendors to write a guest post about their specialty on your website.
6. Make use of social media
Get a Facebook and Twitter account and keep them updated about events and specials. Post pictures of your events on Instagram and build a following.
7. Post local ads.
There are several places to post classified ads online for free. One of the most popular is craigslist.org. Create a regular schedule to renew your ads.
Also register your business with Google so it comes up on Google Maps.
8. Tell everyone you know
Word of mouth is one of the best ways to get business when you are first starting off. Offer to work at friend's events for free in exchange for reviews and photos you can use on your site.
If you want to start a party planning business without taking a professional course, there are a lot of great books that are worth checking out. Here are a few of my favorites:
Best Books About Event Planning Businesses
"The Art of Event Planning: Pro Tips from an Industry Insider is a valuable and insightful guide for event planners. Gianna Gaudini, Executive Event Producer at Google, reveals her secrets for success"

From writing a solid contract to finding reliable vendors, learn how to identify your niche, teach you how to scout potential clients, evaluate the competition, market your business, and more.
In this book you will learn how to put on a successful event series that can generate revenue, and become either your main business, or generate leads and exposure to your main business.
More Ways To Make Money From Home
Home Based Job Opportunities in Canada