Digital downloads are big business. One of the fastest growing side-hustles you can start from home is an Etsy Printables business.
I had heard online before that this is a great way to make money and I have personally bought Etsy printables many times for baby showers and birthday parties.
Even though printables are not expensive products, they sell amazingly well and many people have full-time jobs just from making and selling their work online.
In this post we will go through everything you need to know to start your own Etsy printables business:
What are printables and why should you sell them on Etsy
The tools and skills you need to start an Etsy Printables Business
How to start your Etsy shop and get sales quickly
Read on for some ideas to get started and to download a free Etsy printables ebook.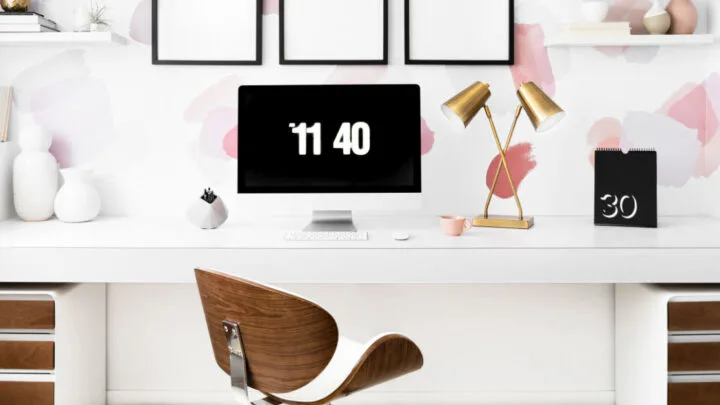 This post contains affiliate links meaning I make a commission if you click on a link. Please read my Disclosure for more details.
MORE ETSY TIPS
How To Make Money Selling Stickers On Etsy
Gold City Ventures Reviews – E-Printables Course Review
What are Etsy Printables?
Printables are digital products you download and print at home.
Examples of printable products include birthday party invitations, wedding decor, gift tags, candy bar wrappers and quotes for wall art.
An Etsy Printables business is a creative side hustle that allows you to make money from home by creating printable goods.
Etsy has become one of the largest marketplaces for handmade and vintage items, as well as an online platform for artists and artisans to sell their work to thousands of customers.
You can start your own business with little investment, but you need an account on Etsy first.
With this account, many people earn additional income by designing printables like posters and T-shirts and selling them on Etsy.
You can create as many designs as you want and make money from every sale!
Why Start An Etsy Printables Business?
Earning money outside of your day job is one of the most powerful things you can do for your personal finances.
Every extra dollar you earn brings you one step closer to your financial goals. In fact this whole blog was created to help people create extra income and make money on the side.
Extra money allows you to:
Pay off debt
Buy a car
Start an emergency fund
Save up for your next vacation
Or even quit your day job
The great thing is, you don't need any special skills or qualifications to start earning extra money in your spare time.
The most important thing you can do is to get started. That's why earning passive income (a.k.a. making money while you sleep) is so powerful.
One of the best ways to earn passive income is by starting your own Etsy Printables Business.
You create the design once and then sell it indefinitely with no extra work involved.
Sure, you can do something like drive for Uber or Lyft to earn money on the side, but you'll always be trading your time for money.
There's no way to scale those side hustles.
With Etsy printables, you're able to frontload the work and then collect the profits while you sleep.
Building passive income just gives you so much more flexibility.
Why sell printables on Etsy?
If you have always wanted to start your own business then selling printables on Etsy is one of the easiest businesses to start!
Here are my top 5 reasons why I love selling Etsy Printables:
Low initial investment (Under $100 for sure)
You can create a design then sell it to hundreds of people
Printables are an in demand product with lots of growth opportunites
You don't need any special skills or expensive training
You can make printables from anywhere in your free time making them a perfect side hustle for moms to make money online.
Is Selling Printables On Etsy Profitable?
Of course, you want to know how much money you can make with your Etsy printables business!
First, let me tell you that there are Etsy printable shop owners making 6 figures!
In fact, printables are one of the 15 best things to sell on Etsy to make money.
I am part of a VIP Facebook group from an Etsy printables course I took and many people making $1000-10000 a month just with their printables shop on Etsy!
It is definitely possible to make your Etsy Printables Business a full-time job.
Consider this: To make one Etsy planner you might spend the following:
0.20 cents Etsy listing fee
$1 for a premium graphic
$7.99 Canva for one month
Let's imagine that you list your planner for $9.99. And sell 5 in the first month.
By only selling one planner you have covered your costs including the Etsy transaction fee of 5%
Any planners that you sell beyond the first one or two are pure profit.
And if your planner is an evergreen product (meaning it is relevant year round), then you could potentially be making sales all year for years.
How Much Does It Cost To Sell Printables On Etsy?
The best part about this side hustle is the cost! It's almost free to get started selling printables on Etsy.
It only costs 20 cents to list a product on Etsy!
You can use a free program like Canva.com or even Google Sheets to create your designs.
If you have a computer you can get started asap for almost no overhead.
Do I have to be creative to create printables?
A lot of people wonder if someone with no tech skills can sell printables on Etsy.
Don't worry, you can still make a living with Etsy even if you're not an artist or designer!
I honestly do not have a creative bone in my body but I run a successful Etsy printables business myself.
It is so easy to get started with selling printables on Etsy using software that is created for the rest of us!
How Does Selling Printables On Etsy Work?
First, let's look at how a successful Etsy Printables business owner runs her shop.
My friend Julie doesn't have to worry about shipping or inventory like other Etsy sellers.
And because she doesn't have manufacturing costs other than her time, the profit on each sale is huge!
She sells printable games and decor for bachelorette parties.
Some months Julie doesn't even create any new products but the sales keep coming in.
As she told me when I interviewed her about her success selling printables on Etsy, last month she didn't add any new products to her store and still made $1000 in sales!
Here is the link to Julie's Etsy shop, The Swag Elephant, if you want to check it out.
Julie has a course teaching others how to launch profitable Etsy printables shops.
The Etsy Printables course is only open a few times a year. I took it myself last year and then started my own Etsy printables business.
You can also read my interview with Julie here where she shares lots of her top tips with This Work From Home Life readers.
What Etsy Printables Sell Well?
The most intimidating part of starting an Printables business is just thinking of an idea. Luckily I have a lot of ideas to get your creative juices flowing.
Here are some of the bestselling printables on Etsy that you can make and sell:
25 Etsy Printables That Sell Well
Here are 25 ideas from the Etsy Printables course:
Banners, signs, and posters
Bookmarks
Business cards
Calendars
Candy bar wrappers
Cards and announcements
Checklists
Clipart
Collage art and pictures
Countdowns and advents
Craft patterns
Date cards
Design kits
Digital paper
Door hangers
Embroidery designs and patterns
Envelopes
Favor boxes and tags
Fonts
Games
Gift Tags
Guestbooks
Holiday decor
Home decor
How To Get Started Selling Printables on Etsy
There are people killing it selling printables on Etsy who:
Had no graphic design background before starting
Didn't consider themselves creative
Had only a couple of free hours per week
Never used or even heard of Etsy before
It's relatively easy to get started and you don't need to be a design genius to make money with this side hustle.
Check out this tutorial on How To Start An Etsy Store Successfully including tips for choosing an amazing Etsy store name.
Open your Etsy store using my special link to get 40 free listings to start yourself off.
One you have started your Etsy store, make sure to check out my Printable Etsy Store Planner that will help your business be a huge success!
How To Start Your Etsy Printables Business
Let's get into the nitty gritty of how to start your own Etsy Printables business.
Here are the steps involved:
Gather all the tools you need
Research the printables you want to make
Make your printables
List your items on Etsy
Sit back and enjoy the sales
Step 1: Tools for Starting Your Etsy Printables Business
You don't need a ton of things in order to start making printables to sell on Etsy.
Exactly what you need will depend on the kinds of printables you want to make but in general you will need the following:
A design software program (free or paid)
Fonts and graphics for your designs
A printer for testing out your designs
What software and tools do you use to create printables?
Many people including myself uses Canva for software to create printables such as planners, trackers and artwork but there are lots of other software programs to use, some of which are free.
Depending on the kinds of printable you decide to make, you might want more than one kind of software.
Here are my top choices:
Canva (free or $12.99 a month for the Pro version)
Canva is the number 1 choice for people who run an Etsy business, especially if they are not too techy.
It is free to use and also includes lots of free elements (graphics, fonts etc).
You may, however, want to spring for the pro version when making printables as it allows you to do a few neat things:
Download images as a PNG with a transparent background
Create folders of your uploads (fonts and images)
Resize designs automatically so you can offer buyers various versions of your printable.
Can I use the already made templates in Canva and personalize them with info then sell them?
This is a question that everyone who is starting an Etsy printables business wants to know
Unfortunately, no you cannot use the Canva templates for printables and calendars, change them a bit and then sell them.
This is a copyright infringement and highly frowned upon.
But never fear because you can easily make your own amazing planners and templates with this guide!
PicMonkey (Basic is $7.99 a month and Pro is $12.99)
A lot of people skip PicMonkey but I have been using it for years to create great printables to sell or give away on my blog.
The nice thing about PicMonkey is that they have partnered with Shutterstock so you can use their premium images on listings and social media posts promoting your Etsy printables business.
The pro version of PicMonkey allows for unlimited Hub storage and PDF export which is essential for when selling printables on Etsy.
Google Sheets, Documents and Slides – Free
If you plan on making digital downloads such as trackers, budget spreadsheets and simple planners, you can possibly get away with using a free program such as Google Sheets and docs.
Bear in mind that there selling Excel templates online is big business!
There are lots of successful Etsy printables shop owners who use these programs exclusively.
Affinity Designer – (free 90 day trial then $50 for Mac/PC and $20 for iPad)
Affinity Designer is a really good tool for making printables to sell on Etsy and it is much cheaper than Canva which is why a lot of people are switching to using it.
It is similar to Photoshop so if you are familiar with that software, you will find Affinity a breeze to learn. If you are new to Photoshop then, there is definitely a learning curve with Affinity but it is worth it for the cost savings.
I recently took a printables course that taught me how to make amazing printables using Affinity Designers and I have started using both Affinity and Canva for my printables.
Gimp is a free program that you have to download to your computer in order to use.
It is very useful for manipulating images and creating layers but it is not really enough to use on its own for your printables business.
Corjl (starts at $7.99 a month)
Corjl is a powerful tool to use for creating editable printables for your Etsy Shop.
These kinds of printables allow your customers to edit certain information (names, dates etc) to personalize your printable for their own needs.
Although Corjl is a paid program for designers (that's you!), your customers will be able to access and edit their purchases without paying anything.
Creating editable printables is a bit of extra work, it can really boost your sales if you offer this option and is essential for things like invitations and birth announcements.
Inkscape is another software that you need to download to your computer in order to use.
If you are planning on selling stickers on Etsy or want to create your own graphics for your printables, this can be a handy tool to use.
Procreate is an app for the iPad that will let you create all kinds of designs.
It is create for creating your own artwork to sell on Etsy.
Graphics and Fonts For Your Etsy Printables Business
Where can I find graphics for my Etsy downloads?
It's important to get proper copyright licenses for any of the designs you want to sell, especially if these items are digital based like graphics and fonts.
You'll need a license so that your customers don't infringing on another parties' rights!
Bear in mind even though sites such as Creative Market or Creative Fabrica offer commercial use packages, significant alternations are required in order to include the images in your Etsy products.
It can all get a bit confusing really but here are my top pick for finding high quality artwork and fonts:
Creative Fabrica
I love Creative Fabrica because it allows you to purchase a Print on Demand license for many graphics which means that you can use them as is on your site.
Often the print on demand license is just a few dollars more than the regular license so it is worth buying.
Creative Fabrica has fantastic bundles on sale all the time plus lots of great freebies, they are definitely worth checking out.
The Hungry Jpeg
The Hungry Jpeg. offers lots of great value bundles of graphics, fonts and illustrations for great prices.
They also have a weekly freebie (sometimes a font, sometimes graphics) that includes a complete commercial license that you can use on products for sale – check out this weeks freebie here.
Creative Market
This is another great place to source fonts and graphics for your digital products.
Make sure to purchase the commercial license if you are planning on using the item in your Etsy store.
Creative Market also gives out 6 free items every Monday so it is worth checking out.
Canva
Canva is handy because chances are, you are already inside the program using it to make your printables.
On Canva, you can use clipart and fonts that are FREE to use for commercial use.
This includes most of their graphics and some of the fonts. If you have Pro, you may not use the graphics marked as Pro in your Etsy items.
I know this sounds completely wrong but there is no typo in the above.
Paying for the pro plan does not give you permission to use the Pro images or fonts in commerical use products.
The only catch with the free graphics is that you can only use altered graphics and media:
From the Canva website:
Unaltered vs altered media
By using content in a design or a composition, you're creating something unique – once you do, there are very few restrictions on what you can do with your creations. Go wild!
However, unaltered media has restrictions – it can only be used in up to 800×600 (or 600×800) pixel dimensions and it can't be sold or printed on products or merchandise.
Step 2: Choosing The Printables To Make
The first step for anyone looking to sell something online is by researching the market.
You should determine what's popular, identify any gaps in that popularity and create an item or service tailored toward filling those needs with your own spin on it.
Finding your own niche will help you to grow your Etsy shop quickly as you will be able to find a target audience that is looking for your products in particular.
Remember the following tips:
1. There are no bad ideas.
People are making money on Etsy selling printable wine labels so that brides can ask their friends to be bridesmaids.
Another simple idea – kitchen labels. People buy printable spice labels and jar labels on Etsy too.
You don't have to think of something complicated.
2. Pinterest is your friend
You can search for printables on Pinterest and get ideas.
For example, with the holidays coming up, you'll see tons of gift checklists, holiday invitations, holiday cards, seasonal quotes, holiday planners, and more.
Using seasonal trends to brainstorm printables is a great way to think of new ideas and stay on top of the market!
Search around Pinterest and see what you can find. Once your store is live, make sure to check out my tutorial on How To Use Pinterest For Etsy– it can be a huge traffic driver for Etsy shops.
Using Etsy SEO For Your Product Research
Another great way to do your Etsy printables business research is to see what the top selling printables on Etsy are and go from there.
Etsy SEO is what Etsy shop owners use to make sure their products are seen at the top of the search results on Etsy.
They use popular keywords that people search in their listings and product descriptions. This is a best practice that you should aim to do (you can use my Etsy SEO cheatsheet to help you).
The easiest way to see what the best selling printables on Etsy is to use a program such as EtsyRank.
EtsyRank is a free tool you can use to get product ideas and to see what is trending on Etsy right now.
ERank is so easy to use:
Create an account on ERank.com
Click on "Tools" on the left-hand side of the menu
Select "Keyword Tool"
Type the keyword you' want to research and press "search"
Erank will spit out a list of all the search volumes for that keyword plus all related words as you can see in my example below.
This will help you to see the trends and to see what printables people are searching for on Etsy right now.
What Sells Well On Etsy Right Now?
Want to know the best printables to sell on Etsy right now?
Here are some of the most popular items:
Seasonal Items (Christmas, Halloween, Valentine's Day)
Checklists (eg. packing checklist for vacations, To do list)
Gift Tags -for all kinds of occasions
Recipe Cards
Labels (wine label, pantry organization
Selling Seasonal Printables On Etsy
As you can see the best selling printables on Etsy are all seasonal items that involve the major annual celebrations and and holidays.
Etsy Printables Case Study
In the Etsy Printables Course, co-founder Cody has a really fun story about a seasonal printable he made (love coupons for Valentine's Day) that just took off and made him thousands in the two days before Valentine's last year.
Got to love those last minute gift buyers, eh?
Seasonal products are fantastic to start with when you are launching your Etsy printables business because they can gain traction very quickly.
There are Etsy shop owners who only sell seasonal items and do really well for themselves.
Here are some examples of seasonal items that sell really well on Etsy:
Christmas gift tags
Holiday cards
Easter printable games for kids
Holiday printables for teachers
Halloween crosswords or mazes
St Patrick's Day riddles and jokes
If you are interested in starting your own Etsy Printables Business and want to learn more about seasonal items, make sure to download this free ebook that Julie created for you!
The Seasonal Products Secret ebook includes 12 months of ideas for best-selling printables that you could create and sell on Etsy.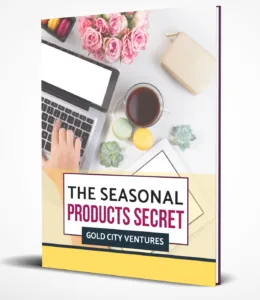 I can definitely see how people would be shopping for seasonal printables such as gift tags, shopping checklists, greeting cards, wall art, and more!
This ebook had me brainstorming about all the printables I could make.
Step 3: Making Your Printables
Once you have a some fun ideas and got your software sorted out, then it's time to make some printables.
It is really easy to make printables but how you actually go about it will deend on the software you use.
Personally I took two different courses on Etsy Printables in order to learn how to make all different kinds but my favorite is the Etsy Printables Course by Gold City Ventures.
In the Etsy Printables Course, you can get access to over 50+ printable ideas and tutorials on how to make printables with the free program, Canva.
You will also get tutorials on other software such as Gimp, Corjl and Illustrator. Adobe In Design and Templett.

The Course includes:
12 info-packed modules with text and video lectures
13 bonus lessons contributed by Etsy printables experts
Weekly assignments and printable lesson plans to keep you on track
Free month in the VIP Facebook group for accountability & community
You will learn:
How to pick products to sell
How to set up your Etsy store and market it
Graphic Design to make your printables look amazing.
Here is the full course curriculum:
Etsy Printables Course Reviews
"The biggest barrier for me was the time commitment but as soon as I logged into the course and could see that all of the information was there…from how to create your first printable, to how to market it so it actually sells, everything was there for me. It just saved me so much time and simplified the process so much." – Nicole S.
"I've sold a little over $10,000 in printables on Etsy since working with Julie last year, and I would estimate that after fees, it's at least $7,500 profit." – Kevin, Debt Free Happens
"The Etsy Printables Course showed me how to make printables without knowing anything about design or even how to pair fonts. Cidy and Julie give tons of real life examples and actually show you step-by-step how to make lots of printables that you can list in your shop right away" – Gemma, This Work From Home Life (That's Me!)
Affinity Publisher Printables Course
Another great course I tool on Etsy printables is the "Create Printables in Affinity Publisher – Quick Start Course"
Affinity publisher is great because there is no monthly charge. You pay once and you are done.
I tried using this program and it definitely is more complicated than Canva but if you are on a budget, this might be a great option for you.
In the course you will learn:
You start by building a planner from scratch. We chose to start building a planner because a lot of the techniques you use to build a planner can also be applied to other printables.
How to insert tables. Tables help you organize by using columns and rows.
Mastering master pages. This is a super cool feature Affinity Publisher poses. We go over how to apply these pages and why they are so important.
Document and page setup. If you don't set up your pages the right way you may run into problems later.
Tools and how to apply them. It may look a little overwhelming at first but we go over each tool that's necessary to make your printable.
So many more neat tips and tricks!
Step 4: Creating Your Etsy Listings
Start your Etsy Shop with several listings
You don't want your store to look like a newbie so t's not enough to just have a few products in your Etsy Store when you launch.
You need at least 10-20 items if possible when you get started.
Launching Your Etsy Shop
Once your products are ready to go, it's time to open your shop.
You have to pay for every listing you add to your shop but you can get 40 free listings when you create your shop through this link.
You can follow my step-by step tutorial here for starting your Etsy shop successfully.
Pick the perfect Etsy shop name
Depending on what niche you choose, it is a good idea to include something that describes what you sell in your Etsy shop name.
For example, an Etsy shop selling planners for pet owners might be called PetPlannerCo
You can change your Etsy shop name so you don't have to spend hours on this step.
This post will tell you everything you need to know about picking the perfect Etsy shop name.
Add your listings
This is the most important part after making your products.
Without fantastic listing images and descriptions you won't get your Etsy printables found and therefore it will be hard to get sales.
You can either print your products out and pose them on backgrounds or you can create listing photos on Canva.
Personally, I just create listing images on Canva as it is quicker and saves ink. (you can grab some free Etsy listing templates here)
You can add up to 10 photos on your listing and I recommend using as many as possible.
Make sure to add a very detailed description and use lots of keywords in your product description, title and tags. This is where the Etsy SEO checklist will come in handy!
Promoting Your Etsy Shop
In addition to using great SEO to get your shop found on Etsy search, you should work on actively promoting your Etsy printables where ever you can.
Here are a few ideas:
Here are some ways in which you can generate traffic for your store:
– Create an Etsy Banner Ad
– Use social media (Facebook, Instagram and Pinterest for Etsy)
– Sponsor a blogger and ask if they will write about your store.
-Start a Facebook group
-Post about your new products on Tiktok
–Start a website for your Etsy store
Frequently Asked Questions About Etsy Printables Business
How to price your Etsy printables
The easiest way to price your Etsy printables is to take a look at the competition in your niche and then put yourself somewhere in the middle.
Don't go too low because you want to capture the sale as that can make your products look low quality. Too high and people will ignore your listing. '
How To Size Printables On Etsy
You might notice that most Etsy printables sellers offer more than one size of printable in their listings.
Offering different sizes can really give you an edge against your competition and it can help you to capture customers in different countries.
In my Etsy shop, I offer a few different sizes for my regular printables:
Letter Sized – This is the standard US printer paper size
Legal – These printables are longer than the standard size
A4 – This is the European equivalent to US letter sized and gets me sales from the UK
5 x 7 – I often provide a 5 x 7 size too just in case someone wants it for framing (depending on the printable).
If you have the Canva Pro plan, you can resize your printables in minutes using the "resize" button.
This makes it really easy to offer multiple sizes of the same printable.
Is the printables market too saturated and competitive to start selling them?
It is true that the printables market is very competitive.
The key to success with Etsy printables is to find methods of selling them that are unique and don't already exist.
Research other sellers on Etsy to see what kind of items they sell, and think about ways you can create items people want but aren't available.
My 3 best tips for selling digital products On Etsy
My 3 best tips for selling digital products are to create the product, market it, and be sure that your product is worth what you're charging.
Now you know what it takes to start your own Etsy printables business, I will leave you with a few extra tips for making your store a success:
Make beautiful images – Even the most amazing printable won't sell if the listing images look like trash.
Create multiples of the same item – if you have a fitness planner, make some minor tweaks and sell a holiday version or a wedding prep version for example. This is a quick and easy way to create lots of products for your store.
Taking a course can help you to learn to make printables quickly and effortlessly. If you have the time and money, it is the best way to get started asap.
More Etsy Tips
How To Make Money Selling Printables On Etsy
Gold City Ventures Reviews – E-Printables Course Review
How To Make An Etsy Store Website In Minutes