I get it. You want to stretch your money as far as possible without becoming one of those extreme cheapskates people laugh about.
Between constant chat about a possible recession, fear of a global pandemic and an election year, lots of us are getting worried about the state of our finances.
But how can you make each and every dollar work for you so that you can:
Save for vacation
Remodel the house
Pay off the mortgage
Get a new car
Stop living paycheck to paycheck
If you can make your money go further, you'll have more left over for savings, retirement, and your investment accounts.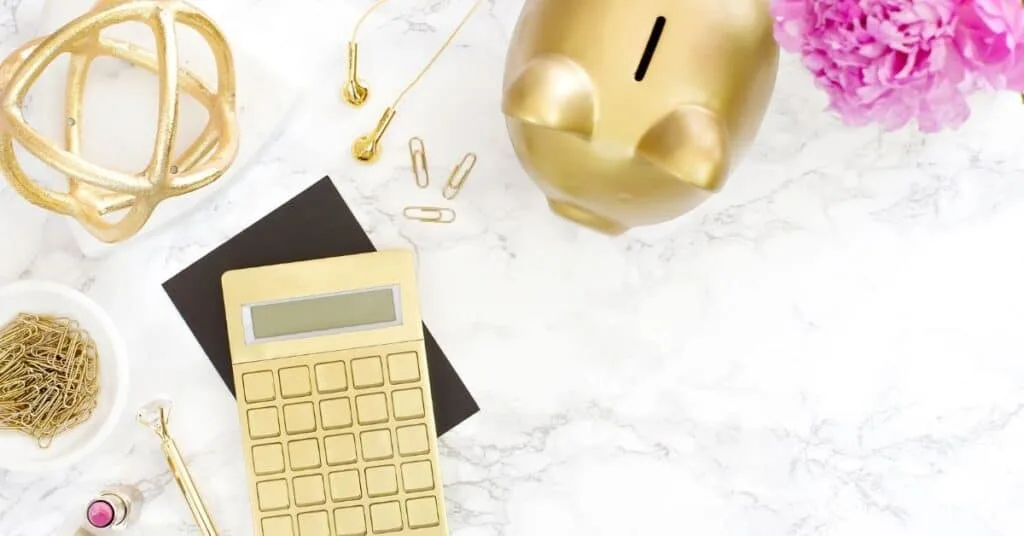 This post contains affiliate links. Please read my Disclosure for more information.
RELATED POSTS
Crazy Things You Can Rent Out For Profit
15+ Cricut Maker Projects To Sell
Here are my top 24 ways to save money on everything from groceries to household bills. Even if you just start doing half the things on the list, you should see a significant boost in your bank account!
How To Stretch Your Money Further
1.Shop discount stores.
The fact is you can get many of the products you use daily for less money at your local discount stores.
It may sound crazy but don't ignore the dollar store for basics like ziploc bags, natural cleaning products like vinegar and baking soda as well as some grocery items.
2. Buy in bulk
Purchasing in bulk can really help you to save money. You don't need to belong to a warehouse store like Costco but you can be savvy by bulk buying items when they go on mega-sale.
This will help you keep more of your dollars and put them where you want them—in the bank!
The only downside to buying in bulk is that you do need to have the space to store all the bargains you get!
3. Cut cosmetic items in half
tThis is one of my favorite ways save my budget. This works especially well for cosmetics but almost anything you have that can be cut in half means you can get double the use out of the same item.
For example, if you use flat cotton pads, use your scissors to halve them. Also, cotton balls can be pulled into two pieces.
If you find yourself using only one end of a Q-Tip, cut them in half, too.
You'll get double the use from these products and spend less.
One of my favorite products to half are those wet make-up remover wipes.
You can cut them in half of even thirds and still have plenty to remove your make up.
This makes a 30 package last for 60 or even 90 days which seriously stretches your money!
4. Do online comparison shopping
When you something new, first spend some time in searching around for the cheapest price.
Also, add the item to your cart then wait a day or so before biting the bullet on your purchase. Some companies will send you a coupon to entice you back to your cart.
There's even a website that does comparisons for you, called "Shopzilla."
5. Shop for Coupons
Likewise never ever make a purchase online before searching for a coupon or promo code.
Simply google "the retailer + promo code" or "discount" and you might be surprised on what comes up.
6. Reduce your pocket money every other month
Let's say you keep $200 a month as your "mad money." Why not reduce it every other month to $175 and place that extra $25 into your savings? The small amounts you save add up and you probably won't even notice it.
7. Try something new
Each week challenge yourself to make one simple change to save money.
Brown bag your lunch one week (if you can keep doing it afterwards, even better), or start making your own coffee when you go out on errands.
How about putting away the paper towels in the kitchen one day a week and use cloth towels instead?
Better yet, cut up old towels for disposable cleaning cloths. These can be thrown in the washer and re-used.
However, if you have a super-difficult cleaning job, you won't feel guilty to toss out the used cleaning cloth when you're done.
8. Watch your measurements
Clothes detergents and liquid fabric softeners are expensive and we often waste them by using way too much with each load.
Measuring these "liquid gold" products will make them last as long as possible and save you money in the long run.
Particularly with new high efficiency front-loaders, you'll find you can use just a few tablespoons per load.
The same goes for liquid dish detergent and even liquid hand soap.
When you only have a few inches left, add a bit of water to your bottle to stretch it for a week or so longer.
9. Take care of your clothing
Looking after your clothing can really help them to last that much longer which helps both your wallet and the environment.
Re-hang clothing that's been worn just a couple of hours and wear it again before laundering.
Pre-wash by hand as soon as possible any clothing that gets a stain.
Change from your work clothing to lower cost t-shirts and shorts or slacks when you get home to ensure you get at least a few years from your work clothes.
10. Buy expensive items less often
Make those "treats" or extravagances more of a rare occasion instead of a weekly thing.
For example, if you love a speciality coffee but it's expensive, buy one every other month.
Consider it a special treat when you have it, rather than something you must have every week or two.
11. Keep track of prices
A lot of people swear by this one. Keep a little note book where you list the products you buy on a regular basis (weekly or at least monthly).
It's smart to know how much you're paying for those items you buy all the time.
For example, I know that a can of Alphaghetti costs $1.29 in one store but in another store it always costs $1.09.
If I see it on sale cheaper than $1, I know to stock up. You can save a bundle by knowing what you pay for items you regularly use.
12. Check your local newspaper
There's often coupon booklets included and receiving them is like someone giving you dollars.
Let's face it – you're looking at free money. Why not use those coupons?
13. Check out savings sites
Groupon, LivingSocial, and Foursquare are all apps that offer some great deals for savings of 50% or more.
It won't cost you anything to sign up and you might be able to stretch your entertainment bucks.
They also make great gifts for family and close friends.
If you have kids, make sure to check out the kids birthday party packages that are sometimes available at a discount.
14. Refuse to pay service fees at ATM
Determine where your closest 2 cost-free ATMs are and then only use those. Keep those service fees in your pocket rather than the banks' till.
15. Stop Dry-cleaning Clothes
Avoid buying clothes that need to be dry cleaned.
Dry cleaning costs $5.00 or more per shirt or blouse which quickly adds up. You can buy great no-iron shirts for a great price and many "dry-clean only" clothes can actually be washed at home using a in-home dry cleaning kit.

16. Stop Paying Interest
If you're paying off a debt, try to reduce your interest rate. Call your credit card company and ask them to lower the rate.You can also see if debt consolidation is right for you.
17. Stop using paper plates and cups
If you want to know how to stretch your money and save the planet – stop using one-use plastics and other items.
Paper plates and cups are convenient for big parties but when you throw them in the garbage, you are simply throwing your money into the trash. Using plates and cups you can wash and re-use will save you money and garbage bags!
Want to go further? Go fancy and start using cloth napkins only.
18. Evaluate your monthly bills
Are you paying every month for a gym membership you don't use?
Do you still pay for cable even though you mainly watch Netflix?
Can you lower your phone plan to save some money?
Trimming just one monthly payments can save you hundreds of dollars a year.
19. Save your change
One way to stretch your money is to save your change in a special jar and use it as an extra savings account.
Accumulating your change is a wonderful way to come up with a few extra dollars every month. Find a large cookie jar or clear glass container to drop in your change at the end of the day.
It's fun to watch it rise to the top. Remove change from purse, wallet, and pocket daily. Then, deposit it in the bank.
20. Bundle for a discount
If you aren't bundling your cable, internet, and phone fees, it might save you some money to switch to the bundle.
If you can switch without paying extra to get a better deal, do it.
Something else that bundles up for a discount is insurance.
In our house, we get a pretty large discount for bundling our two cars and our house insurance together with the same company.
21. Haggle
Haggling is something that is really common in some parts of the World but we kind of feel awkward about it here in North America.
Get over your fear and start saving money by bargaining whenever you buy something.
Whether you are buying in a small store or in a large department store, try haggling for the best price.
The fact is, many stores are now saying, "Yes" to such offers to move the items and make way for new merchandise.
One of the most popular places to get a discount are mattress stores. Never pay the first price you are offered, just like buying a car, there is a whole process before you purchase your new bed!
22. Watch your temperatures
Whether it's your hot water heater (which should be set at 120 degrees), water temperature for your clothes washer (always use cold), or your dishwasher (avoid using the dry cycle), be aware of temperature settings.
Try turning down your thermostat by half a degree and see if anyone notices.
If you do, you'll shave monthly costs from your natural gas and electricity bills while barely noticing the difference.
23. Sell your used clothes
Instead of throwing away clothing and items you no longer use, why not drop them off at a local consignment store? Getting a few bucks back is better than getting no bucks back from your used items.
READ MORE: Where To Sell Used Clothes For Cash
24. Cook more
Families are on the run these days so they eat out a lot more than their budgets can take. 

Develop a list of five to ten quick and healthy meals you can make with little effort.
Then, put copies of your list in your car, wallet, purse, and kitchen. Now, there's no excuse to spend money eating out on the fly!
More Ways To Stretch Your Money
9 Ways To Earn FREE Starbucks Drinks!
What To Look For At Thrift Stores To Make Money