If you are wondering if tutoring is a good job and want to work for yourself, look no further! Tutoring is one of the easiest ways to make money at home.
Stop trying to think of ways to earn additional money to make ends meet.
There are lots of different work-from-home opportunities you can take advantage of but tutoring is a good job that you can probably start this week!
Tutoring offers a lot of great opportunities for those looking to work from home.
Not only does it give you the freedom to be your own boss eventually, but it may also let you make a living doing something you love.
Contrary to popular belief, you don't have to be a teacher or have a teaching degree in order to be a successful tutor.
Here, you'll discover everything you need to know about tutoring to help you decide if it's right for you.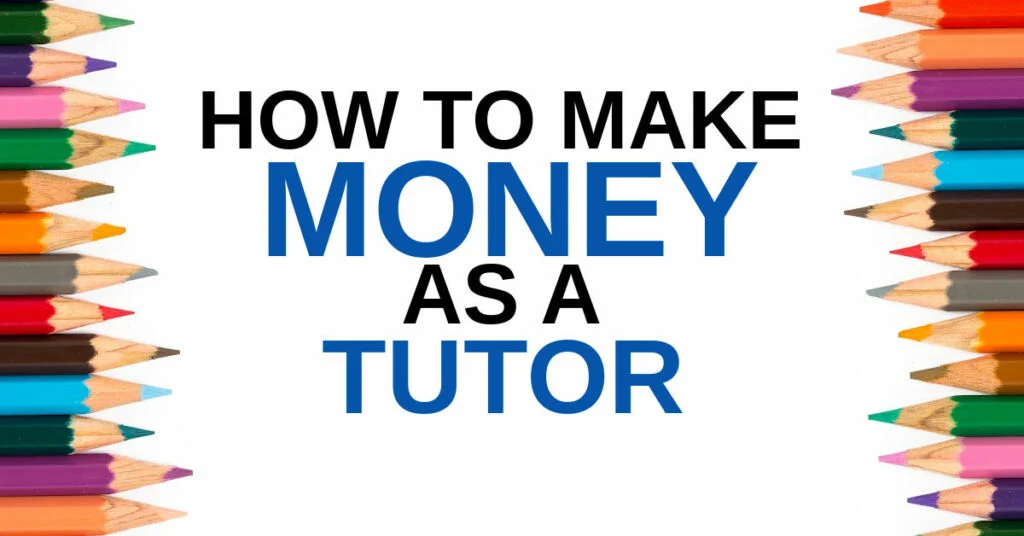 This post contains affiliate links. Please read my Disclosure for more information.
MORE TEACHING GIGS
EF Online Teaching – Everything You Need To Know
How To Teach English Online (Who's hiring now!)
What is Tutoring?
Tutoring is basically offering your services to teach others your skills.
They are private teachers, helping their students to develop their knowledge and skills.
You can become a tutor in practically anything.
It could be music lessons, math tutoring or even business tutoring.
Whatever knowledge and skills you've generated over the years, you can use tutoring to earn money through them.
Where can you find Tutoring jobs?
One of the reasons that tutoring is a good job if you need money on the side is that it's easy to find work as a tutor.
You can use the Internet to advertise your services to local customers. Or, you could offer tutoring services entirely online through a site such as Outschool.
You can also find customers via social media, or through offline advertising like advertisements in newspapers and stores.
As well as offering your tutoring services on a freelance individual client basis, you could also work through local schools and universities.
Another option is to sign up with an agency such as Tutor Doctor. They will match you with potential students in return for a fee or cut of your earnings.
Pros and cons of being a tutor
Going over the pros and cons of tutoring is important before deciding whether it is the right option for you.
The main advantages of being a tutor include:
There is always demand for tutors
People hire tutors to help their kids pass exams. Or maybe they feel that they are not learning enough at school and want some extra help. Another reason people look for tutors is to teach them English when they are new to a country.
The demand for tutors is definitely one of the main benefits.
This means you'll never really have to worry about finding work. This type of stability is rare within self-employment. So, if you're looking for a side hustle that's going to provide a regular income, tutoring is a great option.
You can do what you love
Whatever your passion, you'll be able to tutor others providing you have the right level of knowledge. Being able to work doing something you enjoy can really improve your work/life balance.
Few start-up costs
You also won't need to pay much in the way of start-up costs.
You may need a little equipment depending upon the type of tutoring you're offering. For example, if you're teaching music, you may need a spare instrument for students to use.
However, compared to other side hustles, this is one of the most affordable to set up.
Lucrative pay
The pay is also really good for private tutoring.
You can set your own rates and providing they aren't extortionate, your students will happily pay a good rate. Of course, you also get to be your own boss which is a major benefit.
Be your own boss
Obviously one of the best reasons to work from home in any job is to be your own boss. Whether you are a work from home or an online tutor, you will be able to set your own hours and work as much or as little as you want.
So, what about the negative things about tutoring? The main disadvantages include:
You'll need to adapt your teaching style
Everyone is different, so you're going to need to be able to adjust your teaching style to match different students.
Working hours
You'll also be working mainly on evenings and weekends, particularly if you're private tutoring students. After school homework help is a huge reason that parents hire tutors so bear in mind that your working hours will likely cut into your family or dinner times.
While there are some disadvantages to consider, the benefits do far outweigh the challenges. Becoming a private tutor can be a really rewarding side hustle.
You can use it as an additional income, or you could build it up to become a self-employed business.
What About Teaching Online?
Now that we know that tutoring is a good job that you can do from the comfort about home, what about teaching jobs that are exclusively online?
If you want to teach online, one of the best ways to get started is by getting hired by one of the big companies that match tutors with students overseas.
It's pretty easy to get started and you can get paid up to $22 an hour, working from home. You will need a good internet connection and workspace to teach online.
More Work From Home Job Opportunities
How To Start A Home Daycare & Make Money
27 Ways For Stay At Home Moms To Make Money