You probably love scouring stores like Goodwill or Value Village. But what to look for at thrift stores to make money by reselling your treasures?
Have you ever wondered if you could make money turning thrift store finds into cold-hard cash?
You might be amazed to know that some people are making over $100,000 a year doing just that!
The key to a successful career as a flipper is to know what things to look for at thrift stores to make money.
The best items to resell for profit are not necessarily the most expensive.
In fact, lots of smaller, cheap items make it easy to get started with a flipping business as your initial expenses will be lower.
This post may contain affiliate links. Please read my Disclosure for more information.
RELATED POSTS
Where To Sell Used Clothes For Cash
13 Places To Sell Your Stuff Online (For Cash!)
What To Buy At Thrift Stores To Sell For A Profit
Are you ready to make money thrifting?
Now, you might be wondering, "Why thrift shops?"
Well, my friend, these places are a goldmine for those who know what to look for.
People donate all sorts of items, often without realizing their true value.
That's where we come in! By honing our skills and having a keen eye, we can spot those diamonds in the rough and turn them into shiny stacks of cash.
So, grab your magnifying glass (figuratively, of course) and join me on this thrift shop adventure. Here's how we roll:
Research is key
Before hitting the thrift shop, arm yourself with knowledge. Spend some time online, checking out eBay, Etsy, and other marketplaces to see what items are trending and fetching high prices. This will give you an idea of what to look for and what's in demand.
Be open-minded
Don't limit yourself to one category. Sure, vintage clothing and collectibles are popular, but you never know what you might find in the kitchenware, electronics, or home decor sections. Keep an open mind and explore different areas of the thrift shop.
Quality matters
While it's tempting to grab everything that looks interesting, focus on items that are in good condition. A scratched-up record might not sell as well as a pristine one, even if they're the same album. Remember, buyers are looking for value, so aim for items that are clean, functional, and have minimal wear and tear.
Bargain hunting
Thrift shops are all about the art of negotiation. Don't be afraid to haggle and get the best price possible. Sometimes, you can score even better deals by buying in bulk or asking for a discount if an item has a small flaw. Polite negotiation can go a long way in saving you some extra bucks.
Patience pays off
Flipping items takes time. You might not sell everything overnight, but with patience, you'll see your efforts pay off. Consider online marketplaces, social media, and local selling groups to reach a wider audience and increase your chances of making sales.
Meet The Professional Flea Market Flippers
Robert and Melissa are a couple who started off flipping thrifting as a hobby and then gradually made reselling things for profit a full-time gig. Last year they made over $130,000 just from flipping used items for money!
The couple have become professional flippers and even have a course where they teach other people what vintage times to look for at thrift stores and markets.
Here's what people are saying about their course:

I recently took their free online training on how to make money flipping furniture and other items. It was a game changer and an amazing insight into the World of flea market flipping.
In the completely free webinar training, they will teach you how to get started with flipping for a profit and how to make your first sale in just weeks.
In the training, you learn:
How to know if flipping/reselling items is for you
How flipping can be your ticket to lifestyle freedom and financial security.
Insider secrets that will help you grow your flipping profits.
What to look for at thrift stores to make money
1. Name Brand Clothing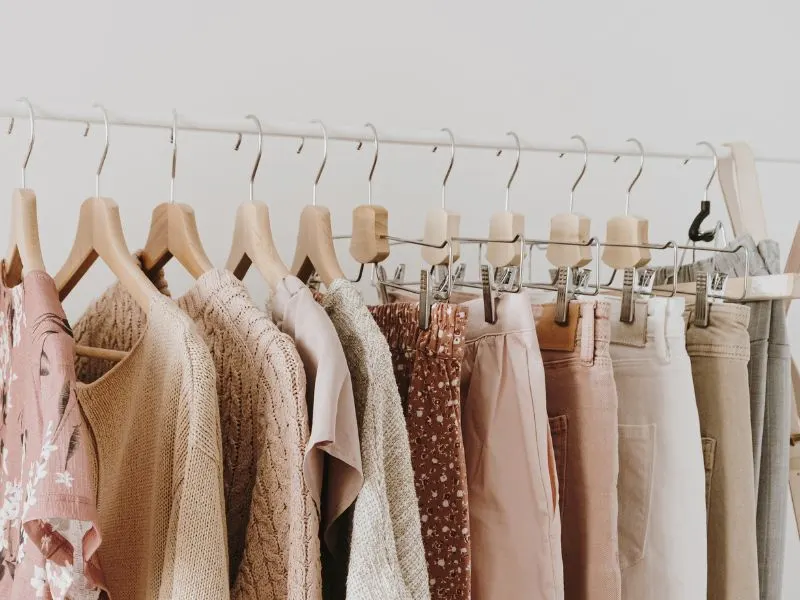 Name brand clothing is one of the best thrift store items to flip for a profit.
You can usually sell popular brands for a nice profit, especially if they are in new or nearly-new condition. Look for high-end brands and luxury brands like Coach, Nike, Abercrombie and Fitch and Ugg.
Leather jackets and good quality boots are also an easy sell. I also like flipping clothes from brands like Michael Kors or Kate Spade whenever I see them.
2. Books
Books, especially up-to-date text books, are one of the best thrift store items to resell for a profit.
In fact selling books online can be a great way to make extra money in your spare time.
Many times the books are in excellent condition and recent publications or bestsellers are easy to sell online for money.
Look for rare or first-edition books, books on niche subjects, or those authored by famous individuals. Fiction or non-fiction books with cult followings or limited print runs can be worth a significant amount to the right audience.
Textbooks are always in high demand and cost a ton so students are always interested in a discount.
Consider selling them to university stores for the best chance of making money.
3. Dinnerware
Vintage or unique kitchenware items can attract collectors and home cooks alike.
Look for vintage Pyrex or CorningWare dishes, colorful enamelware, cast-iron pans, or high-quality stainless steel cookware.
These are all really popular thrift store finds that sell for good money.
One of the best vintage items to look for at thrift stores is Tupperware and Pyrex from the 70s and 80s. The patterns are awesome and people will pay a lot of money for them.
Make sure to check for chips and any defects before flipping.
Vintage kitchen appliances, like mixers or blenders, can also be sought-after by collectors or those who appreciate retro aesthetics.
4. Electronics
Keep an eye out for electronics that are in good working condition.
Look for vintage audio equipment, like turntables, speakers, and amplifiers, which have gained popularity among audiophilesWorking electronics are always in demand – cameras, radios, game consoles and other items can sell for a tidy profit.
Retro gaming consoles, such as Nintendo NES or Sega Genesis, can also be lucrative finds, especially if they come with popular games.
Vintage electronics that are in good condition or would be useful for parts can also sell well.
5. Video Games & DVDS
Video games cost a bunch so buying them second-hand is a popular choice. You can make a lot of money reselling old video games if you can get your hands on popular ones and classic games for the vintage game consoles.
Video games and DVDs are hidden gems in thrift stores that can be flipped for a tidy profit.
Despite the rise of digital streaming platforms, there's still a strong market for physical media among collectors, cinephiles, and nostalgic enthusiasts.
Rare or out-of-print movies, cult classics, foreign films, or TV series that are not easily accessible through online streaming can be found on video tapes or DVDs.
This scarcity and exclusivity make them appealing to collectors and movie aficionados.
Thrift stores can be a treasure trove for old video games and DVDs that people have donated without realizing their potential value. You might stumble upon limited edition releases, director's cuts, or special collector's editions that are no longer in production.
These rare finds can fetch a premium price from dedicated collectors eager to own these unique versions of their favorite movies.
When selling video tapes and DVDs, online platforms like eBay or dedicated movie collector or gamer forums can be your best friends.
These platforms attract a global community of collectors who actively seek out specific titles or editions.
6. Toys
Toys are an absolute goldmine when it comes to thrift store flipping.
There are several reasons why they make fantastic finds and can be sold for a handsome profit.
Vintage toys from popular franchises like Star Wars, Transformers, or Barbie can fetch impressive prices, especially if they're in good condition and come with their original packaging.
In-demand toys and expensive items are awesome finds at a thrift store. Look for brand names like Melissa and Doug or expensive big ticket items such as Barbie Dream Houses or Kid Kraft doll houses.
Thrift stores can be a treasure trove for rare or discontinued toys that are no longer in production.
You might stumble upon limited edition action figures, rare board games, or vintage dolls that have become highly desirable among collectors.
These unique finds can be a significant score, as collectors are often willing to pay a premium to complete their collections or obtain rare items.
Remember, when sourcing toys at thrift stores, be sure to inspect them carefully for any damage or missing parts.
The condition of the toy plays a significant role in determining its value.
7. Records and CDs
Records are one of the best items to resell for profit.
Hipsters have made records a hugely popular items and many people prefer listening to music that way.
Firstly, vinyl records have experienced a remarkable resurgence in popularity in recent years.
Audiophiles and music enthusiasts have embraced the warm, rich sound quality and the tactile experience of playing records.
This growing demand has created a thriving market for vinyl, with collectors always on the lookout for rare or sought-after albums.
Look out for albums from iconic artists, limited editions, or records with unique cover art. These finds can be highly valuable, especially if they're in good condition and have maintained their original packaging.
While digital streaming has become dominant, many music enthusiasts prefer to own physical copies of their favorite albums.
CDs are also a popular choice for collectors and audiophiles due to their lossless audio quality and potential for bonus tracks or special editions.
8. Furniture
Flipping furniture is a great way to make extra cash.
Look for well-made, sturdy pieces with unique designs or high-quality materials.
Vintage mid-century modern furniture, antique chairs, tables, or dressers can be refurbished, repurposed, or sold as-is to individuals who appreciate their character and craftsmanship.
When looking at furniture to flip for a profit, bear in mind that you can change the item. Paint, varnish or stain can make all the difference and grow your net profit with a little elbow grease.
Valuable things to look for in thrift stores that sell furniture include solid wood chairs, desks and tables. Vintage armchairs and side tables. Pictures in nice frames can also make a lot of money.
9. Vintage Clothing
All kinds of vintage things sell on Etsy and other places. In particular, keep an eye out for vintage clothing items from past decades.
Look for unique patterns, quality fabrics, popular brands, and iconic styles.
Vintage t-shirts, dresses, jackets, and accessories like handbags and shoes can fetch a good price among fashion enthusiasts and collectors.
10. Collectibles and Antiques
Thrift shops often harbor hidden treasures in the form of collectibles and antiques.
Look for items like vintage china, paintings, comic books, photo frames, coins, stamps, and other collectible items.
These items can appeal to collectors and nostalgia seekers, commanding higher prices.
11. Artwork and Decor
When considering what to look for at thrift stores to make money, don't overlook the artwork and decor section.
Search for original paintings, signed prints, sculptures, or unique decorative pieces.
Keep an eye out for lesser-known artists whose works might have hidden value.
Vintage or unique home decor items, such as lamps, mirrors, or vintage posters, can also be sought-after by interior designers or vintage enthusiasts.
12. Sporting Goods and Outdoor Gear
Thrift shops often have a section dedicated to sporting goods. Look for vintage bicycles, camping equipment, fishing gear, or old sports memorabilia.
Vintage jerseys, autographed items, or equipment used by famous athletes can be particularly valuable.
Buying And Selling Thrift Store Finds: Final Thoughts
Thrift stores are treasure troves of potential profit, offering a wide range of items that can be flipped for money.
While there are numerous items worth considering, some categories consistently stand out as the best things to find at thrift stores to make money.
Thrifting requires a combination of knowledge, patience, and a keen eye for hidden gems.
It's about uncovering items that others have overlooked and recognizing their true worth.
Knowing what to look for at thrift stores to make money is half the battle.
With proper research, careful evaluation of condition, and effective selling strategies through online platforms, thrift store flippers can turn their finds into profitable sales.
So, whether you're searching for vintage gems, nostalgic treasures, or rare collectibles, remember to keep an open mind, embrace the thrill of the hunt, and trust in your instincts.
Thrift stores are full of opportunities, and with dedication and persistence, you can transform your passion for flipping into a lucrative venture.
Happy hunting!
More Tips To Make Money
Things To Make And Sell From Home This Christmas